How to Get Free Audible Books?
Audible has established itself as the top source for audiobooks because it is the largest audiobook retailer in the world currently. To download any audiobooks from Audible, you must first make a purchase. You can subscribe to Audible Plus for $7.95 per month, Audible Premium Plus for $14.95 per month, or purchase the books you want individually for a fixed price.
But for some people, this can be a bit pricey. As a result, methods of getting free Audible books are in high demand. Why not continue reading to learn how to get free Audible audiobooks? Additionally, you'll discover how to convert these free Audible books into MP3s for offline listening.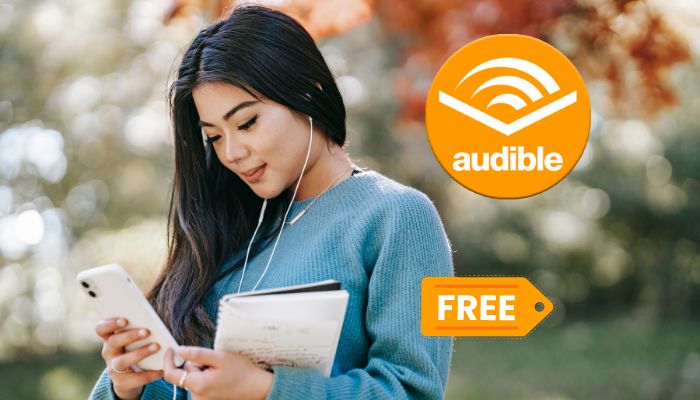 Part 1. How to Get a Free Audible Trial?
Users can access the audiobook library of Audible through a subscription. It provides a monthly free trial so that new users can test its capabilities before subscribing. You can use the free membership to download free audiobooks from new releases to the best sellers. You can only download up to two audiobooks for free during the trial period of Premium Plus. The two downloaded audiobooks are still yours to keep even if you decide not to use Audible anymore. You can also get another audiobook for free when you renew your Audible membership. The following tutorial will focus on how to join the Audible 30-day free trial:
Step 1 Go to the Audible website and click the Sign In in the upper right corner or Try for $0.00. Enter your Amazon account and password. Please create an Amazon account if you don't have one.
Step 2 Simply click Try for $0.00. If this option doesn't appear, click on your name in the top-right corner of the website, select Account Details from the dropdown menu, and then click Start your free trial.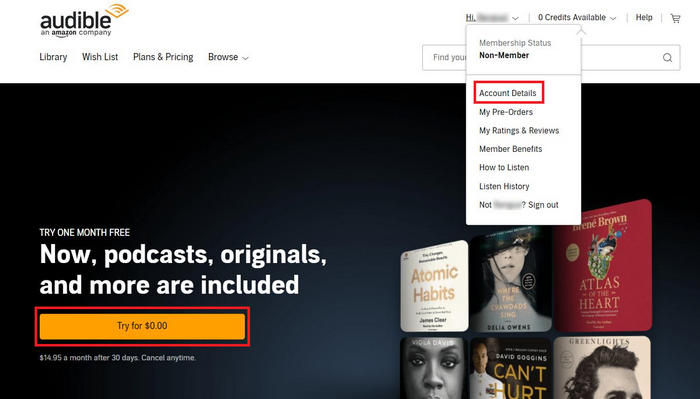 Step 3 Now, you can find fantastic audiobooks on Audible and download them. Once you have discovered a satisfying one, kindly select Add to cart to purchase it. The audiobook can then be downloaded offline by clicking the Download icon and all of the audiobooks will be instantly stored on your PC.
Part 2. How to Access Free Audible Books with Amazon Prime?
Over 50 free Audible books are available to you if you're an Amazon Prime member. It's important to note that Amazon offers the Wispersync service, which enables seamless reading and listening. But note that these free Amazon Prime audiobooks cannot be downloaded. Using Amazon Prime, follow these easy steps to acquire a free Audible book.
Step 1 Open the Amazon Prime website.
Step 2 Log in to your account on the Amazon Prime Reading page.
Step 3 Locate the audiobook you want to download for free.
Step 3 Click Read and Listen for Free and then you can borrow free Audible audiobooks.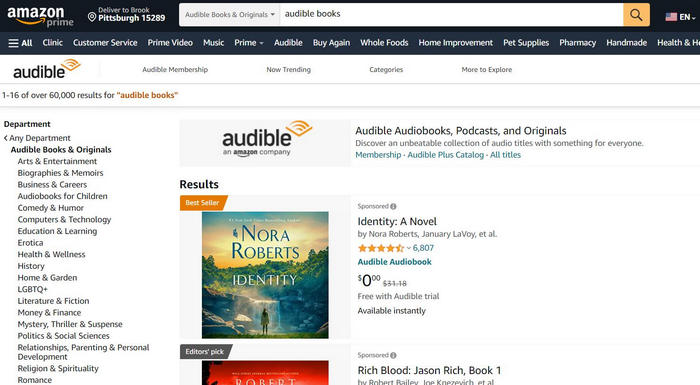 Note: If you have a Kindle device, you can conduct a direct search for the book you want to listen to. You can also download free Audible audiobooks directly from the Audible app's Audible channel.
Part 3. How to Get Free Audible Books with Free Listens?
Audible offers free audiobooks for free listening. To get these free audiobooks, you can open Audible and sign up for your account to access Free Listens. Once you find a book that interests you, you can add it to your library or purchase it directly to make it yours. Here are the steps on how to get free audiobooks from Free Listens:
Step 1 Sign up for your Amazon Audible account and type "free audiobooks" in the search box on the Audible website. You can also just open a browser on your PC and navigate to Audible Free Listens.
Step 2 Find and click the audiobook that you want to download.
Step 3 Click the Add to library button and then go to the Library.
Step 4 Now this book will be saved in your library, all you need to do is to click Listen now to get free Audible audiobooks.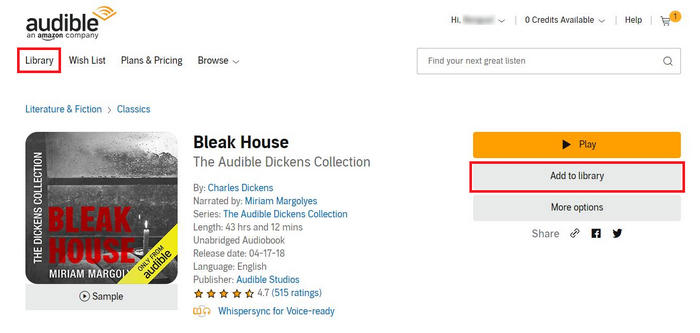 Part 4. How to Keep Audible Books for Free After Canceling Membership?
During the 30-day free trial of Audible, you can download audiobooks on your device freely. If you have the Audible app on your smartphone, you can listen to the book whenever you want. However, when the free trial ends, some people may cancel the membership and delete Audible. Is there a way to listen to the free books without Audible on your device? The answer is yes!
To achieve this, you need TunePat Any Audiobook Converter, a tool that allows you to convert your downloaded audiobooks to MP3/M4A/M4B formats that can be used on any player or device. With this excellent tool, you no longer need to open Audible or iTunes to listen to your audiobooks. It will help you to change special formats into a format that your device can open directly, making it easy for everyone to read audiobooks.
Follow us now and download your favorite audiobooks from the Audible library: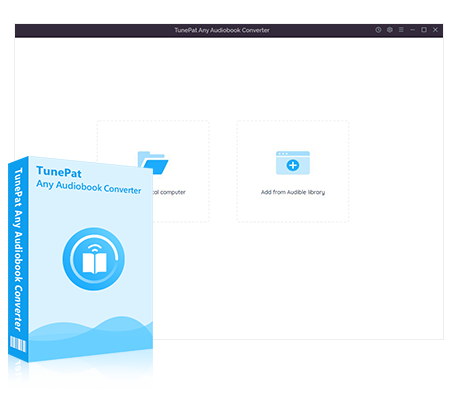 TunePat Any Audiobook Converter
TunePat Any Audiobook Converter helps you get audiobooks in the format you like and then you can transfer and play the audiobooks on any device.
Convert Audiobooks from the local computer or Audible library.
Support converting Audible audiobooks and podcasts.
Convert AA/AAX audiobooks to M4A, M4B, or MP3 format.
Convert audiobooks at 100X faster speed.
Keep original quality, chapters, and ID3 tags.
Step 1 Launch TunePat Any Audiobook Converter on your PC. There are two modules on the main page, which allow you to convert audiobooks from your computer locally or from the Audible library. Please click the "Add from Audible library" option.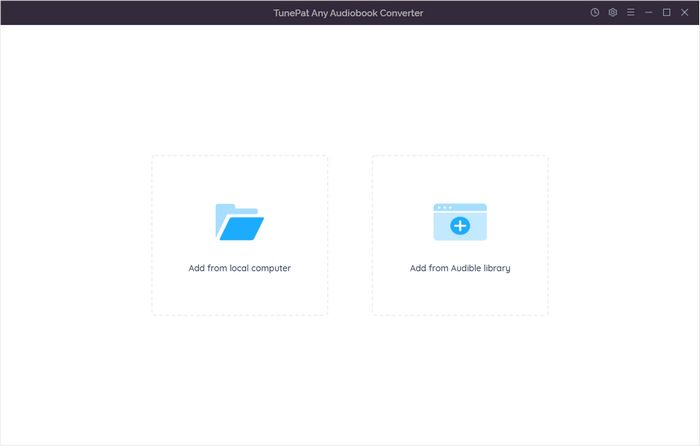 Step 2 Then you need to log in to your Audible account on the Audible web player embedded in TunePat and follow the prompts on the screen. Before the conversion, you need to open the "Settings" window to complete the customization of output parameters, including output format, sound quality, output folder, and region.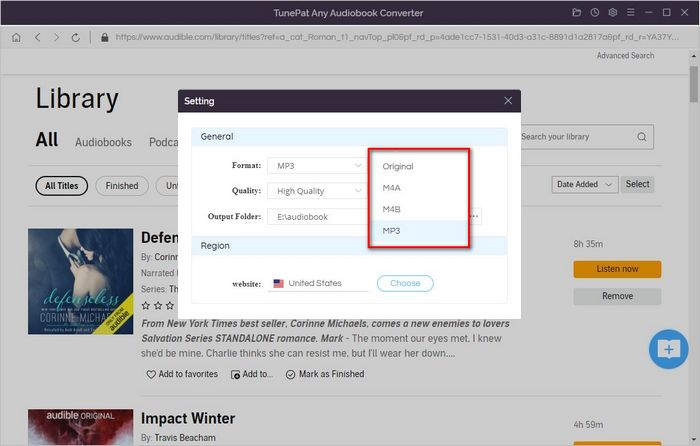 Step 3 After that, you can navigate to the audiobook you want to convert and click the blue "Add to list" button to trigger TunePat's automatic reading of the audiobook on the current page.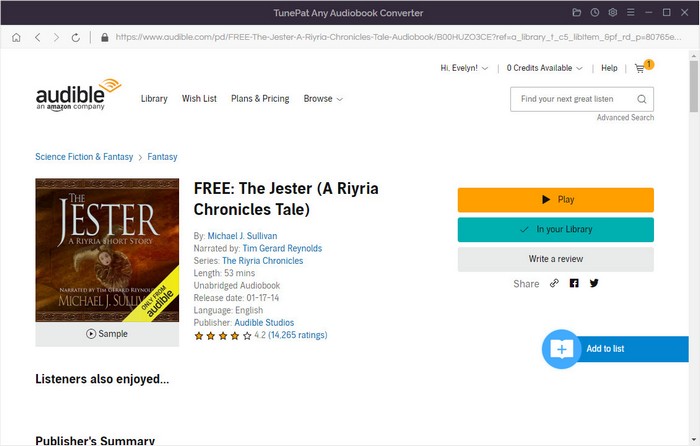 Step 4 Then the audiobook will be displayed in the pop-up window. Simply click the "Convert Now" button to start the conversion.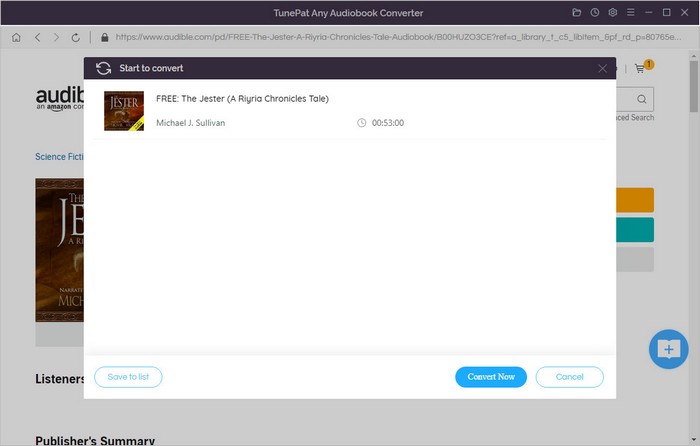 Step 5 After the conversion is completed, you can enter the "History" module to view the converted books, or you can find and play the corresponding files from the local folder.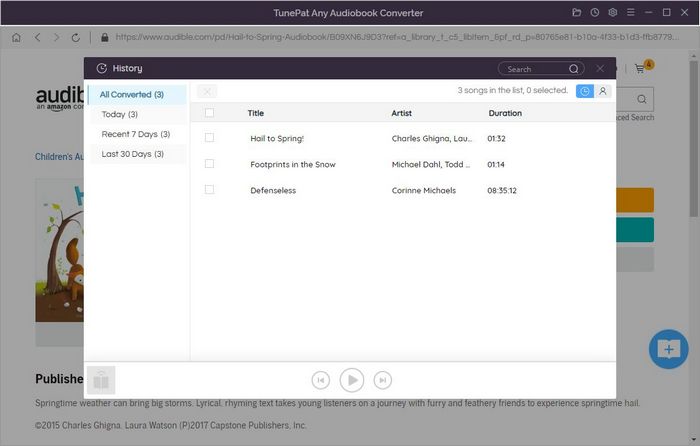 Conclusion
You can register for a free trial of Audible if you are a new user. This will enable you to obtain and download free Audible books. If not, Audible Free Listens and Amazon Prime both offer free access to Audible audiobooks too.
Here we introduced an excellent method in the article to keep audiobooks for free after canceling a membership. TunePat Any Audiobook Converter is a handy tool that allows you to enjoy your favorite audiobooks. You can use it to convert Audible books to MP3 and play them on any device of your choice. Click the Download button right now and start your conversion journey!