AudFree Spodable Alternatives
Have you already utilized AudFree Spodable? It is a popular program that enables you to download and transcode Spotify songs without Spotify Premium. Many people probably think of AudFree when it comes to Spotify Converter. However, there are an increasing number of AudFree substitutes with exceptional features available. Therefore, Spotify customers are faced with a difficult decision when selecting AudFree Spodable or its best substitute. But with so many options, which one can we rely on to be the most effective Spotify music converter for us?
This article will be helpful if you're still having trouble choosing the program that best meets your needs. We've evaluated several Spotify music converters available on the market, so all you need to do is to read the in-depth evaluation and compare to find the best alternative to AudFree Spodable! Read on.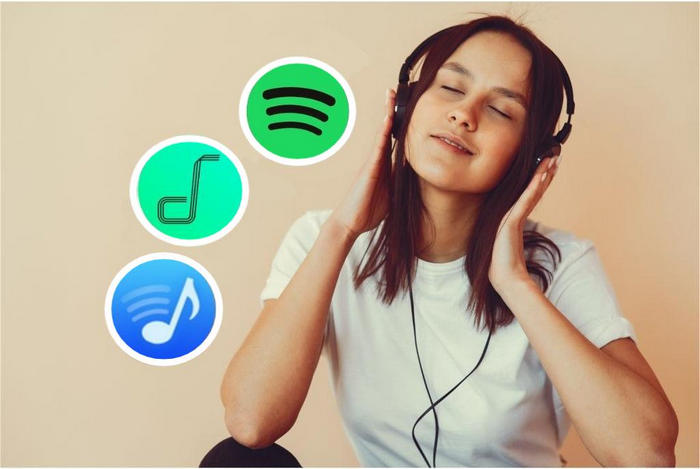 Part 1. AudFree Spodable Review
AudFree Spodable is a music converter and downloader for Spotify that users can convert internal Spotify audio resources at 5X speed and play Spotify songs offline. If you want to download Spotify songs on a PC, this program is an option for you to consider. The main features of AudFree Spodable and some FAQs about this program are listed down below for you to have a further understanding of it.
Main Features of AudFree Spodable
1. Supports converting Spotify playlists, albums, podcasts, and audiobooks and playing them offline.
2. Convert Spotify songs to popular formats such as MP3/AAC/WAV/FLAC/M4A/M4B.
3. Download Spotify music at 5X speed.
4. Free version available.
5. Work with both Spotify Free and Premium plans.
FAQs about AudFree
Q1: What are the Price Plans of AudFree Spodable?
Monthly License: 14.95$
Quarterly License: 29.95$
Lifetime License: 79.95$
Q2: What is the Operating System of AudFree Spodable for Win/Mac?
Windows XP, Vista, Win 7, Win 8, Windows 10, Windows 11 (32-bit & 64-bit)
Mac OSX 10.8, 10.9, 10.10, 10.11, 10.12, macOS 10.13, 10.14, 10.15, 11 Big Sur, 12 Monterey, 13 Ventura
Q3: What's the difference between the trial version and the full version?
The paid version except that the trial version is limited with incomplete conversion for each file. In a word, the trial version can only download one minute of each Spotify track.
User Guide of AudFree Spodable
Here is a detailed user guide for you. Please make sure you install the AudFree Spodable on your desktop and sign into your Spotify account in advance.
Step 1 Launch AudFree Spotify Music Converter.
Step 2 Drag and drop music to AudFree or copy the URL of tracks, paste the link to AudFree and then press the "+" tab.
Step 3 Click the Menu bar and choose "Preferences" to define the output Spotify format and other settings.
Step 4 Click the "Convert" button to start the converting process.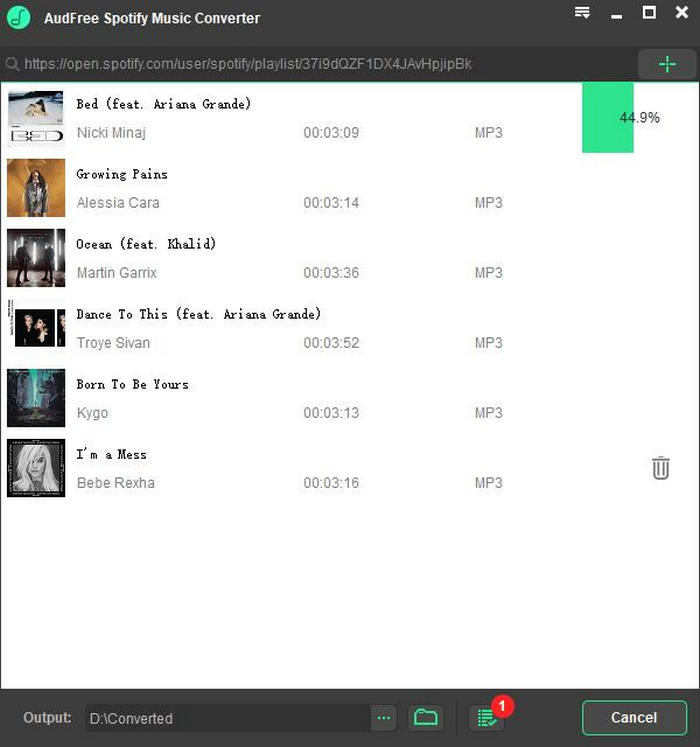 Although Audfree is a popular choice on the market when it comes to Spotify music converter, users still have a lot of negative feedback after using it, specifically focusing on the following five points.
Main Drawbacks of AudFree Spodable
1. Must install the Spotify app.
2. Unable to download at 5X speed without loss of quality.
3. Sometimes no response when clicking buttons and converting songs.
4. 1X speed conversion is not as stable as the official website advertises.
5. Little selection of settings about output file name and ID3 tags.
Therefore, we are eager to find the best alternative to Audfree. Let's have a look at an outstanding Spotify music converter——TunePat, which is regarded as the best alternative to Audfree.
Part 2. Best Alternative to AudFree Spodable——TunePat Spotify Music Converter
Never overlook TunePat Spotify Music Converter if you're looking for the ideal alternative to AudFree Spotify Music Converter. It is a versatile desktop program that enables users to perfectly get around the restriction and convert all of their Spotify songs and playlists to MP3, AAC, FLAC, AIFF, WAV, or ALAC for offline streaming for both Free and Premium Spotify users. As a result, you can freely listen to Spotify music on your computer after downloading and saving it. Compared to TuneFab, it has more attractive features. Let's find out together.
Main Features of TunePat Spotify Music Converter
1. Convert Spotify music at an amazing 10X faster speed.
2. Download losslessly all types of Spotify audio in batch to MP3/AAC/WAV/FLAC/AIFF/ALAC.
3. Numerous options for customizing output formats and settings such as Bit Rate, Sample Rate, Output Folder, Output File Name, and the way tracks are organized.
4. No need to install Spotify app.
5. 100% stable during the conversion process.
6. Detailed information about ID3 tags, including Title, Artist, Artwork, Album, Track number, Disc number, and Year.
7. The sound quality of downloads can achieve 320kbps/192kHz.
8. Available Free trial version.
9. Enable users to stream Spotify songs offline without premium on multiple devices forever.
10. Work with both Spotify Free and Premium plans.
11. Support 26 languages.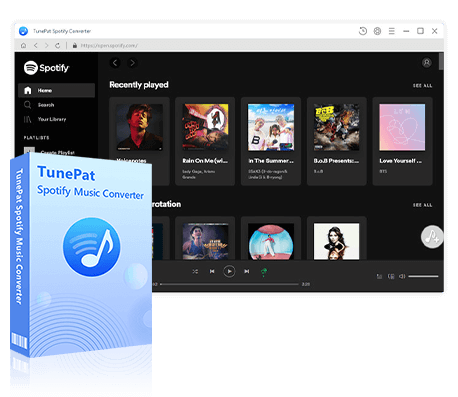 TunePat Spotify Music Converter
TunePat Spotify Music Converter helps you download and convert all Spotify Music songs and playlists to MP3 and other common formats.
Download songs, albums, playlists, and podcasts from Spotify Music.
Convert Spotify Music songs to MP3/AAC/WAV/FLAC/AIFF/ALAC.
Preserve the original quality of the songs after conversion.
Keep ID3 tags including Title, Album, Artist, etc.
Downloaded songs can be played on a USB drive, Amazon Echo, etc.
User Guide of TunePat Spotify Music Converter
Here is the tutorial for you to download Spotify songs to your computer and save them locally in popular audio formats like MP3 through TunePat. Please download and install TunePat Spotify Converter on your PC first.
Step 1 Launch TunePat Spotify Music Converter
Launching the application and selecting the "Open Spotify Web Player" button in the center will allow you to access the TunePat web player.
Step 2 Log In to Your Spotify Account
By clicking the "LOG IN" button in the top right corner, access your Spotify account. Enter the details about your Spotify account and then you can successfully access the Spotify library.
Step 3 Choose Output Format
You can select the output format, bit rate, sample rate, output folder, and output file name by clicking "Settings" with a gear symbol. Supported file types for TunePat Spotify Converter include MP3, AAC, FLAC, WAV, AIFF, and ALAC. This application has the advantage that you can adjust the output parameters to suit your needs with just one click.
Step 4 Import Spotify Songs to TunePat Spotify Converter
Next, choose the songs, albums, or playlists you want to download from Spotify. Then click the blue "Add to list" (

) button in the lower right corner. All of the songs on this page will be automatically recognized by TunePat.
Step 5 Start the Conversion Process
Once all of your favorite songs have been chosen, click "Convert Now" to begin the conversion process. Conversion times won't be too long because it operates 10X faster than conventional converters.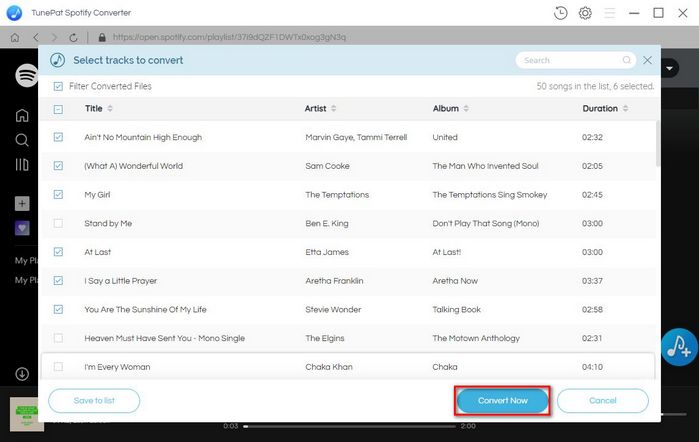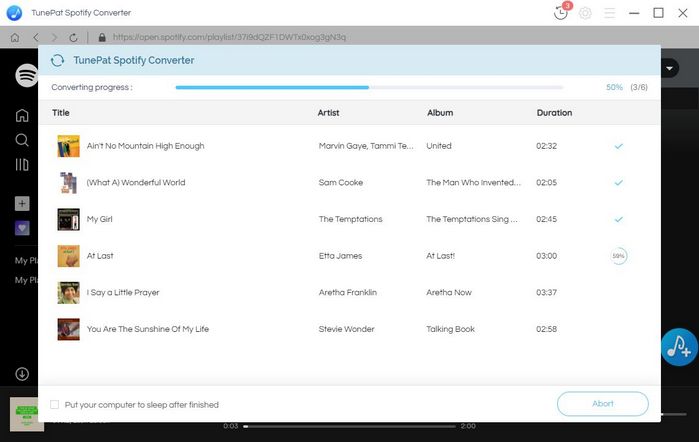 Step 6 Check the Downloaded Spotify Songs
You can download Spotify tracks to your devices for offline listening once the converting procedure is completed. You can find the converted music in your local folder and these tracks can be downloaded to multiple devices for private use.
Part 3. Free Alternatives to AudFree Spotify Music Converter
If you want to convert Spotify Music for free, you can try a Chrome extension called Deezerify. Any track from your preferred streaming music provider can be matched and downloaded using Deezerify from a variety of websites, including Deezer, Xbox, and Spotify. You may easily keep the Spotify music you downloaded in MP3 format and play it without any restrictions on a computer or a mobile device, which is also pretty convenient.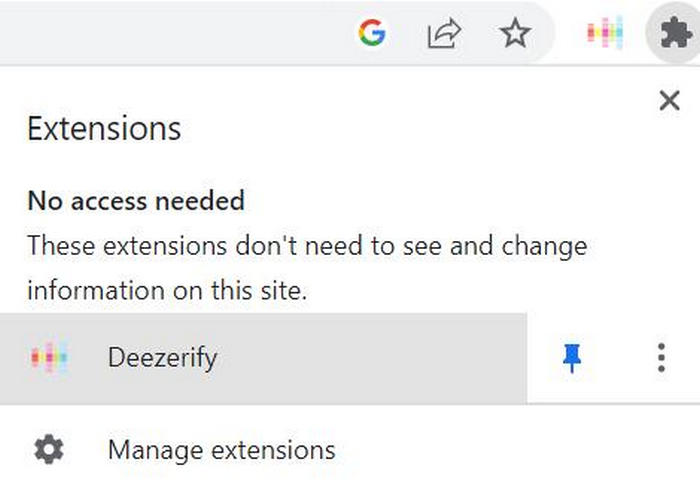 Main Features of Deezerify
1. No need to install Spotify app.
2. Free and simple to operate.
3. Download audio to MP3 from Deezer, Xbox, and Spotify in batch.
4. Work with both Spotify Free and Premium plans.
5. Available for both Windows and macOS systems.
User Guide of Deezerify
No need to download or install Deezerify. You may be curious about how to use this free tool, so please follow the tutorial we provide below to find and use it.
Step 1 Select "Tools", choose "Extensions" in the Chrome browser, and click "Chrome Web Store".
Step 2 Go to the "Chrome Web Store", google "Deezerify" and install it.
Step 3 Run "Spotify" in the browser and play the Spotify songs you want to download, then Deezerify will recognize the tracks and get them converted to MP3 format files.
Although this is a free tool that you don't need to install on your PC, it is not as convenient as you imagine. Here are some drawbacks of this tool listed.
Main Drawbacks of Deezerify
1. Not 100% lossless audio quality.
2. Support downloading music to output audio format as MP3 only.
3. Unstable to download audio.
4. Sometimes crashes while downloading music.
5. Not support specifying parameters.
6. With pop-up ads.
7. Sometimes fail to convert songs.
8. Low-speed conversion.
9. Support English only.
Part 4. AudFree VS TunePat VS Free Tools
All of the tools stated above can satisfy your requirement to download Spotify music without a Spotify premium subscription. While selecting the AudFree Spotify Music Converter or its alternative, you may be confused and hesitate. Do not worry. We will share with you a comparison of the three tools that may lead you to a deeper comprehension of these Spotify music converters.
| Name | TunePat Spotify Music Converter | AudFree Spotify Music Converter | Deezerify |
| --- | --- | --- | --- |
| Subscription Price | $14.95/Month | $14.95/Month | Free |
| Trial limitation | Convert first 1 minute of 3 songs only | Convert first 1 minute of songs only | / |
| Audio Source | Spotify Web Player | Spotify APP Installation | Spotify Web Player |
| Supported Format | MP3/FLAC/AAC/WAV/AIFF/ALAC | MP3/FLAC/AAC/WAV/M4A/M4B | MP3 |
| Recording Speed | 10X | 5X | 1X |
| Bitrate | 128-320kbps | 8-320kbps | / |
| Sample rate | 44.1-192kHz | 8-48kHz | / |
| ID3 Tags | Title/Artist/Artwork/Album/Track number/Disc number/Year | Title/Artist/Artwork/Album | Title/Artist/Artwork/Album |
| Supported Language | 26 | 4 | 1 |
Conclusion
I think you now have a better idea of AudFree Spodable and its alternatives as a result of the overall reviews. AudFree does well in downloading Spotify music permanently for offline listening, however, TunePat Spotify Music Converter outperforms AudFree and other alternatives in terms of functionality, sound quality, parameter settings, audio source, and supporting languages. We believe that paying for such a high-quality, user-friendly, and functional Spotify music converter, which supports the latest Win/Mac systems, is worthwhile after our experience with the three converters.
If you haven't owned TunePat yet, don't hesitate to click the Download button below and start listening to songs on Spotify without restrictions. Enjoy your downloads!