What You Should Know About Tidal Web Player
Tidal is a popular platform that offers streaming services and provides access to millions of songs and a ton of exclusive content. It enables you to watch high-quality music videos, sporting events, and live streaming. Tidal is renowned for its high-fidelity sound quality because it enables users to stream lossless, CD-quality audio. You may access the music on Tidal through its web player in addition to its desktop and mobile applications. Some people who are unwilling to download additional apps would prefer to use a web player to listen to Tidal music. In order to assist you learn everything there is to know about Tidal Web Player and how to download songs from Tidal Web Player for offline listening, we have prepared this content. Read on.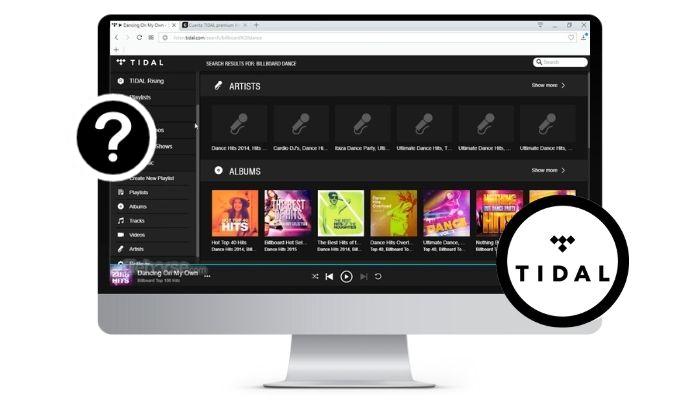 Part 1. What is Tidal Web Player
Tidal is a popular music streaming platform that has gained a reputation for its exclusive content and high-quality audio and video streams. Additionally, Tidal provides personalized recommendations, allowing users to discover new music, and offers the best possible audio quality for an immersive listening experience. Three different Tidal subscription packages are provided: Tidal Free, Tidal Hi-Fi, and Tidal Hi-Fi Plus. Using Tidal Free, you can listen to tracks on demand with limited features and advertisements. Subscribing to Tidal's Hi-Fi and Hi-Fi Plus plans for $9.99 or $19.9 per month, you can listen to Hi-Fi and even Hi-res audio files. Moreover, some contents are available in MQA (Master Quality Authenticated) certified.
Users can enjoy Tidal music using a mobile app, Tidal desktop, and the Tidal web player. The web browser makes it simple to browse and stream music, playlists, artists, and albums without downloading any apps. However, it should be noted that utilizing the Web Player will not allow you to get MQA audio quality. In addition, Tidal does not support users to download songs directly from the web player for offline playback.
Part 2. Tidal Web Player vs Tidal Desktop App
Many people are interested in the differences between the Tidal desktop app and its web player, particularly its streaming quality. Streaming on a web player and a desktop application is not exactly the same.
A Tidal HiFi membership offers normal lossless audio quality at 1411 kbps, whereas Tidal HiFi Plus offers lossless High Fidelity sound quality at 1411 kbps and Master Quality audio up to 9216 kbps, as well as immersive audio — 360 Reality Audio and Dolby Atmos Music. Tidal collaborated with MQA to ensure that subscribers receive the greatest level of resolution and powerful sound. However, only iOS or Android devices and the Tidal desktop app are allowed to listen to millions of master-quality Tidal songs while the Tidal web player is limited to Tidal Hi-Fi sound quality.
What makes a difference is the RAM. Web players and mobile phones cannot load such large amounts of data simultaneously because lossless high-resolution audio requires more RAM to operate and load. Therefore, if you have relatively high requirements for music sound quality, use the Tidal desktop application rather than the web player or the mobile phone application.
Part 3. How to Use Tidal Web Player
The process for using Tidal Web Player is simple. Follow the step-by-step guide to use Tidal on the web player:
Step 1 To stream music, you need to choose a subscription. New users are recommended to sign up for a Tidal Free account. Go to Tidal's website, click Start Free Trial at the upper right corner, and follow the instructions to sign up for a free account.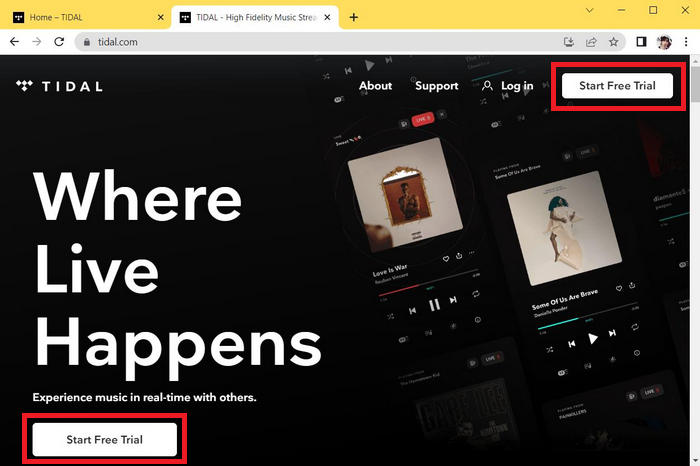 Step 2 Click Log in and then select Web Player to visit the official Tidal Music Web Player. If you have a HiFi account, click Log in and type in your email address/username and your password. After all, the Tidal homepage will appear directly. If you are a new one, popular artists in all genres will pop up for you to choose from so that Tidal can know your music taste. Choose some artists you like and click Continue.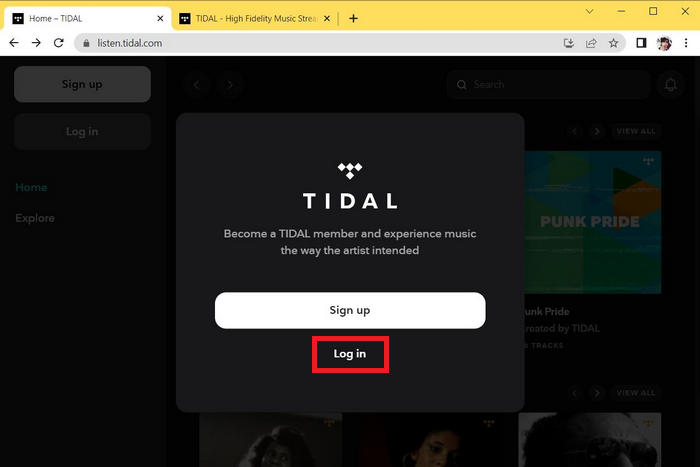 Step 3 With your Tidal Free/HiFi/HiFi Plus account, you can access your music library, and listen to your favorite Tidal songs or podcasts online.
Part 4. How to Download Music from Tidal Web Player
As long as you become a subscriber, you can download Tidal songs for offline listening. However, the unpleasant fact is that Tidal Connect and Offline Mode features are only included in the phone app. Tidal music files cannot be copied or moved to other devices for personal use. Besides, you won't be able to listen to offline music any longer once your subscription plan has expired. To solve this problem, you need a powerful Tidal music converter——TunePat Tidal Media Downloader if you want to listen to Tidal music without any restrictions.
Even if you have a Free account, you may effortlessly download and save Tidal music with the help of this program. It is also quite easy if you want higher sound quality. Before your Tidal subscription ends, you can utilize this program to export your favorite Tidal playlists to maintain their HiFi sound quality. Here is an easy-to-follow tutorial for you to download music from Tidal Web Player.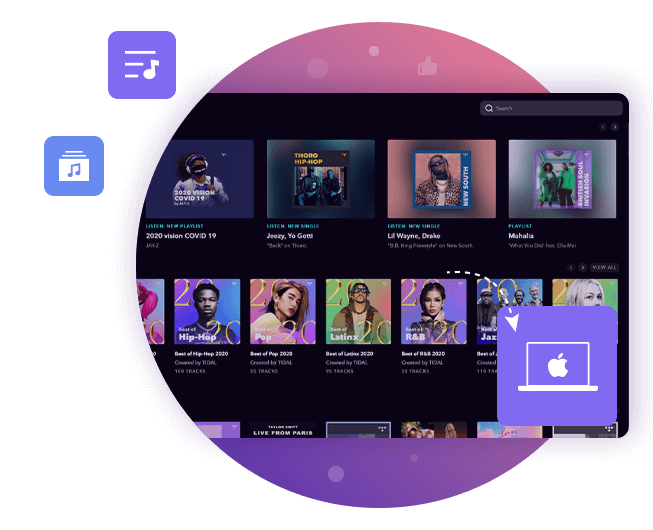 TunePat Tidal Media Downloader
TunePat Tidal Media Downloader enables users to download all Tidal content to MP3 or other common formats.
Downloaded Tidal Music songs, albums, playlists, and podcasts.
Convert Tidal songs to MP3, AAC, WAV, FLAC, AIFF, and ALAC formats.
Keep HiFi audio quality and ID3 tags.
10X faster download speed & support downloading multiple playlists in bulk.
Step 1 When you launch TunePat Tidal Media Downloader, there will be two pages popping up: the main interface of TunePat and the integrated Tidal web player. If the web player doesn't appear automatically, you can manually open it by clicking on the blue section of the main interface or using the Open the webplayer window button.

Then, follow the on-screen instructions and click the Log In button to enter your Tidal account information. Once you have successfully logged in, you are allowed to browse Tidal's extensive music library.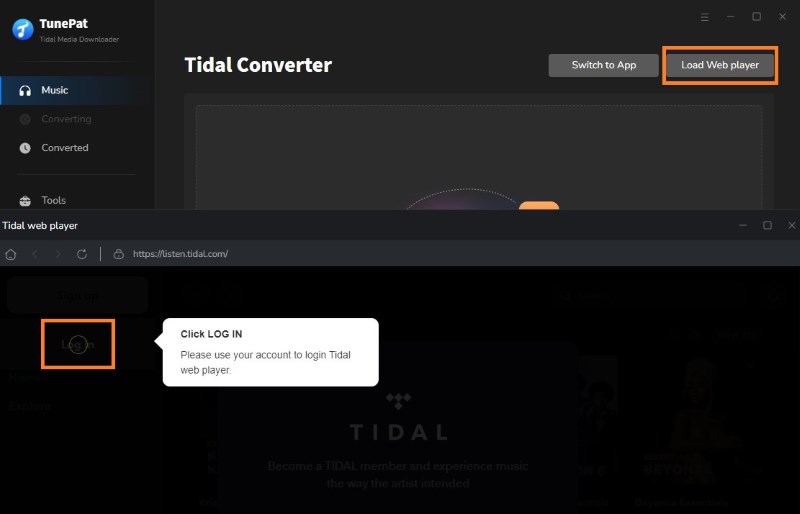 Step 2 To save Tidal Music tracks according to your preferences, you need to access the Settings interface and select the necessary parameters. By default, TunePat will output Tidal songs in an unprotected AAC or FLAC format, unless you modify the settings.
You can change the following contents:
Conversion Mode: Intelligent Mode, Web Download, YouTube Download
Output Format: AUTO, MP3, AAC, WAV, FLAC, AIFF, ALAC
Bit Rate: 320kbps, 256kbps, 192kbps, 128kbps
Sample Rate: 192 kHz, 96 kHz, 48 kHz, 44.1 kHz
Output File Name: Track Number, Title, Artist, Album, Playlist Index, Year
Output Organized: None, Playlist, Artist, Album, Artist/Album, Album/Artist, Playlist/Artist, Playlist/Album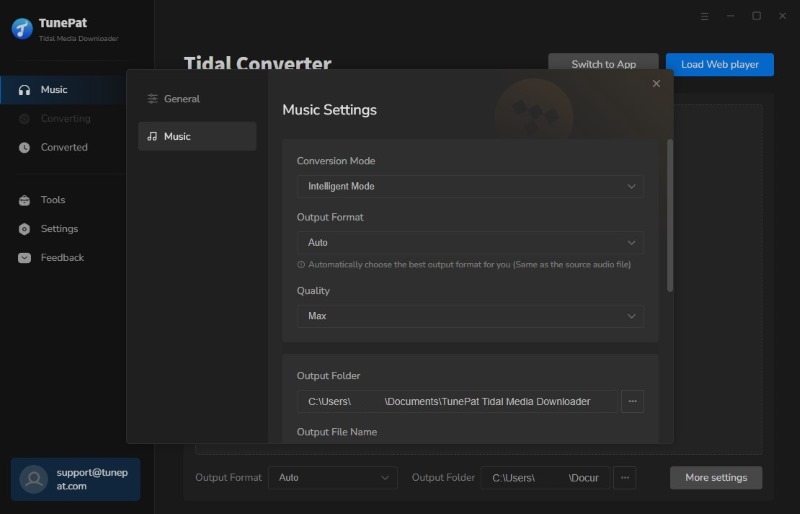 Tips: If you wish to export Tidal Music with HiFi audio sound, please select AUTO mode. If you select other formats, like MP3, the highest quality should be 320 kbps.
Step 3 Once you have completed the settings, you can search for the Tidal music you want to convert. Click the Click to add button in the lower right corner to let TunePat detect these songs automatically.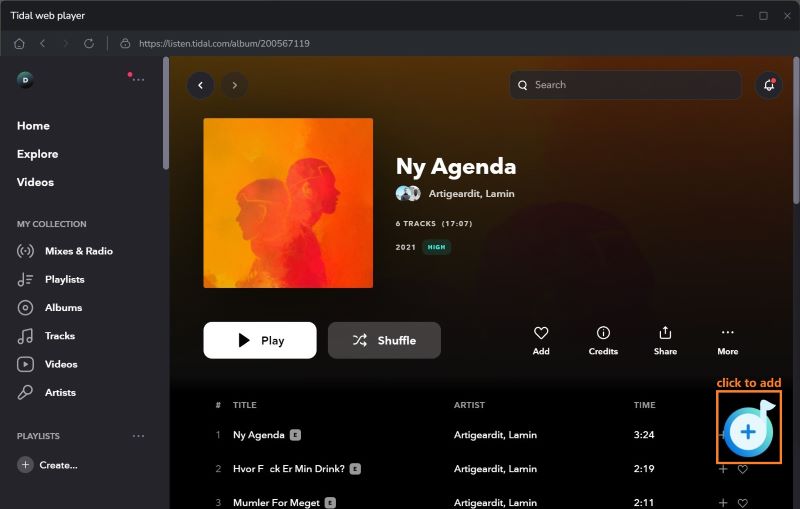 Step 4 TunePat will identify the selected titles and display them in a pop-up window on the main page. By default, all items are selected, but you can manually deselect the ones you don't want. Then, click the Add button to add chosen songs to TunePat.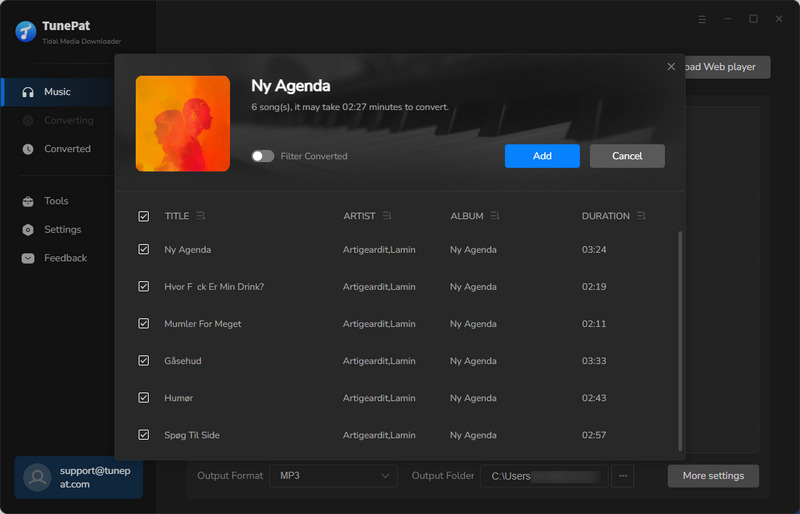 Step 5 You can either click the Convert button to initiate the conversion process immediately or select the Add button to continue choosing songs from other playlists or albums.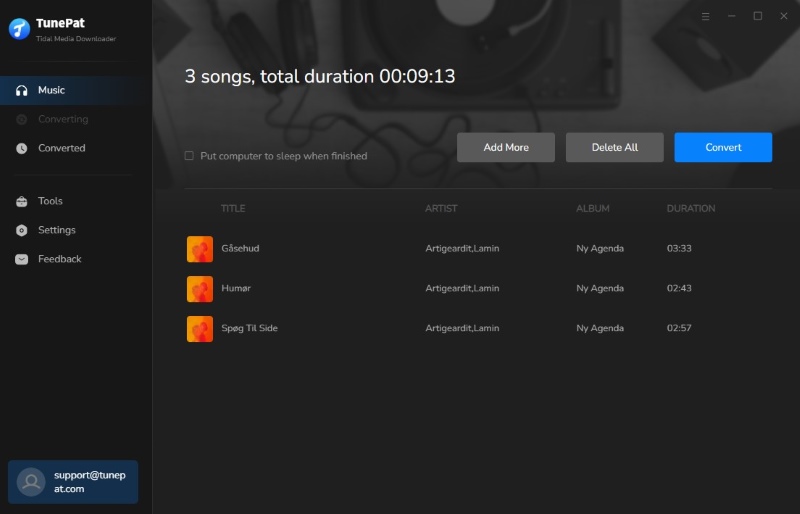 Step 5 Once you click the Convert button, this program will take little time to convert chosen Tidal songs for you in the Converting interface. After the conversion, you can click on the Converted button to locate the successfully converted Tidal songs on your local drive.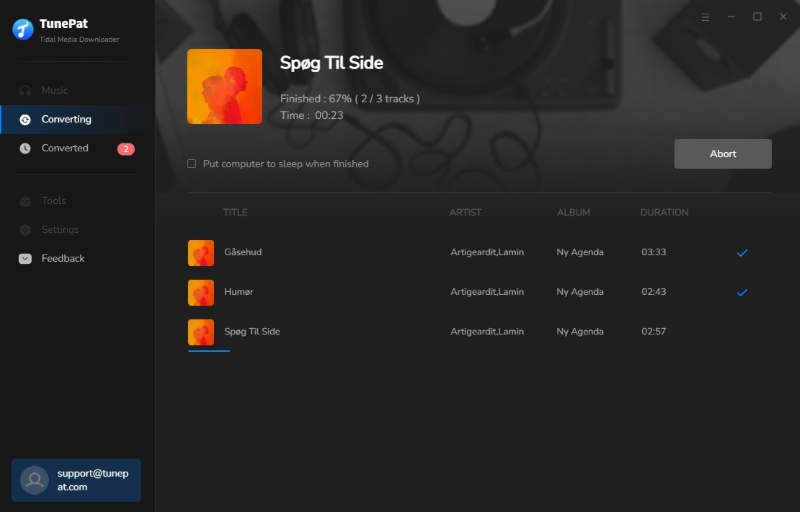 The converted songs will be saved in the output folder you previously specified. Without an internet connection or the Tidal app, these Tidal tracks can be downloaded and then streamed on your multiple devices whenever you want.
Conclusion
This article taught you what the Tidal Web Player is, how it differs from the Tidal Desktop App, how to use it, and how to download Tidal music from it. Additionally, we gave you access to the greatest Tidal downloader so that you can save audio files from the Tidal web player for offline listening.
TunePat Tidal Media Downloader can instantly download Tidal music files on your PC/Mac. It enables you to download Tidal music and convert it to MP3 and other popular audio formats so that you can listen to Tidal music tracks in excellent quality offline on any device without signing up for Tidal. It can offer high-quality, lossless audio in a variety of audio formats so you may stream the Tidal tracks you've downloaded to other devices and media players without a network. Don't miss this great opportunity to enjoy high-quality Tidal music! Click the button below to download.