How to Listen to YouTube Music Offline
YouTube Music is one of the most popular streaming music platforms accessible today, thanks to Google's tremendous search skills and utterly outstanding forecasts and recommendations. YouTube Music has an ad-supported free tier. There is also a paid version with access to more features and services. For users of the premium version, you can download music and play it offline on your phone, tablet, computer, watch, or other licensed compatible device. Then you'll be able to play those songs you love in remote towns with poor internet reception or on plane journeys with no internet connection. This article explains how to download YouTube Music tracks for offline listening. Let's take a closer look at the method's steps.

Part 1. How to Download YouTube Music to Smartphones and Play it Offline?
Officially, there are two ways for users to download and play Youtube songs offline. But only for premium users to download to their smartphones & tablets:
Method 1: Enable Smart Downloads
Let's start with the first method - Smart Download. What you need to know is that Smart Download automatically downloads songs for you based on your listening history. Here's how to make Smart Downloads work for you.
Step 1 Open the YouTube Music app and tap on your profile icon.
Step 2 Select Downloads and then tap on the Settings option.
Step 3 Next, scroll down to find the Smart Downloads option and scroll down the gear button to turn it on.
The following are some pertinent notes:
1. If you want songs to be downloaded and updated automatically overnight, make sure your phone is connected to Wi-Fi and that it has a power level greater than 40%.
2. Downloaded music can remain active for up to 30 days after you disconnect from the Internet. In other words, make sure you reconnect to the Internet at least once every three days. Also, if the copyright, region, or other things of some of the content you downloaded changes, the downloaded content may no longer be available.
3. If there are certain list albums or songs that you don't like that have been downloaded automatically, you can remove them by clicking on the click menu and then clicking on the Delete Downloads option. However, it is important to note that songs that have been deleted will not be downloaded intelligently again. But you can still stream it directly on YouTube Music to play it, or you can manually click to download it.
4. The number of songs you can download depends on how much space you have available on your device. If you want to limit the number of songs you can download from Smart Downloads, you can go to the settings screen to complete the settings.
Method 2: Choose Specific Songs to Download
You can choose the songs you want to download manually in addition to having them downloaded automatically:
Step 1 Install and run the YouTube Music app on your phone.
Step 2 To listen to music offline, first find the song, album, or playlist you wish to listen to. You can use the search box at the top of the YouTube Music homepage to look for an album or song title, or you can browse down the interface to discover the song list you want to download. To download these, simply click on them.
Step 3 If it's a particular song you want to download, click on that song to start playing. Then, click the three-dot icon at the top right of the screen, followed by Download in the submenu that pops up. The song will start downloading directly.
Step 4 Click on the album or playlist you wish to download, then look for the download symbol near the top, underneath the album or song list information, and click it. Your device will then be downloaded with the album or playlist.
How do I play the music you downloaded after it's finished downloading? Go back to the home page of the YouTube Music app. Click into the Library module. Inside, find the Downloads option. By going to this module you will be able to access all your downloaded music for offline listening.
Part 2. Save YouTube Music Onto Computer and Play it Offline
The two procedures described above are feasible, but they have drawbacks. If your phone's capacity is restricted, you should save large music files to a computer with additional memory, or even a USB flash drive, external hard drive, etc. So, how do you go about doing it? The download and offline listening options are not available to you if you use YouTube Music for free. And as a paid user, you also face the same situation where songs cached on your phone are suddenly inaccessible one day. Then the best solution to all this is to get the real audio files from YouTube Music and save them to your computer.
So, how can you save music from YouTube to your computer? You'll very probably require the assistance of a reputable third-party tool. There are numerous alternatives available on the market. Here, we'd like to strongly recommend TunePat YouTube Music Converter, a downloader that uses superior decoding technology to convert YouTube music to popular formats. It can download YouTube songs in MP3, AAC, FLAC, WAV, AIFF, and ALAC formats 10X quicker while maintaining the original sound quality and ID3 tags.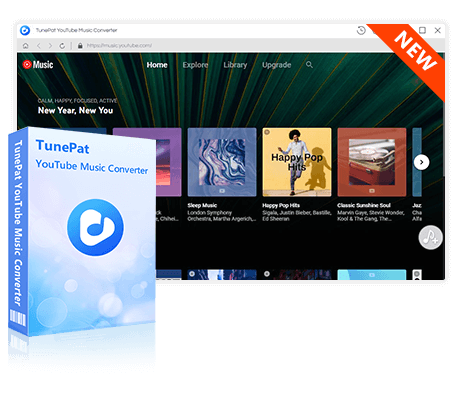 TunePat YouTube Music Converter
TunePat YouTube Music Converter helps you download and convert all YouTube Music songs and playlists to MP3 and other common formats.
Download songs, albums, playlists, and podcasts from YouTube Music.
Convert YouTube Music songs to MP3/AAC/WAV/FLAC/AIFF/ALAC.
Preserve the original quality of the songs after conversion.
Keep ID3 tags including Title, Album, Artist, etc.
Save music videos in MP4 format of up to 4K quality.
Transfer YouTube Music to MP3 Players, SD cards, Android Watch, etc.
Step 1 Open the Built-in TunePat YouTube Music Web Player
If you do not already have TunePat YouTube Music Converter installed on your computer. Please click the download button above to download the correct version first. After launching TunePat YouTube Music Converter, the YouTube Music web player embedded in TunePat will automatically open. If not, click the "Open the webplayer window" button in the upper right corner, and then you will be given access to a built-in YouTube Music web player. Follow the on-screen instructions to log in to your YouTube Music account.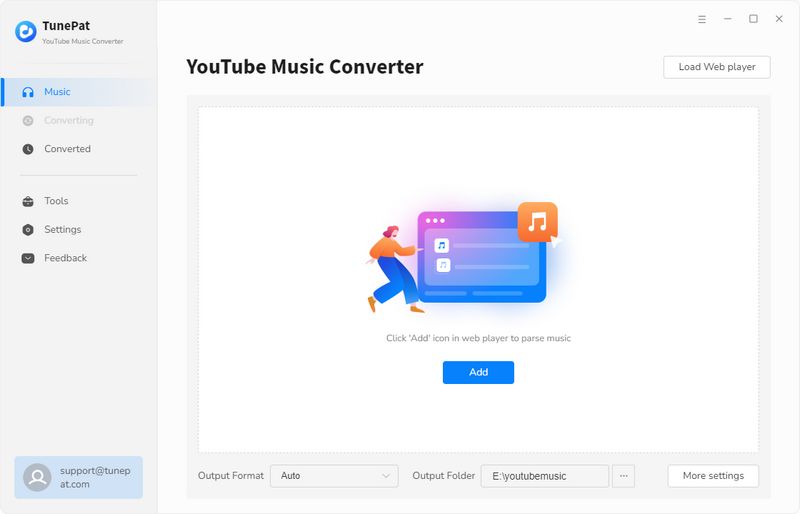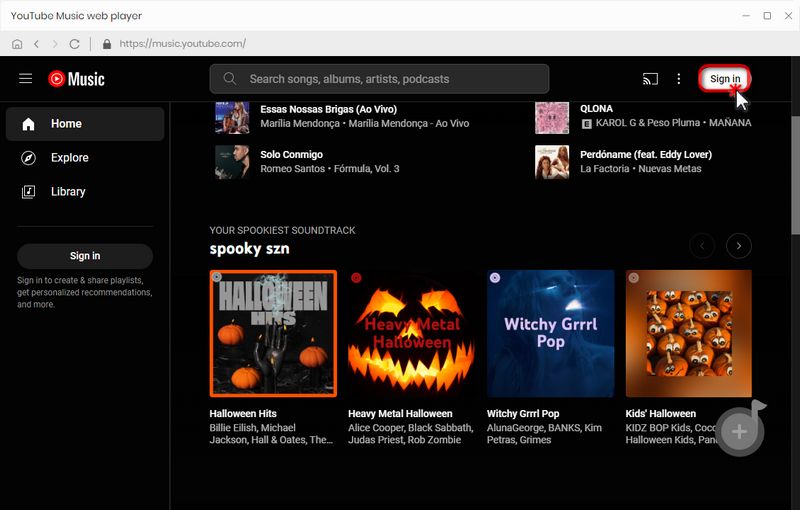 Step 2 Change the Output Format, Quality, and Other Settings
You can now visit the YouTube Music online player. The user interface is identical to that of the official website when accessed using any browser. Please click the "Settings" icon at the top right of the navigation bar before selecting music to convert and download. Complete the relevant output parameters in the settings window. You can select the output format, audio quality, output folder, output file name, and more. You can sort downloaded YouTube songs by Artist, Album, Artist/Album, Album/Artist, or Playlist, as needed, to make managing local music folders easier.
Parameters that you can customize include:
Output Format: Auto, MP3, AAC, WAV, FLAC, AIFF, ALAC
Bit Rate: 320kbps, 256kbps, 192kbps, 128kbps
Sample Rate: 192 kHz, 96 kHz, 48 kHz, 44.1 kHz
Output File Name: Track Number, Title, Artist, Album, Playlist Index, Year
Output Organized: None, Playlist, Artist, Album, Artist/Album, Album/Artist, Playlist/Artist, Playlist/Album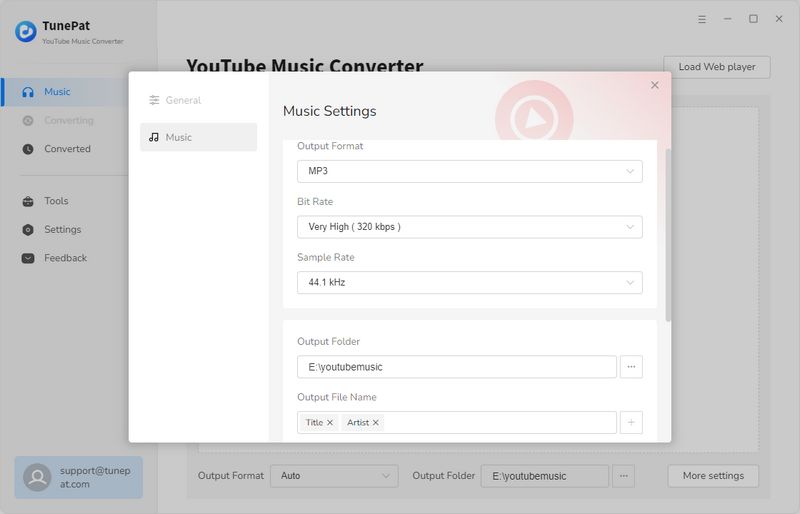 Step 3 Download YouTube Music Tracks to PC
Open the song, playlist, or album you want. Then, on the right-hand side, click the "Click to add" button. Choose the song you want to convert from the pop-up menu by clicking "Add", and then click the "Convert" button.
Click the "Add More" button to convert songs from other playlists or albums simultaneously if needed. The chosen songs will then be added to a queue to be transformed. Repeat these steps until all of the target songs have been selected. Finally, select the "Convert" button.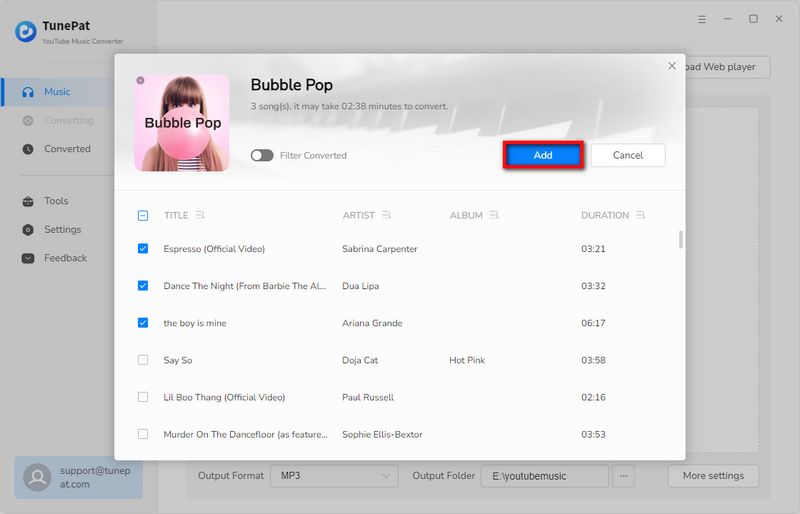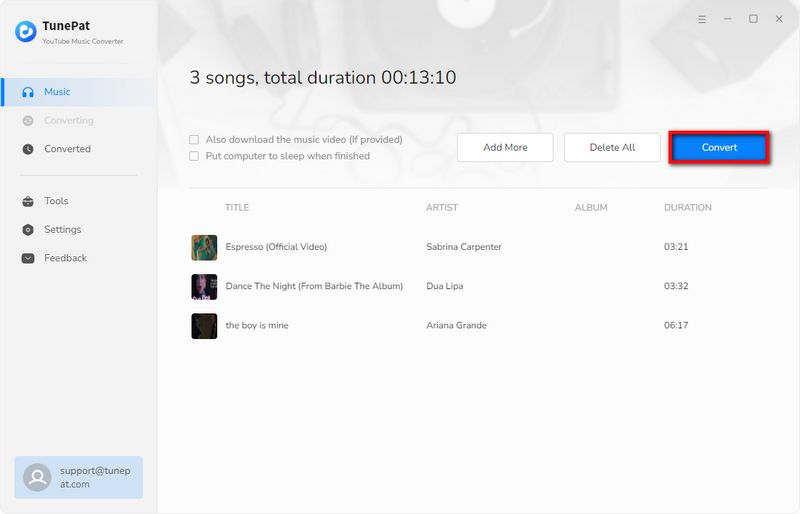 Step 4 Find and Download YouTube Music Tracks
Make sure the network is open. Then wait for the conversion to be fully completed. When it's done, you can browse or play the converted songs in the "Converted" module, or go to the local folder to view them.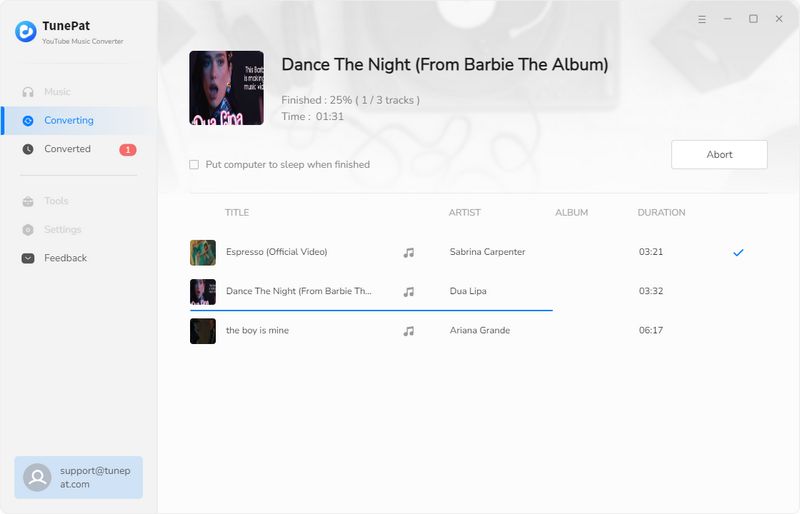 Conclusion
In a word, you must subscribe to YouTube's premium plan and be inside the valid membership term before you may download YouTube music via the official method and listen to it offline. You must have a monthly budget of at least $9.99 to become a member. Furthermore, you can only download to your mobile device, and the songs you download are only cached files. TunePat YouTube Music Converter is the most recommended method. You can obtain audio files that can be played on any device or media player in this manner. Get the free trial version right now! Begin your musical journey to liberation!