How to Import Amazon Music to DJUCED?
DJUCED is a feature-rich DJ software that provides DJs with the tools they need to create amazing mixes and performances. With its intuitive interface and extensive range of features, DJUCED offers a seamless DJing experience for both beginners and professionals alike. On the other hand, Amazon Music is a popular streaming service that offers a vast collection of songs, albums, and playlists across various genres. With Amazon Music, you have access to millions of tracks from both established artists and emerging talents, making it a treasure trove for DJs looking to expand their music library.
In this guide, we'll explore how to bring the world of Amazon Music into DJUCED, allowing you to harness the power of both platforms and take your DJing to new heights. Whether you're a seasoned DJ or just starting your musical journey, get ready to unlock a world of possibilities as we delve into the process of importing Amazon Music into DJUCED. Let's dive in and discover the perfect harmony between DJUCED and Amazon Music!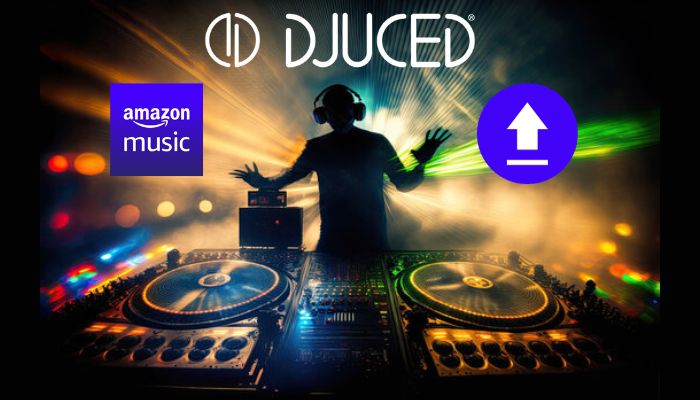 Part 1: Best Way to Import Amazon Music to DJUCED
While DJUCED is a fantastic DJ software for mixing and playing music, it doesn't have direct integration with Amazon Music. The most effective approach for users to incorporate Amazon Music content into DJUCED is to acquire the audio files from Amazon Music and subsequently import them into DJUCED. To accomplish this, TunePat Amazon Music Converter proves to be an excellent solution. It is a professional tool designed specifically for downloading Amazon Music. With TunePat, you can convert songs, albums, playlists, and podcasts from Amazon Music HD, Prime, and Unlimited into various formats such as MP3, AAC, WAV, FLAC, AIFF, or ALAC.
This program boasts a remarkable conversion speed of 10 times, ensuring a swift and efficient process. Moreover, it preserves the high-quality sound of UHD and HD tracks while retaining essential ID3 tags like title, artist, album, and more. The converted music can be played simultaneously on multiple devices and can be easily transferred to other applications, including DJUCED. With TunePat, you can seamlessly integrate your favorite Amazon Music content into DJUCED and enjoy a seamless DJing experience.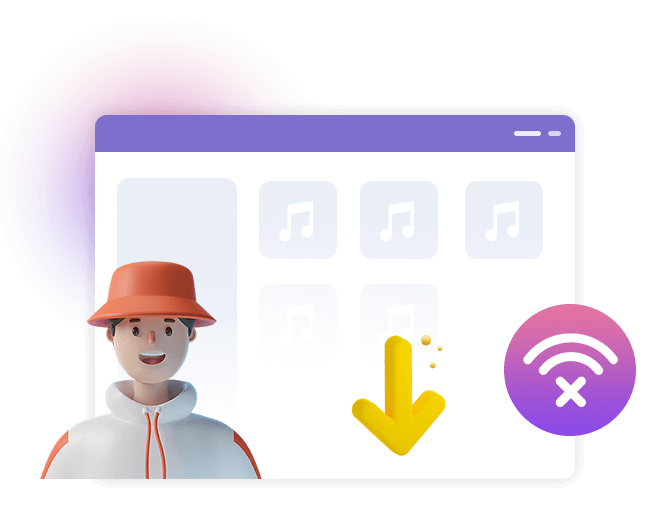 TunePat Amazon Music Converter
Download songs, albums, playlists, and podcasts from Amazon Music.
Convert Amazon Music songs to MP3, AAC, WAV, FLAC, AIFF, or ALAC.
Preserve the Ultra HD or HD quality after conversion.
Keep ID3 tags including Title, Album, Artist, Artwork, TrackNum, etc.
10x download speed & batch conversion.
Support to save lyrics, burn music to CDs, edit ID3 tags, export to iTunes, etc.
Keep the downloaded Amazon songs when your subscription expires.
Step 1 Select a Conversion Mode
Once you have successfully installed and launched TunePat, you will be presented with two conversion modes to select from.
Record from Amazon Music (App): This option allows you to download Ultra HD songs, albums, playlists, and podcasts from Amazon Music by simply copying the song URL. The conversion speed for this mode is up to 5 times faster.
Record from Amazon Music (Webplayer): With this mode, you can utilize the built-in Amazon Music web player to browse and choose HD songs, albums, playlists, and podcasts. The download speed for this mode is an impressive 10 times faster, and the best part is that you don't need to have the Amazon Music App installed to use it.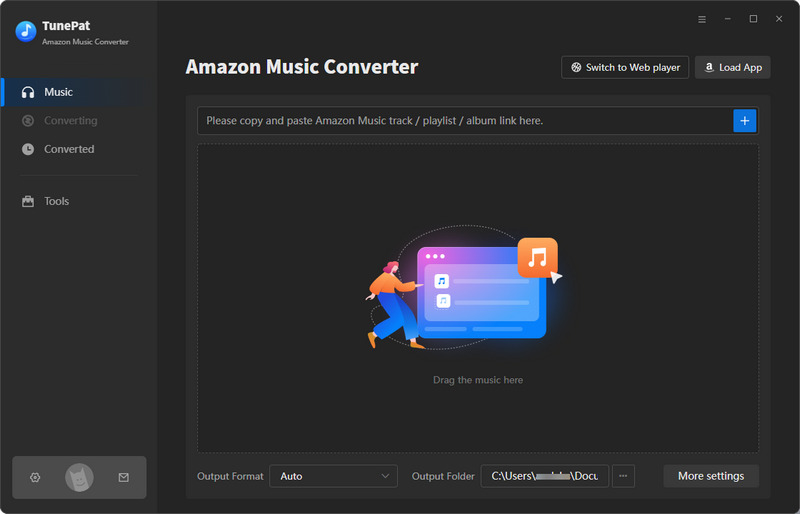 Step 2 Add Amazon Music to TunePat
App Mode: To add Amazon Music to TunePat, you can easily do so by pasting the music link into the blue box located on the right side of the home page. You can click on the "three-dot" icon, and select the "Copy Link" option, followed by "Share Song/Share Album/Share Playlist". Once you have copied the link, you can paste it into TunePat. As soon as you click the blue "+" icon to confirm, TunePat will promptly begin reading the selected Amazon song, album, playlist, or podcast.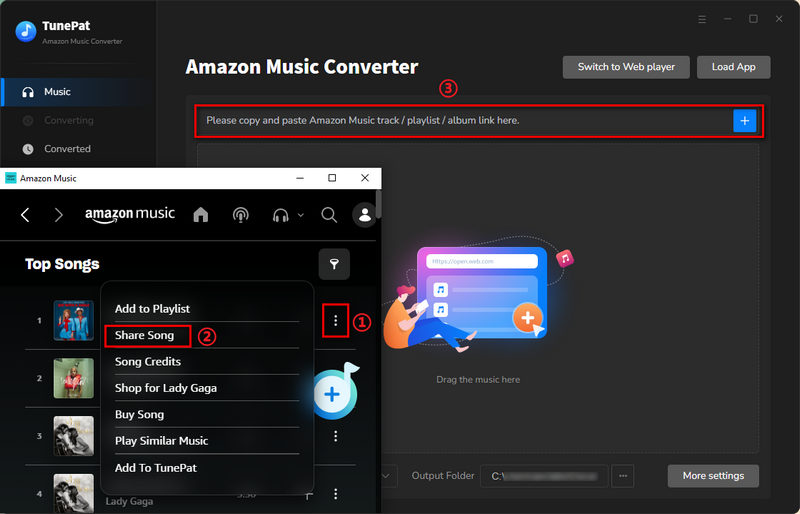 Another option is to simply drag and drop your desired tracks from the Amazon Music app directly into the "Drag the music here" box located on the home page of the TunePat Amazon Music Converter.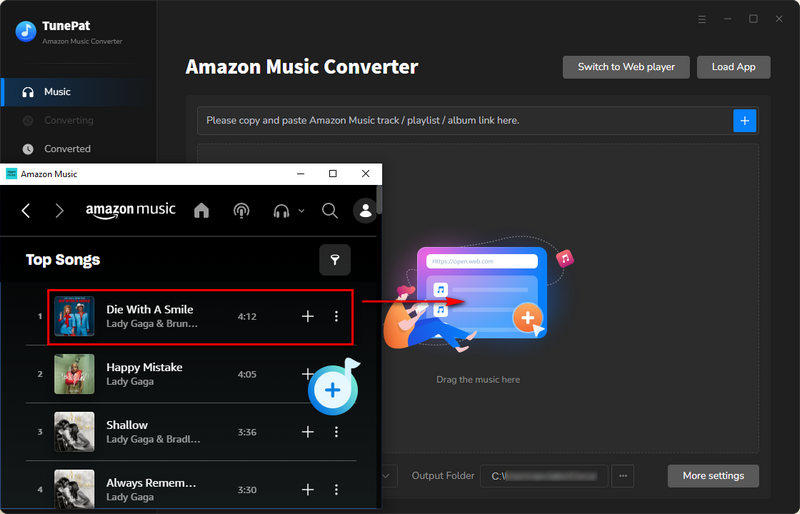 Webplayer Mode: Once you have found the preferred music, simply click on the blue "Click to add" button located in the bottom right corner. TunePat will promptly recognize and process the chosen Amazon song, album, playlist, or podcast, ensuring a smooth and efficient conversion process.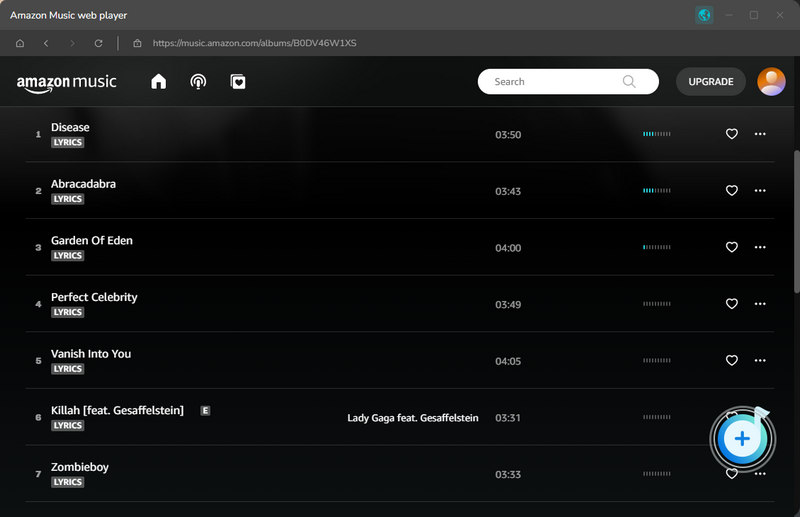 Afterward, a pop-up window will appear, displaying all the selected Amazon songs. To initiate the conversion process, you can simply click the "Add" button on the current page. This action will prompt TunePat to begin converting the chosen Amazon songs.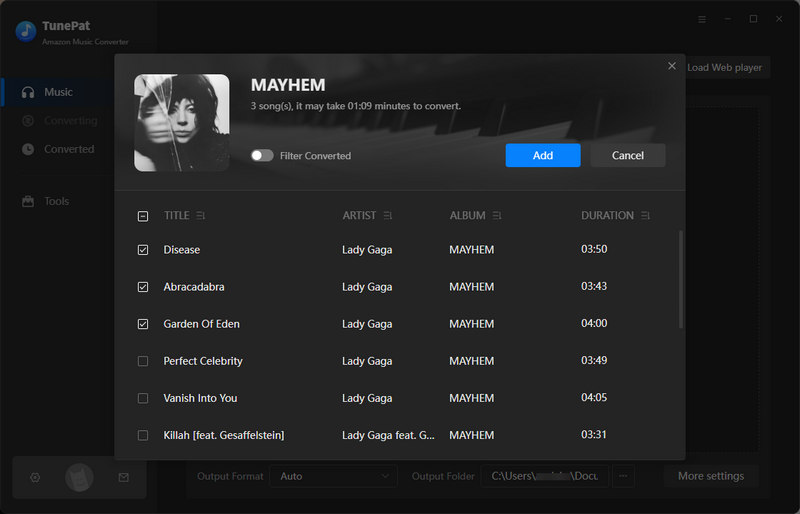 Step 3 Change the Output Format, Quality, and Other Settings
Locate and click the "Settings" button situated in the lower left corner. This will allow you to configure various aspects such as the conversion mode, output format, audio quality, output path, and more. Considering DJUCED's compatibility with multiple audio formats, including MP3, AAC, M4A, WAV, FLAC, AIFF, OGG, and other plain audio files, it is recommended to set the output format as "MP3" for seamless integration with DJUCED.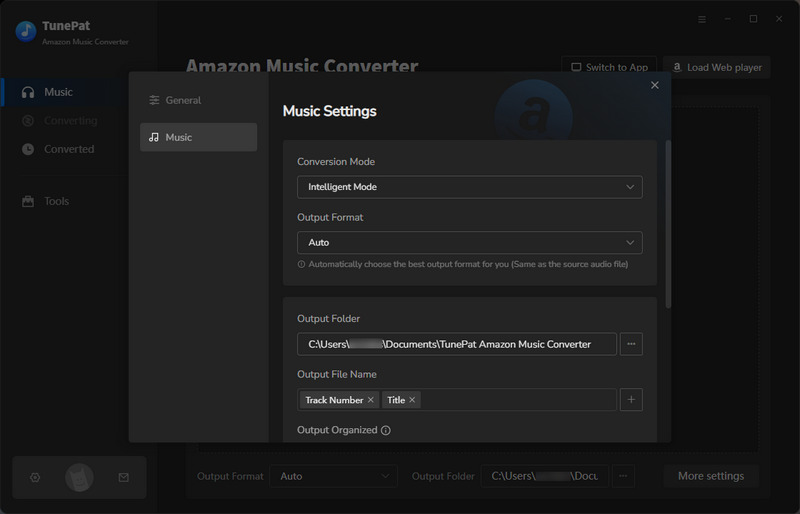 Step 4 Download Your Favorite Amazon Music to Your PC
If you want to add additional songs, playlists, or albums for conversion simultaneously, you can simply click on the "Add More" button. This action will redirect TunePat back to Amazon Music, allowing you to make further selections. Once completed, you can proceed by clicking on the "Convert" button to initiate the download of all the chosen Amazon music.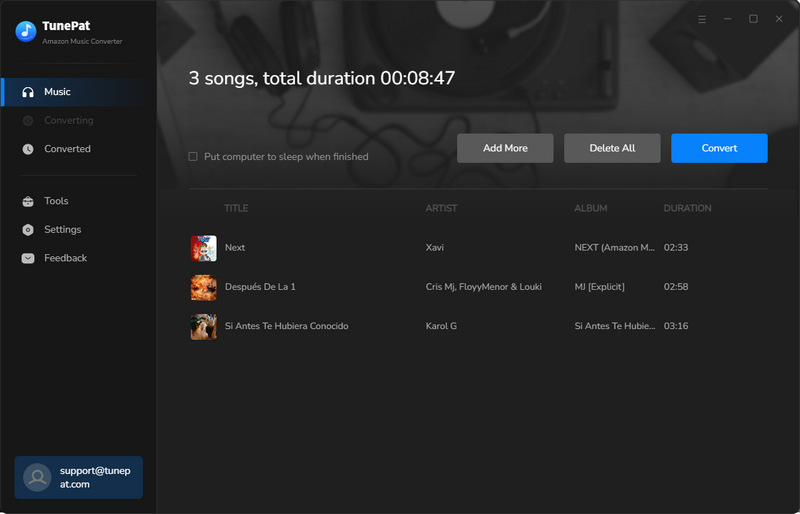 The selected music will be converted to MP3 format at a rapid 10x conversion speed, and the designated file folder will automatically open. You can access the "Converted" module to browse through the converted music and easily locate them respectively by clicking the "file" icon next to them.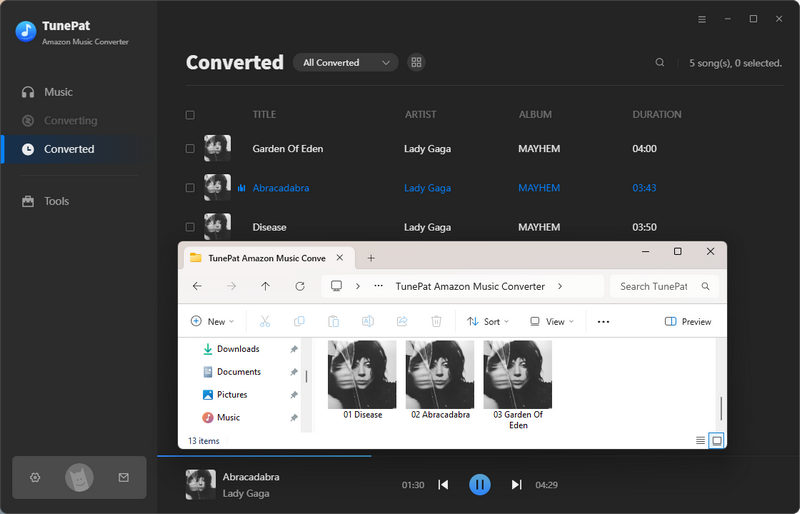 Part 2: How to Use Amazon Music on DJUCED?
By following the instructions provided above, you can easily transfer the converted Amazon Music to DJUCED for smooth integration. Ensure that you download the correct version of DJUCED onto your computer according to the operating system of your device. Now, let's illustrate how straightforward it is to upload Amazon Music files to DJUCED on a PC using two different methods:
Method 1: Upload Amazon Music to DJUCED from Local PC
Step 1 Install and activate the DJUCED on your PC.
Step 2 Simply click Explorer on the left library browser, and then tap on the folder to search for the Amazon Music folder downloaded just now. This depends on the output folder you just set in TunePat's Settings. If you didn't change the output path, just follow our guide.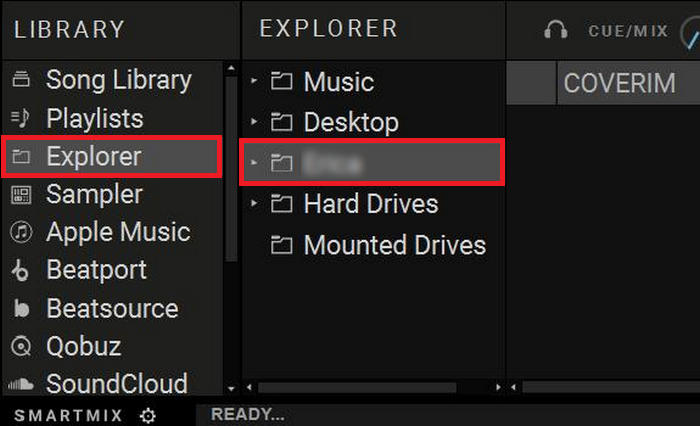 Step 3 Scroll down, select the music folder named TunePat Amazon Music Converter, and click the songs you downloaded just now. As a result, the converted Amazon Music files will be successfully imported into DJUCED and you can add each track to the decks for your preference.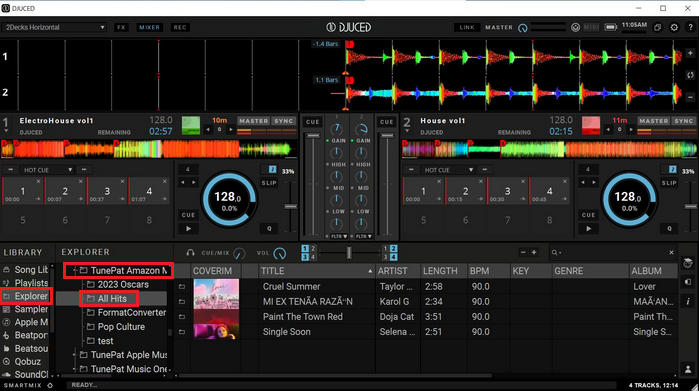 Method 2: Use Amazon Music on DJUCED via Apple Music
Another method is to export your Amazon Music files to iTunes and import them directly into DJUCED. How do you use your Amazon Music collection on DJUCED via iTunes? Simple to understand!
Step 1 Open TunePat, select the songs you just downloaded, click on the four-square icon above, and select the "Export to iTunes" option. TunePat will list them in a playlist and allow you to name it. To better find the location, here I set the name of the output playlist as "TunePat".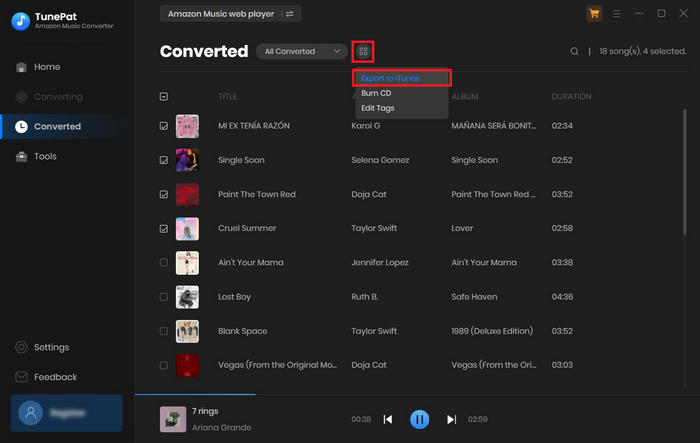 Step 2 Open DJUCED, and click Apple Music on the left library browser. Scroll down and search for the "TunePat" playlist. You can freely use Amazon Music tracks to mix your music on DJUCED.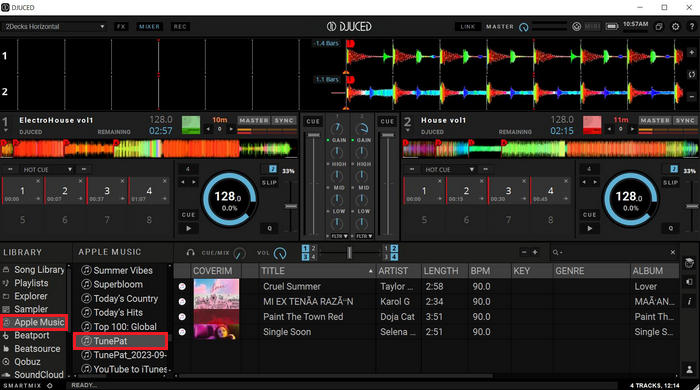 Please ensure iTunes allows another program to browse your library or you may not access to iTunes collection on DJUCED. If you can not find your Apple Music library, please follow the steps below to fix this problem.
Step 1 Open iTunes, click "Edit" and then select "Preferences".
Step 2 It will pop up a window and please head to the "Advanced" section.
Step 3 Tick off the "Share iTunes Library XML with other applications" checkbox, and click "OK".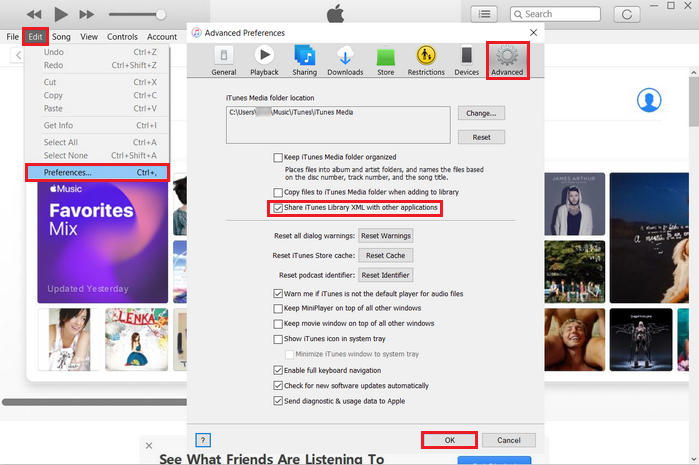 Conclusion
To sum up, although DJUCED does not directly support Amazon Music, you can incorporate it into DJUCED by utilizing a trustworthy music converter called TunePat Amazon Music Converter. This solution enables you to redirect the audio from Amazon Music to DJUCED, granting you access to a wide range of tracks and personalized suggestions. By integrating Amazon Music into DJUCED, you can craft distinctive DJ sets, discover new music, and deliver unforgettable experiences to your audience. This article presents two approaches to adding Amazon Music to DJUCED. Download TunePat now and enjoy your DJing endeavors!