How to Keep Amazon Music Prime Songs Forever
Amazon Music recently made some changes to how its Amazon Music Prime subscription tier works. Previously, Amazon Music Prime offered subscribers a limited library of hits (2 million tracks) as a "free" add-on. They can upgrade to Amazon Music Unlimited at a discounted price to access the entire music catalog. Now, Amazon Prime subscribers have access to the full music catalog with up to 100 million songs. Not only that, but Amazon Prime Music has launched ad-free podcast episodes for its users.
However, this change did not attract a lot of praise. Instead, many users shouted that it is a trap! This is because now music can only be played in shuffle mode by artist, album, or playlist, and Prime users are no longer allowed to select individual songs. According to users, this is true even for paid music. And you can only skip six tracks per hour. Even though Prime users can still play on demand or download 15 personalized "All-Access" playlists offline, this move has led to the loss of Amazon Music Prime's competitiveness in the competitive streaming music industry. Change is a foregone conclusion, and this article is here to solve your problems. With this method, you can easily convert Amazon Music Prime songs to MP3 and save them forever.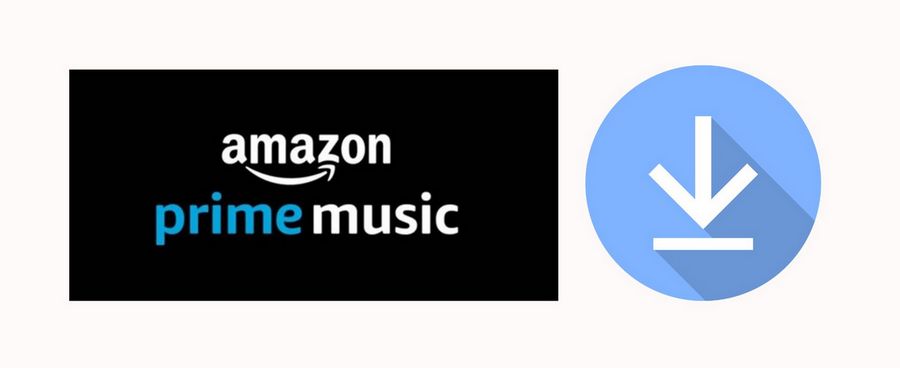 Part 1. Can I Save Songs Permanently After Upgrading to Amazon Music Unlimited?
Just as you know, Prime members get Amazon Music Prime for free. And if you want to upgrade to Music Unlimited, you'll need to pay an extra $8.99 per month as a Prime member or an annual fee of $89 per year. Annual membership saves $40. Thanks to a change on November 1, 2022, Amazon has unlocked Amazon Music's full music library for free to Prime members. So what's the difference between the two? Let's take a look.
◉ Amazon Music Unlimited allows users to freely select and play any song without ads.
◉ Amazon Music Unlimited is significantly different from Prime Music in sound quality. It has 100 million songs in HD and millions of songs in Ultra HD.
◉ Amazon Music Unlimited also has many music catalogs made with Dolby Atmos and 360 Reality Audio.
◉ Use your Amazon Music Unlimited account to skip unlimited songs you want to listen to.
◉ Unlimited subscribers are allowed to download and listen offline to any favorite list, album, or artist's song.
See here, we can already answer the question of the title. The answer is no. After we upgrade to the Unlimited account, we can unlock more important functions and have more freedom in playing Amazon Music. For example, you can download your favorite songs, and then when you are in a place with no Internet or poor Internet, your Amazon Music will not "lose contact" with you. But what you need to know is that although the downloaded Amazon Music files will take up the space and memory of your device, they are just temporary files. The meaning of their existence is only to be read by the Amazon Music app. In other words, you can't still play these files without using the Amazon Music app. Let alone keep them forever. They also can't be changed or moved at will.
So whether you're an Amazon Music Prime or Unlimited user, you must know the following method. Download your favorite Amazon Music playlists locally, as MP3 or other common formats, and save them forever. Read on to the next section, it's very important!
Part 2. How to Download Amazon Music Prime in MP3 Format for Offline Playback?
Exporting Amazon Music to normal formats requires the help of third-party tools. There are many options for such tools, but the efficient and easy-to-use TunePat Amazon Music Converter must be your first choice. This powerful tool helps Prime and Unlimited users break the limitations of the original platform for their paying users, allowing users to easily export Amazon music songs, playlists, albums, etc. in multiple formats, while perfectly retaining Amazon's original high-definition sound quality and ID3 tags. These all help users manage their local music library in an organized manner.
In addition, as an Amazon Music Converter with a simple interface, you can get the audio files you want with the click of a few simple buttons without requiring a lot of computer operation knowledge. You don't need to use other redundant apps during the whole process, including the Amazon Music app, this 100% clean and green software allows you to not worry about any potential foreign viruses that will adversely affect your computer. Next, we will explain in detail how to use the Prime Music account to get Amazon Music in MP3 format on TunePat Amazon Music Converter.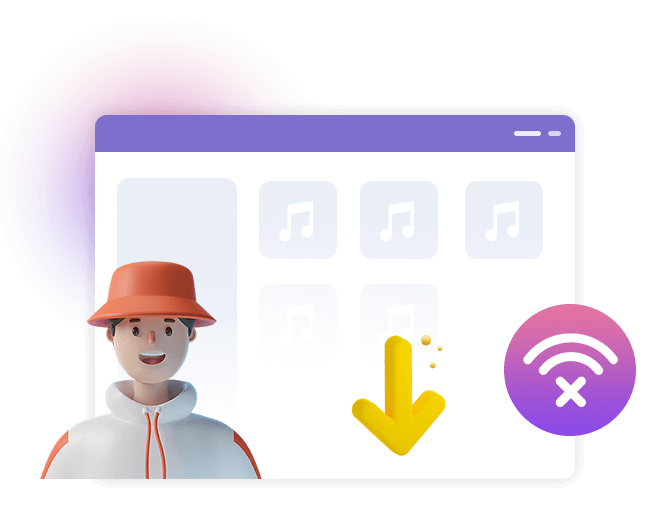 TunePat Amazon Music Converter
TunePat Amazon Music Converter lets users get Amazon Music tracks, albums, playlists, or podcasts with HD or Ultra HD audio quality kept.
Download songs, albums, playlists, and podcasts from Amazon Music.
Convert Amazon Music songs to MP3/AAC/WAV/FLAC/AIFF/ALAC.
Preserve the Ultra HD or HD quality after conversion.
Keep ID3 tags including Title, Album, Artist, etc.
10x download speed & batch conversion.
Keep the downloaded Amazon songs when your subscription expired.
To export Amazon Music as a local file, there are three steps to follow. If this is your first time using TunePat, please click the "Download" button above to choose and install the correct version for your computer's operating system. We'll use a Windows computer to show you how this works.
Step 1 Select a Conversion Mode
You will have two choices after starting the program: App mode and Webplayer mode. These modes each function in a unique way. The highest level Ultra HD sound quality audio files are available in App mode, up to 5x conversion speed. Instead of downloading the Amazon music app, Webplayer mode enables you to use the embedded web player directly. Songs can be downloaded from here at 10X the normal speed, but only in HD. Choose a mode and finish logging in.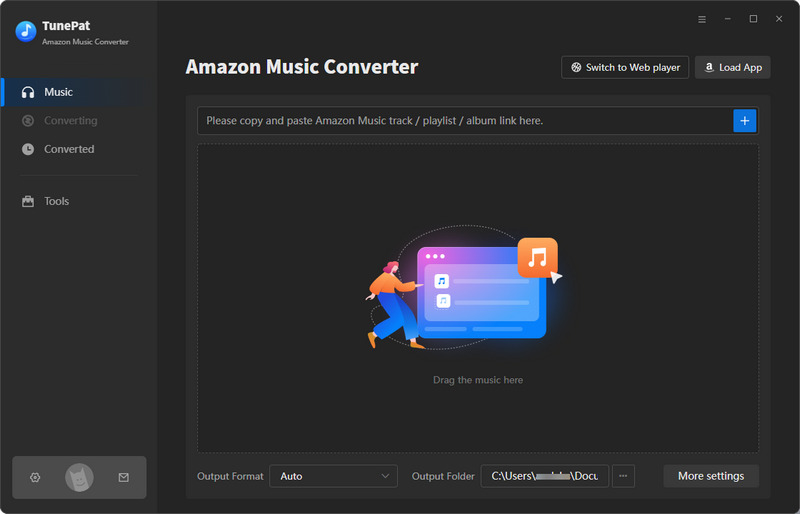 Step 2 Add a Song, Podcast, Album, or Playlist from Amazon Music
Now please open an Amazon Music Prime playlist or album you want to save permanently and follow the steps below for adding songs:
App Mode: Either drag and drop the selected song onto the space provided on the TunePat home page or copy and paste the song's URL straight into TunePat. Click the "+" sign lastly.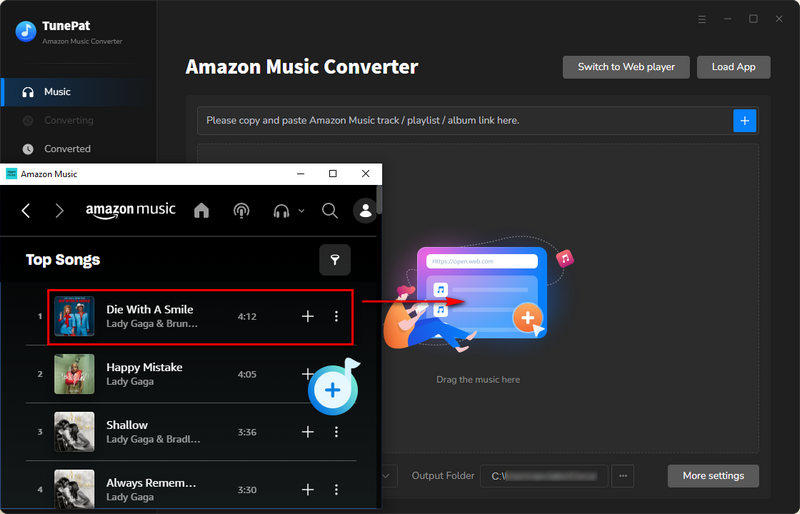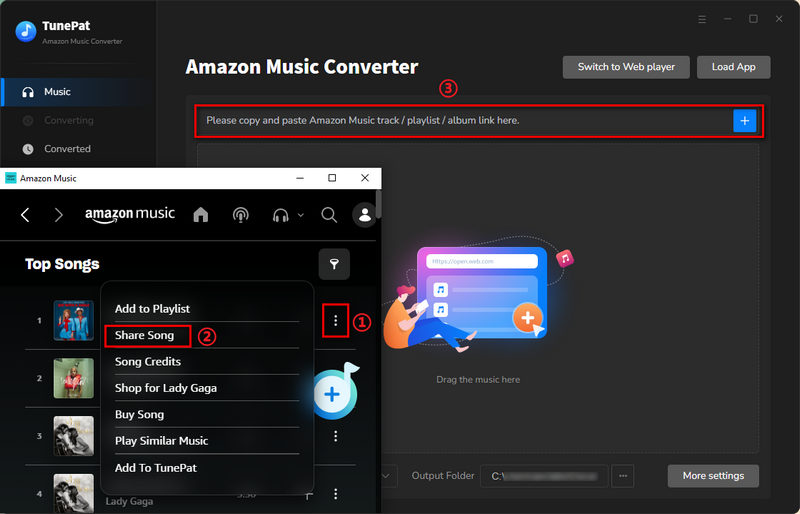 Webplayer Mode: The embedded web player will automatically load in this mode. Click the "Click to add" option after choosing the music you want to convert. The chosen songs will be recognized by TunePat immediately.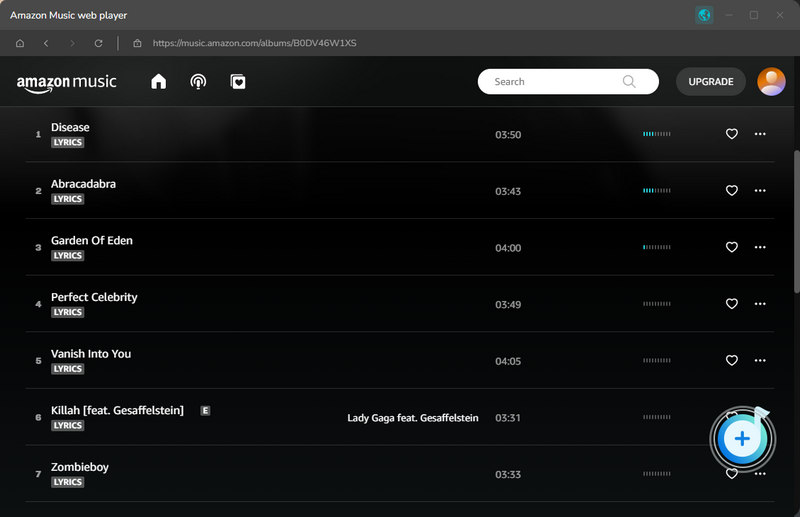 Then, a pop-up window displaying all of the Amazon music on the current page will appear. You can decide whether to convert all the songs in the list or manually select some songs for conversion and download. To include them in the conversion process, click the "Add" button.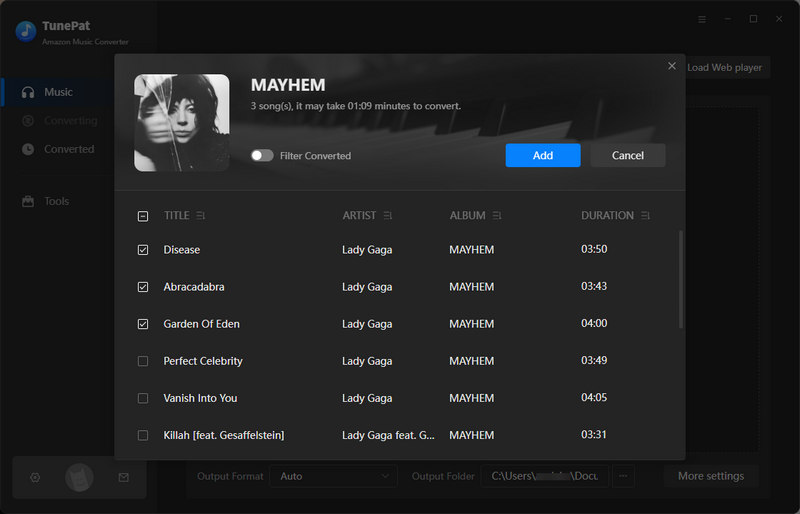 Step 3 Complete the Amazon Music Output Parameters as Required
Before converting Amazon Music songs, please complete the settings of the output parameters. If you are a new user and do not customize the parameters, the program will output the Amazon Music you selected with the default settings and save it to the default path.
Please click the "Setting" button in the lower-left corner of the menu bar, and then the Settings window will pop up. Here you can choose the format of the output file, the output sound quality (bit rate and sample rate), the output path, the output file name, etc. As well as decide how to arrange the output files according to your preference. When done, return to the conversion list, and changes will be applied automatically.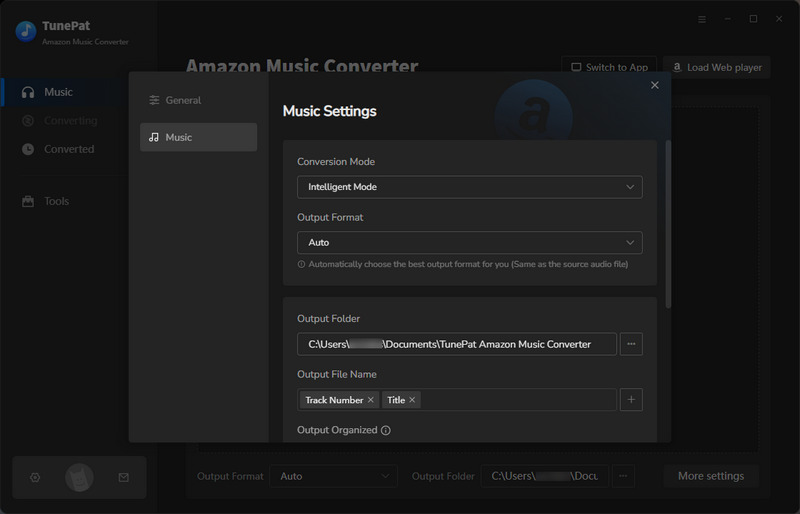 Step 4 Download Your Favorite Amazon Music to Your Local PC
Click the "Convert" button and wait for the conversion to complete. When done, the program will pop up the output folder by default. You can also browse or play any historical conversion file in the "Converted" module.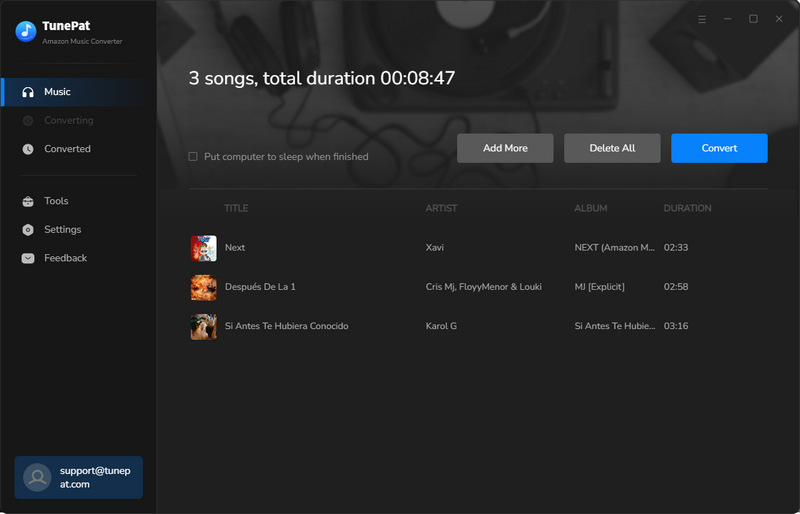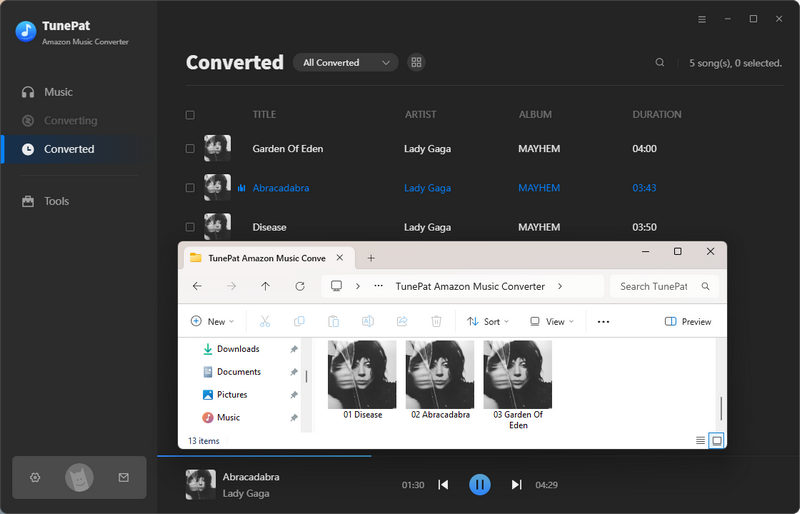 Congratulations! The converted Amazon Music Prime songs can be saved forever! So where can we use them after saving?
◉ When you want to cancel your Amazon Music subscription and switch to other platforms, such as Spotify, Apple Music, YouTube Music, etc.
◉ Set Amazon Music as the ringtone, alarm, background music for videos, and more.
◉ Import Amazon music into DJ software for mixing, such as Serato DJ, etc.
◉ Transfer converted Amazon music to various devices for playbacks, such as Apple TV, PS5, and more.
◉ Move Amazon Music Prime songs to a USB flash drive or SD card.
◉ Burn playlists from Amazon Music Prime to CD and give them to friends as gifts.
◉ And many other uses.
Conclusion
This's the end of this article! Let's briefly review this article that explores how to convert Amazon Music Prime to MP3 and save it forever. I think you must have followed the steps to get the Amazon Music you want! As you can see, TunePat Amazon Music Converter is a professional and convenient Amazon Music Converter. It can help you get Amazon Music in a variety of different common audio formats and can be used on any multimedia player outside the Amazon Music app.
Fretting about Amazon Music Prime's changes? Angry that you can only shuffle Amazon Music? Can't download Amazon Music Prime for offline playback anymore? Act fast! One tool solves 99% of your troubles, download this useful tool now and start your free trial!