How Much Is Apple Music?
There is no doubt that Apple Music is one of the most widely used streaming music platforms worldwide. Apple Music offers users over 100 million songs in lossless audio quality, allowing them to listen to music anyway they want. Are you thinking about signing up for Apple Music for the first time or returning to the service? Follow along as we break down Apple Music's pricing, including information on its plans, money-saving tips, and ways to obtain free membership to the service.
If you're intrigued, let's check out how much Apple Music costs together!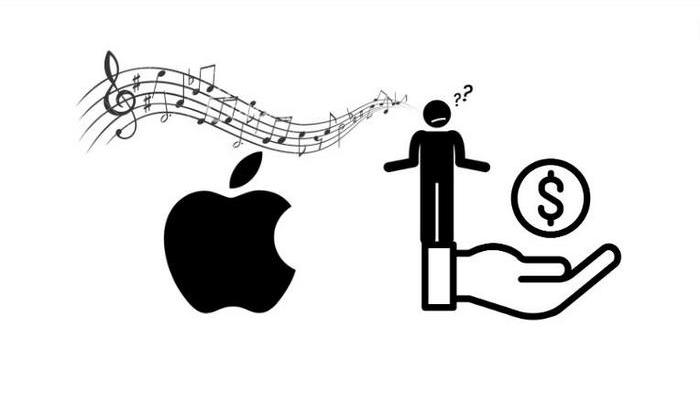 Part 1. What Are Apple Music Plans
Be aware that each subscription plan for Apple Music includes access to the same library of ad-free content, offline listening, Apple Music 1 live, on-demand radio shows, and exclusive releases. After registration, you can enjoy ad-free interface and enjoy more than 100 million songs (all of which are available for free in lossless audio), along with exclusive playlists and live radio that you can access on any device. However, they share different function, not all the same. There are five Apple Music plans listed below to show their differences.
1. Apple Music Voice Plan: $4.99/£4.99 a month
The Voice plan offers an interesting alternative to other Apple Music subscriptions——It only has audio. Moreover, it can only be used on Siri-enabled devices, which means you can only use Apple products. The Voice plan has access to every song's audio version on Apple Music, but you can't use this plan to watch music videos or search for lyrics. Additionally, it won't support any of Apple's higher-tier audio formats, including spatial audio (which renders the latest AirPods less effective) and lossless audio.
This plan is a suitable choice for users who utilize HomePods, AirPods, or CarPlay to stream music frequently. Additionally, it provides personalization based on user preferences over time and gives access to all Apple Music playlists.
2. Apple Music Student Plan: $5.99/£5.99 a month
All students who have genuine student email addresses from supported educational institutions are eligible for a 50% discount on Apple Music memberships, bringing the cost of the monthly subscription down to a cost-effective level. At present, the plan is only valid for college students.
3. Apple Music Individual Plan: $10.99/£10.99 a month
The most basic way to get a premium Apple Music account is to pay an individual subscription fee of about $11 per month. Apple also gives users the choice of paying for a full year of service, giving a discount. It should be noticed that users occasionally must first sign up for Apple Music on a monthly plan in order to see the option for the cheaper yearly subscription.
4. Apple Music Family Plan: $16.99/£16.99 a month
The Apple Music family plan is about $17 a month. Up to six people can use this subscription to get access to the streaming service together. This plan can help a large family full of music enthusiasts save a lot of money.
5. Apple One Plan: from $16.95/£16.95 to $32.95/£32.95 a month
You can also select an Apple One plan, which bundles all of Apple's services into a single discounted fee that includes iCloud+, Apple TV+, Apple Arcade, and more in addition to Apple Music. The monthly cost for an individual Apple One plan is $17, while the monthly cost for an Apple One Family plan is $23. A Premier package, which includes Apple News+ and Fitness+, costs $33. If you use many Apple services, Apple One could be a helpful option.
Part 2. How to Pay Less for Apple Music
Previously, purchasing discounted iTunes gift cards was a smart strategy for getting discounts on Apple Music service. Finding inexpensive gift cards is becoming more challenging due to Apple's announcement of unified gift cards. No worries! Here are several ways for you to save money on Apple Music service.
1. If you're a student, you're eligible for a 50% discount on Apple Music memberships and here's a tutorial to obtain an Apple Music student discount.
2. If you go for a basic individual plan, you should notice that Apple provides users the choice of paying $109 upfront for a full year of service, saving a handsome $23 in the process.
3. If you are in a family full of music lovers, Apple Music Family Plan is recommended. It works out to a total savings of $5 per month for two people, $15 for three, $25 for four, $35 for five, and $45 for six family members.
4. If you subscribe to multiple Apple services, Apple One plan is recommended that saves you from $6 to $25 a month.
Part 3. How to Get Apple Music for Free
Before purchasing, it's a good idea to try Apple Music and see if you like this program. Four methods are offered to try it for free down below.
1. You can get one month's free trial of Apple Music if you're a new subscriber.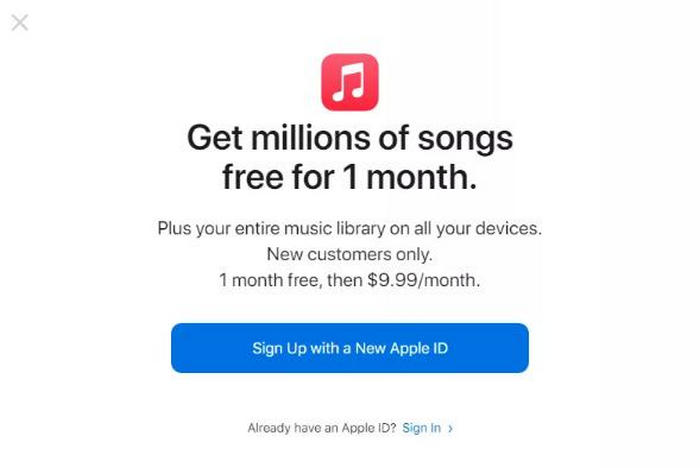 2. You can get three months of Apple Music for free with Shazam if your use your iPhone camera to scan the QR code on the Shazam website.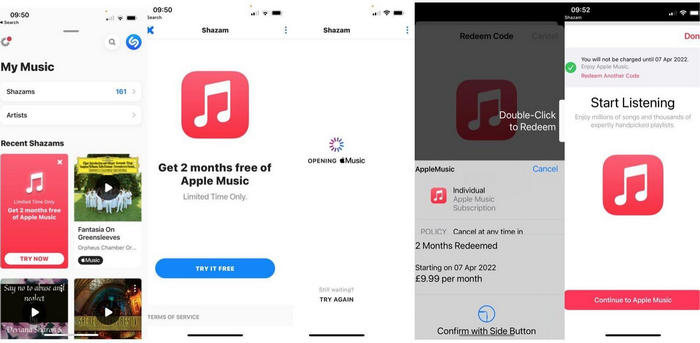 3. You can receive four months of free Apple Music access through the Best Buy website if you sign up for the service for the first time.

4. Apple offers six months free Apple Music if you purchase a HomePod, AirPods, or Beats headphones.
Part 4. How to Save Apple Music Forever without Premium
The option to download music for offline playback is one of the main benefits of Apple Music subscription plans. Users who want to listen to Apple Music while going outside or in locations with spotty internet access will find this functionality to be very helpful. For people who want to keep their Apple Music downloads playable after canceling the membership or who do not have enough money to upgrade to the Premium, converting Apple Music into MP3 and playing them on infinite devices is a wonderful option.
TunePat Apple Music Converter can help you export your favorite tracks from Apple Music and save them locally in MP3, AAC, FLAC, WAC, AIFF, or ALAC format. You can also receive Apple Music tracks with the original sound quality and ID3 tags thanks to the converter's fast 10X speed operation without sacrificing the song's quality. The application interface has a contemporary, user-friendly design. Let's examine the particular stages with just a few quick clicks.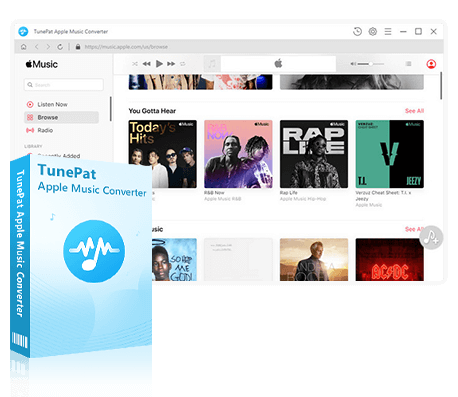 TunePat Apple Music Converter
TunePat Apple Music Converter helps you download and convert all Apple Music songs and playlists to MP3 and other common formats.
Download songs, albums, playlists, and podcasts from Apple Music.
Convert Apple Music songs to MP3/AAC/WAV/FLAC/AIFF/ALAC.
Preserve the original quality of the songs after conversion.
Keep ID3 tags, including Title, Album, Artist, etc.
Downloaded songs can be played on a USB drive, Amazon Echo, etc.
Step 1 Log in to TunePat with your Apple ID.
Activate TunePat Apple Music Converter and select "Open Apple Music Web Player" from the menu. Then, you can adhere to the on-screen instructions to access the account login window and log in your Apple ID. Once signed in, you can browse your Apple Music library.
Step 2 Customize the Output Parameters of Apple Music.
Click the "Gear" button in the menu bar's upper right corner and finish customizing the output parameters in this options box first, including the output format (MP3 is typically preferred), output sound quality, output file name, etc.
The following contents are editable:
Output Format: AUTO, MP3, AAC, WAV, FLAC, AIFF, ALAC
Bit Rate: 320kbps, 256kbps, 192kbps, 128kbps
Sample Rate: 192 kHz, 96 kHz, 48 kHz, 44.1 kHz
Output File Name: Track Number, Title, Artist, Album, Playlist Index, Year
Output Organized: None, Playlist, Artist, Album, Artist/Album, Album/Artist, Playlist/Artist, Playlist/Album
Step 3 Convert Your Apple Music to PC.
Go directly to the Playlist/Album/Song you want to convert and click the blue "Add to list" button in the lower right corner. All of the songs will be instantly recognized by TunePat. You have the option to select a large quantity of songs with a single click or only a few of them.
If you want to convert the currently selected playlist only, click on the "Convert Now" button to start the conversion process. Select "Save to list" to temporarily save the chosen songs if you wish to convert songs from several different playlists at once. Then, click "Convert" to complete the one-time conversion.
You just need to wait for a short time until the conversion is complete. After the conversion, you can transfer these files to other portable devices, play them without limitation, and save Apple Music forever without premium.
Conclusion
Overall, the superior sound quality and offline playback features of Apple Music subscriptions give users a better listening experience. Depending on the plan you select, subscription costs vary.
For users, what Apple Music value most is still its downloading feature because it is inevitable that there is no network or bad signal when they go outside to travel or do something else. However, downloaded Apple songs can only be read by the Apple Music app, and after the subscription, those songs will be invalid and need to subscribe again. Therefor, you need a powerful music converter to help you.
In this article, we share the methods of paying less for Apple Music and geting free access to it, and a practical tool that saves Apple Music forever without premium——TunePat Apple Music Converter. It can help you convert Apple Music to a common audio format and save it forever. For the download and installation of this fantastic program, click the icon below.