How to Transfer Pandora Music to USB Drive
As one of the major audio entertainment music streaming services and a prominent digital music platform in the United States, Pandora has a large
With over 64 million active users and more than 13 billion customized radio stations created by users and moderators, Pandora Music is one of the leading platforms to discover new music and podcasts. As you know, the streaming platform is always released as a fee-paying service. However, like Spotify, Pandora Music provides a free tier to users, which will operate as a free advertiser-sponsored service. To remove the advertisements, you can pay attention to the other two types of models. One is Pandora Plus, costing $4.99 a month. With the Pandora Plus account, subscribers can replay an unlimited number of tracks infinite times. Another option is Pandora Premium, and you should pay $9.99 a month. You can get music with higher audio quality and gain unlocked features like downloading music and listening to them offline.
When it comes to streaming music services, one has to pay attention to is the audio quality. You can listen to songs at 64 kbps in AAC format as a free user. If you subscribe to Pandora Music, you can stream music at 192 kbps in MP3 format by changing the audio setting. However, Pandora's stream quality does fall behind the rest of the competition. For example, Tidal Music provides us with HiFi and Master quality audio. Of course, the choice varies from person to person, and for those on a budget but still want an affordable streaming platform, Pandora is arguably a good option.
And today, we're going to explore a question of interest to many Pandora users. That's how to rip Pandora songs from the web player and then transfer them into USB Drive with ease.

Part 1. Convert Pandora Music Into MP3 Format
Due to the unique format limitation of Pandora songs, it seems to be a challenging thing to download Pandora songs or save them permanently. However, keeping Pandora as a local file, in MP3 or other popular formats, can also become an easy task if you know the correct method and the necessary tools. All kinds of tools are available online, but not all programs and applications work smoothly. Here we want to share a fantastic tool - TunePat Pandora Music Converter.
This tool helps you get Pandora songs and listen offline very quickly. Once a Pandora song is saved as a valid, playable local audio file, you can freely transfer it to a USB Drive, MP3 player, iPod Nano, smartphone tablet, and other devices. Even if necessary, you can import Pandora music to a video project, Microsoft PowerPoint, and other places as background music. Besides, TunePat also supports batch conversion of songs, and you can download different music tracks from different playlists or albums simultaneously. What's more, with the help of advanced decoding technology, the tool can preserve the ID3 tags of the audio, such as title, artist, etc. We will discuss downloading and converting Pandora songs to MP3 with TunePat Pandora Music Converter in the following sections.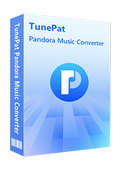 TunePat Pandora Music Converter
Download Pandora Music tracks, albums, playlists, or podcasts.
Download ad-free Pandora tracks with a free account.
Convert Pandora Music to plain MP3, AAC, WAV, FLAC, AIFF, or ALAC format.
Preserve main ID3 tags and original audio quality.
10x download speed & batch conversion.
With tools available to change output formats, burn CDs, and edit the tag information.
Play Pandora Music on an MP3 player, Apple Watch, iPhone, Android, etc.
Here is a simple guide on downloading and then converting Pandora Music via TunePat. The program is available in Windows and macOS versions, and please select the appropriate version to download. Once you finished downloading this program, install and launch it.
Step 1 Log in to Pandora Music Web Player
Run TunePat Pandora Music Converter on your computer. With the Pandora Music web player built-in, you will be directed to the login page automatically. Then sign in with your Free or Premium Pandora account to get access to Pandora library.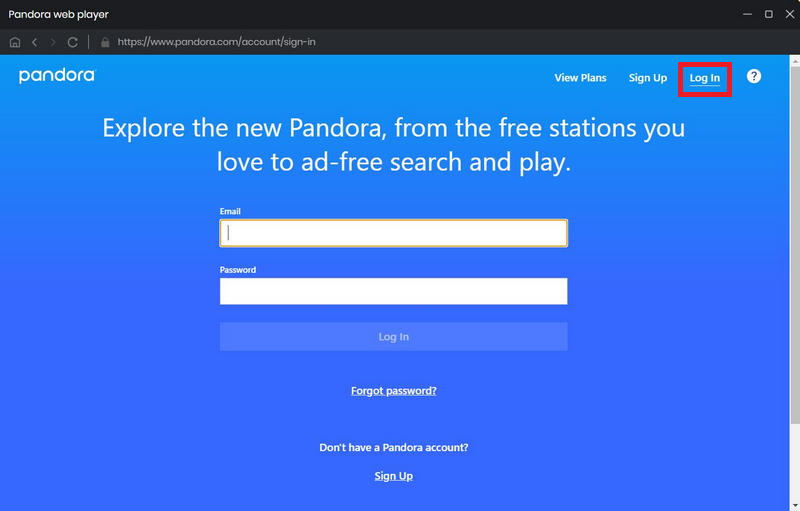 Step 2 Customize the Output Parameters
Go to the "Settings" module in the lower left corner. Here you can choose the output format (MP3, AAC, WAV, FLAC, AIFF, or ALAC). If you choose Auto, TunePat will download music from Pandora with the original audio format and quality. Besides, you could also customize the bit rate, sample rate, output folder, output file name and more in settings.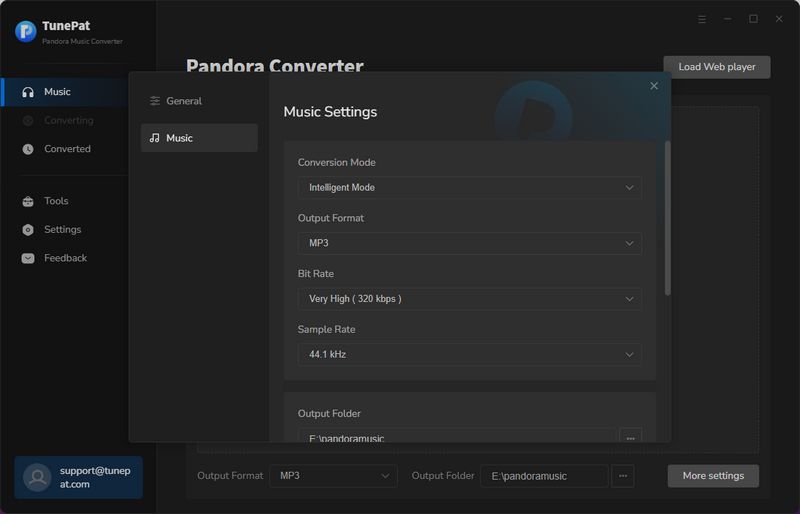 Step 3 Select Songs, Playlists, or Podcasts from Pandora Music
Find out the Pandora tracks, albums, playlists, or podcasts you want to download and click the blue "Click to add" button on the bottom right. TunePat will read the current page. You can add the songs you need to TunePat for conversion by clicking the "Add" button.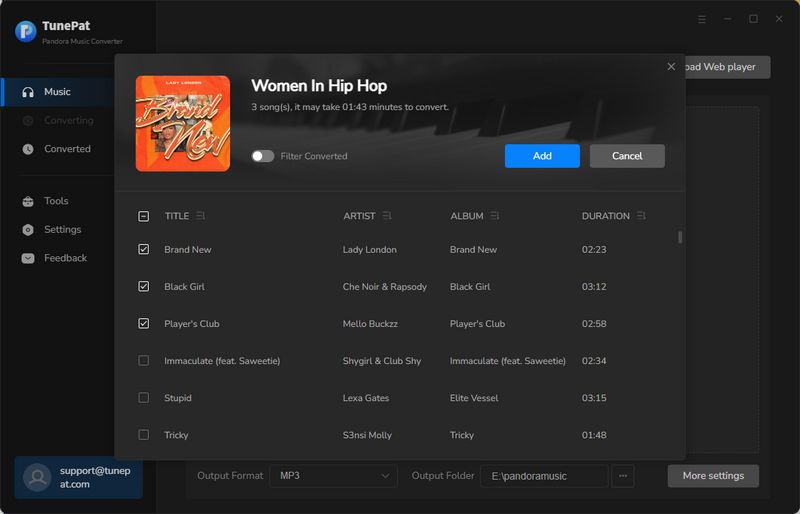 Step 4 Start Downloading Pandora Music
Tap on the "Convert" option here to initiate the conversion process. Since TunePat can convert Pandora Music at 10X speed, it will not take a long time to finish the conversion.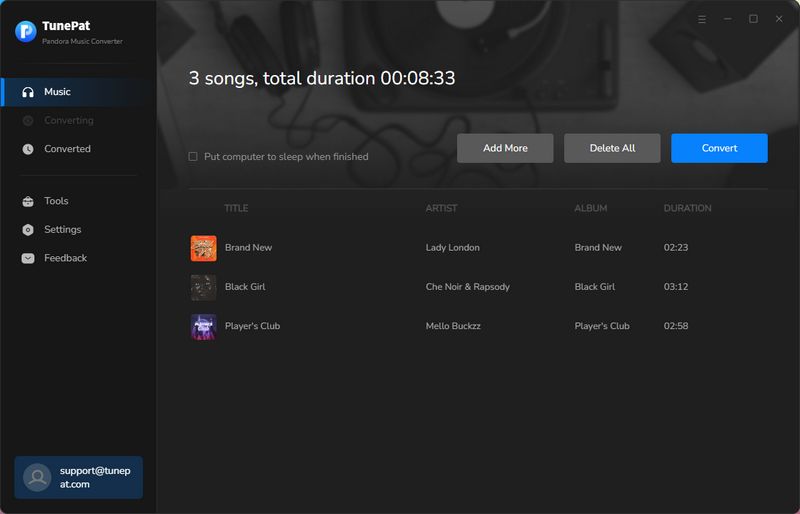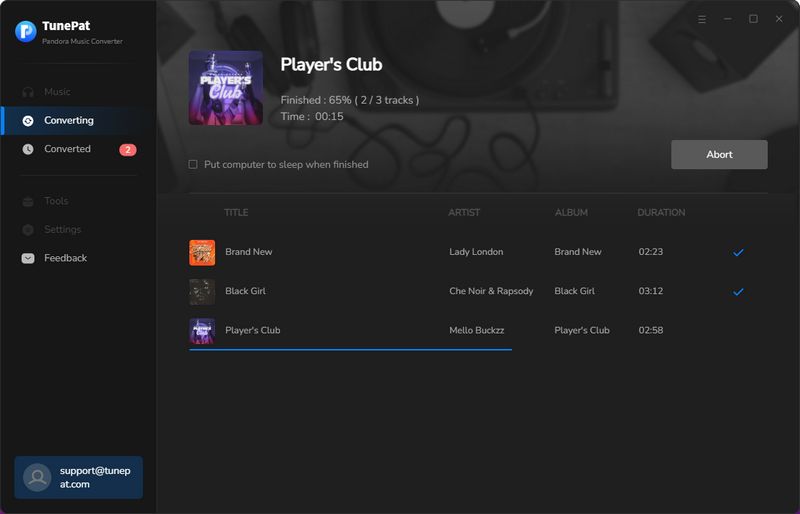 Step 5 Browse the Pandora Local Files
Please be patient and wait for the conversion to complete. Once done, you can go to the Converted section to browse or play the converted songs. Use the mouse to select any converted song record, click the "Show in Windows Explorer" icon on the right, and you can directly find its local location on your computer. Then you can transfer these Pandora audio files to USB very easily.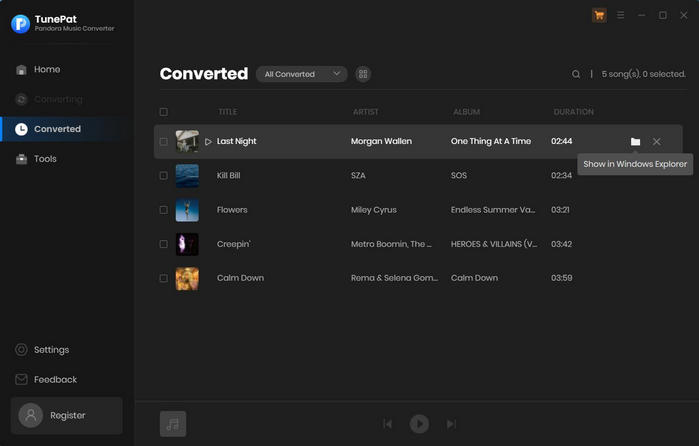 Part 2. Transfer the Converted Pandora Songs Onto USB Drive
It would help to transfer the converted Pandora songs from the local drive onto your USB drive. Following are the simple steps:
Step 1 Plug the USB Drive into a USB port on your computer. After a successful read, go to This PC app and find your USB drive, which will be displayed in the Devices and drives section of the window.
Step 2 Find the music files that you just downloaded from Pandora Music. You can send multiple files and folders to the USB drive at once. Click and drag a selection box to select all the desired files or folders. Right-click on your selection and hover over Send to option.
Step 3 Choose the target folder (your USB drive) and wait until all files are copied successfully.
Conclusion
Through the above tutorial, you know how to transfer Pandora songs to a USB drive. At the same time, you also know that tools can make our life easier and more convenient. With the help of the TunePat Pandora Music Converter, you can have many different options. Save Pandora songs to multiple devices in various formats, such as MP3, AAC, FLAC, WAV, AIFF, or ALAC. The converted songs will no longer be affected by geographical location, network conditions, subscription expiration, and other factors, and you can enjoy these songs freely.