Best Free Spotify Playlist Downloaders in 2023
As a dedicated Spotify user, you are likely aware that playing songs offline can often be more convenient than streaming. However, to gain permission to download songs, upgrading to a Premium account is necessary. Alternatively, you can use the free and convenient Spotify Playlist downloader. Please take the time to read the following information carefully as we have provided a detailed introduction to various types of Spotify Playlist downloaders, some of which are online or require an app download. You can select a free or paid download service based on your specific requirements and the advantages and disadvantages outlined in our evaluation.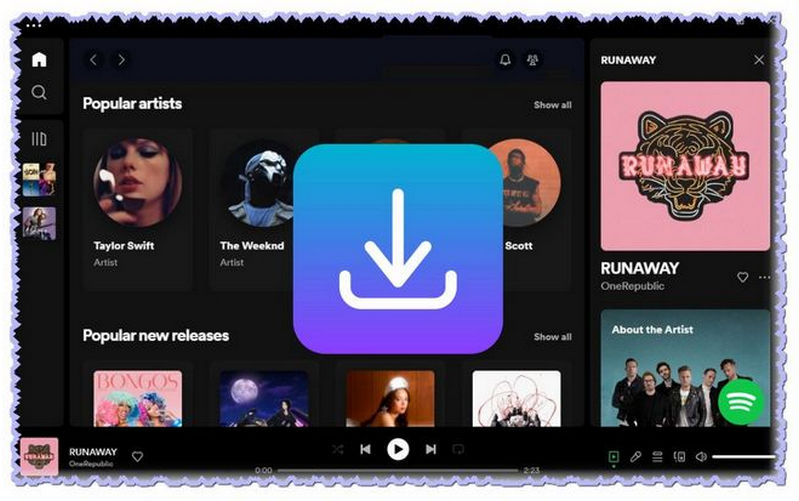 Part 1: Why We Need a Spotify Playlist Downloader
First, we need to know why we need a Spotify playlist downloader. This is because songs on Spotify are specially protected. When you subscribe to Spotify Premium, during the validity period, you can download any content you like for offline playback, but that is limited to this. These files cannot be edited or moved. If you want to play Spotify music the way you like, Spotify Playlist Downloader is an essential tool. Using Spotify playlist downloader also brings the following benefits:
1. Get ad-free Spotify music tracks: Spotify offers a free tier with ads for non-subscribers. Spotify Playlist Downloader can help you get ad-free Spotify music.
2. Use Spotify songs on any device and player: Temporary files downloaded from Spotify are not compatible with other players, but music processed through the Spotify playlist downloader can be moved according to your preferences.
3. Conveniently manage your music library: After downloading your favorite playlists locally, you can play them without the Spotify app. Can be transferred to USB and other places for saving.
4. Share Spotify playlists: You can share Spotify playlist downloads with anyone, send Spotify music as an ordinary music file in the chat box, or attach it to an email.
5. Save money: Many Spotify playlist downloaders are free, and some require charges. However, the amazing function they provide to own Spotify playlists at once can save you from having to spend money to renew the streaming platform every month.
Part 2: Best Spotify Playlist Downloader for Windows & Mac
Are you tired of the restrictions on the Spotify platform and interested in exporting your favorite playlists? Well, there is a solution that can swiftly solve your troubles. Numerous downloaders are available on the market today; however, for a safe, professional, and efficient desktop Spotify playlist downloader that is also 100% green, look no further than TunePat Spotify Playlist Downloader. This program is an optimal solution and can support the latest Windows and Mac systems.
TunePat Spotify Playlist Downloader is carefully designed by the TunePat R&D team and can be used to batch download Spotify songs, playlists, albums, podcasts, and other audio content. You can choose to output to six different audio formats. The downloader adopts the most advanced decoding technology, supports obtaining audio sources from the Spotify app and Spotify web player respectively, and can obtain 320 kbps Spotify songs at a maximum conversion speed of 10X. The operation steps are simple and easy to understand, suitable for people who are not proficient in computers. To get started, kindly click on the "Download" button present below to install the TunePat Spotify Playlist Downloader on your computer. Following installation, commence the lessons to grasp the specifics.
How to Use TunePat Spotify Playlist Downloader to Get Spotify Songs?
After installing and launching the TunePat Spotify Playlist Downloader, you will see two options. You can choose to use either the App or Web player to convert your files. It is important to note that there are differences between the two options. If you are using the Windows version, the App mode will offer better sound quality, maintaining a lossless 320kbps quality. However, if you are using the macOS version, there is an additional difference to consider. The Web player mode offers a conversion speed of 10X, while the App mode only offers a conversion speed of 1X. In order to access audio content in both modes, TunePat utilizes the Spotify app or the Spotify web player. It is necessary to log in to your Spotify account, whether Free or Premium, in order to do so.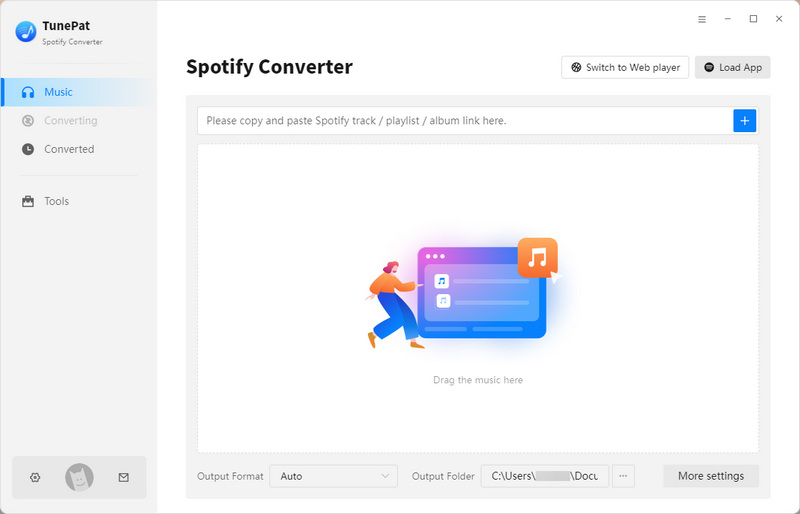 Step 1 After logging in successfully, you can access Spotify's library directly through either the Spotify app or the built-in web player window. Prior to initiating the conversion process, click on the "Settings" option found in the menu bar located on the left-hand side of the primary interface. Here, you must configure the output and conversion settings, such as the output format, bit rate, sample rate, output folder, etc. Notably, TunePat Spotify Playlist Downloader also supports lyric file exporting. If needed, you can select the "Save lyrics (if provided)" button.
Step 2 To access songs in your chosen mode, either application or web player, click the "Click to add" button located in the interface's lower right corner, which turns clickable blue after you open the playlist you want to convert. TunePat will parse and display all titles in the playlist, with all items in the pop-up window selected by default. Please select the specific items you need, then click "Add" to proceed.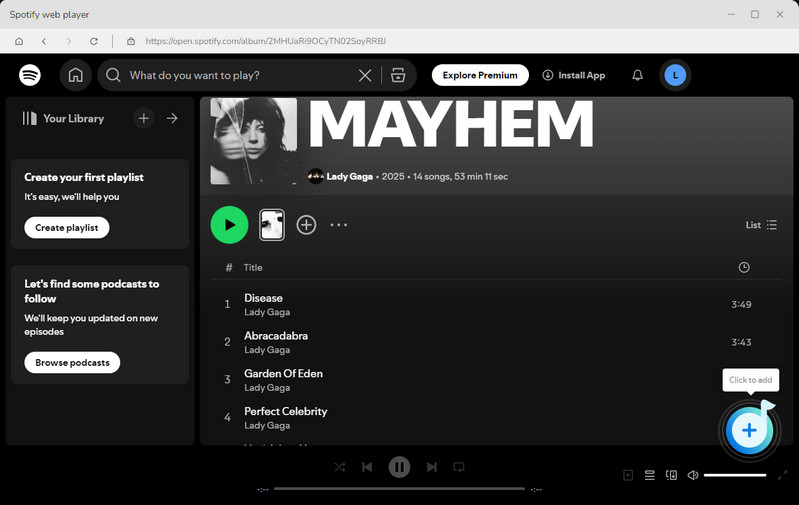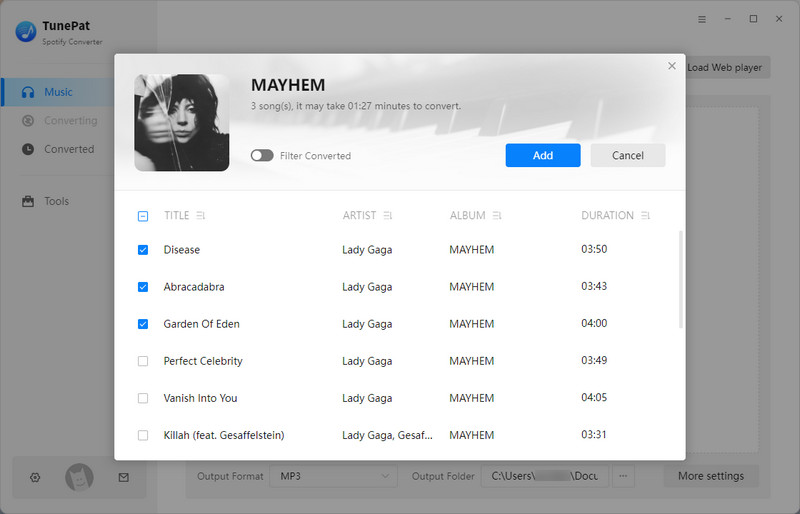 Step 3 Clicking the Add button will take you to the Home interface. If you need to select additional songs from other playlists for a one-time conversion, please click "Add More" in this interface. Once all target songs have been chosen, click "Convert" to start the conversion process. After completion, the converted Spotify playlist can be viewed in the Converted module or in your local folder.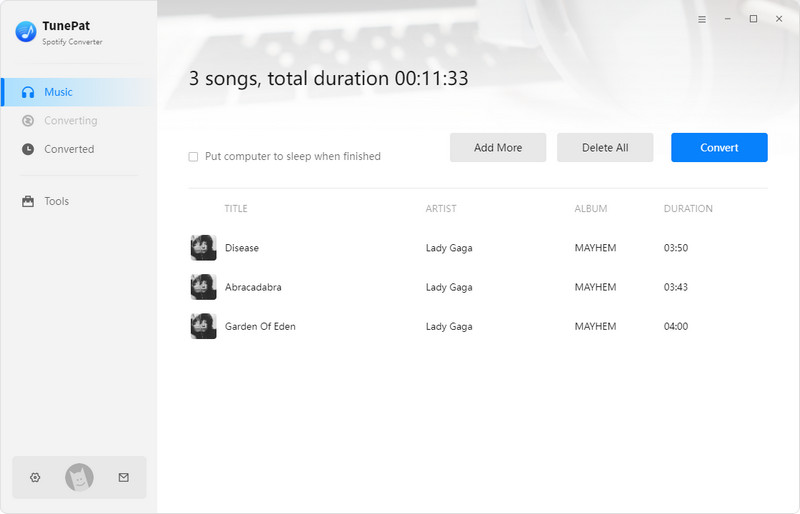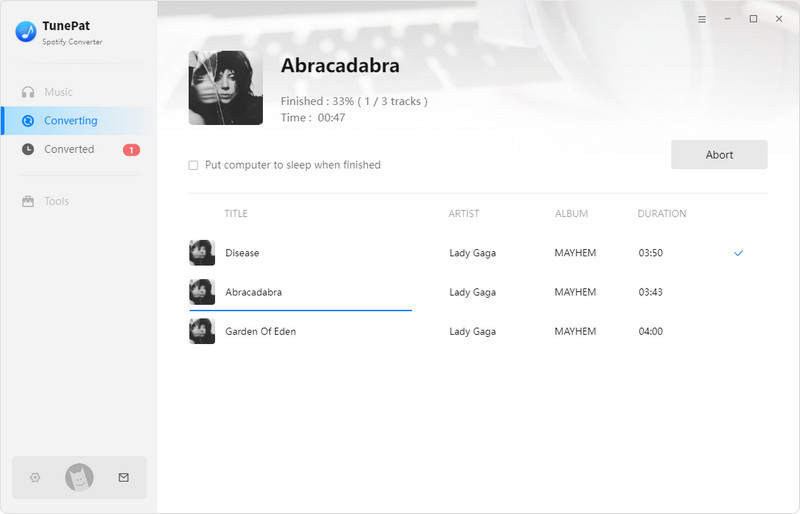 Pros:
Six output formats are supported: MP3, AAC, FLAC, WAV, ALAC, AIFF
Outputs Spotify music in 320 kbps.
Supports batch conversion of entire playlists; arranges them in original order.
Proceed at 10X download speed.
Keep ID3 tags.
Customize the output file name.
Cons:
The free trial has limitations.
If you wish to store your preferred Spotify playlists on your computer, TunePat Spotify Playlist Downloader is the ideal selection thanks to several benefits. However, if you require a tool that can be easily accessed through a browser on any device or a mobile app, please read on. The subsequent tools do not facilitate batch downloads, and the audio quality is lower compared to TunePat Spotify Playlist Downloader, but they are all free of charge.
Part 3: Top 3 Free Online Spotify Playlist Downloaders
#1: Spotify-downloader
Spotify downloader is a straightforward and user-friendly online tool that enables the download of songs from Spotify. Users have the option to download either individual songs or entire playlists and albums. The tool also includes all relevant metadata, such as cover images, artist names, and release dates, with the downloaded songs.
How to Use Spotify Downloader to Download a Spotify Playlist?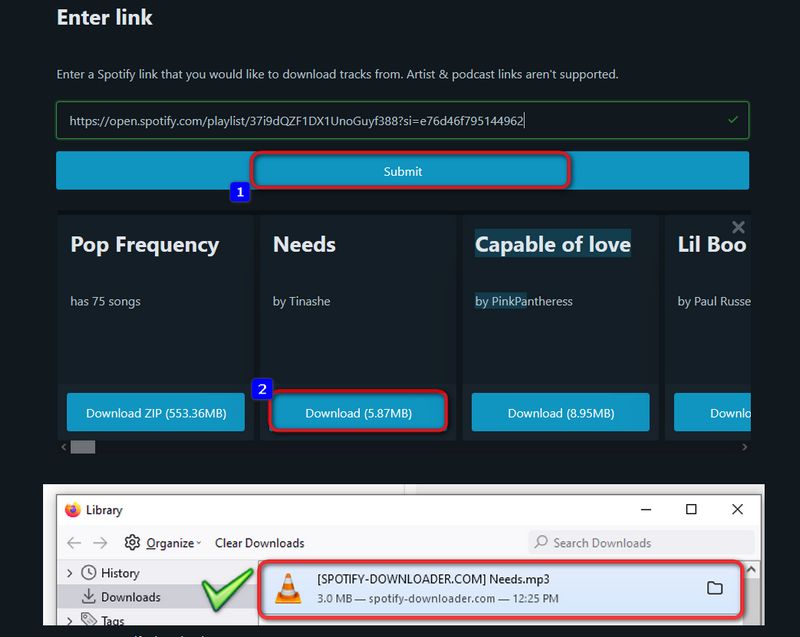 Step 1 Copy and paste the URL of the target playlist into your Spotify app. (click the "3 dots > Share > Copy link" to the playlist option.)
Step 2 Paste it into the website box and click the "Submit" button.
Step 3 The website will quickly parse and list the results below. You can browse all options by dragging the slider. You can click to download the entire playlist as a ZIP file or download individual songs individually. The approximate file size is displayed next to it.
Step 4 Click the "Download" button and then select the Save option later.
Step 5 You need to verify your identity before you can save the downloaded file. The verification time is within 15 seconds, and please click "Start verification" to start verification. Wait for a while and then you will get an MP3 file or ZIP file.
Pros:
Free and easy to use.
Support batch export of albums or playlists in ZIP format.
Keep some ID3 tags.
Supports up to 320kbps.
Cons:
Unable to parse Spotify shows, podcasts, and artists.
If you want to skip human verification, purchase a premium key.
The output music file name contains the website name. If you want to remove it, you need to manually modify it one by one.
---
#2: SpotifyDown
SpotifyDown is an online platform that enables users to download music, albums, or playlists from Spotify with ease and efficiency. The music can then be converted to MP3 and other audio formats, and saved onto any computer or mobile device for offline playback.
How to use SpotifyDown to Export a Spotify Playlist?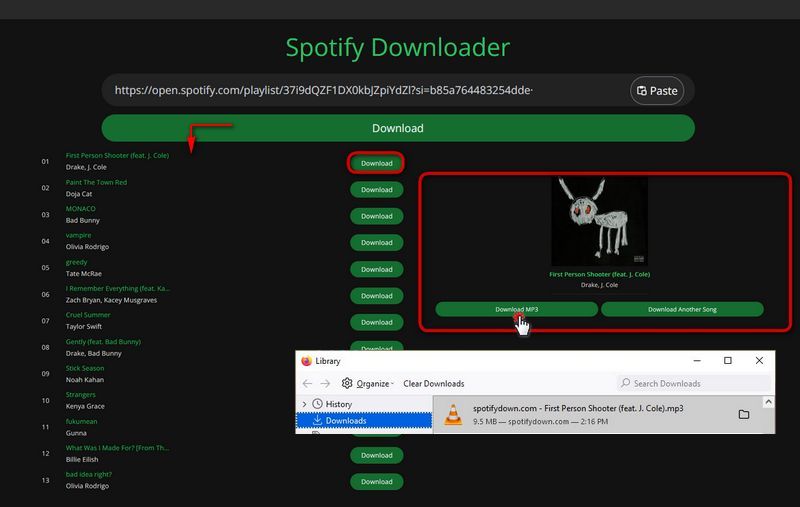 Step 1 Open the Spotify app and open the playlist you want to convert. Find and click to copy its sharing link.
Step 2 Copy it to the website and click the "Download" button to start parsing.
Step 3 The website will list the songs included in the playlist one by one, and each song will have a separate Download button.
Step 4 Find the song you want to convert and click the "Download" button next to it. Then the interface will display "Converting Song to MP3, Please wait...". After the conversion is completed, "Downloading Song, Please wait..." will be displayed. Then you will see two buttons. Select the "Download MP3" button to start downloading songs.
Pros:
Free and fast to parse links.
Some ID3 tags can be saved, such as the artist name, album title, artwork, etc.
Up to 320kbps can be reserved.
Cons:
Only one song can be converted at a time.
Parsing podcasts is not supported.
The file name of the output audio file contains the file name and needs to be deleted manually.
---
#3: Spotidown
Spotidown Spotify to MP3 Downloader is a free, open-source tool that allows users to convert Spotify tracks to MP3 format, accessible on both computers and mobile phones. This user-friendly app provides a simple solution for downloading your preferred songs, playlists, and albums from Spotify, resulting in a convenient ZIP format.
How to Use Spotidown to Export Spotify Music?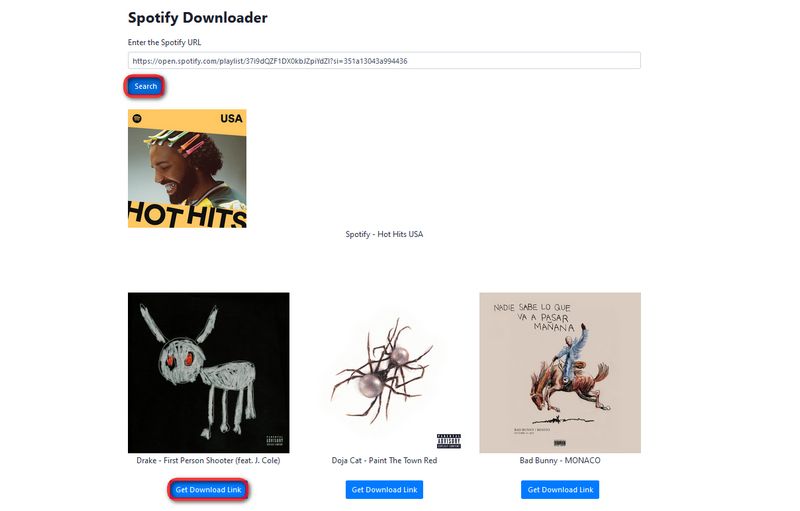 Step 1 Get the link of the target track from the Spotify app. Open the song, album, or playlist you want to convert, then click the "three dots" (horizontally arranged) icon on the right, then select "Share" and copy its Share link.
Step 2 Paste the link into Spotidown and click "Search".
Step 3 Then the parsing results will be listed below. If your link is an album or playlist containing multiple songs, it will be listed in multiple items, and only a single download is supported.
Step 4 Select one of the songs and click the "Get Download Link" button below, then click Download. Wait for the download to complete.
Pros:
Free to use.
The speed of parsing links to Spotify is swift.
Cons:
Converting podcasts is not supported.
Not possible to convert all tracks in a playlist or album at once; must be done individually by clicking.
The failure rate is high, and it is easy to obtain MP3 files with garbled names that cannot be played properly.
Part 4: Top 3 Spotify Playlist Downloaders for Android or iOS Devices
#1 Fildo
Fildo is an Android application that enables users to download and stream MP3/FLAC music. It should be noted that Fildo does not have its own audio collection and instead aggregates tracks from various sources.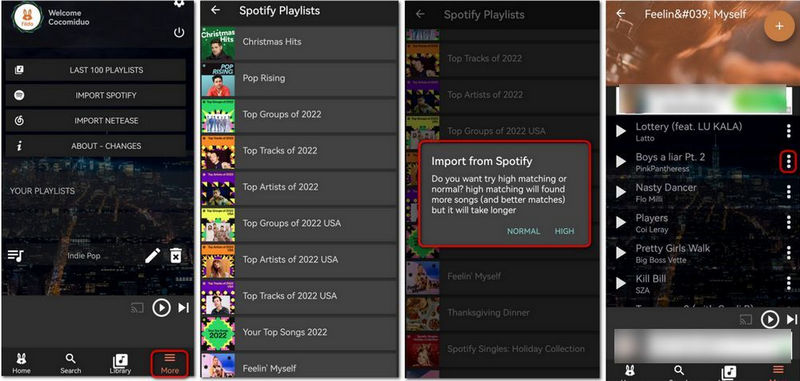 How to Use Fildo to Download Spotify Playlists?
Step 1 Open Fildo on your Android device. Tap the "More" tab located at the bottom of the screen and select "IMPORT SPOTIFY".
Step 2 You will be prompted to log in to your Spotify account, after which the app will load playlists from your Spotify library.
Step 3 A pop-up will appear, allowing you to choose between "NORMAL" or "HIGH".
Step 4 After successfully importing your selected playlists into Fildo, you may download music from Spotify by clicking on the "three dots" icon.
Pros:
Free of charge.
Download Spotify in MP3 or FLAC format.
Cons:
An APK download is required, and there are potential risks of data collection and other privacy violations.
Only one song can be downloaded at a time, which is very time-consuming for people who have a large number of songs they want to download.
---
#2 SpotiFlyer
SpotiFlyer APK is an easy-to-use offline music program that lets you browse and download songs from famous music streaming apps and then listen to your favorite songs on your phone without the need for an internet connection. Presently, Spotifyflyer is compatible with Spotify, YouTube, Gaana, Jio-Saavn, and SoundCloud.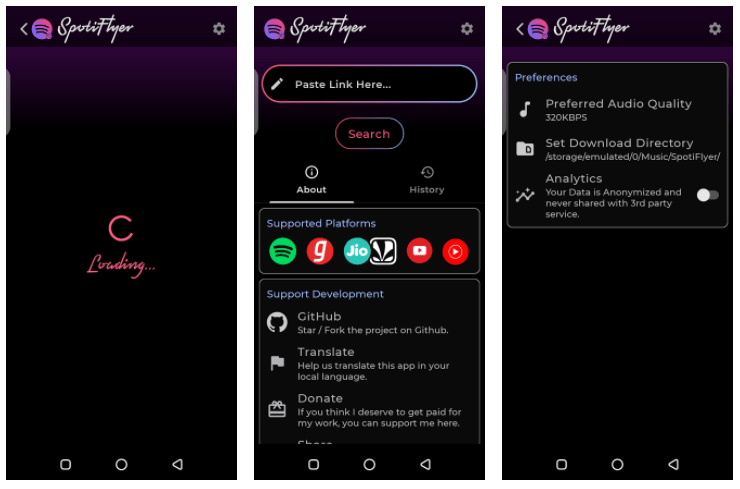 How to Download Spotify Songs with SpotiFlyer Android?
Step 1 Install and run SpotiFlyer on your Android phone.
Step 2 Copy the Spotify song, album, or playlist link from Spotify app or website.
Step 3 Paste the Link into the SpotiFlyer input field that says Paste link here.
Step 4 Tap on the "Search" icon, and the search result will display below.
Step 5 Click on the "Download" icon.
Pros:
Free to use.
The app interface has no ads and is comfortable to use.
In addition to Spotify, other platforms are also supported, such as YouTube Music, etc.
Cons:
The output file does not meet the advertised sound quality and is compressed.
Batch conversion is not supported and the download speed is slow.
It is not operated by a stable company and lacks security and technical support.
---
#3 Telegram
Telegram bots are automated Telegram accounts with artificial intelligence capabilities. The Spotify Telegram Bot is a chatbot that enables users to search and download songs directly from Spotify within the Telegram app. There are various Telegram bots currently accessible for downloading Spotify, including @SpotifySaveBot, @SpotifyMusicDownloaderBot, etc. The following example uses @SpotifySaveBot.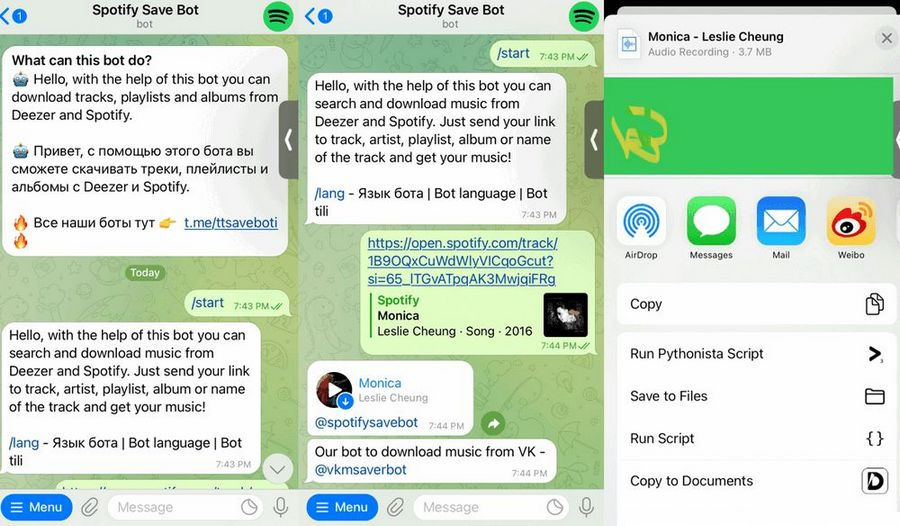 How to Use Telegram Bot to Download Spotify Music?
Step 1 Open Telegram, search for @SpotifySaveBot and select the bot from the search results.
Step 2 Click on "Start" to begin.
Step 3 Then, navigate to Spotify and find the relevant URL.
Step 4 Paste the link into the chat field and click "Send".
Step 5 Then this bot will provide a source for downloading. Select the three dots icon and choose "Save to Music" to download Spotify Music.
Pros:
Free to use.
Easy to find bots that download different streaming platforms.
Cons:
This method simply downloads the track with a matching name, rather than the original track from Spotify, with poorer sound quality.
Lack of customer support.
---
Quick Comparison: TunePat vs. Other Free Spotify Downloaders
| Name | TunePat Spotify Playlist Downloader | Spotify-downloader | SpotifyDown | Spotidown | Fildo | SpotiFlyer | Telegram |
| --- | --- | --- | --- | --- | --- | --- | --- |
| Supported Systems | Windows & Mac | Use in browser | Use in browser | Use in browser | Android/iOS | Android/Windows/Mac/Linux | Android/iOS |
| Supported Platforms | Spotify | Spotify | Spotify | Spotify | Spotify | Spotify, YouTube, Gaana, Jio-Saavn, SoundCloud | Spotify |
| Output Format | MP3, AAC, WAV, FLAC, AIFF, ALAC | MP3 | MP3 | MP3 | MP3, FLAC | MP3 | MP3 |
| Audio Quality | 320 kbps | 320 kbps | 320kbps | Low | Low | Low | Low |
| Conversion Speed | 10X | 1X | 1X | 1X | 1X | 1X | 1X |
| Support Batch Conversion | | | | | | | |
| Keep in the Original Playlist Order | | | | | | | |
| Customize Output File Name | | | | | | | |
| Ad-Free | | | | | | | |
| Supported File Types | music, albums, playlists, podcasts, audiobooks, radios | music, albums, playlists | music, albums, playlists | music, albums, playlists | music, albums, playlists | music, albums, playlists | music |
| Price | $14.95/month | Free | Free | Free | Free | Free | Free |
---
After considering the information provided in the table, it is evident that the TunePat Spotify Playlist Downloader stands out as the most impressive option. With state-of-the-art decoding technology, this software can efficiently acquire Spotify songs complete with ID3 tags. Furthermore, the program can convert one or multiple Spotify playlists simultaneously while still maintaining the original order of tracks. This undoubtedly makes it a valuable asset for managing local music libraries.
However, most free tools only support MP3, but TunePat Spotify Playlist Downloader supports six common audio formats, fulfilling the needs of various users to enjoy Spotify playlists on diverse devices or players. If you still have not installed this amazing tool, press the Download button below for a swift installation.