TIDAL HiFi vs. HiFi Plus: Choosing the Perfect Streaming Experience
In the world of music streaming, TIDAL has established itself as a major player, offering high-quality audio and a vast library of songs to millions of subscribers worldwide. As audio enthusiasts and casual listeners alike seek the best streaming experience, TIDAL has introduced two premium tiers that cater specifically to audiophiles: TIDAL HiFi and TIDAL HiFi Plus.
This article will delve into TIDAL HiFi and TIDAL HiFi Plus these two types of plans, comparing their differences. We will explore each tier's features and pricing, enabling you to make an informed decision and select the ideal option that aligns with your audio requirements. Following that, we will also focus on other content, like how TIDAL HiFi Plus compares the HD audio quality offered by other major streamers and how to download MP3 files from TIDAL.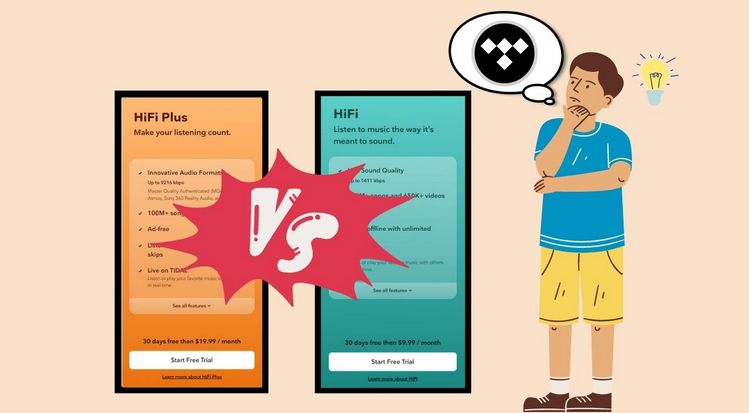 Part 1. What is TIDAL?
TIDAL, a Norway-based music streaming platform boasting a vast library of over 100 million tracks, offers users the flexibility to enjoy their favorite music both on their desktops and on the go through its free app. What sets TIDAL apart from other streaming services is its unique pricing structure, which primarily revolves around the highest available audio quality. With three subscription tiers to choose from, users can access lossless FLACs and even experience the pinnacle of audio quality with the HiFi Plus plan, delivering impressive 9,216 kbps Master quality audio. While TIDAL does provide a free tier in the US, it comes with standard audio quality (up to 160 kbps) and includes advertisements, with certain premium features such as offline playback not available.
One of TIDAL's notable strengths lies in its user-friendly interface. Upon launching the app, users are presented with an intuitive artist selection process, where each selection prompts the appearance of additional related artists. This seamless and streamlined experience takes just a few minutes, enabling TIDAL to leverage this data to curate personalized playlists and recommend songs and artists right from the start. Of course, users can also opt for the traditional search method to explore their preferred music. Subscribers of TIDAL HiFi or HiFi Plus can conveniently save their favorite playlists, albums, and tracks and download them for offline listening, ensuring uninterrupted music enjoyment wherever they go.
Part 2. The Differences Between TIDAL HiFi and TIDAL HiFi Plus?
TIDAL has established itself as one of the leading platforms regarding high-quality music streaming. TIDAL offers two subscription options for audiophiles: TIDAL HiFi and TIDAL HiFi Plus. Each subscription tier provides unique features and benefits that cater to the needs of discerning music enthusiasts.
Subscribing to TIDAL HiFi unlocks a world of high-fidelity music streaming. With TIDAL HiFi, users gain access to a vast library of over 100 million songs and more than 650K videos, allowing them to discover and enjoy their favorite songs in exceptional audio quality. TIDAL HiFi offers lossless audio, delivering uncompressed music files with a bit depth of 16 bits and a sampling rate of 44.1 kHz. This ensures that listeners experience the music exactly as the artist intended, with unparalleled clarity and detail.
For those seeking an even more immersive listening experience, TIDAL HiFi Plus takes it up a notch. With TIDAL HiFi Plus, subscribers receive all the benefits of TIDAL HiFi, along with the added perk of Master Quality Audio, up to 9216 kbps. Master Quality Audio brings studio-quality sound to your ears, authentic and representing the artist's original recording. In addition, TIDAL HiFi Plus subscribers can also enjoy an exclusive benefit: immersive 360 Reality Audio. This cutting-edge technology creates a three-dimensional audio experience, simulating the sensation of sound moving around the listener. By enhancing the spatial aspect of the audio, 360 Reality Audio provides an even more captivating and engaging listening experience.
Aside from sound quality, price is the most obvious difference between the two subscription plans. TIDAL HiFi is priced at $9.99 per month, while TIDAL HiFi Plus comes at a higher price point of $19.99 per month. With enough budget, this is a worthwhile investment for audiophiles.
Part 3. TIDAL HiFi Plus, Apple Music Lossless, and Amazon Music HD, Which is Better?
In the realm of high-fidelity music streaming, TIDAL HiFi Plus faces competition from other major platforms that also offer premium sound quality. Two notable contenders are Apple Music Lossless and Amazon Music HD. Let's explore the differences between these services:
Apple Music Lossless: Apple Music introduced lossless and high-resolution audio to its subscribers. With Apple Music Lossless, users can access a vast library of over 100 million songs in lossless quality at no extra cost. Apple utilizes its proprietary ALAC (Apple Lossless Audio Codec) format to deliver lossless audio. The service supports audio resolutions up to 24-bit/192 kHz, surpassing the CD quality offered by TIDAL HiFi. However, it's important to note that Apple Music Lossless does not offer a feature comparable to TIDAL's Master Quality Audio, which provides a studio-quality sound experience. Apple Music also has its advantages. It can be opened and enjoy lossless sound quality at $9.99/month without an additional package upgrade.
Amazon Music HD: Amazon Music HD is another formidable competitor in the high-fidelity streaming landscape. Amazon Music Unlimited has two types of high-quality streaming: HD and Ultra HD, both encoded by the lossless FLAC codec. Amazon Music Unlimited Ultra HD quality delivers lossless FLAC audio at 24-bit/192kHz. While TIDAL HiFi Plus focuses on providing the closest representation to the original recording, Amazon Ultra HD offers a wider range of high-quality audio options. However, what you need to pay attention to is that Amazon Music has adjusted and updated its prices starting from February 21, 2023, and the Amazon Music Unlimited personal plan has changed from $9.99 per month to $10.99.
Upon closer comparison, it is evident that all three platforms—TIDAL HiFi Plus, Apple Music Lossless, and Amazon Ultra HD—share a maximum streaming quality of 24-bit/192kHz. However, it is worth noting that the formats employed by each platform differ. TIDAL HiFi Plus stands out as the frontrunner in providing the most exceptional listening experience, albeit at a higher price point compared to its counterparts.
Part 4. TIDAL HiFi vs. HiFi Plus vs. Apple Music Lossless vs. Amazon Music HD: Comparison Table
In the previous section, we discussed TIDAL HiFi and TIDAL HiFi Plus and compared them to two other leading streaming media platforms that offer high-quality audio. If you're still uncertain about the distinctions between them, we have prepared a comparison table for your convenience, enabling you to quickly assess and contrast their features.
Furthermore, it's important to note that TIDAL HiFi Plus stands out by offering additional capabilities not listed in the table. Specifically, it provides master-quality audio, along with Dolby Atmos and Sony 360 audio. These features are currently exclusive to TIDAL HiFi Plus and Amazon Music Unlimited subscriptions and are not available on other platforms.
| Name | Price | Maximum Audio Quality | Music Library | Availability | Supported Formats |
| --- | --- | --- | --- | --- | --- |
| TIDAL HiFi | $9.99/month | 16-bit/44.1kHz | 100 million + | 61 countries | FLAC |
| TIDAL HiFi Plus | $19.99/month | 24-bit/192kHz | 100 million + | 61 countries | MQA |
| Apple Music Lossless | $9.99/month | 24-bit/192kHz | 100 million + | 167 countries | AAC, ALAC |
| Amazon Music HD | $10.99/month | 24-bit/192kHz | 100 million + | ~50 countries | FLAC |
Part 5. How to Export MP3 Files from TIDAL HiFi and HiFi Plus?
As you may already know, subscribing to TIDAL HiFi or HiFi Plus allows you to unlock the feature of downloading songs for offline playback. However, it's important to note that the downloaded cache files are only compatible with the TIDAL app. Many TIDAL users have been wondering if it's possible to export audio files from TIDAL in MP3 format. Is there a way to achieve this?
Fortunately, the process is quite simple, provided that you are familiar with the necessary tools. By using these tools, not only can you obtain TIDAL files in MP3 format, but you can also ensure that your favorite songs remain playable even when you cancel your TIDAL subscription and are offline. TunePat Tidal Media Downloader proves to be an excellent companion in this regard. With this tool, you can easily acquire songs and save them locally, even if you have a free account. For paying users, you can obtain TIDAL music in HiFi sound quality along with ID3 tags, allowing you to transfer it to your preferred device or player. Below, we will provide a detailed explanation of the steps involved.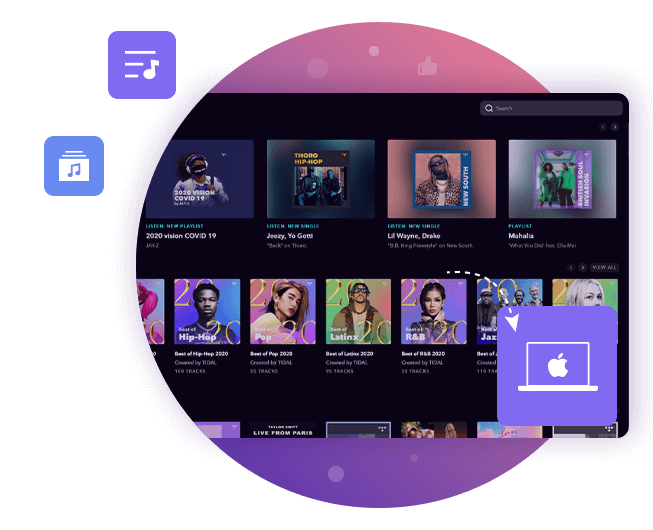 TunePat Tidal Media Downloader
TunePat Tidal Media Downloader lets users download all Tidal content to MP3 or other standard formats.
Downloaded Tidal Music songs, albums, playlists, and podcasts.
Convert Tidal songs to MP3, AAC, WAV, FLAC, AIFF, and ALAC formats.
Keep HiFi audio quality and ID3 tags.
10X faster download speed & support downloading multiple playlists in bulk.
Step 1 Launch TunePat Tidal Media Downloader. Upon opening the application, you will find two pages: the main interface and the Tidal web player integrated within TunePat. By default, the embedded player will automatically appear. Alternatively, you can access it by navigating to the Home module and clicking the "Open the webplayer window" button. Remember to sign in to your TIDAL Free, TIDAL HiFi, or TIDAL HiFi Plus account within the Tidal web player to access the Tidal catalog.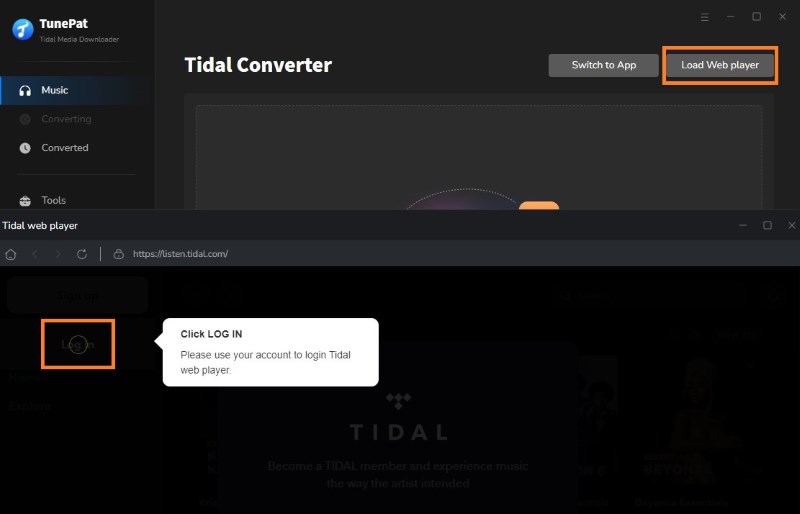 Step 2 Before selecting the song you wish to convert, return to the main interface and locate the "Settings" option in the left menu bar. Here, you must configure some necessary output settings. For instance, choose the output format as "MP3" and determine the output file name, such as using the track number and title.
By the way, if you want to preserve the HiFi sound quality, it's important not to alter the Output Format column. Simply leave it as the default AUTO option, ensuring that the exported TIDAL songs retain the same parameters as the source file. This will also optimize the conversion speed.
You can change the following contents:
Conversion Mode: Intelligent Mode, Web Download, YouTube Download
Output Format: AUTO, MP3, AAC, WAV, FLAC, AIFF, ALAC
Bit Rate: 320kbps, 256kbps, 192kbps, 128kbps
Sample Rate: 192 kHz, 96 kHz, 48 kHz, 44.1 kHz
After Converting: Do nothing, Open the output folder, Put system to sleep
Output File Name: Track Number, Title, Artist, Album, Playlist Index, Year
Output Organized: None, Playlist, Artist, Album, Artist/Album, Album/Artist, Playlist/Artist, Playlist/Album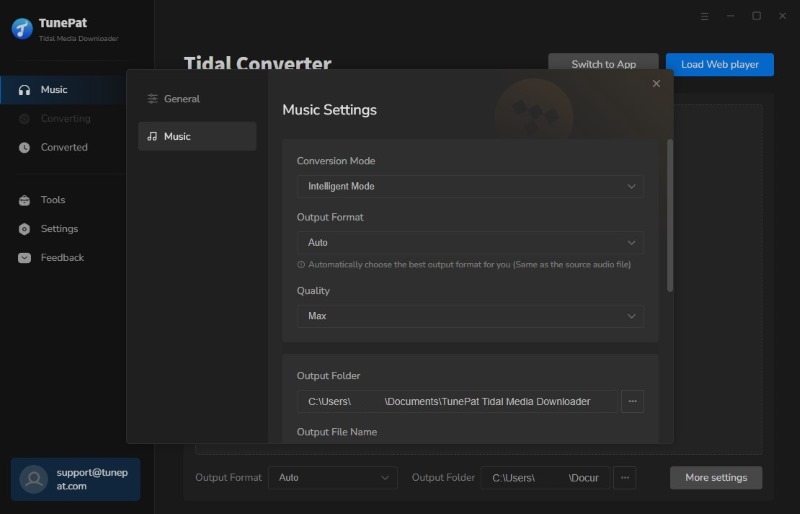 Step 3 Open the song you want to convert and click the blue "Click to add" button located at the bottom right. This option enables TunePat to read and parse all available titles on the current page.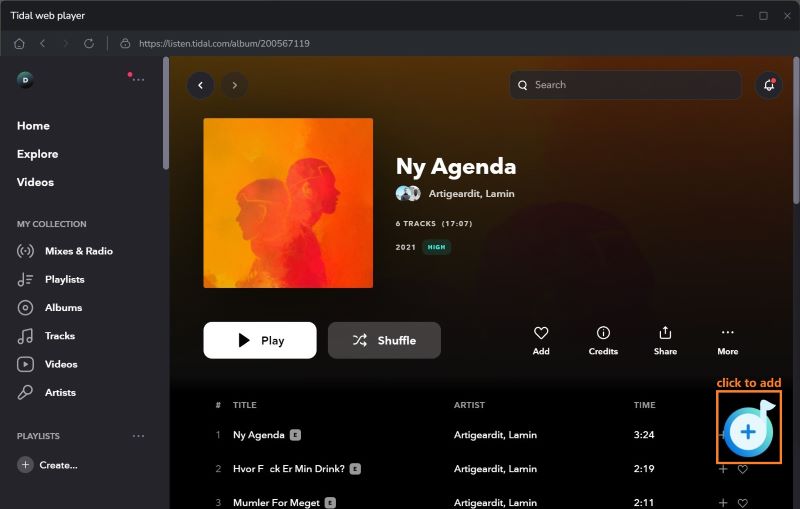 Step 4 A pop-up window will appear, displaying all available songs. By default, all titles are checked. If there are any songs you do not wish to convert, you can manually remove them. Once you have made your selections, click the "Add" button.
Additionally, the window includes a "Filter Converted" button, which helps you identify and exclude duplicate songs that already exist locally. This feature saves you the hassle of organizing and manually deleting duplicates later on.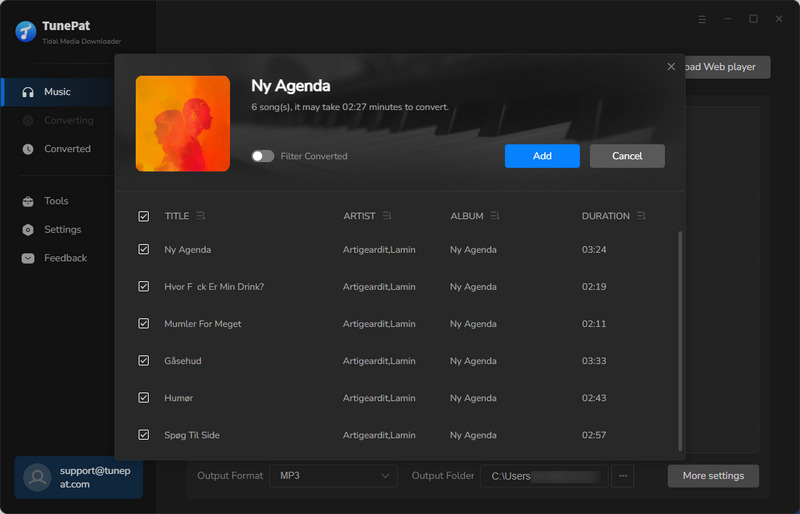 Step 5 Return to the Home interface, and you will see that the selected songs are now listed. You can continue adding other albums, artists, or music to the playlist by clicking the "Add" button. Once you have finished selecting, click "Convert" to initiate the conversion process. Now, all you need to do is patiently wait for the conversion to complete.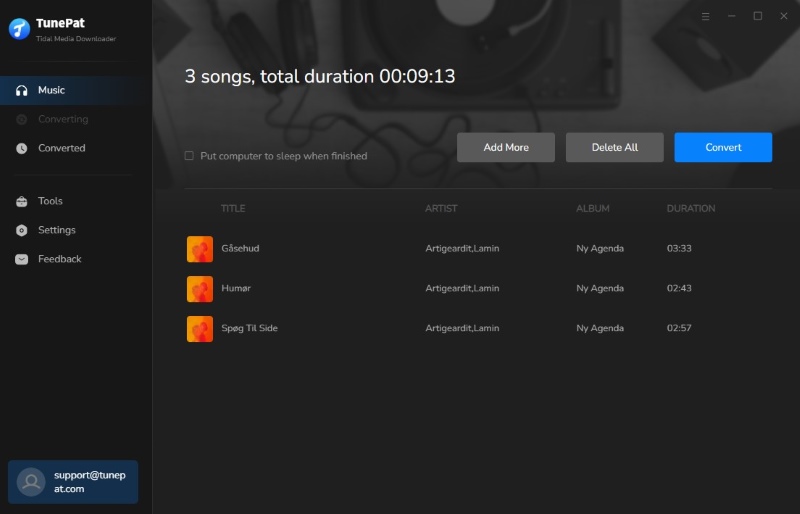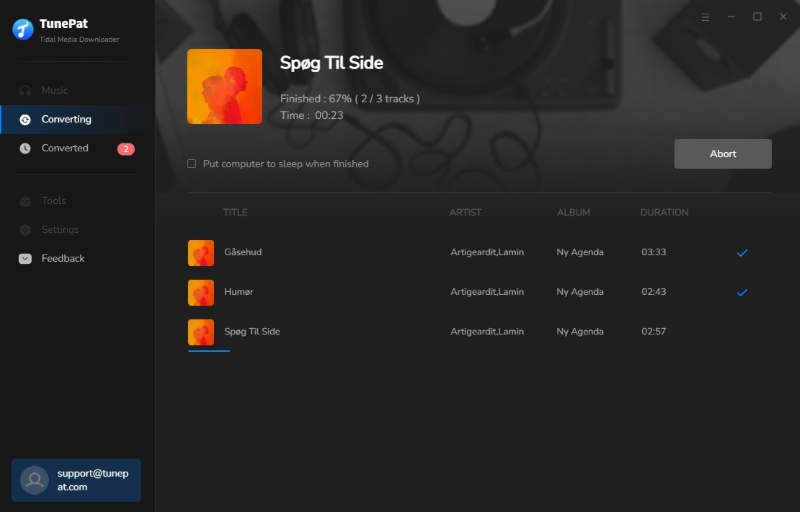 Conclusion
In this article, we provide a comprehensive overview of the key distinctions between TIDAL HiFi and TIDAL HiFi Plus, specifically focusing on the highest sound quality attainable and the corresponding subscription price. Furthermore, we explore the enhanced listening experiences offered by HiFi Plus, such as Dolby Atmos and Sony 360 audio. Additionally, we compare TIDAL's high-definition music offerings with those of two other popular streaming platforms, Apple Music and Amazon Music.
However, the highlight of this article lies in the introduction of an incredible tool that is available to all TIDAL users, including free users. With TunePat Tidal Media Downloader, you can effortlessly obtain TIDAL songs in MP3 or other commonly used audio formats, ensuring continued access even if your subscription is canceled. No more worrying about losing access to your favorite TIDAL songs. Take action now and click the button below to download and install this amazing tool! From this moment forward, enjoy your music without any restrictions.