Best Music Streaming Services of 2023: Elevating Your Listening Experience
The rise of audio and video streaming services has revolutionized the way we consume music. With unparalleled convenience and constantly improving sound quality, even die-hard CD enthusiasts have started embracing streaming platforms. These services grant us access to a vast library of hundreds of millions of songs, powered by advanced technology that swiftly and accurately recommends music tailored to our tastes. While many music streaming services may appear similar on the surface, there are significant differences that set them apart.
Amidst a sea of options, determining the best music streaming service can feel overwhelming. However, fear not! In this comprehensive article, we will delve into the realm of music streaming and examine the leading contenders for the title of the best music streaming service of 2023. By evaluating their expansive libraries, personalized recommendations, user-friendly interfaces, and exclusive features, we aim to provide you with the necessary insights to make an informed decision.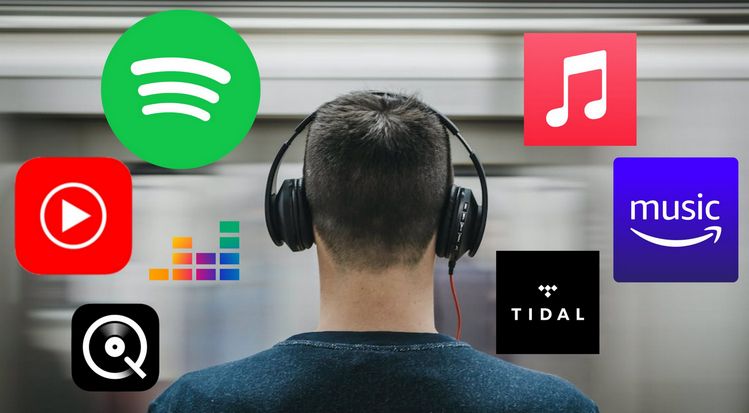 #1 Spotify: The Giant of Music Streaming
With its extensive library, intuitive user interface, and personalized recommendations, Spotify has earned its reputation as a trailblazer in the music streaming industry. Boasting over 100 million tracks and 5 million podcasts, Spotify covers a wide range of genres, ensuring there's something for every musical taste. The platform's algorithm-driven playlists like Discover Weekly and Release Radar continuously introduce users to new music tailored to their preferences. Moreover, Spotify's integration with social media platforms enables seamless music discovery through shared playlists and collaboration features. The platform's commitment to exclusive content and podcasts further enriches the overall audio experience. Students can also enjoy generous discounts, while those looking for a cost-free option can access the ad-supported, albeit lower quality, free tier.
As the world's most popular audio streaming subscription service, Spotify boasts an impressive user base of 515 million individuals, with 210 million subscribers spanning 180 markets worldwide. The platform is compatible with various devices, including mobiles, computers, and most smart devices, ensuring accessibility for users on the go. However, Spotify falls short in one area compared to its competitors: the absence of lossless quality music. While other streaming platforms offer at least CD-quality streaming for the same price or less, Spotify has yet to introduce a comparable option. Despite this drawback, the company has announced plans to launch a HiFi tier, showing its commitment to addressing the needs of audiophiles. As of now, the HiFi tier has not been rolled out, leaving listeners eagerly awaiting the promised enhancement in audio quality.
Despite the lack of lossless streaming, Spotify's popularity continues to soar. Its vast music and podcast library, seamless user experience, and commitment to exclusive content have positioned it as a preferred choice for millions of music enthusiasts worldwide. With the promised introduction of a HiFi layer, Spotify is poised to further solidify its standing in the industry by catering to the discerning ears of audiophiles. As the streaming landscape evolves, Spotify remains a force to be reckoned with, setting the benchmark for others to follow.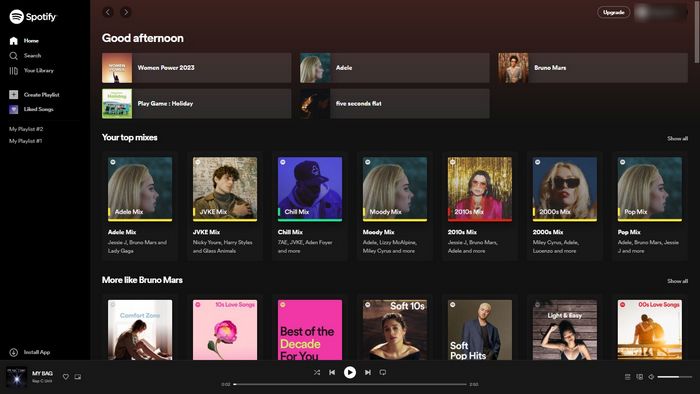 ---

Reasons for recommendation:
• Offer free tier.
• Social media integration.
• Easy to build your own playlists and sync them for offline listening.


Areas to be improved:
• No lossless or hi-res option.
---
#2 Apple Music: Seamless Integration and Exclusive Offerings
Backed by Apple's technical prowess, Apple Music has emerged as a formidable competitor in the music streaming industry. Boasting a library of over 100 million songs, Apple Music offers an extensive collection that caters to diverse musical tastes. The platform's seamless integration with the Apple ecosystem, spanning iOS, macOS, and HomePod devices, ensures a cohesive and user-friendly experience. Apple Music's curated playlists, including Apple Music 1 and genre-specific radio stations, provide a wealth of engaging content for listeners to explore. The integration of Siri enables voice-controlled playback and hands-free convenience, adding a layer of ease to the overall streaming experience. Moreover, Apple Music's commitment to exclusive content, such as artist documentaries, live performances, and radio shows, sets it apart from its competitors, enriching the overall music streaming journey.
While Apple Music excels in providing an attractive and valuable high-resolution streaming service for Apple users, it may present limitations for Windows and Android users. Historically, there was no dedicated Apple Music app available for Windows, limiting the cross-platform experience. However, the recent release of the "Preview" music application on Windows 11 offers a glimpse of Apple Music's offerings on the PC side, bridging the gap for Windows users. Additionally, Apple Music introduced the Apple Music Voice Plan, designed specifically for Apple users, providing access to Apple Music at a more affordable price point, leveraging the powerful functions of Siri.
Unlike Spotify, Apple Music does not offer a free tier. However, Apple Music's support for lossless audio and spatial audio through Dolby Atmos is a notable feature. At no additional charge, users can enjoy the service's 100 million-song catalog in CD quality (16-bit/44.1kHz), with a significant portion of tracks available in high-resolution (24-bit/48-192kHz). Users have the flexibility to enable or disable lossless sound quality based on their preferences. While Apple does not disclose the specific bitrates used for standard streaming, the sound quality is generally well-regarded and meets the needs of the average listener.
In summary, Apple Music combines Apple's technical expertise with an extensive music library and seamless integration within the Apple ecosystem. While the platform may have limitations for Windows and Android users, recent developments have aimed to bridge this gap. The addition of lossless audio and spatial audio further enhances Apple Music's appeal, providing users with a high-quality streaming experience.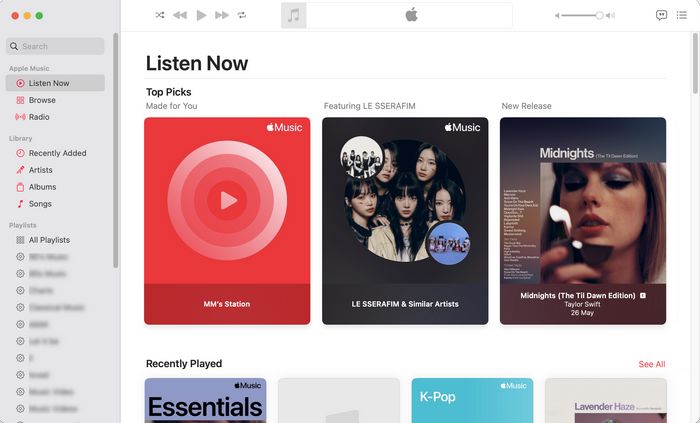 ---

Reasons for recommendation:
• Extensive music library.
• Subscribers can enjoy high-res music at no additional cost.
• High integration with other Apple products.


Areas to be improved:
• High-resolution content does not play on Windows desktops.
• Requires external DAC for lossless streaming.
---
#3 TIDAL: Uncompromising Audio Quality and Exclusive Content
When it comes to uncompromising sound quality, TIDAL stands out as the top choice for audiophiles. With its emphasis on high-fidelity audio, TIDAL offers both lossless and high-resolution audio options, ensuring a truly exceptional listening experience. With a library of over 100 million songs spanning various genres, TIDAL provides a vast collection for music enthusiasts to explore. The platform goes beyond standard music streaming by offering exclusive content, such as music videos, concerts, and interviews, allowing users to immerse themselves deeply in the world of their favorite artists. TIDAL's powerful recommendation engine further enhances the music discovery process, delivering personalized playlists and recommendations tailored to individual preferences.
In recent years, TIDAL has also made changes to its subscription plans. Alongside the $9.99 TIDAL HiFi plan and the $19.99 HiFi Plus plan, the platform now offers a free tier in the United States. This free tier provides 160kbps streaming of TIDAL's extensive music catalog with "limited interruptions." When comparing TIDAL's subscription plans with those of other popular streaming services, it is evident that TIDAL HiFi Plus, with its individual pricing, is among the most expensive options available. However, it offers unparalleled benefits for audiophiles. Subscribing to the HiFi Plus plan grants access to content mastered in Sony 360 Reality Audio and Dolby Atmos spatial audio, along with millions of true high-resolution audio tracks reaching up to 9,216kbps. This level of audio quality is a significant factor in the decision-making process for many music enthusiasts.
While TIDAL has long been renowned for its commitment to high sound quality, it now faces increasing pressure and challenges as other streaming platforms introduce subscription plans that offer high-quality audio at more affordable prices. As competition in the music streaming industry intensifies, TIDAL will need to continue innovating and distinguishing itself to retain its position as the top choice for discerning listeners who prioritize pristine sound reproduction.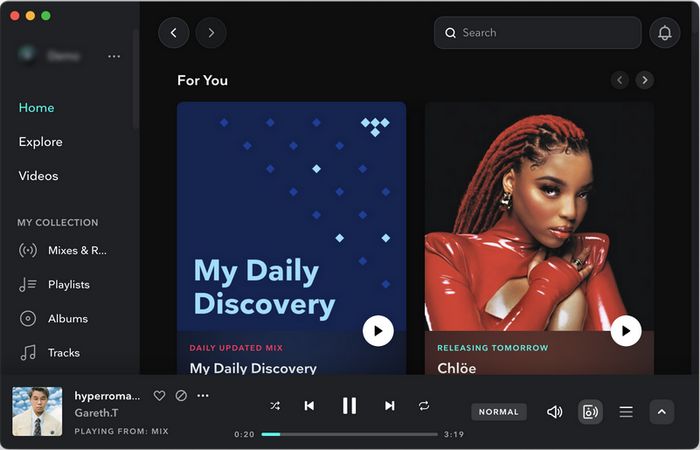 ---

Reasons for recommendation:
• High-fidelity music streaming, including Dolby Atmos surround mixing.
• Have a clear artist remuneration policy.


Areas to be improved:
• Offline playback is only supported on mobile phones.
• Most high-res music uses MQA, which requires specialized codecs.
• It costs more, and you can enjoy high-res music for less money elsewhere.
---
#4 YouTube Music: The Power of Audio and Visual Integration
YouTube Music, the successor to Google Play Music, has swiftly gained popularity in the music streaming industry by leveraging the massive user base of its video-sharing platform. With its extensive library of official music videos, live performances, covers, and remixes, YouTube Music offers a unique and immersive music streaming experience. The platform's recommendation algorithm, driven by user engagement data, delivers personalized recommendations and curated playlists tailored to each individual's listening habits. Integration with the broader YouTube platform allows for seamless transitions between audio and video content, enhancing the overall user experience. YouTube Music's focus on showcasing emerging artists through live performances and unique covers sets it apart from its competitors. The platform offers a range of subscription options, including a free ad-supported tier and a premium ad-free tier, catering to users with different preferences and needs.
For those considering a subscription to YouTube Music, there are several options available. YouTube Music Premium can be subscribed to for $9.99 per month or $99.99 per year, offering an annual subscription plan, which is a rarity among streaming platforms. Additionally, users can opt for YouTube Premium at $11.99 per month, which includes the benefits of YouTube Music Premium alongside ad-free access to the broader YouTube platform. This bundled offering is particularly appealing to individuals who enjoy both music and video content on YouTube. It's important to note, however, that YouTube Music's sound quality may not be as satisfactory as some other platforms, as it currently offers a maximum audio quality of 256kbps. Nevertheless, if your focus leans more towards music videos and the overall YouTube experience, YouTube Music is a suitable choice to meet your needs.
In conclusion, YouTube Music has established itself as a prominent player in the music streaming landscape by capitalizing on the vast user base and extensive video library of its parent platform, YouTube. With a wide range of content, including official music videos, live performances, and unique covers, YouTube Music offers a distinct and engaging streaming experience. The platform's personalized recommendations, seamless integration with YouTube, and diverse subscription options contribute to its appeal. While the sound quality may not be on par with some other platforms, YouTube Music's focus on video content and its unique features make it a compelling choice for music enthusiasts who enjoy visual elements alongside their audio experience.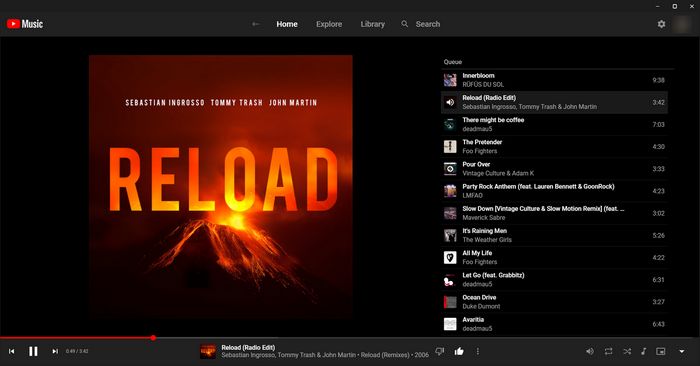 ---

Reasons for recommendation:
• Excellent search function, collection of songs by many private artists that other platforms do not have.
• There are tons of music videos as well as field recordings.


Areas to be improved:
• The sound quality is too compressed and needs to be improved, which is far behind other platforms.
• The song catalog needs optimization.
---
#5 Amazon Music: The Comprehensive and Convenient Melodic Haven
Amazon Music Unlimited, backed by the retail giant Amazon, has positioned itself as a formidable player in the music streaming industry. Boasting a music library of over 100 million songs, the platform offers an extensive selection of music across various genres. Its seamless integration with Amazon devices, particularly smart speakers like Amazon Echo, provides users with a convenient and immersive music streaming experience. With a user-friendly interface, personalized playlists, and the added convenience of Alexa's hands-free voice control, Amazon Music Unlimited is designed for easy accessibility. The platform's curated playlists, including "Amazon Originals" and "Song of the Day," cater to diverse musical tastes and foster a comprehensive music discovery journey. Moreover, Amazon Music Unlimited has embraced the growing trend of spatial audio, offering a collection of content in Dolby Atmos and 360 Reality Audio for an enhanced listening experience.
In addition to its premium offering, Amazon Music also provides a free tier for users. Prime members can access Amazon Music Prime for free, which grants access to top playlists and thousands of stations but includes advertisements. However, it's important to note that Amazon Music Prime has undergone significant changes, including transitioning from limited access to the entire Amazon Music library. While this expansion of the library is a positive development, there are also certain limitations and restrictions for Prime users. For instance, on-demand and offline access to songs are restricted to select All-Access playlists, and access is limited on certain devices like Fire TV, where only music playback is available. As a result, users seeking a more comprehensive and unrestricted experience may need to upgrade to Amazon Music Unlimited or explore alternative platforms. Prime members can subscribe to Amazon Music Unlimited for a discounted price of $8.99 per month or $89 per year for an annual subscription, while non-Prime customers will pay the standard rate of $10.99 per month.
In summary, Amazon Music Unlimited offers a compelling music streaming service, leveraging the vast music library and retail expertise of Amazon. With its extensive catalog, seamless integration with Amazon devices, and user-friendly features, the platform ensures a convenient and enjoyable music listening experience. Whether through personalized playlists, hands-free voice control, or curated selections, Amazon Music Unlimited caters to a wide range of musical preferences. While the free tier and Amazon Music Prime provide accessible options for users, limitations, and restrictions may prompt some users to opt for the more feature-rich Amazon Music Unlimited or other music streaming services subscription.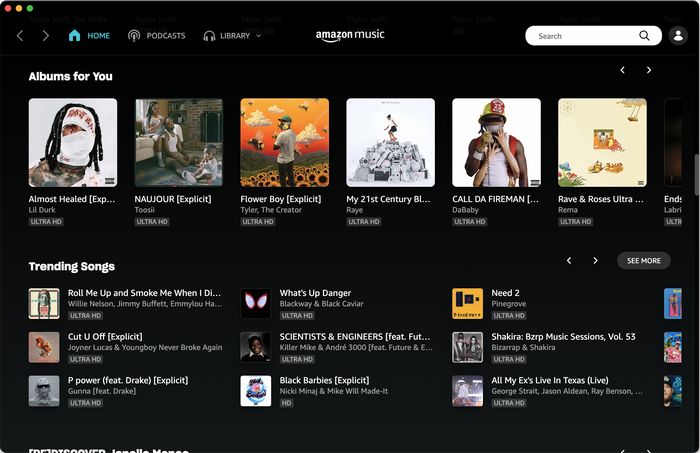 ---

Reasons for recommendation:
• Prime subscribers can subscribe to Unlimited at a discounted price.
• Supports HD and Ultra HD content.
• A perfect fit for the Amazon ecosystem.


Areas to be improved:
• Limitations of the free and prime versions.
• Have no internet radio.
---
#6 Deezer: A World of Music at Your Fingertips
Deezer has established itself as a prominent player in the competitive music streaming industry. Boasting a library of over 90 million tracks, Deezer offers a wide range of music across various genres to cater to diverse musical tastes. The platform's intuitive interface and user-friendly design contribute to a seamless navigation experience, making it easy for users to discover new music. Deezer's personalized recommendations, driven by sophisticated algorithms and user listening habits, ensure that each user receives a tailored music experience. The innovative Flow feature sets Deezer apart by creating personalized playlists based on individual preferences, facilitating effortless music discovery. Furthermore, Deezer's compatibility with smart devices and car systems enhances its accessibility across multiple platforms. The platform's dedication to podcast content, including exclusive shows and partnerships, further diversifies its offerings and caters to a broader range of entertainment preferences.
Deezer made headlines as the first streaming service to offer 360 Reality Audio tracks, an immersive audio format similar to Dolby Atmos. Additionally, Deezer automatically optimizes audio files, upgrading the default audio quality from 128 kbps to 320 kbps, providing users with enhanced audio fidelity. For those seeking the highest-quality audio experience, Deezer's Hi-Fi plan is available, offering FLAC files at 1411 kbps. However, it's worth noting that while Deezer has partnered with MQA for high-resolution streaming, it currently doesn't offer high-res audio streams. Instead, the platform provides CD-quality streaming, which is 16-bit and considered high fidelity. This puts Deezer at a slight disadvantage compared to competitors like Tidal and Qobuz, who offer higher-resolution audio options.
In a word, Deezer has established itself as a formidable music streaming service, offering a vast library of music, an intuitive user interface, and personalized recommendations. With its Flow feature and seamless integration with various devices, Deezer provides users with an enjoyable and effortless music discovery journey. While the platform offers enhanced audio quality through automatic optimizations and its Hi-Fi plan, it currently falls short in providing true high-resolution audio. Nonetheless, Deezer's commitment to expanding its podcast content and partnerships ensures that it remains a compelling choice for users seeking a well-rounded music streaming experience.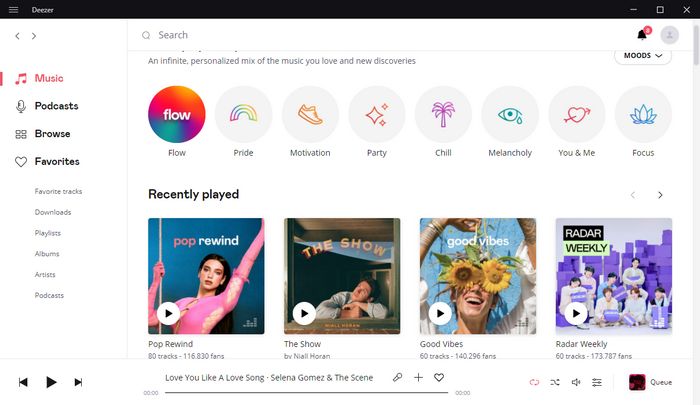 ---

Reasons for recommendation:
• Simple and clear interface.
• Delivers HiFi-level music at CD quality.

Areas to be improved:
• The music library is not rich enough and lags behind other mainstream platforms.
• No hi-res streaming.
---
#7 Qobuz: Audiophile Paradise with Uncompromising Audio Quality
Qobuz stands out as a premier music streaming service catering to the discerning audiophile seeking exceptional sound quality. With a vast music library boasting over 100 million tracks spanning various genres and styles, Qobuz offers a comprehensive selection to satisfy diverse musical tastes. However, where Qobuz truly excels is in its unwavering commitment to audio fidelity. The platform provides lossless FLAC streaming, ensuring an unparalleled listening experience for those who prioritize pristine sound reproduction. Furthermore, Qobuz goes a step further by offering Hi-Res audio options, enabling users to immerse themselves in studio-quality music. Qobuz's dedication to curating high-quality content extends to its meticulously crafted editorial picks, guaranteeing that users discover exceptional music. The platform's rich array of music news, artist interviews, and exclusive sessions contribute to an immersive musical environment. Notably, Qobuz's emphasis on classical music sets it apart from competitors, offering an extensive catalog and detailed metadata tailored to the preferences of classical music enthusiasts.
Qobuz provides users with access to FLAC streams up to 24-bit/192kHz, known as the Studio plan, starting at a monthly fee of $10.93. For those seeking an enhanced experience, the Sublime tier offers up to 60% off high-resolution downloads and is priced at $15 per month. Notably, Qobuz distinguishes itself by offering hi-res audio streams without the need for a hardware MQA decoder, unlike Tidal. This versatility allows users to enjoy exceptional sound quality on Android phones or high-end music systems. In terms of pricing, Qobuz proves to be a more cost-effective option compared to Tidal HiFi Plus, which is priced at $19.99 per month. Additionally, Qobuz has taken the lead in bringing 24-bit hi-res audio streaming to Sonos speakers, making it an attractive choice for those invested in the Sonos ecosystem.
In conclusion, Qobuz stands as a premium music streaming service that places a strong emphasis on delivering superior sound quality. Its extensive music library, combined with lossless FLAC and Hi-Res audio options, ensures an unparalleled listening experience for audiophiles. With its curated editorial picks, immersive content, and a special focus on classical music, Qobuz offers a unique and enriching platform for music enthusiasts. Moreover, its flexible pricing plans and compatibility with various devices, including Sonos speakers, further enhance its appeal. For those seeking an uncompromising music streaming experience that prioritizes audio fidelity, Qobuz is an excellent choice.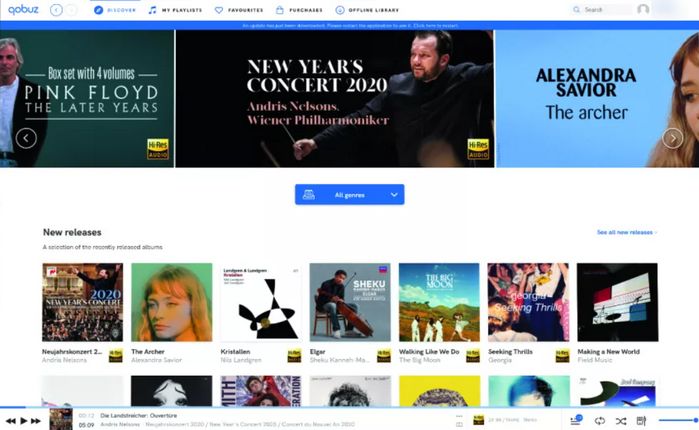 ---

Reasons for recommendation:
• The price is lower than Tidal.
• Provides high-resolution audio streaming without the need for a hardware MQA decoder.

Areas to be improved:
• Access is restricted in some countries.
• Not enough platform independence.
---
In the ever-evolving world of music streaming, selecting the best service is subjective, as individual preferences and needs vary. However, in 2023, Spotify, Apple Music, Tidal, YouTube Music, Amazon Music, Deezer, and Qobuz emerge as the top contenders. Spotify's vast library, personalized recommendations, and podcast integration make it a fan favorite. Apple Music's seamless ecosystem integration, curated playlists, and exclusive content cater to Apple enthusiasts. Tidal, Deezer, and Qobuz's commitment to high-fidelity audio and exclusive artist content resonates with audiophiles. Amazon Music Unlimited's extensive catalog and seamless Amazon device integration offer convenience and choice. YouTube Music's blend of audio and visual content and algorithm-driven recommendations provide an engaging and immersive experience.
Ultimately, the best music streaming service in 2023 depends on your preferences, budget, audio quality requirements, device ecosystem, and content that resonates with you. Select the one most suitable for you and let your musical journey flourish with the perfect soundtrack to your life.
We hope that today's article proves to be helpful to you. However, we would like to address another aspect before concluding. While we have discussed numerous options for music streaming services, it is important to note a common drawback that often leaves users frustrated. Even for paid subscribers who have unlocked the offline playback feature, the inability to transfer downloaded files to external players for playback remains a significant limitation. These temporary files are typically restricted to the platform's own application, preventing users from saving their favorite songs in MP3 format. But worry not, as we are here to provide you with a solution to this predicament.
---
Extra Tips. How to Export MP3 Files From These Streaming Music Services?
Nowadays, there is a wide array of converters available for selection. However, when it comes to finding the ideal converter that ensures both speedy and high-quality conversions while offering compatibility with multiple platforms, TunePat Music One emerges as the top contender. In the following section, we will provide a brief overview of this program's features and provide instructions on how to operate it effectively.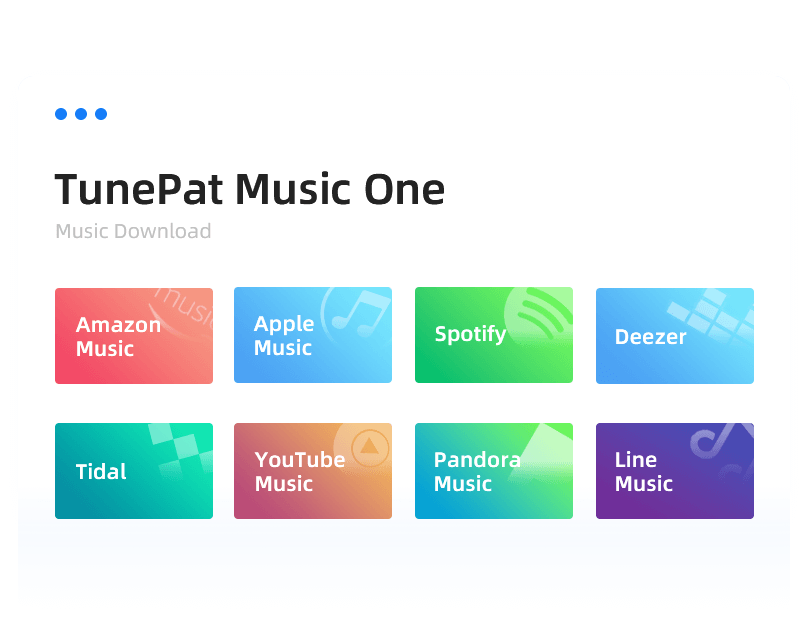 TunePat Music One is an amazing music conversion expert that supports music reading and conversion on multiple platforms with original quality kept.
Supports music conversion from various popular platforms, including Spotify, Amazon Music, Apple Music, Tidal, etc.
Convert streaming music tracks to MP3/AAC/WAV/FLAC/AIFF/ALAC.
Preserve the original quality of the songs after conversion.
Keep ID3 tags, including Title, Album, Artist, etc.
Enjoy your favorite music on different media players or devices.
Step 1 Select An Entrance to Streaming Music Service
Open TunePat Music One on your computer. On the start screen, you will find a selection of available streaming music sources. Choose one, such as "Spotify", and a corresponding web player window will appear.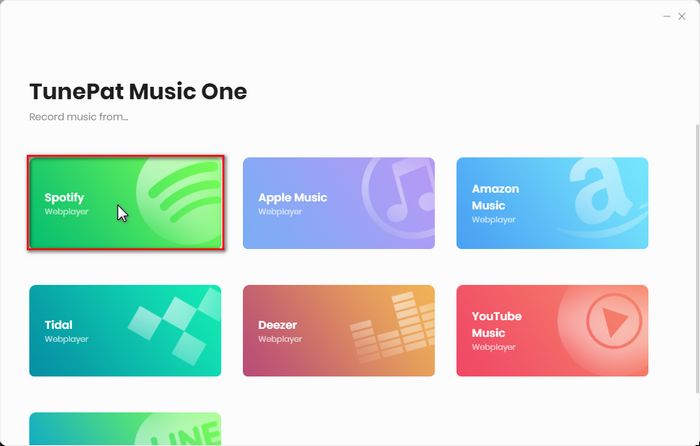 Step 2 Finish the Output Settings
Next, navigate to the menu bar on the left side of the main interface to locate the "Settings" button. Here, you can customize various output parameters, including output format, sound quality, output path, and file name. Once you've made your selections, return to the embedded web player window.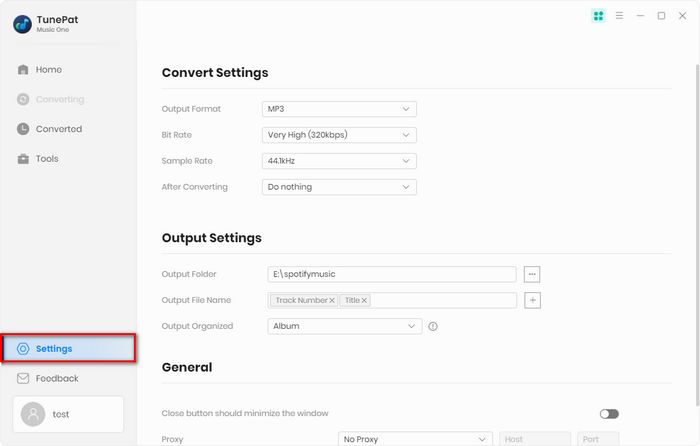 Step 3 Select Songs & Convert Them to MP3 Format
Log in to your account and open the song you wish to convert. Click "Click to add" to load the song. A pop-up window will appear, allowing you to verify the selected titles. Click "Add" to include them in the conversion list on the main interface of the TunePat Music One program. Finally, click the "Convert" button to initiate the conversion process. Once the conversion is complete, you can view or play the converted files in the "Converted" module.