TunePat YouTube Music Converter for Mac is an ideal solution that can assist users in quickly downloading songs or playlists in an unencrypted format. It ensures the preservation of label information and delivers high-quality sound output during the downloading process. Now, let us guide you through the detailed steps of using TunePat YouTube Music Converter.
How to Register TunePat YouTube Music Converter for Mac?
Before making a purchase, TunePat offers a free trial. The trial version allows users to convert 1 minute of 3 music files simultaneously. If you wish to download complete tracks, you can purchase the ultimate version, which removes this limitation. Upon purchasing, you will receive a license code that you can use to register for the program.
To sign up for TunePat YouTube Music Converter on your Mac, follow these steps:
Step 1 Click on the "Register" button located in the lower-left corner of the program or navigate to "Menu > Register" option. Complete the registration process within this module.
Step 2 Copy and paste the registration Email and Code into the registration popup window. Then, click on the "Register" button.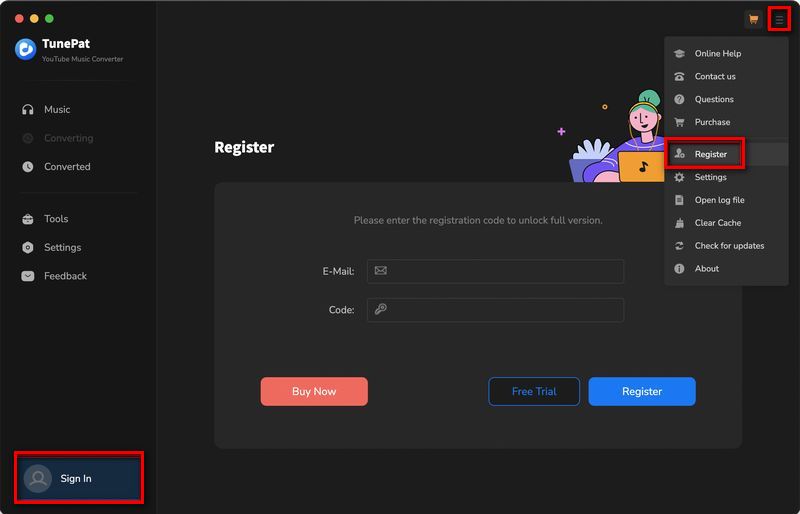 Please take note of the following:
1. The license key will be sent to you after purchasing TunePat. If you do not receive the license key within a few minutes, kindly check your Spam E-mail folder or contact our support team for assistance.
2. It is crucial to be mindful of the case-sensitivity of the registration information. Avoid adding any spaces before or after the word.
3. The Mac license is not compatible with Windows computers, and vice versa.
---
How to Use TunePat YouTube Music Converter on the Mac Computer?
Step 1 When you launch TunePat YouTube Music Converter, you'll be greeted with two pages: the main interface and the embedded YouTube Music web player, which opens automatically within TunePat. In case the web player doesn't appear, you can click the "Open the webplayer window" button to manually open it.
Next, click the "Sign in" button located at the top right corner of the YouTube Music web player window. Enter your account credentials to gain access to the YouTube Music library. TunePat supports both Free and Premium accounts, and rest assured that no information from your account will be collected by TunePat. You can sign out at any time after completing the conversion process.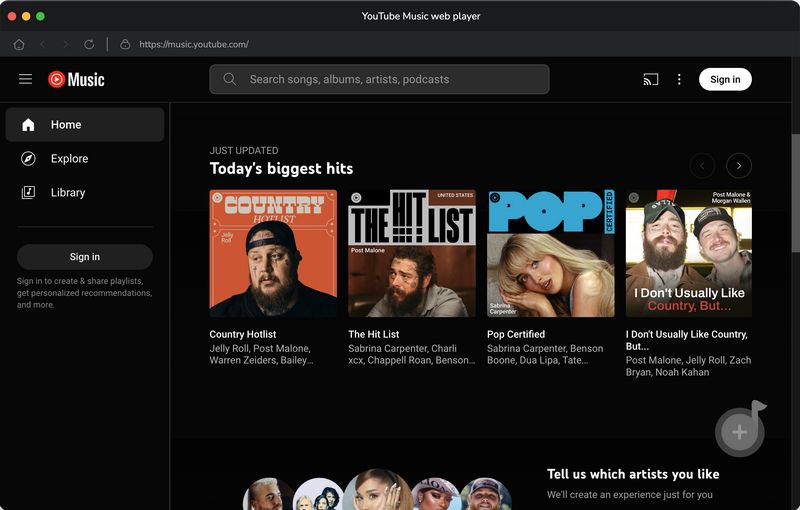 Step 2 Once you've successfully logged in, it's important to configure the output settings before selecting songs for conversion. Click on the "Settings" option in the left-hand toolbar. Within this section, you can customize various settings such as the output format (MP3, AAC, FLAC, WAV, AIFF, ALAC), bit rate (ranging from 128kbps to 320kbps), sample rate (from 44.1 kHz to 192 kHz), output folder, output file name, appearance, languages, and more.
Tips: "Save lyrics (if provided)" is enabled by default. You can export the lyrics file to TXT format while getting local audio files from YouTube Music. You can slide this button to close if you do not have this need.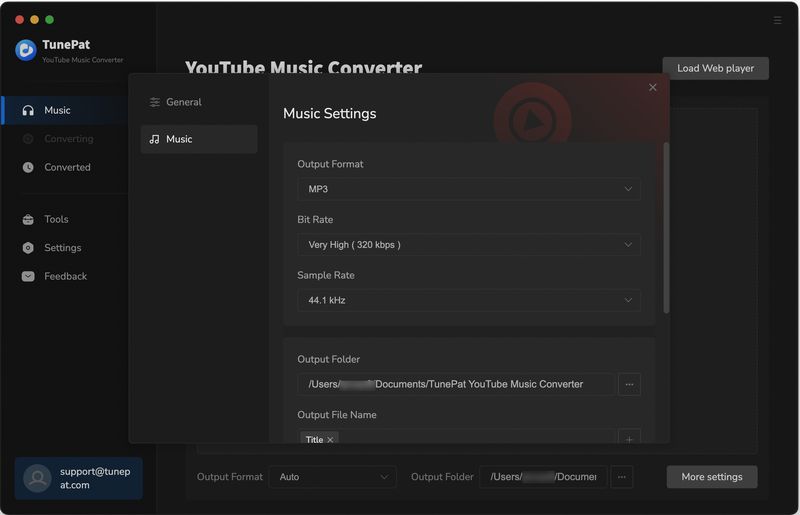 Step 3 Switch to the YouTube Music web player window and open a song, album, artist, or playlist. Then, click the blue "Click to add" button located on the lower right-hand side. TunePat will automatically identify and display all available songs in a pop-up window. Manually select the desired songs and choose the "Add" option.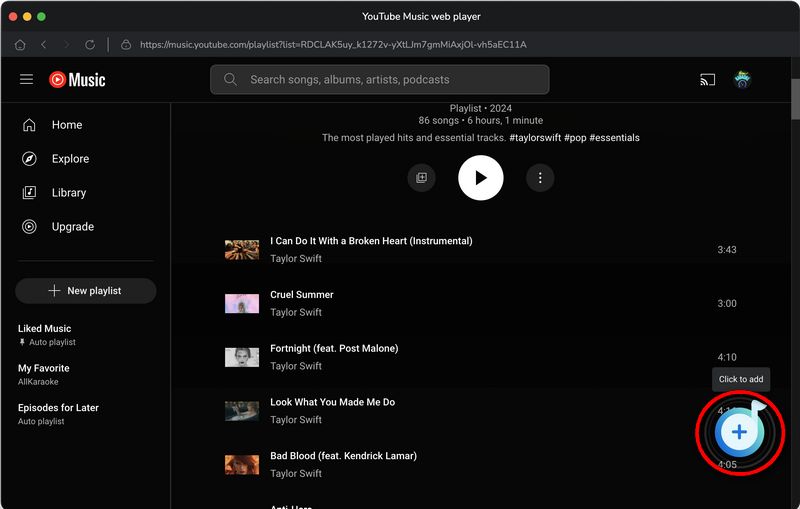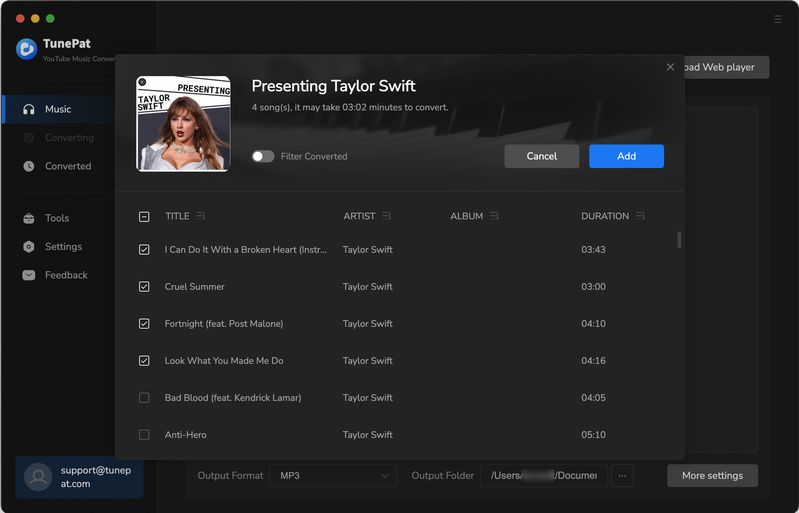 Note: The "Filter Converted" button in the upper left corner allows users to filter out previously converted songs in the selected output folder, preventing duplicates.
Step 4After selecting the "Add" button, the chosen songs will be added to the list on the home page. Here are some available options:
1. "Also download the music videos (If provided)": This button is turned off by default. If you wish to download music videos, simply toggle this button on (it will turn green). TunePat will then search for and download the corresponding videos. The videos will be saved in MP4 format, and the output quality will depend on the source file, with a maximum resolution of 4K.
2. "Put computer to sleep when finished": This button allows your computer to automatically go to sleep after converting a large number of songs.
3. "Add More": This option takes you back to the web player, allowing you to continue selecting songs.
4. "Delete All": Clears all items from the list.
5. "Convert": Clicking this option will initiate the conversion process immediately.
Let's click on the "Convert" button to begin the conversion process.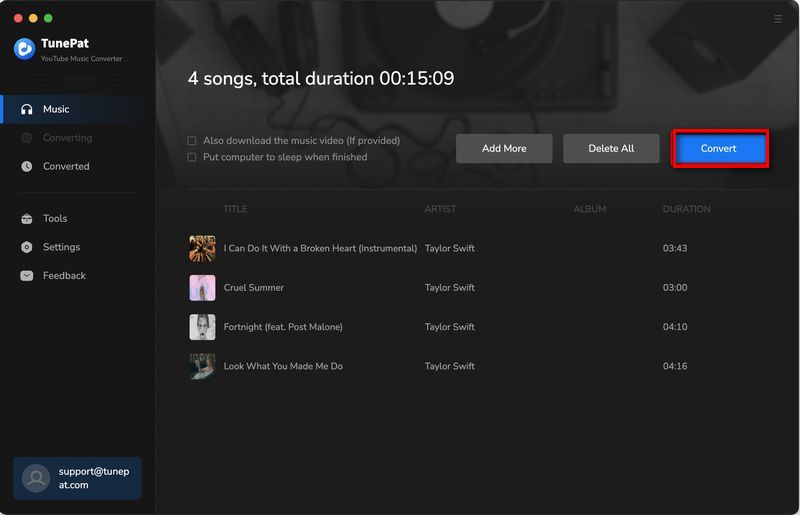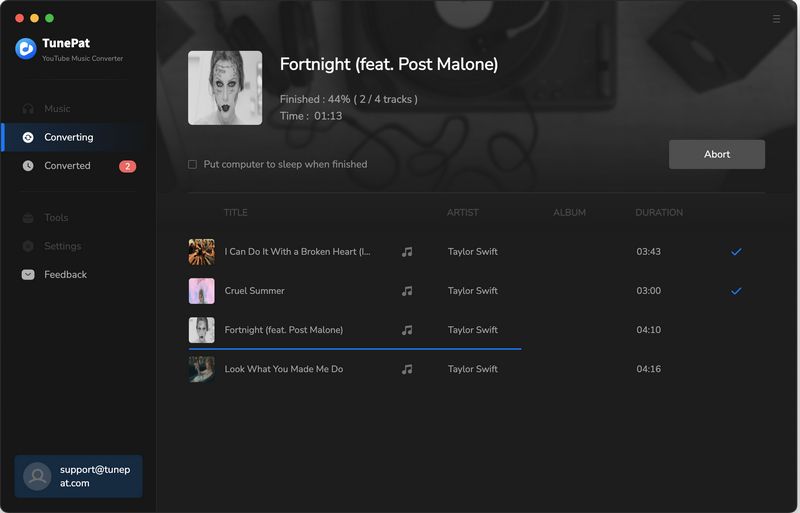 Step 5 Afterwards, navigate to the "Converted" section. Here, you'll find the successfully converted YouTube songs. Please note that converted video files are not currently supported for display in this section. You can freely edit, transfer, and share all the converted YouTube audio or video files.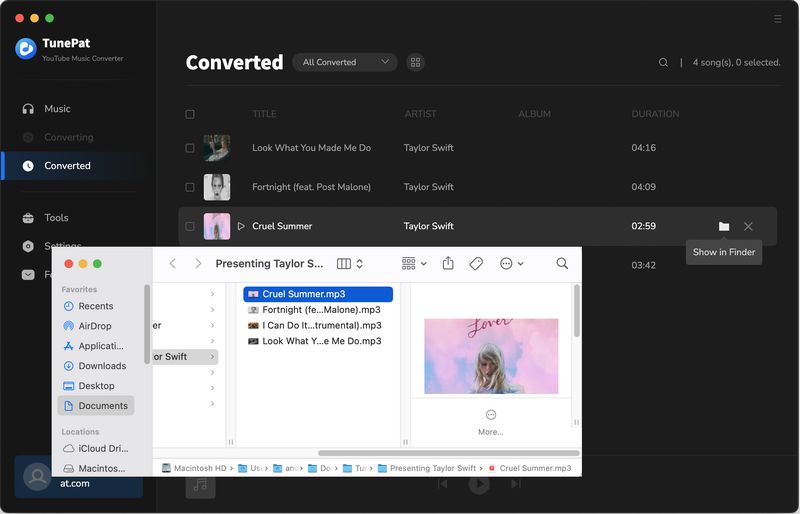 How to Use the Tools on TunePat YouTube Music Converter for Mac?
Apart from its primary function of converting and downloading songs and music videos from YouTube Music, the program also offers additional free widgets. Access the Tools interface to find two options: Format Converter and Tag Edit.
The "Format Converter" enables you to convert local file formats. It supports output to various formats such as MP3, M4A, FLAC, WAV, OGG, and AIFF. This way, your files can work on more devices.
The "Tag Edit" module provides the ability to edit song tag information. You can customize and modify the tag details according to your preferences and needs. This feature gives you control over the metadata associated with your songs, enhancing your overall music management experience.