How to Rip Music from YouTube
YouTube and YouTube Music are popular options for people to enjoy videos and music. While these online platforms provide entertainment, their limitations have caused some to reconsider. How can we listen to YouTube Music without an internet connection, specific device, or website?
Fortunately, the solution is simple. We can get our preferred audio content from YouTube or YouTube Music through the use of third-party ripping tools, which allows us to play the content on multiple devices without facing compatibility issues. Read on to learn more! This article presents an introduction to 5 free online tools that can be utilized to rip music from YouTube videos and provides a solution to preserve music tracks, albums, playlists, radio, or music videos from YouTube Music permanently. All these tools have been thoroughly tested. Let's dive in!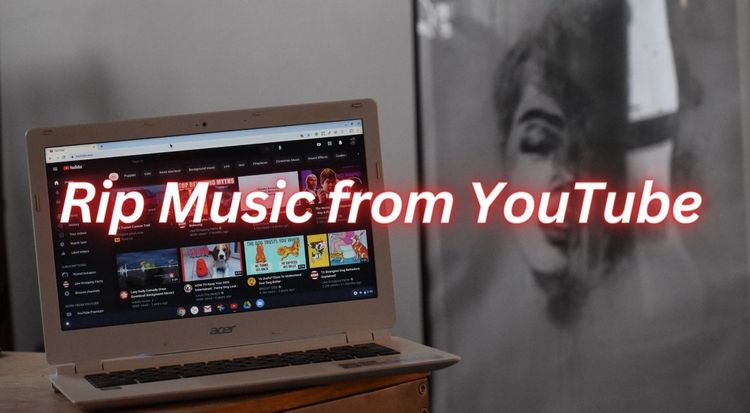 Part 1. Top 5 Free Online YouTube Audio Rippers
TubeRipper
TubeRipper is a web-based platform that enables users to extract and download files from popular video-sharing websites such as YouTube, Vimeo, TikTok, VK, SoundCloud, Pinterest, Twitter, Facebook, and Instagram. The service supports various file types, including audio-only (sound), video (audio and video), and video-only (silent). It does not require registration to utilize the website. TubeRipper offers support for multiple audio and video formats such as MP3, MP4, M4A, FLAC, and others.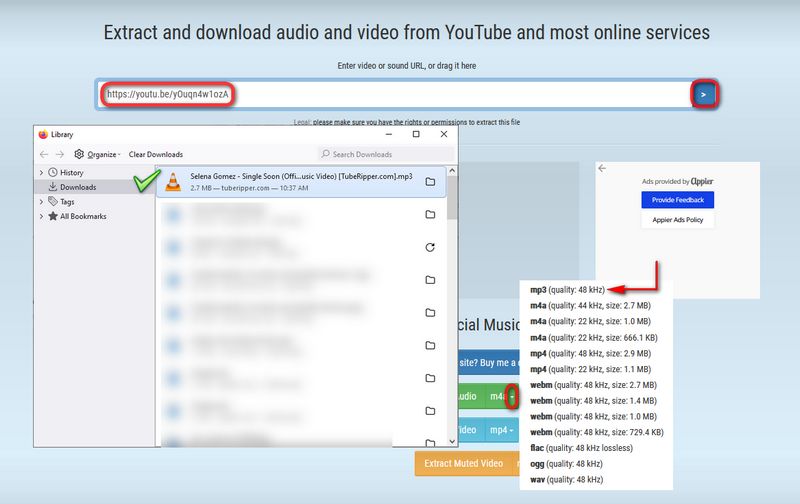 How to Extract Audio from YouTube Using TubeRipper?
Step 1 Find the music video you want from YouTube. Right-click on the "Copy video URL" option.
Step 2 Paste the link into TubeRipper and click the right arrow on the side to parse it.
Step 3 To get the music files, click the drop-down menu next to the "Extract Audio" button and select the audio format you want to export, such as MP3. It will show you the sound quality of the file you will get and the file size.
Step 4 When the button displays "Starting the download...", it means that the file is being downloaded, just wait patiently.
SnapInsta.io's YouTube to MP3 Converter
SnapInsta.io offers a YouTube to mp3 converter that facilitates the extraction of music from YouTube videos. The output format is customizable, ranging from 64 kbps to 320 kbps. The download and parsing processes are highly efficient, accommodating use on a desktop, tablet, Android, or iOS device. However, pop-up ads frequently appear and necessitate manual closure.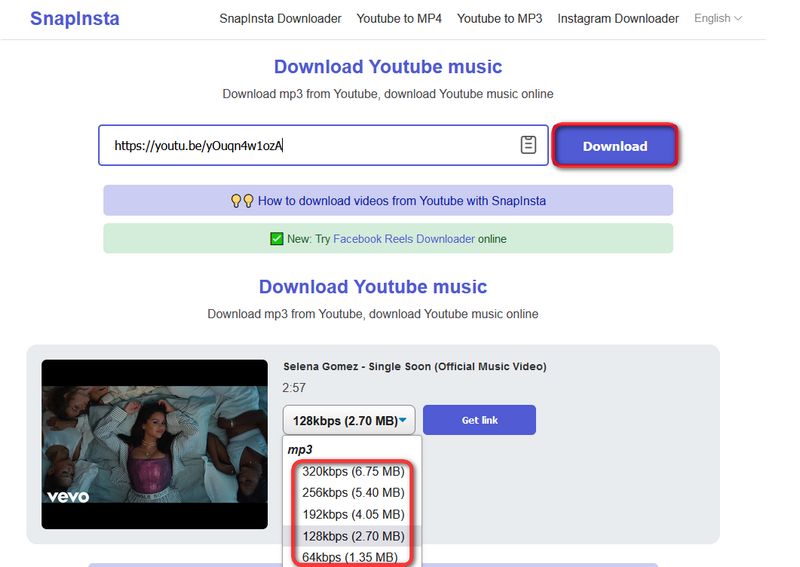 How to Download YouTube Music Using SnapInsta?
Step 1 Run the Youtube app or visit the Youtube.com website. Find the source of the video you want to get the music from, right-click, and copy its URL.
Step 2 Open the SnapInsta.io website, copy the link into the box, and click the "Download" button on the right.
Step 3 Then please select your preferred output sound quality. After selecting, click "Get link".
Step 4 After that, the words "Converting, please wait..." will be displayed. Click the "Download" button again to start conversion.
Keepvid Online Video Downloader
Keepvid is an online tool for downloading videos from various websites, such as YouTube, Facebook, Twitter, Instagram, VKontakte, Twitch, Vimeo, and Dailymotion. This tool enables users to download audio in MP3 format and video in MP4 format (with image quality ranging from 480p to 1080p). Additionally, it supports retaining subtitles in various languages in SRT format.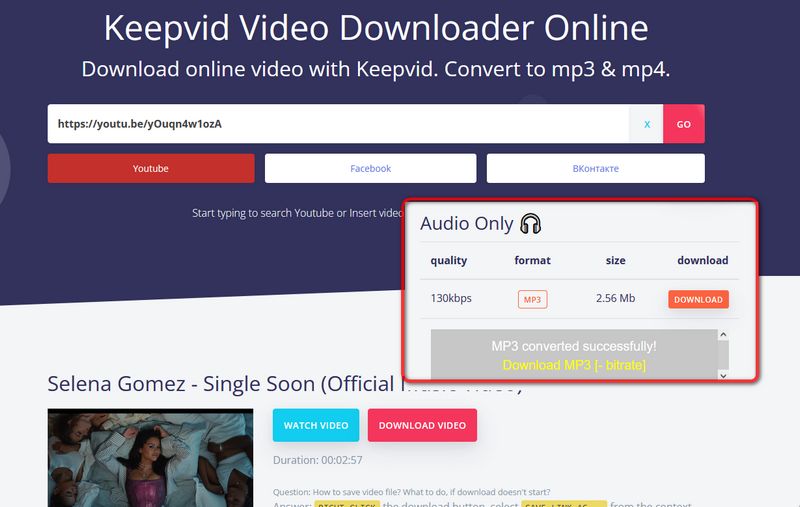 How to Use Keepvid Video Downloader to Rip YouTube Music?
Step 1 Copy and paste the URL of the target video from your YouTube into the Keepvid website.
Step 2 Click "Go" to start parsing. Swipe down the interface or click the red "DOWNLOAD VIDEO" button to locate the Audio Only item below.
Step 3 Select MP3 format, and click "DOWNLOAD" to start downloading.
YTMP3
YTMP3 is a web app that lets you easily get audio files from YouTube Music and save them as MP3s or MP4 videos. It works on desktops, tablets, and mobile devices, and doesn't need any extra software or apps.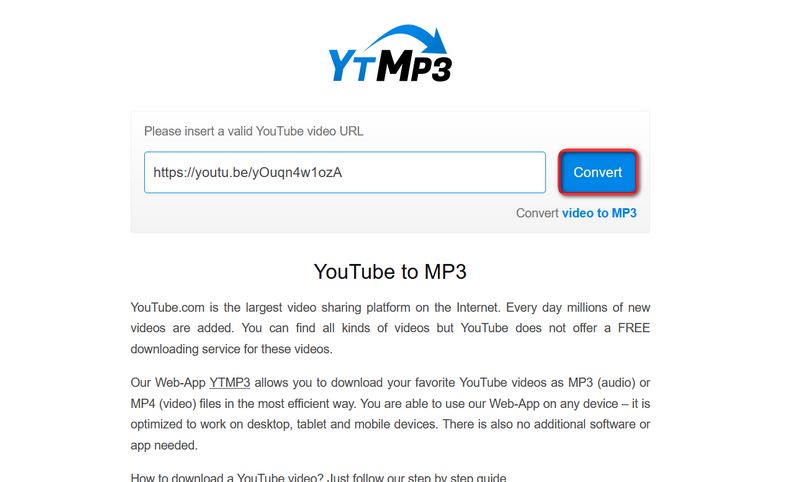 How to Get YouTube Music Files with YTMP3?
Step 1 Open YouTube.com and search for the video you want to download. Right-click and copy its URL.
Step 2 Go to the YTMP3 website in your browser and paste the video URL into the box. As you can see, there is a word Convert video to MP3 in the lower right corner. If you want to get the video file, please click the blue part to switch.
Step 3 Click "Convert" to start parsing the link. After the parsing is completed, click "Download" to start downloading.
OnlyMP3
OnlyMP3 YouTube to MP3 Converter provides a simple, one-click solution for converting YouTube videos to high-quality MP3 music files. No registration or software installation is necessary to perform the conversion. Additionally, the website supports converting an unlimited number of videos to audio files that can be saved directly to a Dropbox account.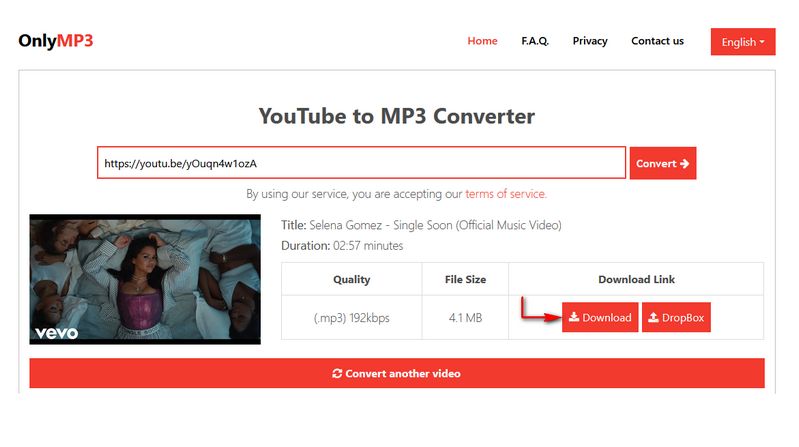 How to Convert YouTube Music files via OnlyMP3?
Step 1 First, open the video you want to convert to MP3 format, then right-click and copy its URL.
Step 2 Then paste it into the box in the center of OnlyMP3 YouTube to MP3 Converter and click "Convert → "to start parsing.
Step 3 The website will then display the parsing results, including the video's title, duration, quality, and file size. Click the orange "Download" button on the right to start downloading.
The mentioned converters can easily rip music from YouTube online, eliminating the need for any additional downloads or virus invasion concerns. While ad presence may be experienced on the interface, it is important to note that these websites only support parsing of individual links and cannot process YouTube playlists in bulk.
For a more comprehensive song selection, YouTube Music is highly recommended over YouTube, which prioritizes video content sharing. Unfortunately, none of the previously mentioned free websites support downloading audio from YouTube Music. However, fear not, for we will now present the most optimal solution for obtaining music from YouTube Music without encountering a special protection format. Please refer to the following information.
---
Part 2. How to Rip Audio from YouTube Music?
As a streaming music service, YouTube Music offers a free tier, but it primarily functions as a platform that requires a subscription for full access and offline playback capabilities. Any downloads made through a paid account are only temporary files that can only be played using the YouTube Music app. To use these files outside the YouTube Music app, finding a reliable tool to convert them to an unprotected audio format like MP3 is necessary.
TunePat YouTube Music Converter is a top-rated program for converting and ripping music files from YouTube Music. It is known for its simplicity and efficiency. With just a few clicks, users can rip YouTube music files in batches with ID3 tags and choose from various output formats, including MP3, AAC, FLAC, WAV, AIFF, and ALAC, to cater to their diverse needs. Moreover, the software also provides practical considerations when managing each user's local music library. Users may configure the output file name and arrangement based on their personal preferences. What's more, the YouTube Music obtained can be used on any desired device. Please follow the steps below: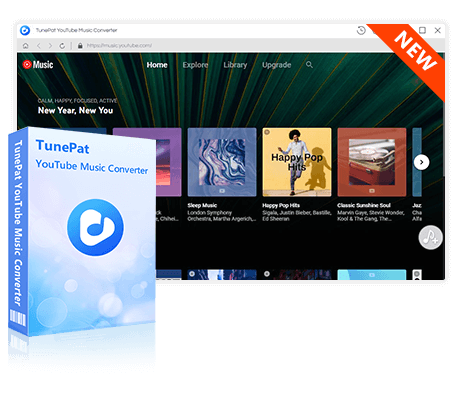 TunePat YouTube Music Converter
TunePat YouTube Music Converter helps you download and convert all YouTube Music songs and playlists to MP3 and other common formats.
Download songs, albums, playlists, and podcasts from YouTube Music.
Convert YouTube Music songs to MP3/AAC/WAV/FLAC/AIFF/ALAC.
Preserve the original quality of the songs after conversion.
Keep important ID3 tags, including Title, Album, Artist, etc.
Save music videos in MP4 format of up to 4K quality.
Transfer YouTube Music to MP3 Players, SD cards, Android Watch, etc.
Step 1 Download and install the suitable version of TunePat YouTube Music Converter on your computer. Once you launch the program, an embedded window with the YouTube Music web player will appear automatically. In case the window does not appear or closes unexpectedly, you can access it by clicking the "Open the web player window" button on the main interface. After that, click on the "Sign in" button to log in to your YouTube Music free or premium account.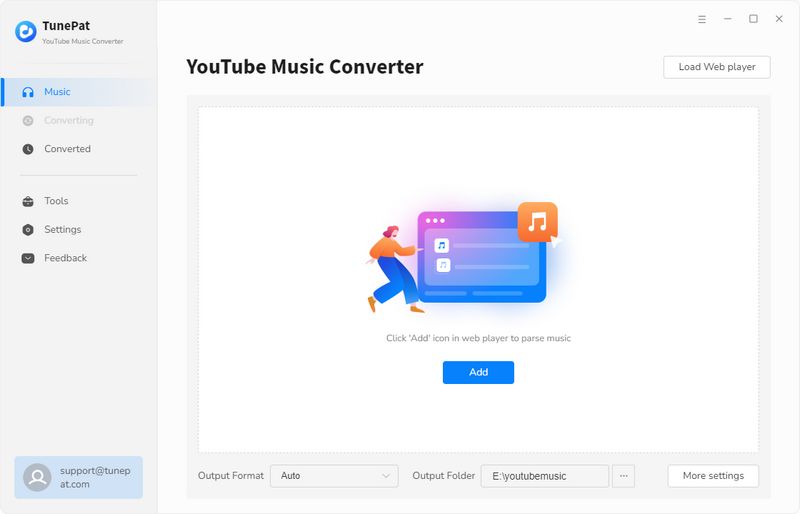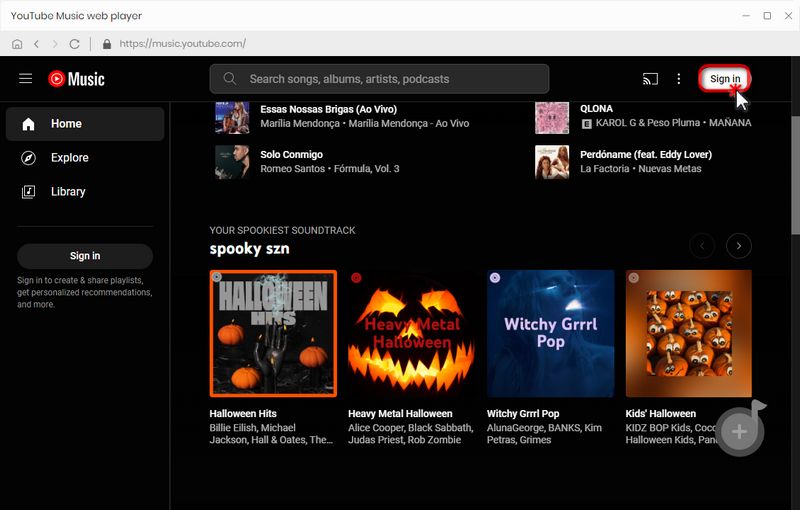 Step 2Before beginning the process of converting songs, go to the "Settings" interface to customize various output parameters. These may include the output format, bit rate, sample rate, output folder, output file name, and more. To manage your local library more efficiently, you can sort output files by playlist, artist, album, or other forms to your liking. For this example, we have chosen to use MP3.
You can customize the following options:
Output Format: Auto, MP3, AAC, WAV, FLAC, AIFF, ALAC
Bit Rate: 320kbps, 256kbps, 192kbps, 128kbps
Sample Rate: 192 kHz, 96 kHz, 48 kHz, 44.1 kHz
Output File Name: Track Number, Title, Artist, Album, Playlist Index, Year
Output Organized: None, Playlist, Artist, Album, Artist/Album, Album/Artist, Playlist/Artist, Playlist/Album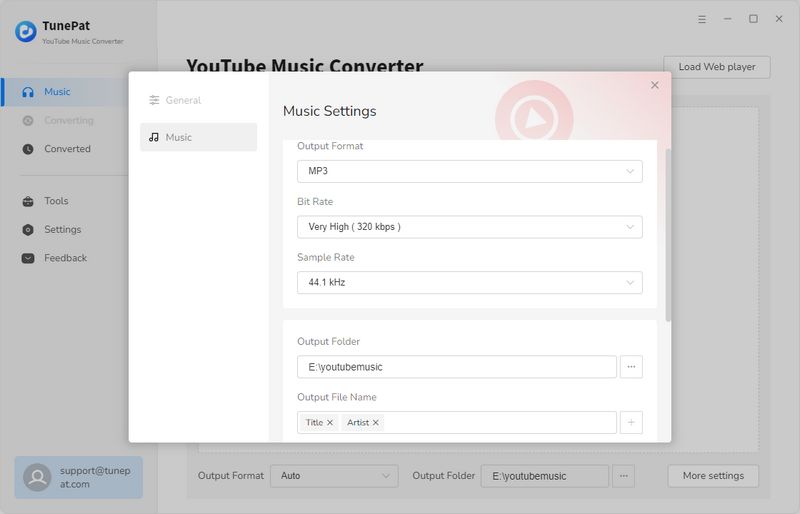 Step 3 Once you have completed the setup, return to the embedded YouTube Music web player window and open the music files you want to rip. Select the "Click to add" button located on the right-hand side of the screen that changes from gray to blue when you open a song, album, or playlist. From the pop-up, deselect any undesired titles and "Add" the remaining selections to the Home panel for conversion.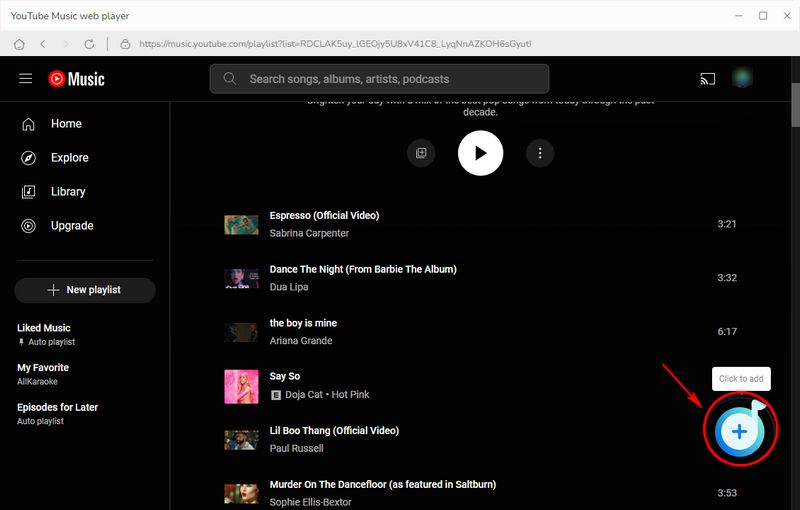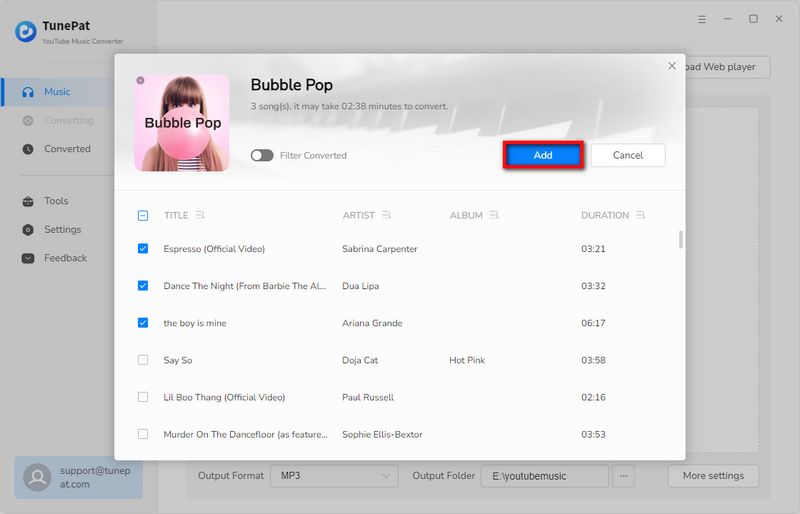 Step 4 Click "Convert" to initiate the conversion process. The TunePat YouTube Music Converter boasts a leading conversion speed, 10x faster, to save you valuable time. The number of songs selected, the level of output sound quality, and internet speed are factors that impact the conversion process. Please wait patiently until the conversion process is complete.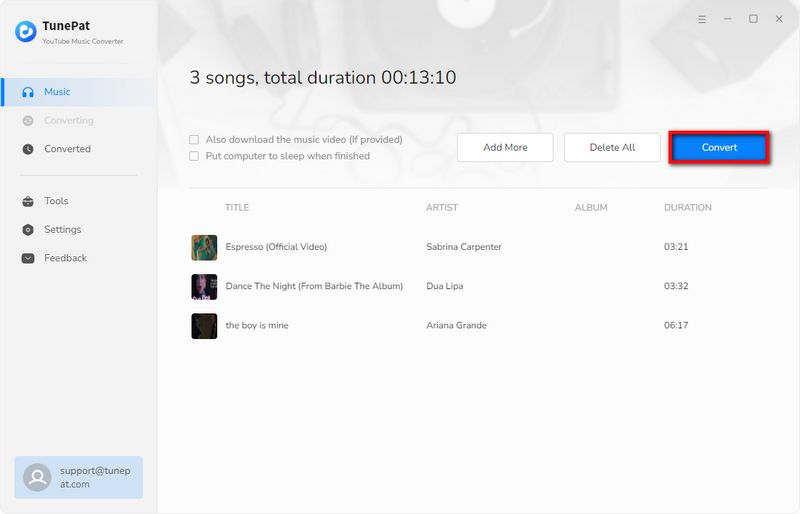 Step 5 After the conversion is finished, select "Converted" to access all songs ripped from YouTube Music. Double-click to listen. In addition, TunePat YouTube Music Converter serves as an offline player. You can locate the song files locally and then edit, transfer, or import them to your preferred software.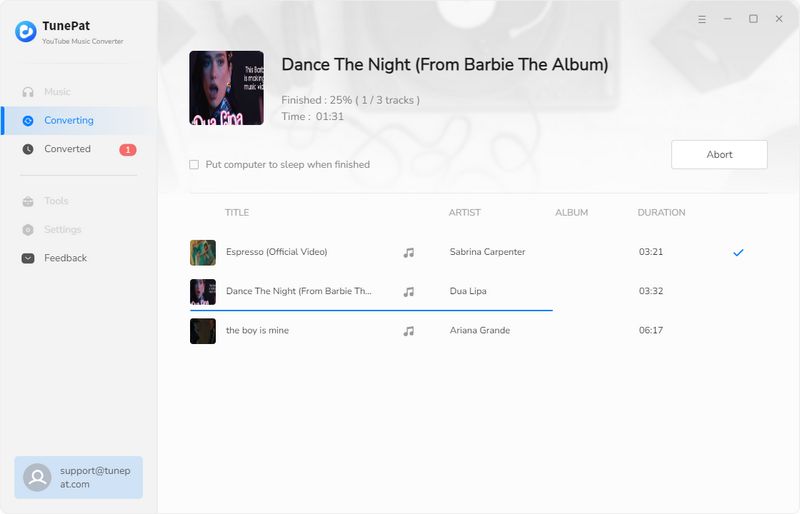 ---
Conclusion:
After reading this article, you should be equipped with the knowledge to convert YouTube Music to MP3 format efficiently, whether from YouTube or YouTube Music. For high-quality YouTube Music files with editable ID3 tags, we recommend using the 100% safe and green TunePat YouTube Music Converter. This software allows you to convert songs from various albums or playlists in batches simultaneously. Install this software on your computer and begin extracting YouTube Music rapidly, immersing yourself in your favorite tunes in a fresh manner!