How to Import YouTube Music to Rekordbox
Pioneer launched Rekordbox in 2009 with French software development company MixVibes, an analysis, song preparation, and music library management program. Since its inception, Rekordbox DJ has been a software solution that many people pay attention to and favor. Rekordbox DJ has many features that make your DJ mixing journey easier and more enjoyable.
YouTube Music is an online music and video streaming service backed by YouTube. It contains rich music and music video resources and provides users with free and paid versions respectively. But many users have also found that even after paying, they cannot use their downloaded YouTube Music on Rekordbox. So what should we do? Please don't worry! This article has everything you want to know. Use an amazing tool, then save YouTube Music as MP3 to your computer and import it into Rekordbox to use.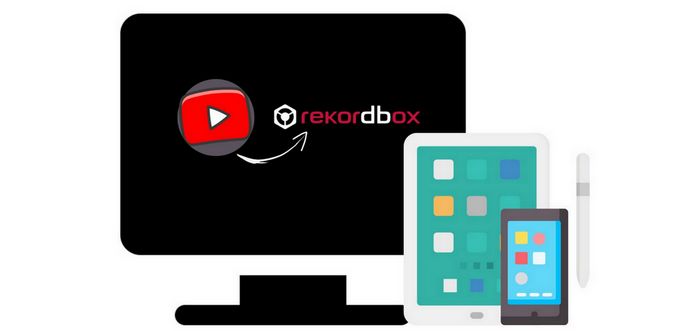 Part 1. Pros and Cons of Rekordbox
Rekordbox has always been one of the benchmarks in the DJ software industry, which has made Rekordbox an important tool in the DJ arsenal of many people. Of course, nothing is perfect. Rekordbox is not without its shortcomings. Let's briefly browse the pros and cons of this software.

Pros:
1. Easy to use and helps you organize your music.
2. Create specific folders and playlists for instant mixing.
3. Users have a choice, and the most basic version of Rekordbox is available for free.
4. Excellent music analysis that lets you understand how the track works.
5. Compatible with all Pioneer CDJ and XDJ models, and even more models that may come later.
6. With cloud synchronization function.
7. Ability to link to Ableton Live.


Cons:
1. The subscription model can be expensive, with its core plan starting at $9.99 per month.
2. The program can be slow at times, especially in export mode.
3. While compatible with iOS systems, integration with iOS or mobile is still not completely seamless.
4. Connecting to the application requires some additional accessories. (Mainly USB and Ethernet cables)
5. As a standalone laptop DJ software with limited functionality, it is more suitable for connecting to a controller or media player.

Part 2. Does Rekordbox Support YouTube Music?
DJs all over the world love the versatile and powerful Rekordbox DJ software. As streaming becomes more and more popular, you should use Beatport Link, Beatsource, Tidal, and Soundcloud GO+ if you wish to stream music using Rekordbox.
Each streaming service utilizes the following file types:
Beatport Streaming: AAC
Beatsource Streaming: AAC
TIDAL Premium: AAC 320 kbps
TIDAL HiFi: FLAC 44.1 kHz 16 bit, AAC 320 kbps
SoundCloud Go+: MP3 128 kbps, AAC 256kbps
SoundCloud DJ: MP3 128 kbps, AAC 256kbps

That is to say, in addition to supporting the above track sources, Rekordbox does not support other streaming music services, including YouTube Music. Not only that, but in fact, streaming media also has great restrictions on our DJ mixes. Access to streaming music is affected by too many uncontrollable factors, such as licensing issues, regional restrictions, etc. If record labels don't like the terms of the agreement, they have the right to remove their collections from the platform at any time and forcibly. When some songs you add to your playlist are withdrawn from the library, it will be a disaster for professional DJs.
So we thought of a way to get the best of both worlds. It allows you to download YouTube Music to mix locally and successfully get rid of the mercy of the original platform for these songs. These songs can be imported to Rekordbox as local audio files. And the following audio formats are supported: MP3, FLAC, ALAC, WAV, AIFF, and AAC.
If you want to use YouTube Music on Rekordbox in a complimentary way, you must not miss the next part, which is very important and helpful!
Part 3. How to Convert YouTube Music to MP3 Format?
Since we need to convert and download YouTube Music to normal audio formats, we certainly cannot do without the help of a reliable third-party converter. TunePat YouTube Music Converter is a simple and easy-to-use converter designed to help YouTube Music free or paid users get DRM-free songs, albums, or playlists from YouTube Music.
The reason why this converter stands out from many similar programs is that it has very distinct advantages, including but not limited to support for multiple output formats, 10x speed conversion, batch conversion of multiple lists, identification and retention of some important ID3 tags, export YouTube Music with the original sound quality, etc. The converted YouTube Music will be completely free of restrictions, and you can edit, move, transfer, and more to your liking and needs.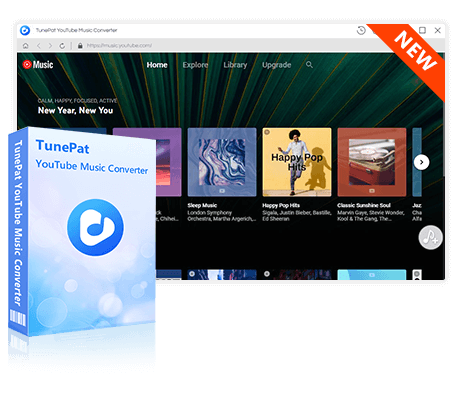 TunePat YouTube Music Converter
TunePat YouTube Music Converter is an easy-to-use music converter optimized for YouTube song conversion. Grab, download, and convert YouTube content with ease.
Download songs, music videos, albums, playlists, and podcasts from YouTube Music.
Convert YouTube Music to MP3, AAC, WAV, FLAC, AIFF, or ALAC.
With tools available for changing output format, burning CDs and editing ID3 tags.
Download YouTube Music with a free account without ads.
Keep ID3 tags and lossless output quality after conversion.
Suitable for multiple scenarios, such as use on the Apple TV, import to various DJ programs, etc.
If you are a novice user, please choose the appropriate version of TunePat YouTube Music Converter first, and then download it to your computer. After obtaining YouTube Music songs in three simple steps, you can transfer the converted YouTube Music tracks to rekordbox.
Step 1When you launch TunePat YouTube Music Converter, the embedded YouTube Music web player within TunePat will pop up immediately. If not, you can also manually open it by clicking the "Open the webplayer window" button on the home page of TunePat. Please log in to your YouTube Music account by tapping the "Sign in" in the YouTube Music web player window.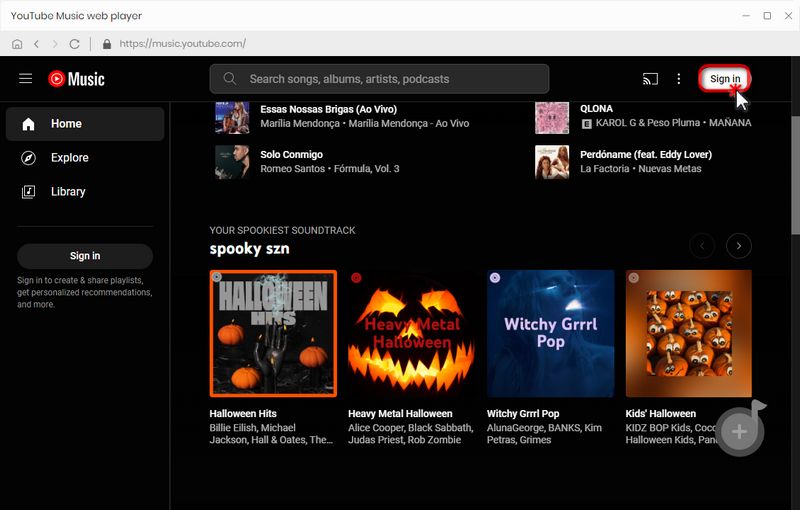 Step 2 Click the "Settings" option located in the lower-left corner of the menu bar. You can adjust the output and convert parameters as your need, including output format (MP3, AAC, FLAC, WAV, AIFF, ALAC), output quality, output folder, output file name, etc. The six output formats supported by TunePat can all be used by Rekordbox. So you can choose any one according to your preference. Here we choose "MP3" as an example.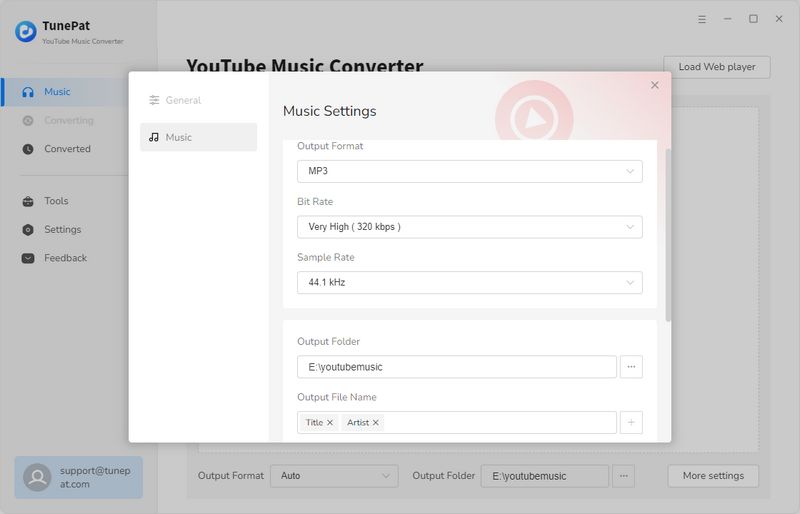 Step 3 Open the YouTube Music web player window. Open the song, album, or playlist you want to download. You can see a blue "Click to add" button. Tap on it, and then TunePat will automatically detect and display all available songs on a pop-up. Manually tick off the titles you want and click on "Add" button to add these songs to the Home page for conversion.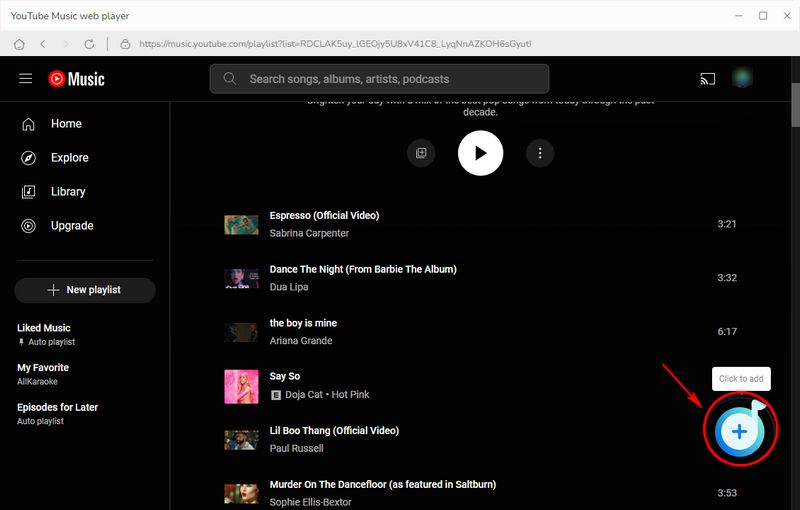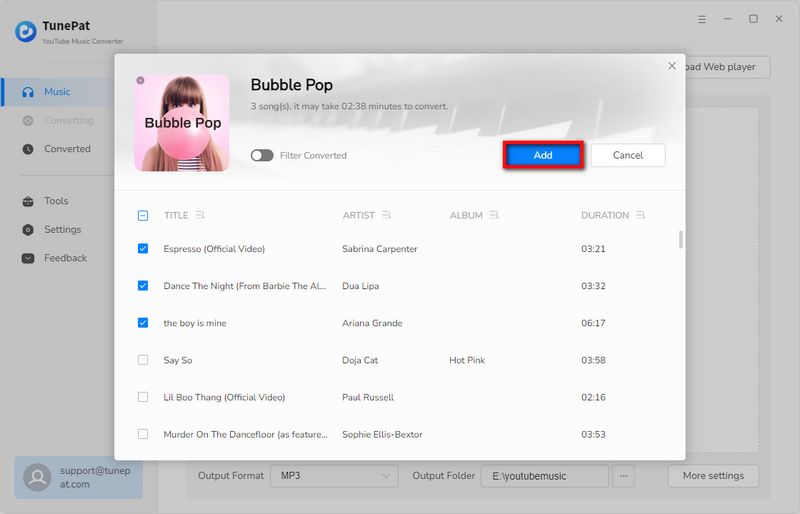 Step 4 Click on the "Convert" button on the home page to initiate the conversion process. If you wish to continue adding songs from other albums or playlists for one-time conversion, you can select "Add More" instead to go back to the YouTube Music web player window. Repeat the steps above and choose "Convert" finally.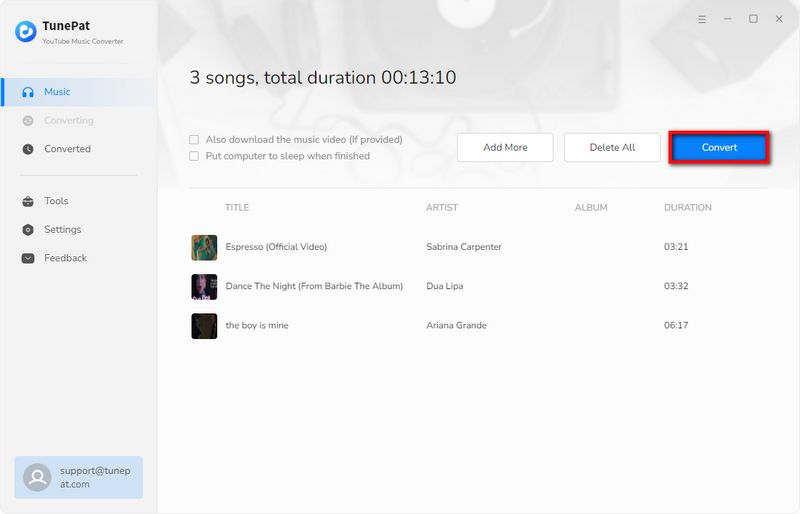 Step 5 The folder storing the converted YouTube Music will instantly appear when the progress indicator reaches 100%. On it, you can browse or listen to music. You can also view it by going to the "Converted" section of the TunePat software.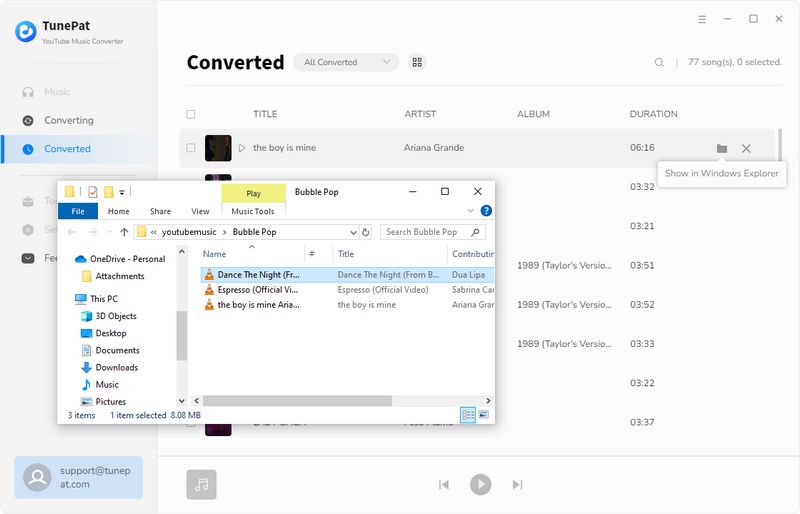 Part 4. How to Import Downloaded YouTube Music into Rekordbox?
Now you can import YouTube Music to rekordbox for mixing! Do it together!
Step 1 Run Rekordbox on your computer. Log in to your account and you will see the main interface of the program. You can choose the converted YouTube Music directly from the local drive, or you can transfer YouTube Music to iTunes first, and then connect with Rekordbox.
Step 2Next, we will introduce the easiest way. Find the "Playlists" button on the left-hand side and right-click "Create New Playlist".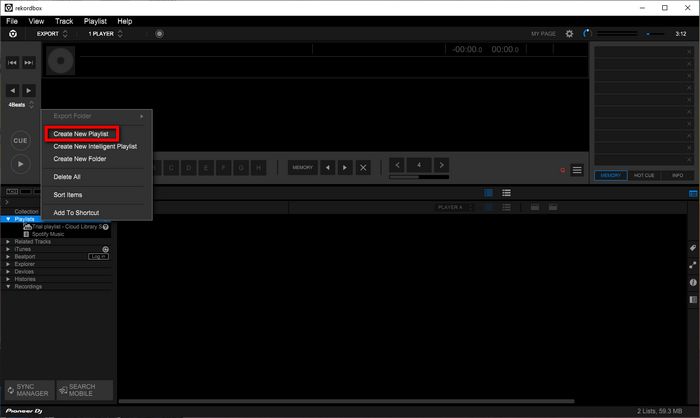 Step 3Name this new list of YouTube Music and select it. Pull the mouse to select all titles in the local folder and drag them to the space on the right. rekordbox will automatically read these songs and enumerate all the song information. So now, you can start mixing on rekordbox with YouTube Music!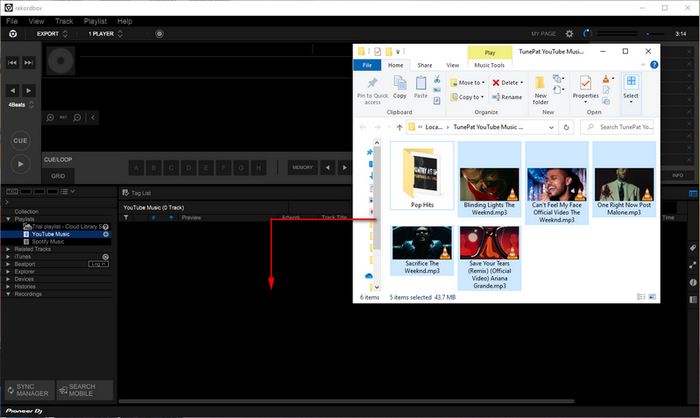 Conclusion
YouTube Music is a rich source of audio & video, and any DJ user should use these resources more thoroughly and freely. TunePat YouTube Music Converter is a necessary condition for you to achieve this goal. With this tool, you can convert your favorite YouTube Music to MP3, AAC, WAV, AIFF, FLAC, or ALAC, and then these songs can be used flexibly, just like any ordinary audio file. For example, you can transfer YouTube Music to a USB drive and save it, transfer it to Apple Watch for use, play it offline on Apple TV, and more.