Amazon Music Prime Has Changed? Play in Shuffle Mode Only? Solved!
At the beginning of this month, Amazon Music announced that Prime subscribers could access the entire catalog of up to 100 million songs. That's a huge increase from the previous two million Prime subscribers, but it's causing a lot of dissatisfaction among subscribers. Previously, Prime members could search and stream only nearly 2 million songs, but they could choose any song they wanted to stream. But they could choose to play any of those songs or download them offline. Now, those options will no longer be available. This page will tell you exactly what changes have been sent to the new version of Amazon Music Prime and how to fix the problem that only Amazon Music can be played randomly.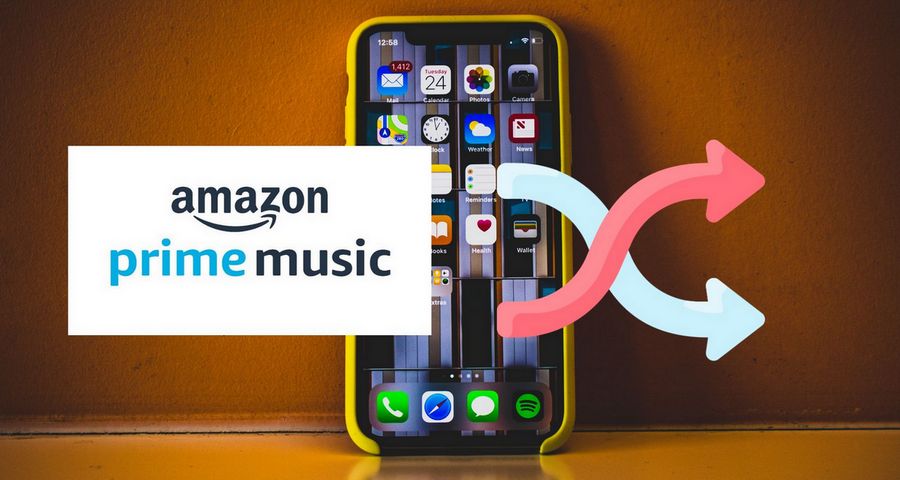 ---
Part 1. Reasons Why You Must Listen to Amazon Music on Shuffle Mode Only
"Officially this is a benefit for us, but we don't have the power to choose the songs we want to listen to and play them. I don't mind the limited number of songs I can access. This is just to anger people to spend more money to upgrade to Unlimited."
"I've been using Amazon Music Prime for years. But it makes playlists meaningless, and I can't even play songs that have been on my playlist for a long time. Why limit the ability of users to listen to music the way they want to? This seems to be an attempt to make Prime Music so unattractive that people will choose to pay for the entire monthly subscription?"
"This is quite ridiculous! I previously purchased an album on Amazon so I could play it on my Echo. Now I can't even play the album I paid for myself!"
"It's so bad that I can't skip songs over and over or change the order in which the music I've purchased is played. Every time Amazon plays my playlist in the same order and mixes in random junk."
"I have found that the random play option on Amazon Music Prime has been rendered useless. And there is even a skip limit."
We have summarized several user grievances about this Amazon Music Prime update from several online forums and messages sent to us by users. As you can see above, there are many opinions from users about this "change". So why is Amazon Music's expansion of its free music library so controversial? What changes did this upgrade bring to users?"
Changes to Amazon Prime Music:
◉ The number of unlimited songs that Prime members can listen to has increased from 2 million to over 100 million, the same as Amazon Music Unlimited.
◉ From the enhanced music library, Prime members can shuffle-play any artist, album, or playlist to find new music that matches their tastes.
◉ A curated selection of All-Access Playlists is available for on-demand playback with no skip restrictions, or you can download the songs to listen to them offline. And the offline listening function is now only available for All-Access Playlists.
◉ All-Access Playlists requested on Echo devices play in shuffle mode.
◉ If you want to cancel shuffle and just play your favorite songs, playlists, or albums, you need to upgrade to Amazon Music Unlimited. If you continue listening without a subscription, you will be prompted to subscribe to Amazon Music Unlimited.
◉ The improved Prime member benefits for Amazon Music are available on the Amazon Music web player, mobile and desktop app, and Echo and devices.
---
Part 2. Can't Play Songs in Order on Amazon Music Prime, What Should I Do?
For Amazon Music Prime users who can only play music from other playlists, artists, or albums in shuffle mode, in addition to the All-Access playlist, we have put together the following solutions for you.
2.1 Enjoy Amazon Music on the Curated All-Access Playlists
As mentioned earlier, if you want to play your favorite music on demand instead of in random form, then you can choose to visit All-Access Playlists. Then you can choose to access All-Access Playlists where you can play on-demand and offline.
What are All-Access Playlists? According to Amazon, a collection of these playlists will be available, tailored to individual listening preferences. At this level, the freedom of playback that these playlists give Prime members is great. But it also has very obvious limitations. What does that mean? Amazon Music gives users a playlist of "Frequently Played", "Recently Played and More", and so on. But always, for some users, the most important "My Favorites" list is still stuck in random play.
2.2 Upgrade to Amazon Music Unlimited
If you want to play a list of songs on demand without restrictions or download and play offline any song you like, upgrading to Unlimited is the most straightforward and convenient way to do so, provided you have the budget and are willing to continue paying for Amazon Music.
Amazon Music Unlimited is available to Prime members for just $8.99 for a monthly membership or $89 for an annual subscription. Customers without Prime pay $9.99 each month.
2.3 Return the Amazon Music App to the Previous Version
If you don't want to spend the extra money to subscribe to a higher-level Amazon Music account, there is also a temporary solution, which is to roll back your Amazon Music app to the previous version. Of course, this method is only valid for desktop users. If you're using a cell phone device, sorry. I can only suggest that you better turn off the automatic update permission of the mobile application app. Any app should be updated after you confirm it, which can avoid a similar situation next time.
If you are using a computer, you can choose to install the previous version:
You can get the old version of Amazon Music Windows from HERE.
You can get the old version of Amazon Music Mac from HERE.
This method is not a permanent solution. Once the program has some bugs playing music or running afterward, and you are late in updating the program, there will always be new problems.
2.4 Download Amazon Music for Offline Playback with TunePat Amazon Music Converter
This last method we will introduce is the one we recommend the most. This method will solve most of the problems you encounter in using Amazon Music at once. For example, you can't select your favorite music to play after updating, you can't download songs after updating, previously downloaded songs are no longer accessible, etc.
As the main product of the TunePat brand, the well-designed TunePat Amazon Music Converter has been loved by users all over the world. This program is specially designed to convert and download Amazon music. It is available for Amazon Prime or Unlimited users. It supports the output of many popular audio formats, including MP3, AAC, WAV, FLAC, AIFF, and ALAC. This program is designed to preserve the original sound quality and ID3 tags of Amazon Music. It is also possible to name, arrange, and play the downloaded Amazon Music in the way you like. Let's take a look at the steps!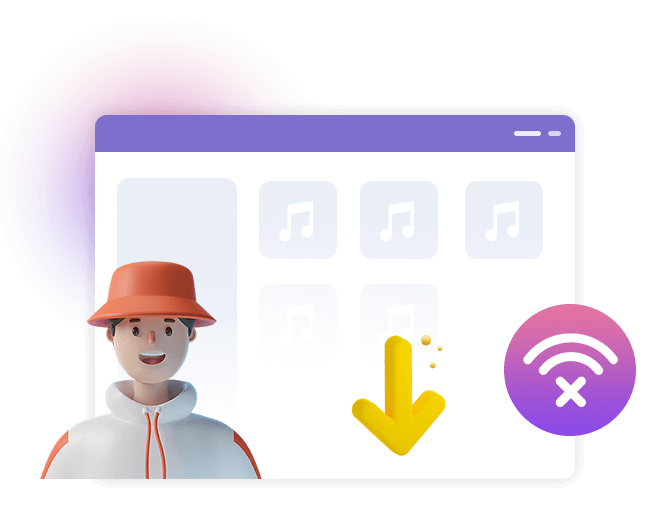 TunePat Amazon Music Converter
TunePat Amazon Music Converter lets users get Amazon Music tracks, albums, playlists, or podcasts with HD or Ultra HD audio quality kept.
Download songs, albums, playlists, and podcasts from Amazon Music.
Convert Amazon Music songs to MP3/AAC/WAV/FLAC/AIFF/ALAC.
Preserve the Ultra HD or HD quality after conversion.
Keep ID3 tags including Title, Album, Artist, etc.
10x download speed & batch conversion.
Keep the downloaded Amazon songs when your subscription expired.
Step 1 Select App or Webplayer Mode
After running the program, you will encounter two options: App mode and Webplayer mode. These modes have distinct functionalities. In App mode, you can acquire audio files with Ultra HD sound quality at the highest level, but the conversion speed is limited to 1X on Mac or 5X on Windows. On the other hand, Webplayer mode allows you to directly access the embedded web player without downloading the Amazon music app. Here, you can obtain songs at 10X speed, but the sound quality is limited to HD. Select the mode that best aligns with your preferences.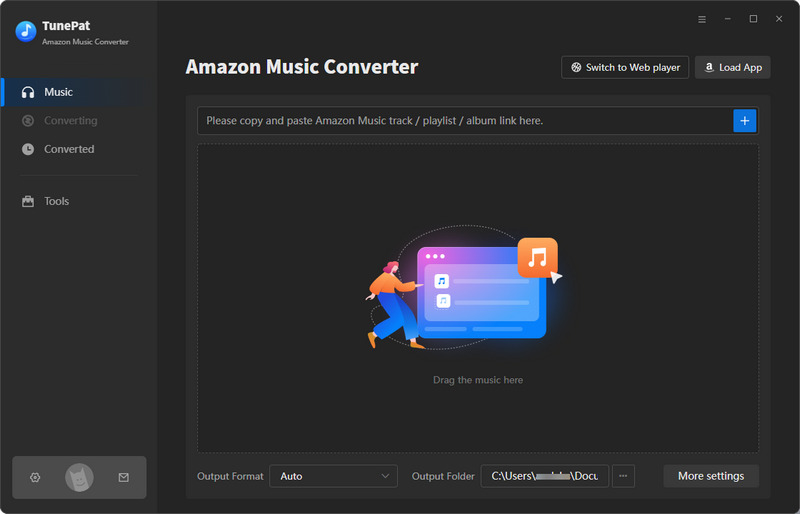 Step 2 Add song, podcast, album, or playlist from Amazon Music
Now, proceed to add your favorite Amazon titles to your Home and wait for the conversion process. Follow the steps below for adding songs:
App Mode: First, ensure that you have installed the Amazon Music app on your computer and logged in to your account. You can either drag and drop the desired song directly onto the designated location on the TunePat home page or copy and paste the URL of the song, album, or playlist into TunePat. Then, click the "+" sign to parse it.
Webplayer Mode: In this mode, the embedded web player will automatically appear. Log in to your account, select the songs you wish to convert, and then click the "Click to add" button. TunePat will recognize the selected songs.
After that, a pop-up window will display all available songs on the current page. Click the "Add" button to include them in the conversion process.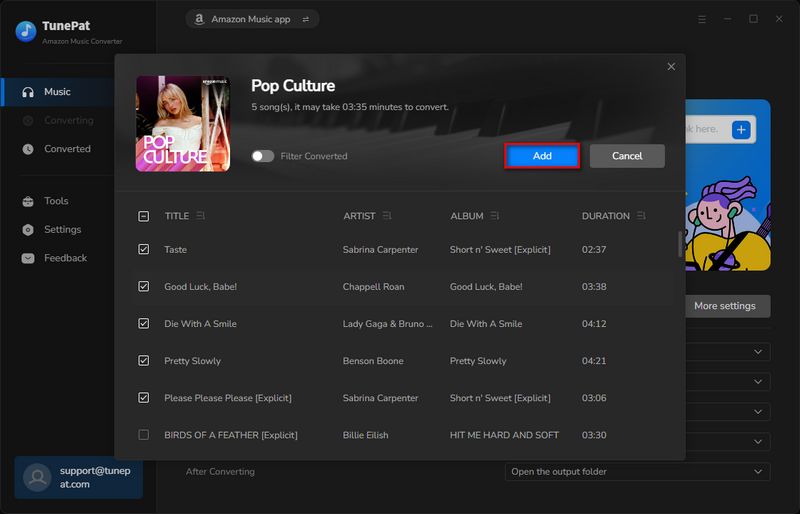 Step 3 Complete the Amazon Music Output Parameters as Required
Before converting songs, customize the output and conversion parameters by clicking the "Settings" button in the lower-left corner. This allows you to set the output format, sound quality, output path, output file name, and more. If you prefer Amazon Music files in HD or Ultra HD, it's recommended to set the format to "Auto".
You have the flexibility to make various selections. For instance, suppose you want to download all the songs in the "My Favorites" playlist (or any specific playlist) in order. In that case, choose "Playlist Index" in the Output File Name field and select "Playlist" in the Output Organized field. The songs will be saved to the output folder in the same order as the source list and named after the folder name. Alternatively, you can download the songs locally and reorder them using your computer's media player.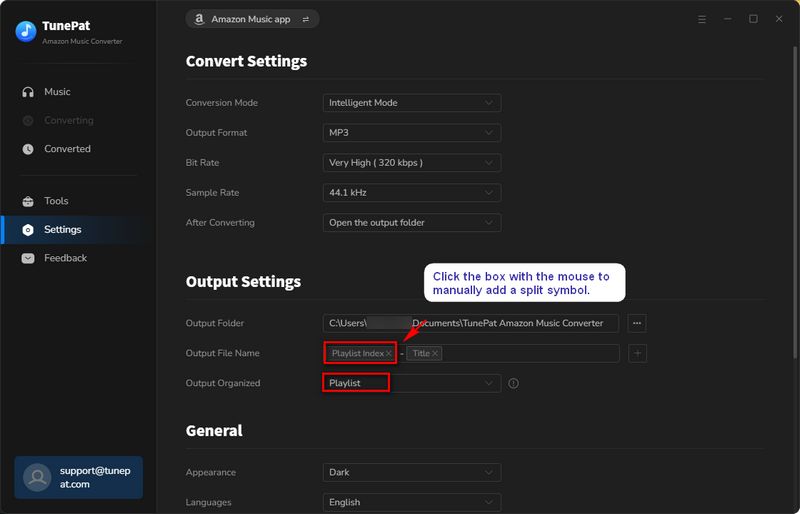 Step 4 Download Your Favorite Amazon Music to Your Local PC
Once you are ready, return to the Home interface and click "Convert" to initiate the conversion process for all the songs in the list.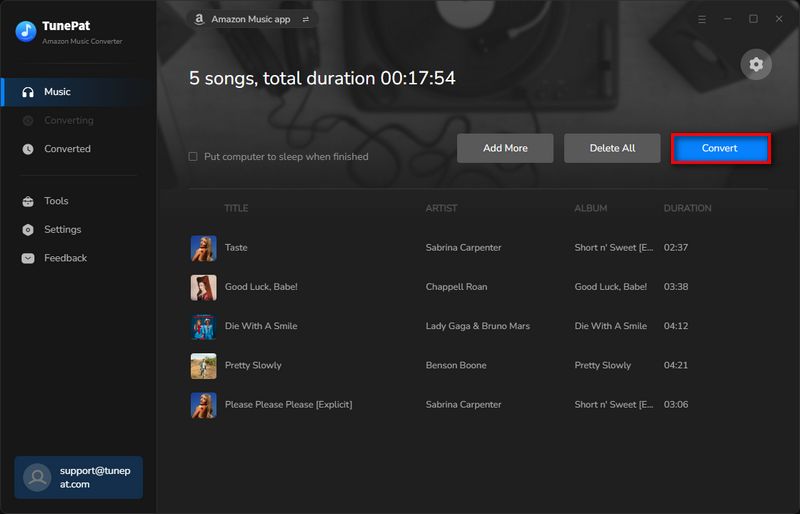 Step 5 Play the Downloaded Amazon Music in Order
Now, exercise patience and wait for the conversion to complete. Once finished, the download folder will automatically appear. You can also access and play the downloaded songs under the "Converted" option.
As you can see, the converted Amazon Music songs are arranged and numbered in the order of the original playlist in the local folder. You can browse, play, and edit these downloaded audio files freely.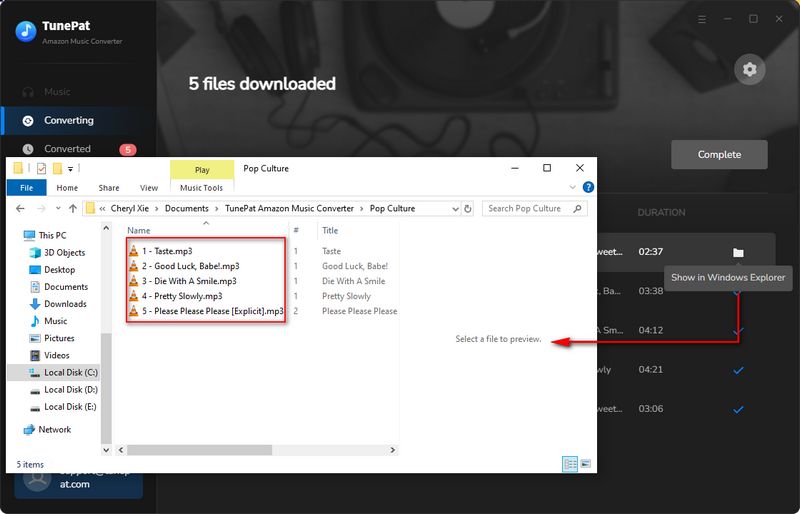 Conclusion
Reading this, we've told you about the changes sent in the new version of Amazon Music Prime and several effective countermeasures. Did you get the answers you wanted and managed to solve the problem?
After November 2022, Amazon Music Prime subscribers had a lot of problems due to the official changes in the rights of Amazon Music Prime, such as having access to the same number of songs as Unlimited subscribers but being restricted to random playback. Losing the freedom to choose songs is a tough thing for music lovers.
Our proposed solution is for users to play songs in All-Access Playlists, where songs can be played on demand, respectively. Or they can choose to upgrade to Amazon Music Unlimited users. If you don't want to upgrade, the temporary solution is to return your Amazon Music app to the previous version. But our best recommendation is to download and install TunePat Amazon Music Converter, a tool that will help you download your favorite Amazon Music songs or albums quickly and in bulk. The downloaded songs can be transferred to your favorite software or device for playback without the Amazon Music app, including DJ software, PS5, iTunes, USB, etc.