How to Add Amazon Music to Traktor DJ
Traktor DJ is a software and hardware package developed by Native Instruments, designed primarily for DJs. It's used for both professional and recreational DJing, allowing users to mix and manipulate digital audio files. The software offers beatmatching, tempo control, looping, effects, and more features.
Traktor DJ 2 is a specific version of the Traktor software, which is more streamlined and simplified and designed for beginners and those new to DJing. It's available on various platforms, including iOS, macOS, and Windows. It is integrated with SoundCloud Go+, and you can use your favorite playlists in the app directly. However, this is also the only music streaming platform currently cooperating, which may be distressing for Amazon Music users. Don't worry! Traktor DJ 2 allows users to use local audio files, so today, we will learn how to add Amazon music to Traktor DJ 2 for mixing!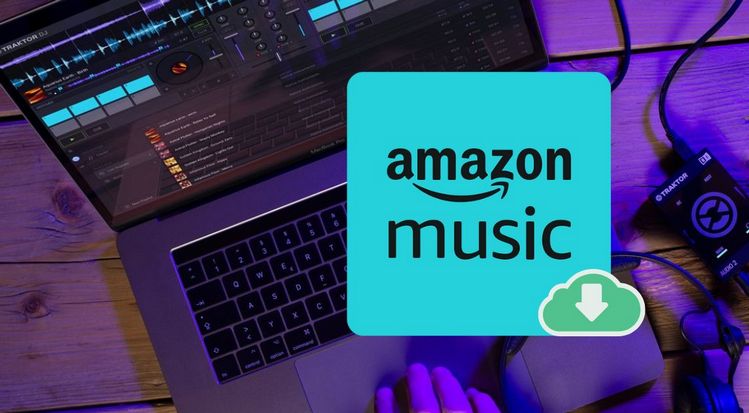 Part 1: Why Do We Need to Download Amazon Music to Local First?
We are currently in an era dominated by streaming subscription services, where individuals gain access to vast libraries through paid subscriptions. For DJ enthusiasts, the crucial factor is whether these resources can be used for mixing. Some streaming platforms have partnered with different DJ software, such as Beatport Streaming, Beatsource Streaming, Soundcloud Go+, TIDAL, among others, collaborating with popular DJ software like Rekordbox, Serato DJ, Traktor DJ, Virtual DJ, Engine DJ, and more.
As a popular music platform providing access to over 100 million songs, Amazon Music has rarely collaborated with commonly used DJ software. This is regrettable, and to date, Amazon Music has only partnered with Engine DJ, enabling users to browse, search, and play top music charts and curated playlists using an Amazon Unlimited account on Engine DJ hardware. Supported devices include Denon DJ SC LIVE 2, Denon DJ SC LIVE 4, and Numark Mixstream Pro+.
This means that Amazon Music does not directly support logging in and mixing on Traktor DJ. Hence, we must explore an alternate way of utilizing the software by importing local audio files. Amazon Music is DRM protected, which implies that regardless of Prime or Unlimited subscription, you can only download temporary files for offline playback. Therefore, we need to download Amazon Music to our local computer beforehand. This is preparation for importing into Traktor DJ. To achieve this, you require a dependable third-party tool, which we will introduce in the subsequent section.
Part 2: How to Download Amazon Music to MP3?
TunePat Amazon Music Converter is the key to successfully using Amazon playlists with Traktor DJ. It's a simple yet highly efficient and secure tool. With this tool, you can easily download your favorite Amazon music, albums, playlists, or podcasts into various formats, including MP3, WAV, AAC, AIFF, FLAC, or ALAC. These songs can then be permanently saved on your computer, USB drive, SD card, or other portable devices. Even if you cancel your Amazon membership one day, you won't lose these beloved songs.
However, TunePat Amazon Music Converter's excellence goes far beyond just downloading Amazon content. In addition to its core function of downloading Amazon content, it boasts astonishing conversion speeds (up to 10x), impeccable output quality (up to Ultra HD), and allows for convenient management of your local music library. This is because you can name and arrange the converted audio files in any way you like. These files will also retain their ID3 tags.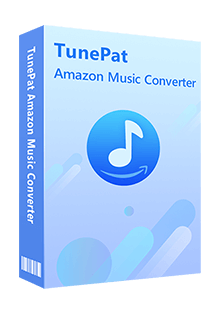 TunePat Amazon Music Converter
Download songs, albums, playlists, and podcasts from Amazon Music.
Convert Amazon Music songs to MP3/AAC/WAV/FLAC/AIFF/ALAC.
Preserve the HD/Ultra HD quality of the songs after conversion.
Keep ID3 tags (including Title, Album, Artist, etc) and lyrics.
10x download speed & batch conversion.
With tools available to change output format, burn CDs and edit tags.
Keep the downloaded Amazon songs when your subscription expires.
Step 1 Select to Get Amazon Music from the App or Web Player
Depending on your needs, you have the option to obtain songs from either the Amazon Music app or web player.
If you prefer to convert songs using the Amazon Music app, you can enjoy Ultra HD sound quality. On Mac, conversion can be performed at 1x speed, while it can be accomplished at 5x speed on Windows computers.
On the other hand, if you choose to record from the Amazon Music web player, you can receive a 10x download speed and HD sound quality conversion, and the Amazon Music app is not required.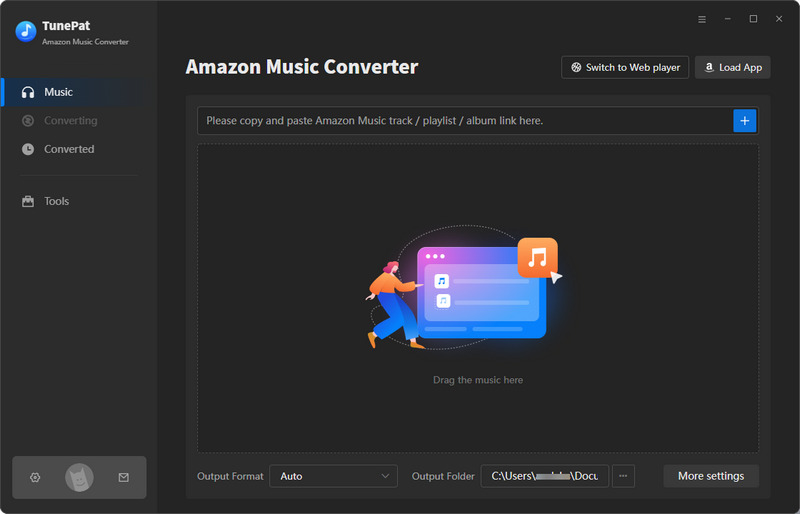 Step 2 Customize the Output Format and Other Parameters
Next, access the TunePat "Settings" button at the lower left corner. Here, customize conversion mode, output format, output quality, output path, output file name, and more. Additionally, TunePat permits sorting downloaded songs based on artist, album, or playlist and offers several other customizable settings.
Please remember that Traktor DJ is compatible with importing MP3, WAV, AIFF, FLAC, Ogg Vorbis, and non-DRM AAC formats. That means you can select any of the output formats in addition to the ALAC format based on your personal preference.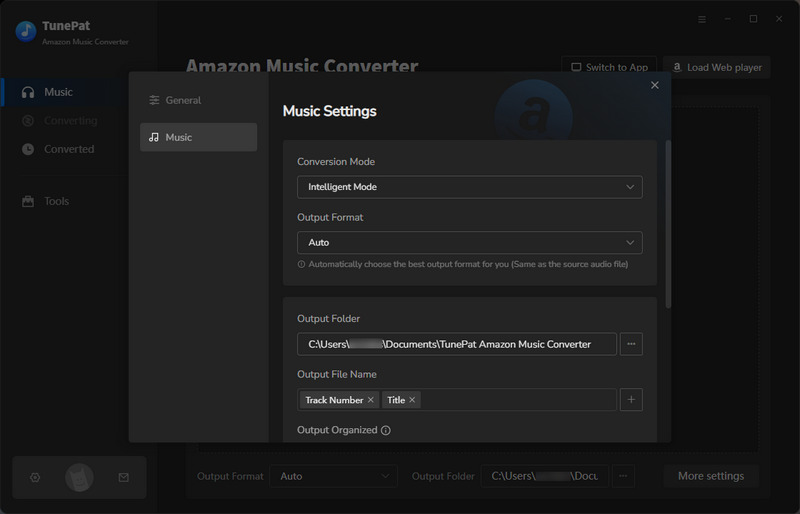 Step 3 Add Amazon Music from the App or Web Player to TunePat
Amazon Music App: Make sure the Amazon Music app on your computer is logged in. To add an Amazon playlist, artist, album, or podcast to TunePat, just drag it into the Drag music here box. Or click the "..." icon next to the songs, albums, or playlists you wish to add, select "Share Song/Album/Playlist", and then tap "Copy Link" to copy the link for the song. Paste the link into the blue box on TunePat's homepage and click "+".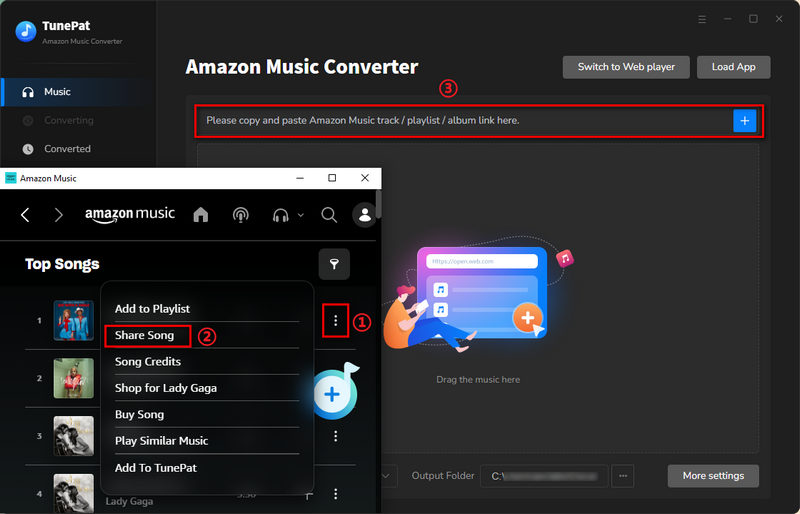 Amazon Music Web player: Log in to your account in the Amazon Music web player window. Then click the "Click to add" button within the Amazon Music web player after selecting a playlist, artist, album, or podcast. TunePat will then proceed to read and list the chosen Amazon music.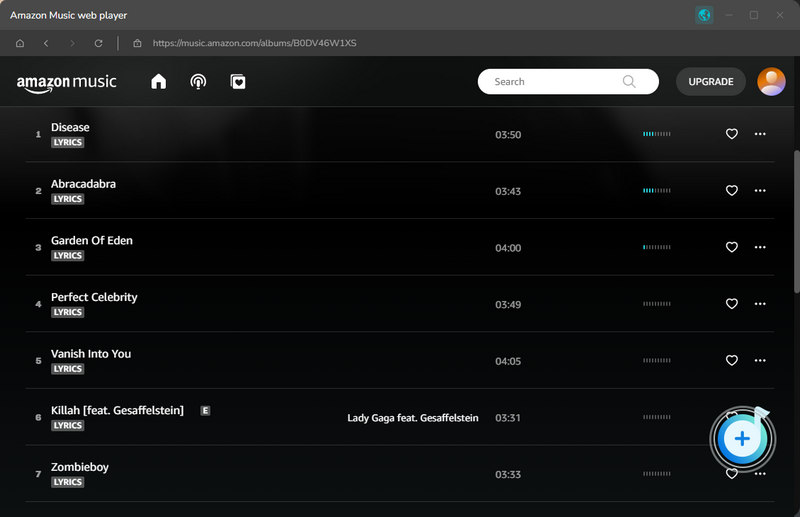 On the current page, click the "Add" button to add the selected Amazon music to the Home interface and wait for conversion. Typically, all songs are selected by default, but if there is something you do not need, simply uncheck the box next to TITLE and manually select the desired songs.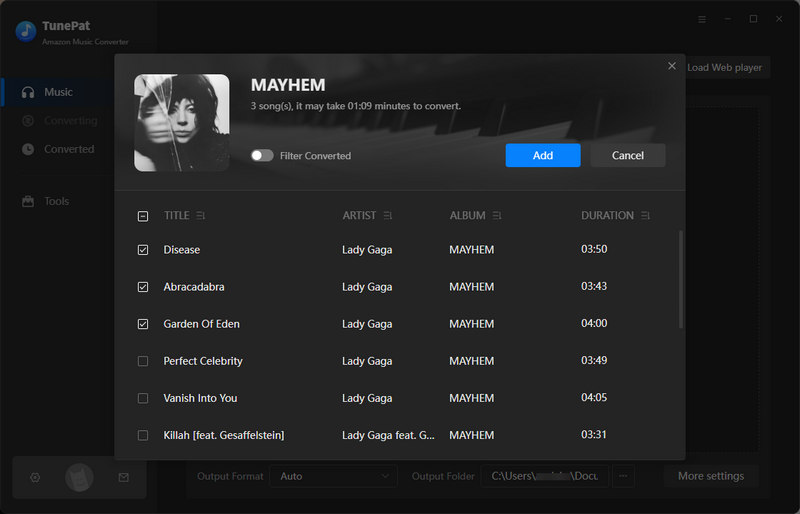 Step 4 Download the Amazon Music You Want
If you wish to include additional songs from other playlists or albums for a one-time conversion, press the "Add More" button on the Home module. Once you have selected all of the desired Amazon songs, click the "Convert" button to initiate the conversion process.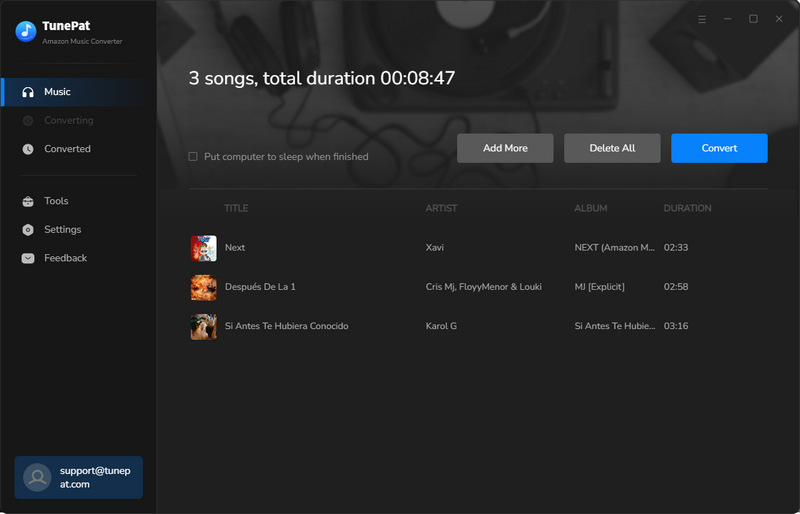 Step 5 Browse the Amazon Music Downloaded Onto the Local Directory
Please wait for the conversion to finish. TunePat utilizes cutting-edge decoding technology to expedite your Amazon Music downloads. Once completed, the output folder will appear automatically. You may also locate the downloaded Amazon Music tracks in the "Converted" section. These files have been stored locally on your computer and are compatible with other programs. Subsequently, you can transfer the Amazon music to Traktor DJ.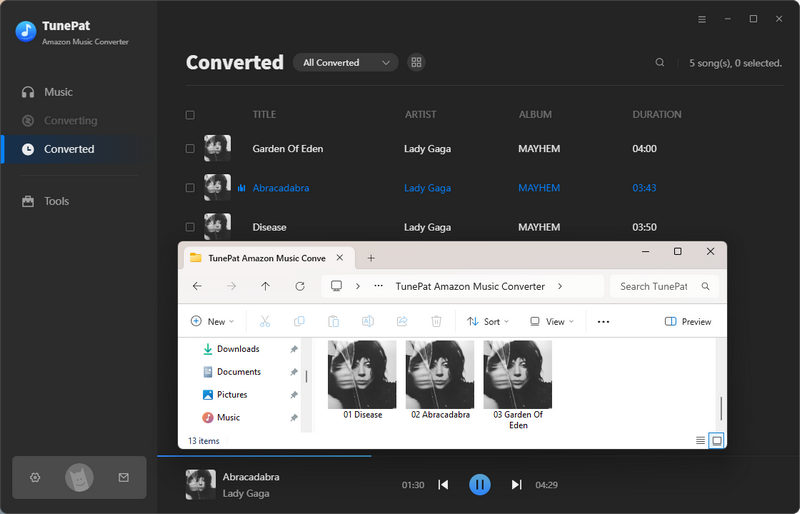 Part 3: How to Import the Amazon Music MP3 Files to Traktor DJ?
Step 1 To upload Amazon music from a local folder to Traktor DJ, you must first install and launch the Traktor DJ software on your computer. Select "File" from there, followed by "Import Music Files" or "Import Folder". Next, locate the folder where the converted Amazon music is saved, select it, and click "Select Folder" to complete the process.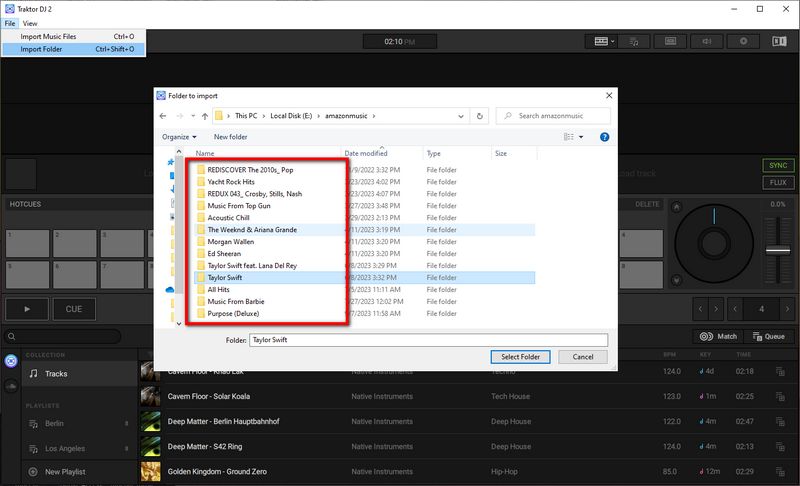 Step 2 The Importing prompt will be displayed at the bottom of the program. Wait for the song to be uploaded. After that, you can drag your target Amazon songs to the left and right decks, and you can start mixing!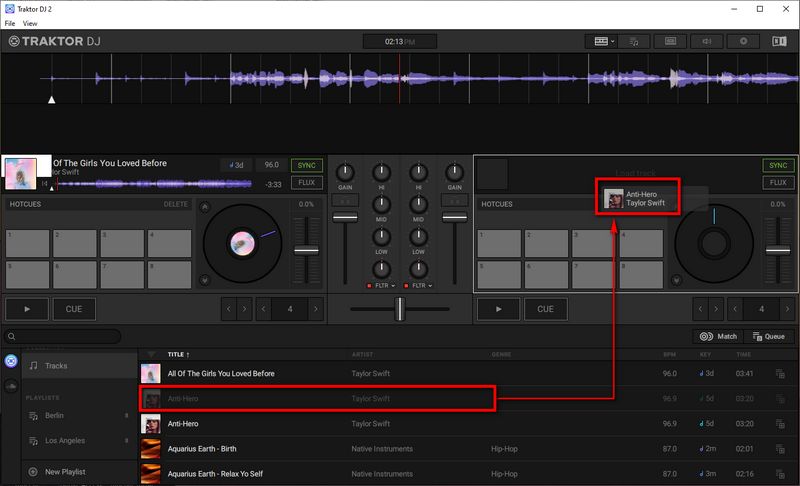 TIPS: You can create a new playlist to organize the Amazon music that you plan to import. Simply click on the "New Playlist" button located below the left menu bar and name it Amazon Music or another preferred name. Then click "OK" to confirm. Once prompted, drag and drop the converted Amazon music directly from your local folder to Traktor DJ.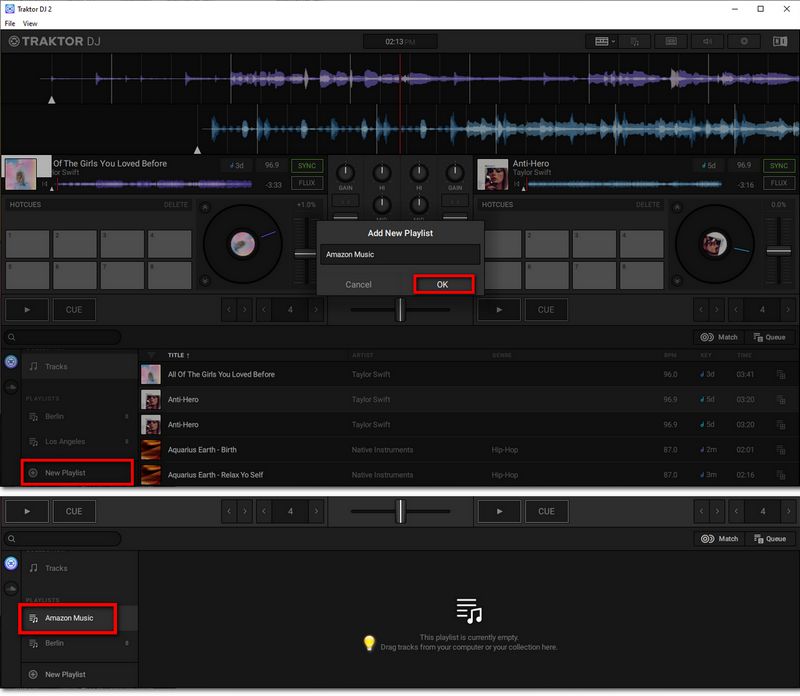 Conclusion
After reading this article, you should be able to easily add Amazon Music to Traktor DJ. If you don't have TunePat Amazon Music Converter yet, don't hesitate! Click the button below to download it. This program enables you to obtain various audio content from Amazon Music and then tailor it to different devices, players, programs, and more. Take your Amazon Music to the next level by gaining complete control.