How to Play Amazon Music on Amazon Fire TV Stick
Amazon released two kinds of devices to use streaming services on TV, one of which is the Fire TV Stick. Fire TV Stick is a streaming device that needs to plug into the HDMI port of your TV so that you can watch live TV, and movies, and play music through different subscriptions. You can download apps and games on the built-in Amazon App Store or install Google Play on Fire TV Stick if you want to get more apps. Amazon Music App is apparently available on Amazon Fire TV Stick, so you can play your playlist on a large screen. In addition, Amazon Fire TV Stick has 8GB of internal storage and which is enough for users to save apps, games, movies, and playlists from the Amazon Music app.
But you need to subscribe to Amazon Music and play songs via Fire TV Stick only within the Amazon Music app. And here we will introduce to you how to deal with this problem in the following part. We will not only introduce the official method of playing Amazon Music on Fire TV Stick but also an amazing solution to download and convert Amazon Music to a common format, such as MP3, and then keep them playable on Fire TV Stick.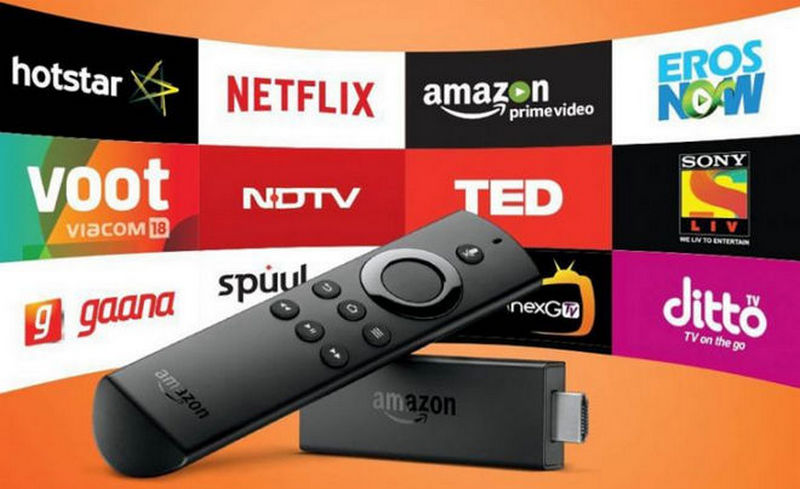 Part 1. How to Play Amazon Music on Fire TV Stick With Amazon Music App?
As we mentioned earlier, generally speaking, the Amazon Music app comes pre-installed on your newly purchased Fire TV Stick, which means that all you need to do is find and open the app. If that's not the case, you can download it very easily through Apps & Channels. Once your Amazon Fire TV Stick is set up, you can see all the music you've purchased and simply select one to start playing.
As long as you're a member of Amazon Music Prime or Unlimited, you'll have access to its collection of up to 100 million songs. The difference is that only Amazon Music Unlimited members can play all the songs on demand. if you don't have either of them, you can skip to Part 2.
Step 1 Use your remote control to launch the Amazon Music app from the Apps menu.
Step 2 Once opened, search for your favorite music and press play to start playing the song.
Step 3 When you press play, your Amazon Music app will open a screen with the song being played and a progress bar. The lyrics can also start streaming on the screen.
Step 4 Your visit to another screen will not cause the music to break, and the song will continue to play in the background until you press pause on the remote media button.
Tips: If you think pressing the remote control is not convenient enough, you can press and hold the voice command on your Fire TV remote control and press and hold the voice function. Say "Amazon Music" and it will open the menu. Then you can find your favorite music to enjoy!
Part 2. How to Play Amazon Music on Fire TV Stick Without Amazon Music App?
If you don't want to renew your Amazon Music membership afterward, or if you don't want to play Amazon Music through the Amazon Music app and want to use other players on your Fire TV Stick to play Amazon Music, how can you do that?
You can't miss this ultimate solution, TunePat Amazon Music Converter is the flagship product polished by the TunePat team for years, specially designed for Amazon Music users to download songs, playlists, albums, etc. from Amazon Music. It can easily convert Amazon Music to MP3, AAC, WAV, FLAC, AIFF, or ALAC formats and get music files that retain the ID3 tags and the same quality as the original audio after the conversion.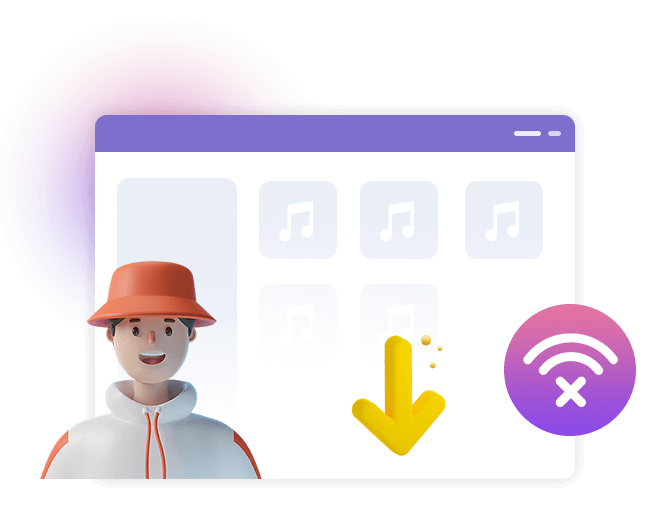 TunePat Amazon Music Converter
Download songs, albums, playlists, and podcasts from Amazon Music.
Convert Amazon Music songs to MP3/AAC/WAV/FLAC/AIFF/ALAC.
Preserve the Ultra HD or HD quality after conversion.
Keep ID3 tags including Title, Album, Artist, etc.
10x download speed & batch conversion.
Keep the downloaded Amazon songs when your subscription expired.
Support both App mode and Webplayer mode.
We will show you how to use TunePat to download music from Amazon Music step by step, and then easily play the downloaded music on Amazon Fire TV Stick.
Step 1 Select a Conversion Mode
TunePat offers users two conversion modes to choose from: App mode and Webplayer mode.
Record from Amazon Music (App): Download Ultra HD Amazon Music songs, albums, playlists, and podcasts using the song URL. 1x conversion speed available on Mac and 5x conversion speed available on Windows.
Record from Amazon Music (Webplayer): Directly download songs, albums, playlists, and podcasts from the Amazon Music web player. Support the HD sound quality downloading and a 10x download speed without the Amazon Music App.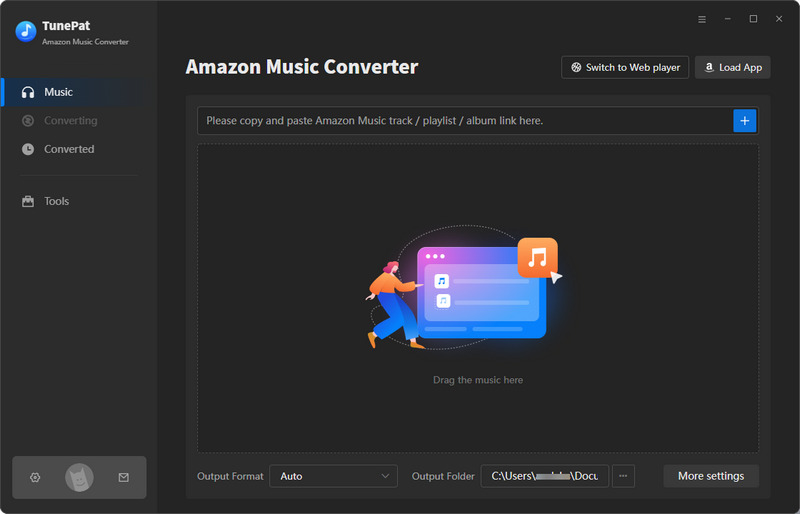 Step 2 Add Amazon Music to TunePat
App Mode: Open an Amazon Music song, playlist, album, or podcast in the Amazon Music app and drag them into the "Drag the music here" box on the TunePat Amazon Music Converter's "Home" page. You can also paste the song link into the blue box on the "Home" page. Click the "..." icon and then tap on the "Share Song/Share Album/Share Playlist" option. Simply select "Copy Link" and paste the song link to TunePat. After all, click the blue "+" icon to confirm, TunePat will start reading the chosen Amazon song, album, playlist, and podcast.
Webplayer Mode: Select the songs, playlists, albums, or podcasts you want to convert, and then click the blue "Click to add" button. TunePat will soon recognize the selected item and pop up a window listing them all.
To proceed with the conversion process, simply click the "Add" button on the current page.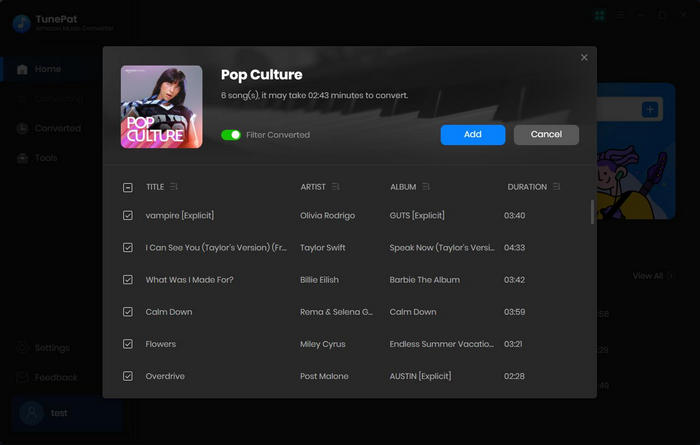 Step 3 Change the Output Format, Quality, and Other Settings
In the "Settings" window, you can complete the customization of the output parameters. The options you can change include the conversion mode, output format, output sound quality, output folder, output file name, etc. Generally speaking, we recommend you choose the most widely used MP3 as the output format.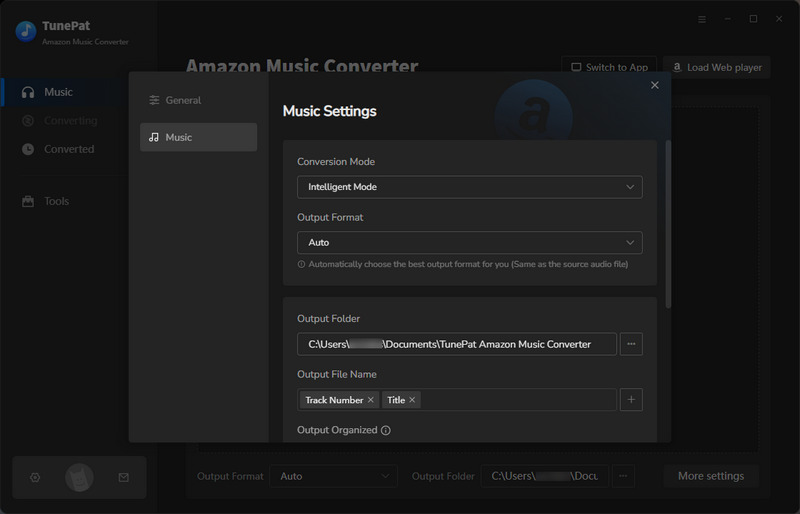 Step 4 Download Your Favorite Amazon Music to Your PC/Mac
Click the "Convert" option to download all the selected Amazon songs. Just wait for a while, the music will be downloaded and saved as you set before. You can click on the "Converted" icon, where you can see specific information about the songs you have recently converted. Double-clicking on a song will also allow you to play it directly in TunePat.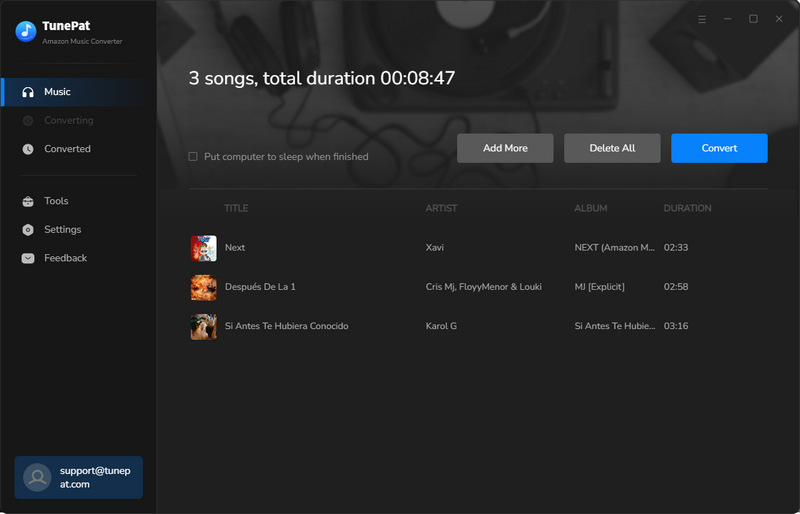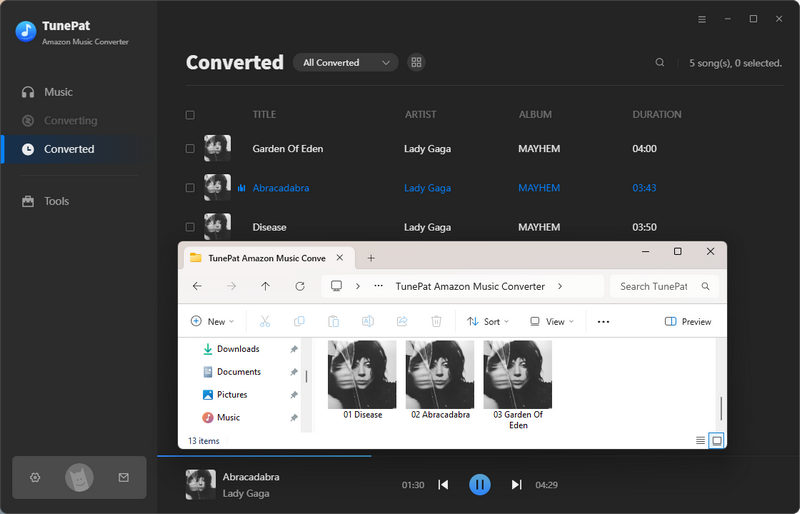 Step 5 Play the Downloaded Amazon Music on Fire TV Stick
Then the next thing you need to do is to find and open the output folder of your choice. Set this folder as a shared folder on your computer, or set it up on a dedicated media server, and then you can use VLC for Fire or Kodi to play any music you have stored and accessed on your home network. Of course, if you use this method, you need to make sure that your computer is turned on and connected to a stable network. Otherwise, it may affect your access to your downloaded Amazon Music folder.
If you want to use VLC for playback, install it and open it. Select Media and open the folder. Navigate to your music folder from the app and select the folder. Any audio format supported by VLC for Fire will be able to appear and be selected for playback.
Use Kodi to play music on Fire TV Stick. If it's already installed, open the app directly. Select "Music" and navigate to the folder containing the converted Amazon Music songs you've just set to shared status. Select one of the tracks from there to play.
Conclusion
All in all, you can choose to use the Amazon Music app or other players to play Amazon Music on Fire TV Stick according to your own situation. But TunePat Amazon Music Converter is really worth a try. This tool helps you download Amazon Music, albums, or playlists. The converted songs can be used in multiple scenarios. You are no longer tied to the Amazon Music app all the time! Download one and have a try now.