Download YouTube Music to Lossless FLAC Songs
YouTube Music has sprung up in recent years and has quickly attracted a large number of subscribers. All this has a strong connection with YouTube videos in the background. Utilizing the existing influence and resources, YouTube Music has easily established a streaming media music service platform with abundant and complete resources. Although it didn't get the desired response when it was first released, after continuous improvement, YouTube Music has begun to occupy one of the leading positions of streaming music services in the past two years.
As a YouTube Music lover, I love finding resources through this platform. Because not only genuine songs, other reprinted songs, adapted songs, some video dubbing and background music, movie dialogues, etc. You can find resources on this platform. And it can support free online music listening. It's just that you have to put up with some ads. But for the most common user, these are more than enough. Of course, it also has a paid version that removes ads and downloads high-quality music. If you are like me, you are fond of this well-resourced streaming music platform, then you can read this article in detail. This article mainly shares how to download and convert songs from YouTube Music offline to lossless FLAC files on your local computer. Whether you are a YouTube Music free user or a premium user, and whether you are using a Windows computer or a Mac, you can follow the same steps.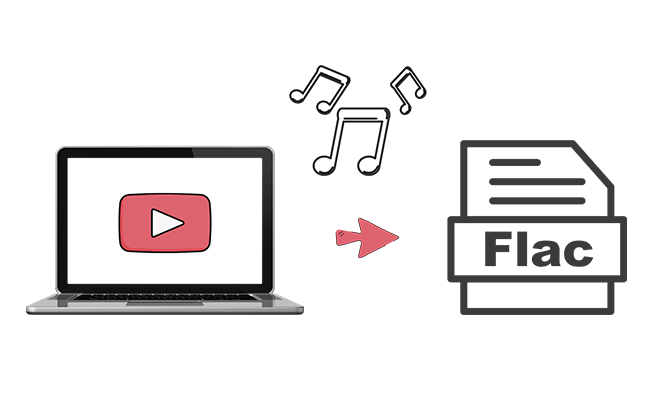 This article shares in detail how to download and convert songs from YouTube offline to lossless FLAC files on your local computer. If you want to know how to quickly download YouTube music, let's start now.
Part 1. What's the Best Way to Download Audios from YouTube Music?
Generally speaking, YouTube Music subscription methods are divided into two types, Free and Premium. Let's briefly list the difference between the two plans.
YouTube Music Free supports online listening with 128kbps audio quality. You need to put up with ads. Moreover, you are not allowed to download audio from YouTube Music.
YouTube Music Premium supports ad-free online listening with higher audio quality. More importantly, it supports offline downloading. YouTube Music Premium charges $9.99 or $4.99 per month depending on if you enroll in an individual or family plan, respectively. Regardless of your plan, you are charged directly from your Google account. You are allowed to use YouTube Music Premium features on a maximum of 10 mobile devices. Once you go beyond that, the oldest authorized device is revoked. You're capped to four devices per year, presumably to prevent you from sharing it with different friends.
So now we know that YouTube Music users have a few things that need to be addressed urgently:
❶ Remove ads. (for Free users)
❷ Download songs offline. (for Free users)
❸ Share songs with friends. (for Free and Premium users)
❹ Move the downloaded songs to other devices. (for Free and Premium users)
❺ Use the songs for other purposes: burn CDs, add BGM for videos, re-create songs, etc. (for Free and Premium users)
At present, the best way is to download the songs through TunePat YouTube Music Converter. Whether you are a YouTube Music Free or Premium user, all the problems we listed above can be solved with this program.
With the help of the TunePat YouTube Music Converter, you can easily extract audio files from YouTube Music in MP3, AAC, WAV, FLAC, AIFF, or ALAC formats. YouTube Music tracks will be saved to the local computer and can be transferred to any device without limitation. We've listed the main features of this program below. You can check and then follow us to finish the step-to-step guide.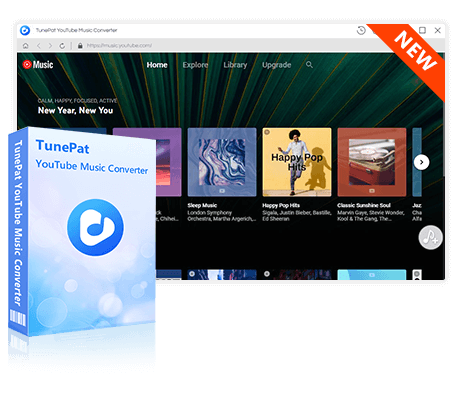 TunePat YouTube Music Converter
TunePat YouTube Music Converter helps you download and convert all YouTube Music songs and playlists to MP3 and other common formats.
Download songs, albums, playlists, and podcasts from YouTube Music.
Convert YouTube Music songs to MP3/AAC/WAV/FLAC/AIFF/ALAC.
Preserve the original quality of the songs after conversion.
Keep ID3 tags including Title, Album, Artist, etc.
Save music videos in MP4 format of up to 4K quality.
Part 2. Step-to-Step Guide to Download YouTube Music to Lossless FLAC Songs.
Step 1 Log in to YouTube Music with A Free or Premium Account
Get TunePat YouTube Music Converter installed on your Windows PC or Mac. Please check if you are running the right version. Otherwise, you can not open it properly. Launch it and it will activate the web player of YouTube Music at the same time. If the web player doesn't open automatically, please click the "Open the webplayer window" on the Home page.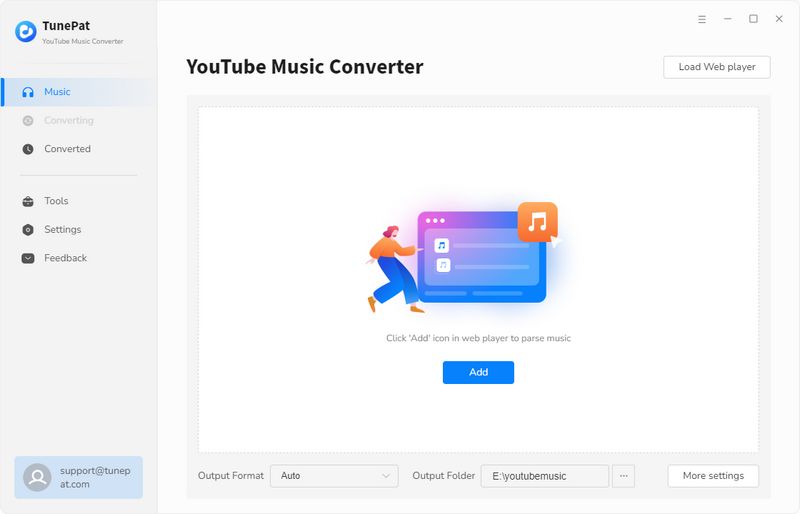 Prepare a YouTube Music account. Actually, it's linked to a Google account. If you have a Google account, you can log in to YouTube Music directly. Or you can create a new account right now. For free users, you can try a YouTube Music Premium subscription for one month free. During this month, you can download numerous music tracks you need from YouTube Music via TunePat. You need to log in to your YouTube account inside by clicking "Sign in".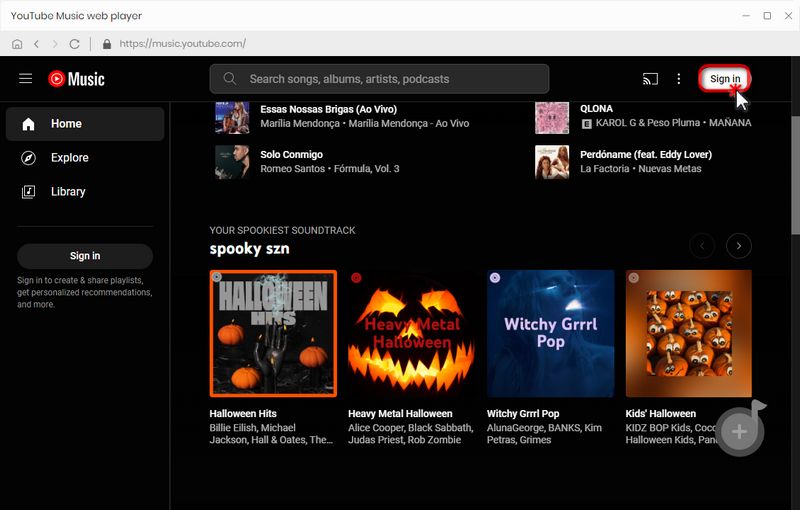 Step 2 Customize the Output Settings
Purely downloading songs can not satisfy users, this software also provides more user-friendly download settings. Go to the lower left corner of this program, you can tap on the "Settings" button. Then a pop-up window appears. You are allowed to customize the output format, output quality (bit rate is up to 320kbps, sample rate is up to 192kHz), saving path, organized manner, file name, and other parameters.
Parameters that you can customize include:
Output Format: Auto, MP3, AAC, WAV, FLAC, AIFF, ALAC
Bit Rate: 320kbps, 256kbps, 192kbps, 128kbps
Sample Rate: 192 kHz, 96 kHz, 48 kHz, 44.1 kHz
Output File Name: Track Number, Title, Artist, Album, Playlist Index, Year
Output Organized: None, Playlist, Artist, Album, Artist/Album, Album/Artist, Playlist/Artist, Playlist/Album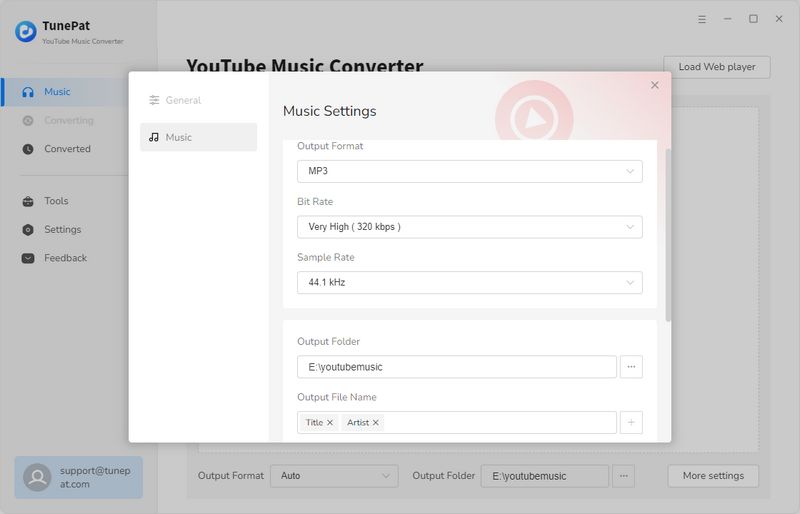 Step 3 Select the Songs You Need to Download
Next, have a look at the music library to locate the song, playlist, or album you need. Open the YouTube playlists you want to download and Then click the blue "Click to add" button. When the song is displayed in the new window, you can check it manually and Click "Add".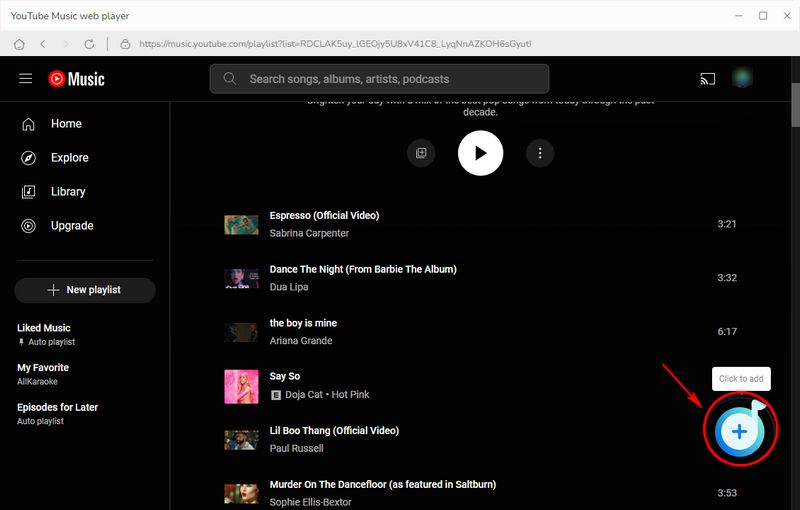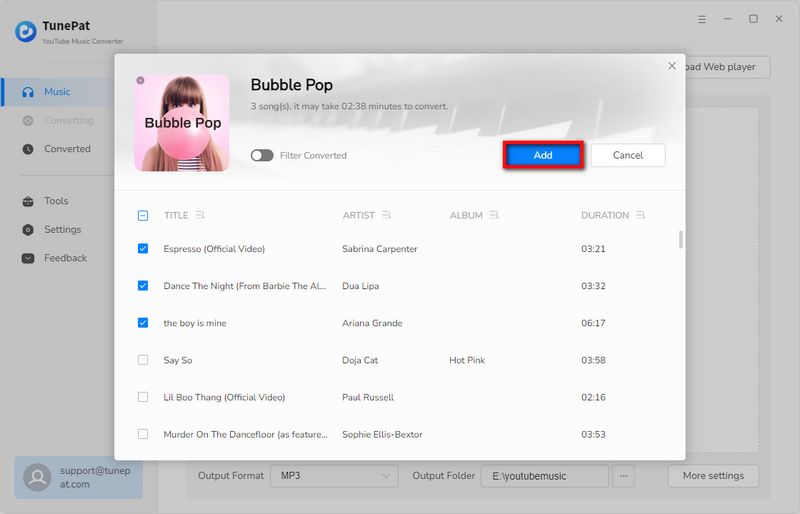 Click "Convert" to start converting. Once converted, you can browse these songs in your local output folder, which is free from YouTube platform restrictions, and you can transfer them anywhere you like.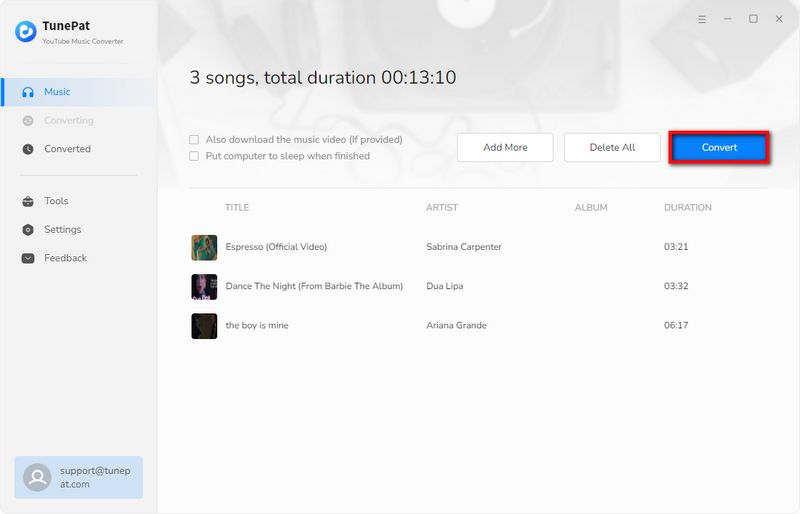 Extra tips you may need: Actually, you are allowed to download multiple playlists at once. Instead of choosing "Convert", you can navigate to the "Add More" option. This option is designed for users who need to download multiple playlists at once. Click this button, then the selected songs of this playlist will be added to the conversion list. Then you can open another playlist to add songs. Repeat the step until you've added all songs you want. Then click the "Convert" button to start the batch conversion.
Step 4 Forever Playback of FLAC YouTube Music
Provided the network is stable and fast, you can download all songs from YouTube Music to FLAC files in a short time. TunePat downloads YouTube Music tracks at multiple speeds. After it finishes all downloads, you can open the output folder on the computer. Now, all songs are under control. You can make full use of the songs for your personal purposes.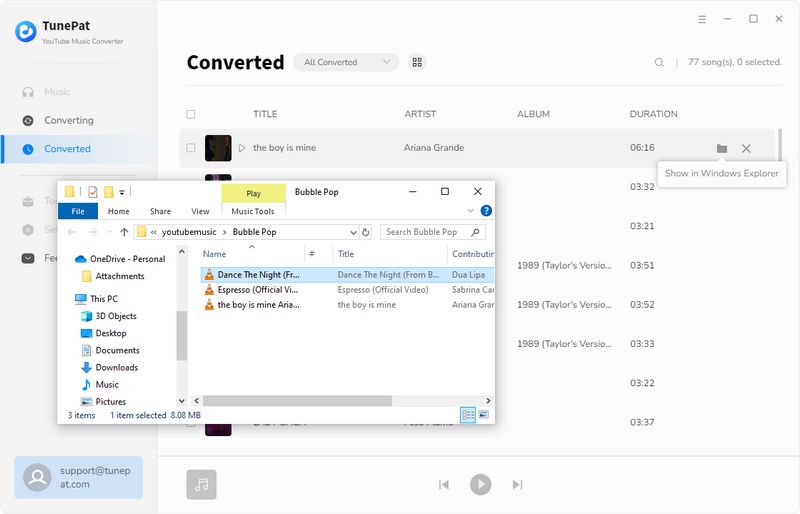 Part 3. Step-to-Step Guide to Record YouTube Music to FLAC Songs.
No software will be perfect. TunePat YouTube Music Converter is a product specially tailored for YouTube Music. When you occasionally need to download songs from other streaming music platforms, another product is your best choice, AudiCable Audio Recorder. This program is a very comprehensive song recording tool. It can download songs from Spotify, YouTube Music, Apple Music, Tidal Music, Amazon Music, Pandora Music, Line Music, Deezer Music, and other platforms to MP3, FLAC, FLAC, and other formats. With this software, you have the key to unlock all music platforms.
Key Features of AudiCable Audio Recorder
Download music from Spotify, YouTube, Apple Music, Amazon Music, Tidal, Deezer, Line, SoundCloud, Pandora and etc.
Record and convert songs, playlists, podcasts, and radios to MP3/AAC/WAV/FLAC/AIFF/ALAC.
No need to install YouTube Music app.
Preserve the perfect audio quality after conversion.
Available for both YouTube Music Free and Premium users; Download YouTube Music tracks with a Free account without ads.
More handy tools: Edit Tag.
Step 1 Download and install this AudiCable Audio Recorder on your computer. Then start this program. On the main interface, find the entrance of "YouTube Music", and click it.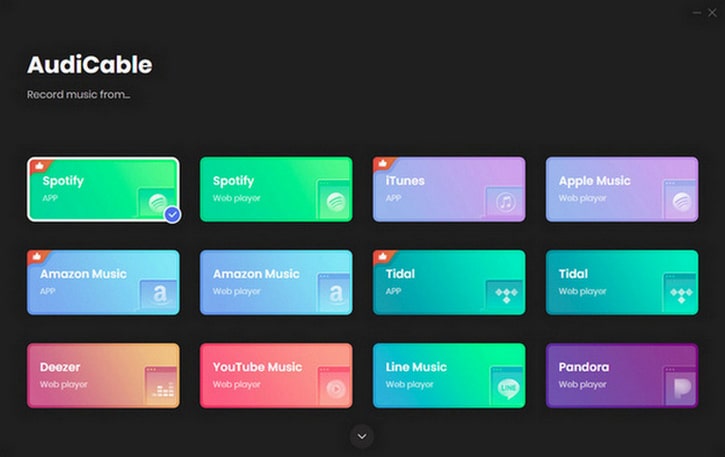 Step 2 Go to the bottom left to check the output settings. Here you are able to change the output format, output quality, and output folder.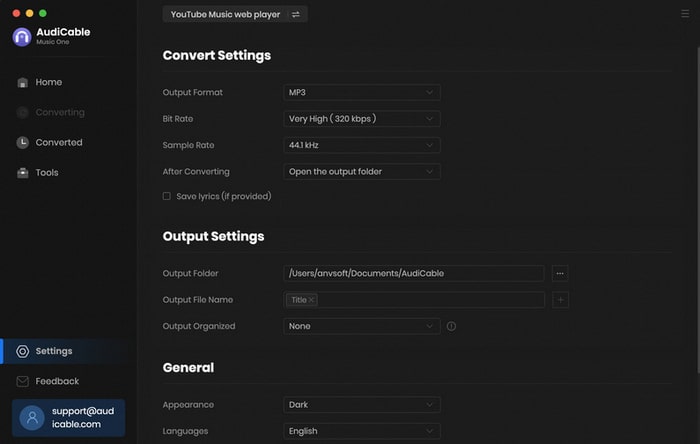 Step 3 Log in to YouTube Music with a Free or Premium account. Then find the song or album you need. Play the song. AudiCable can automatically record the song while playing it.
Step 4 After recording all songs you want, just open the output folder to enjoy the free playback of the downloaded YouTube music. You are not restricted to sharing and transferring these YouTube Music tracks from now on.
Conclusion
It's easy to download and convert YouTube Music audio files to FLAC files with the help of the TunePat YouTube Music Converter. Within only a few steps, all the issues regarding YouTube Music are solved perfectly. You can get a free trial and follow the steps above right now.