Top 5 Portable Pandora Music Players
In the world of music streaming, Pandora has established itself as a popular platform for discovering and enjoying personalized music. To enhance your listening experience, a reliable and feature-rich Pandora music player is essential. In this article, we will explore the best Pandora music players available, highlighting their unique features and showing you how to play Pandora Music on these devices. Whether you're a casual listener or a dedicated music enthusiast, the top 5 Pandora music players we listed in this post will take your music streaming experience to new heights.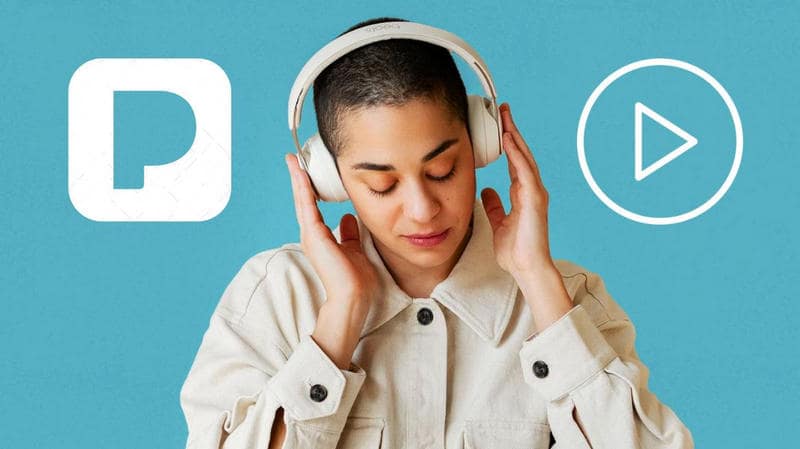 Part 1. Top 5 Pandora Music Players
1. Apple Watch
Price: $350 - $899 USD
Playing your favorite tunes on the go is now easier than ever with the ability to stream Pandora directly on your Apple Watch. With the Pandora app installed on your Apple Watch, you can enjoy your personalized playlists, discover new music, and control playback right from your wrist. Gone are the days of fumbling with your phone while on a run or during a workout. Whether you're in the mood for a high-energy workout playlist or a relaxing melody to unwind, the Pandora app on your Apple Watch allows you to seamlessly navigate through your library, select your favorite tracks, and adjust the volume with ease. Plus, with Siri integration, you can even use voice commands to play specific songs, artists, or playlists. However, to use the Pandora app on your Apple Watch, you'll need a Watch Series 3 or newer with watchOS 6 or higher and an iPhone with iOS 13 or higher.
Pros:
◾ Supports voice commands.
◾ Large storage of 16 - 32 GB.
◾ Lightweight and easy to carry.
◾ Full functionality of the Pandora app.
◾ Cast your Pandora music playback to other supported devices.
Cons:
◾ Short battery life.
◾ A little bit expensive.
◾ Only paid subscribers can enjoy offline playing.
◾ Supports iOS devices only (Some old models do not support).
◾ Not support downloading Pandora songs from Apple Watch directly.
How to Play Pandora Music on Apple Watch:
Step 1 Launch the Watch app on your iPhone.
Step 2 In the "My Watch" tab, scroll down to the "AVAILABLE APPS" section and tap the "INSTALL" button next to Pandora.
Step 3 After it's installed, select the Pandora app from your Apple Watch's screen and listen to Pandora from your iPhone with your watch as the remote control, or listen to it from your watch directly.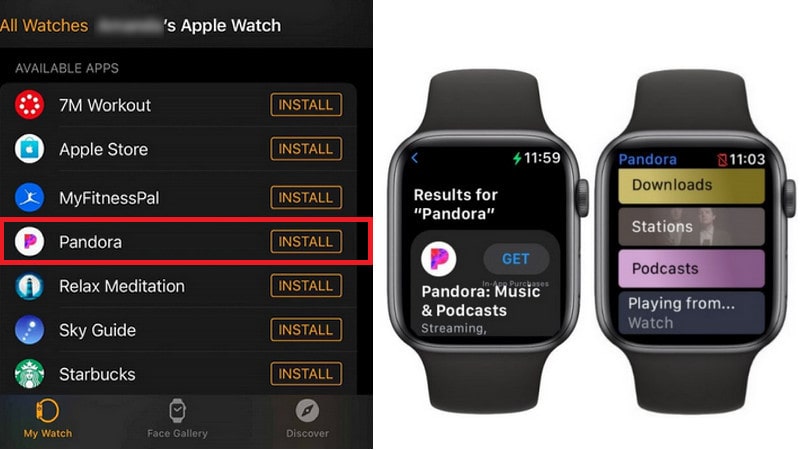 ---
2. Amazon Echo Alexa
Price: $49.99 - $264.98 USD
With the option to stream Pandora on your Alexa-enabled device, you can listen to your favorite music with voice control at home. You can easily discover new artists, rediscover old favorites, and create the perfect ambiance for any occasion with Pandora's enormous choice of songs from numerous genres. Alexa's voice recognition technology ensures that your music selection is accurate and tailored to your preferences so that you can now enjoy a hands-free music experience in your home. Whether you're hosting a party, cooking in the kitchen, or simply relaxing on the couch, Alexa's integration with Pandora allows you to effortlessly control your music with just your voice. Simply say, "Alexa, play Pandora Music" and your favorite stations, curated playlists, and personalized recommendations will fill the room.
Pros:
◾ Supports Spanish voice commands.
◾ Supports expansive bass in a small design.
◾ Supports explicit content filtering design for family settings.
Cons:
◾ Dependency on internet connection.
◾ False triggers and privacy concerns.
◾ Supports high frequencies but sacrifices the finesse it deserves.
How to Play Pandora Music on Amazon Echo Alexa Using iOS:
Step 1 Open the Pandora app on your iOS device.
Step 2 Tap "Profile" > "Settings" > "Link with Alexa".
Step 3 Select "Connect Now" > "Link" > "Got It!" > "Finish Set Up".
Step 4 Change your default Music, Stations, and Podcasts service to Pandora and use voice commands to play Pandora Music.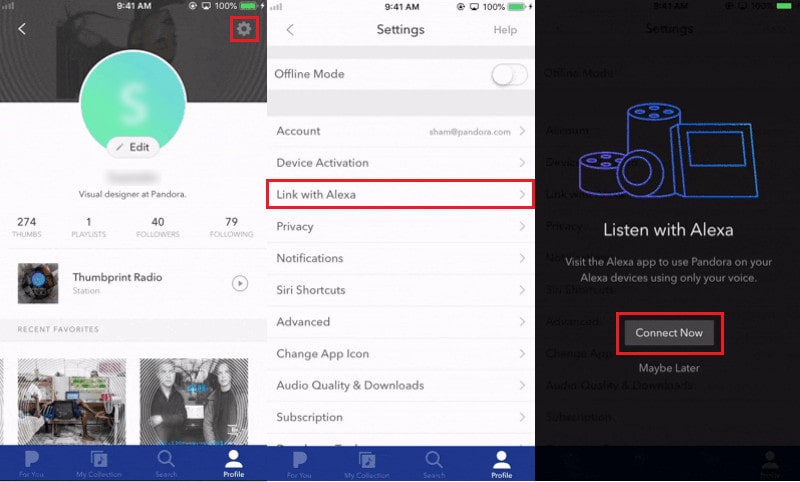 How to Play Pandora Music on Amazon Echo Alexa Using Android:
Step 1 Open the Pandora app on your Android device.
Step 2 Tap "Profile" > "Settings" > "Alexa" > "Link with Alexa".
Step 3 Enter your Amazon login and password.
Step 4 Change your default Music, Stations, and Podcasts service to Pandora and use voice commands to play Pandora Music.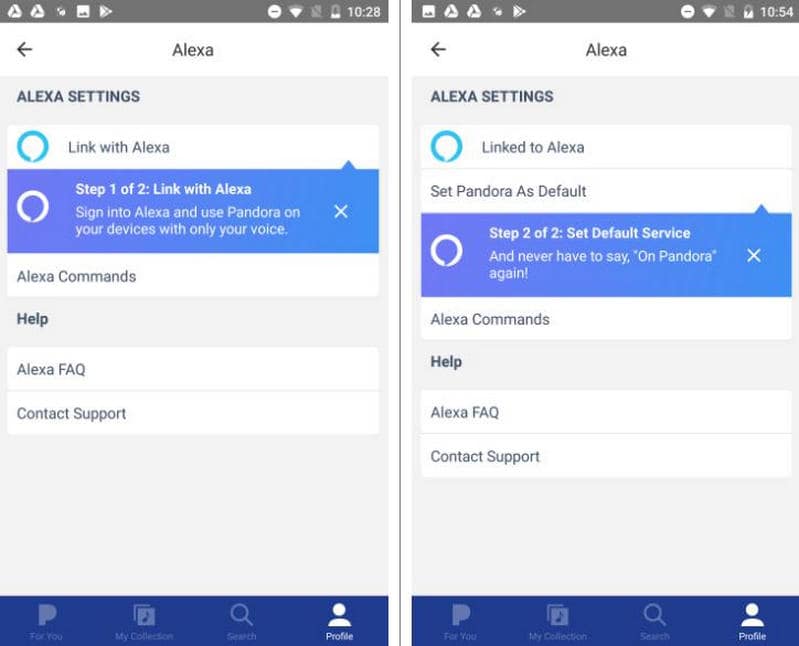 ---
3. Sonos
Price: $120 - $899 USD
With Sonos, you can create a multi-room audio setup that fills your entire home with immersive, crystal-clear sound. Whether you're hosting a party, or relaxing in your living room, Sonos allows you to enjoy your favorite tunes in every corner of your house. The Sonos ecosystem offers a range of smart speakers, soundbars, and subwoofers that seamlessly integrate with your existing devices and streaming services. With just a few taps on your smartphone or tablet, you can wirelessly stream music from popular platforms like Pandora. Plus, Sonos supports voice control, allowing you to effortlessly manage your audio experience with voice commands. Moreover, the Sonos app provides intuitive control over your entire setup, allowing you to customize sound settings, create playlists, and group speakers for synchronized playback.
Pros:
◾ Superior sound quality.
◾ With built-in voice assistant.
◾ Support to group, edit, control, and stream Pandora Music directly.
◾ Support to link multiple devices together with intuitive App control.
Cons:
◾ No Wireless design.
◾ Lack of Portable Options.
◾ Not compatible with Bluetooth.
◾ Not friendly for budget-conscious consumers.
How to Play Pandora Music on Sonos Speaker Using iOS & Android:
Step 1 Download and open the Sonos Controller app on your smartphone.
Step 2 Tap "Setting" > "Services & Voice" > "Music & Content" > "Add a Service".
Step 3 Choose the Pandora service and select "Add to Sonos".
Step 4 Enter your Pandora login and password and play Pandora Music with Sonos.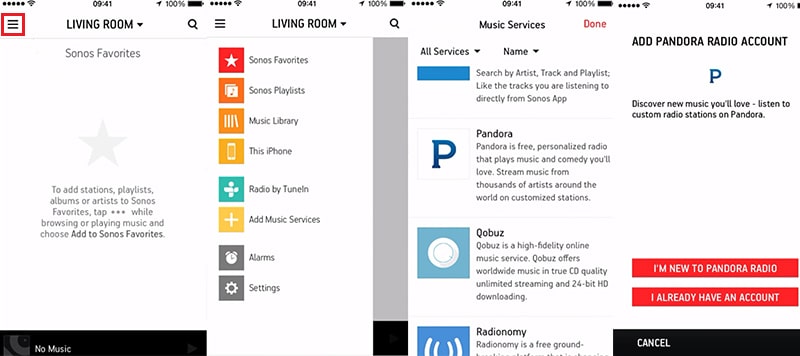 How to Play Pandora Music on Sonos Speaker Using PC:
Step 1 Download and open the Sonos app on your computer.
Step 2 Click "Select a Music Source" > "Add Music Services".
Step 3 Select Pandora, add your Pandora account, and play Pandora Music with Sonos.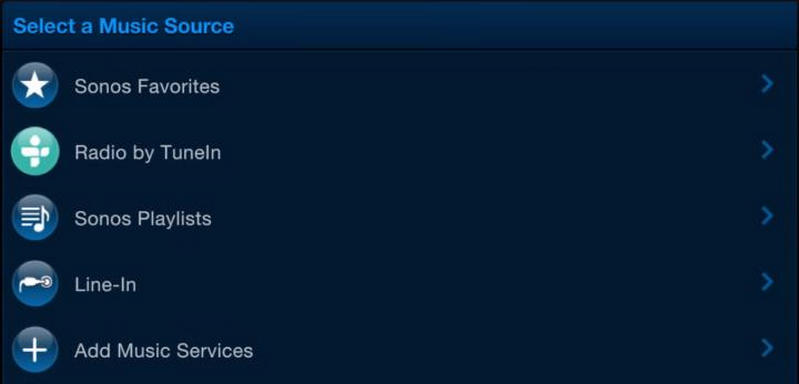 ---
4. Xbox One
Price: $229 - $690 USD
As we all know, Xbox One is a powerful gaming console that brings together cutting-edge technology, a vast library of games, and a vibrant online community, all designed to deliver an unparalleled gaming experience. But it is more than just a gaming console. It's a complete entertainment hub that brings together your favorite games, movies, TV shows, and music all in one place. With access to popular streaming services like Pandora, you can enjoy a wide variety of content right from your Xbox One console and play them as background music while gaming.
Pros:
◾ Supports multi-tasking.
◾ Supports voice control and multi-room audio.
◾ Supports customizable soundtracks for specific games.
Cons:
◾ A little bit expensive.
◾ Not be as intuitive or user-friendly as dedicated music streaming devices.
◾ Not offer the same level of audio fidelity as dedicated music streaming devices.
How to Play Pandora Music on Xbox One:
Step 1 Download the Pandora app on Xbox and follow the prompts to activate your account.
Step 2 Once your Pandora account is activated, you will be taken to the "Now Playing" page and you can pause, play, skip, and replay the music.
Step 3 If you want to play Pandora Music as background music while playing games, press the "Xbox" button located on your controller first.
Step 4 Tap the "Multitasking" menu > "Snap an app" > "Pandora". You'll get Pandora to run in the background on Xbox One easily.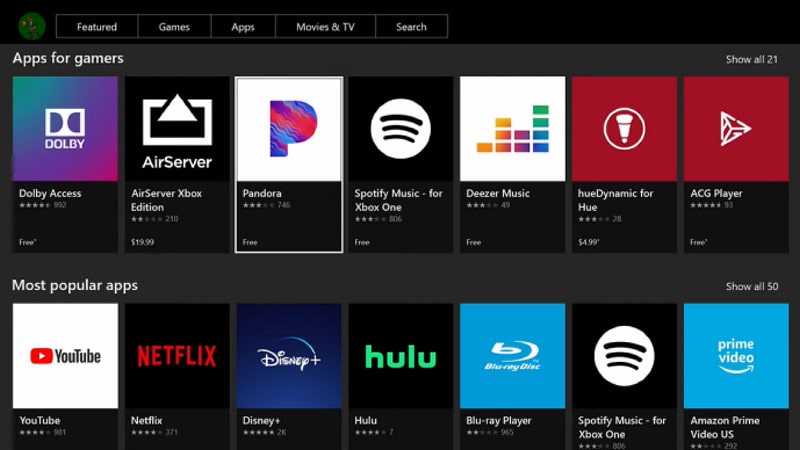 ---
5. Roku TV
Price: $150 - $2000 USD
Roku TV is a smart TV platform that combines the best streaming entertainment, live TV, and an easy-to-use user interface into a sleek and versatile package. Say goodbye to messy settings and remotes in disorder! This TV provides a unified home screen that brings together all of your favorite streaming channels, live TV, and connected devices, making it simple to search for and enjoy your favorite content. Roku TV offers a broad array of entertainment options, ranging from renowned streaming services like Pandora to free channels and customizable apps.
Pros:
◾ Customizable music experience.
◾ Supports multi-room audio and voice control.
Cons:
◾ Limited music discovery and audio quality.
◾ Free users can only stream ad-supported music with no rewind.
How to Play Pandora Music on Roku TV:
Step 1 Connect your Roku to your WiFi and open it.
Step 2 Press the "Home" button on the Roku remote, go to "Streaming Channels" and enter "Pandora".
Step 3 Click the "Add Channel" button > "OK" > "Go to Channel" to launch the Pandora app on Roku.
Step 4 Scan the code on the screen with your smartphone's Pandora app or sign in manually with your Roku remote.
Step 5 Click on "Activate Now" and enter your login credentials. After that, the Pandora channel on your Roku TV will display the music content.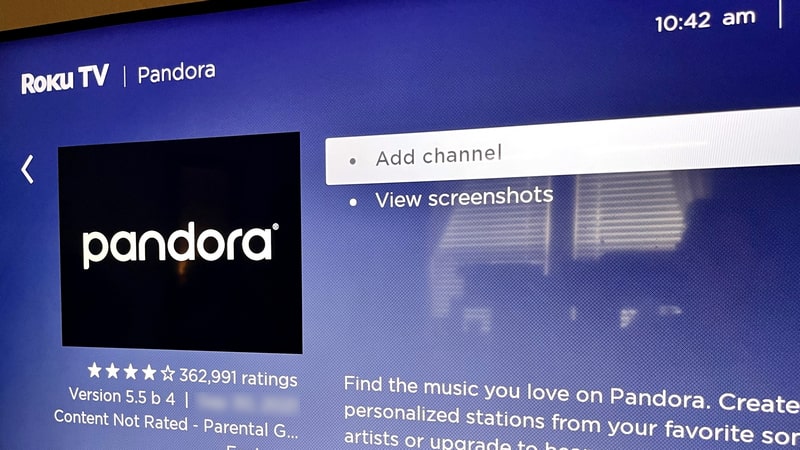 Part 2. How to Play Pandora Music on Any Music Player?
The best 5 Pandora portable players listed above will provide you with a wonderful listening experience on the go. You can play ad-free Pandora Music directly from these players with a premium account. But what if your music player isn't compatible with Pandora? Fortunately, we've got you covered with a way to listen to Pandora music on any music player.
You can try TunePat Pandora Music Converter to download Pandora music as MP3 files without any limitations, and then transfer them to any music player you want. With TunePat's advanced decoding technology, you can convert Pandora audio to MP3 format at a blazing-fast speed, while preserving the original sound quality, ID3 tags, and other relevant information. The converter offers various output settings to cater to different preferences. With this handy tool, you can listen to Pandora music without a subscription and keep your favorite tracks forever on any music player!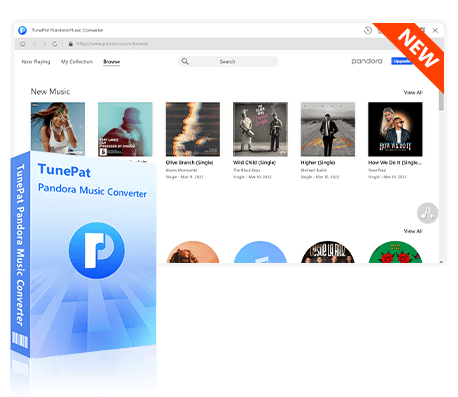 TunePat Pandora Music Converter
TunePat Pandora Music Converter helps you download and convert all Pandora Music songs and playlists to MP3 and other common formats.
Download Pandora Music tracks, albums, playlists, or podcasts.
Download ad-free Pandora tracks with a free account.
Convert Pandora Music to plain MP3, AAC, WAV, FLAC, AIFF, or ALAC format.
Preserve main ID3 tags and original audio quality.
10x download speed & batch conversion.
With tools available to change output formats, burn CDs, and edit the tag information.
Play Pandora Music on an MP3 player, Apple Watch, iPhone, Android, etc.
Now, follow the instructions below to download the Pandora Music songs and listen to them offline on any device.
Step 1 Log in to Pandora Music Web Player
After you install and launch the TunePat Pandora Music Converter on your computer, the Pandora Music web player will automatically redirect you to the login page. Sign in using your Pandora free or paid account and TunePat will allow you to browse Pandora songs, albums, playlists, and podcasts freely.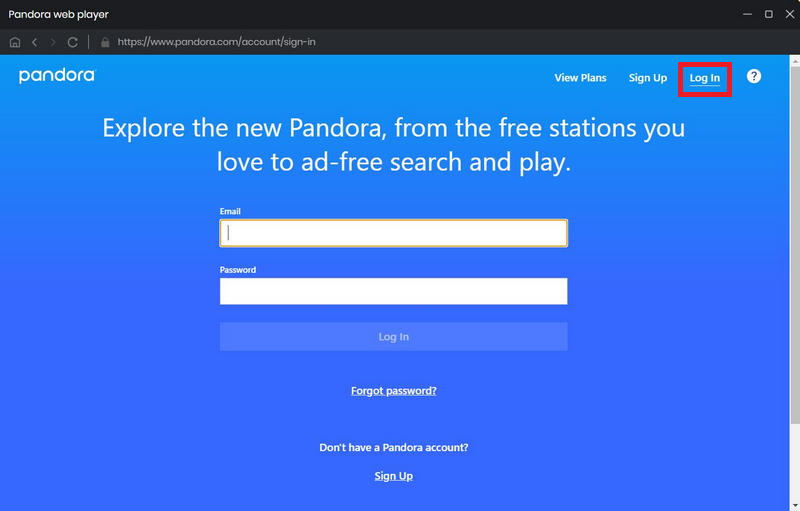 Step 2 Customize the Output Parameters
In the lower left corner, navigate to the "Settings" section. Here you can select the output format (Auto, MP3, AAC, WAV, FLAC, AIFF, or ALAC) for your preference. Since MP3 is compatible with a wide number of music players, it assures that your music can be played on a variety of devices without any compatibility issues. As a result, we select "MP3" as the output format. In addition, you might change the conversion mode, bit rate, sample rate, and output path in the setting options.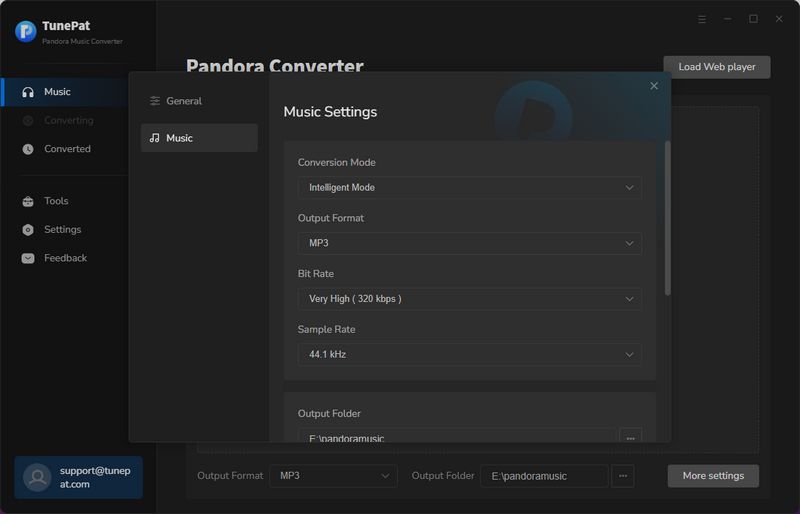 Step 3 Select Songs, Playlists, or Podcasts from Pandora Music
Browse the Pandora Music web player and select the tracks, albums, playlists, or podcasts you want to download, then click the blue "Click to add" button on the bottom right. TunePat will read the currently displayed page. You can deselect some songs from the convert list and click the "Add" button to initiate the conversion.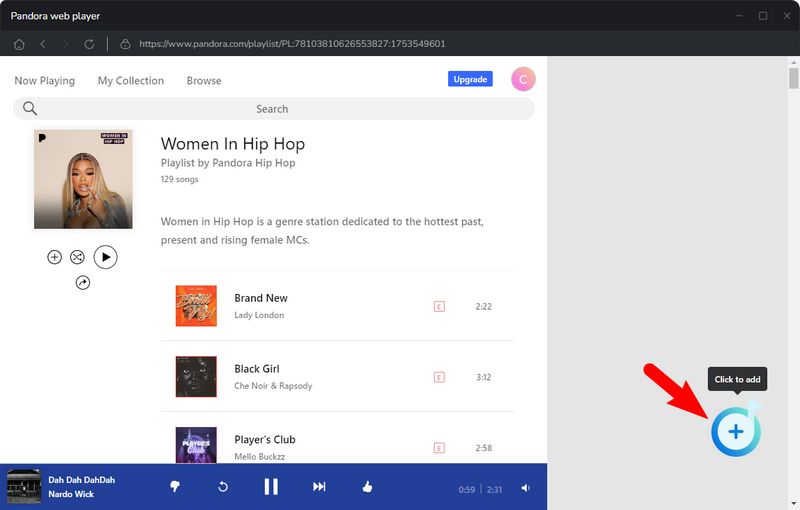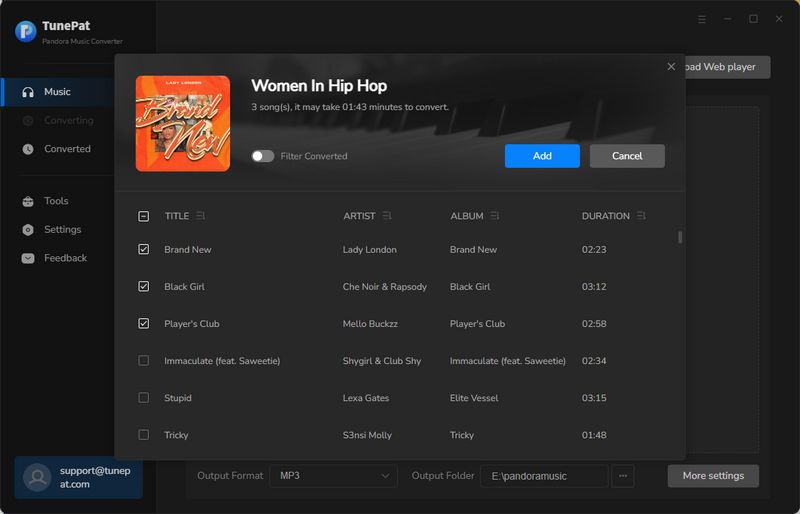 Step 4 Start Downloading Pandora Music
Simply click "Convert" to begin the downloading procedure. If you want to add additional songs from various albums or playlists for batch conversion, simply click the "Add More" button and select more songs. Finally, press the "Convert" button. Since TunePat can convert Pandora Music at 10X speed, the conversion will be completed quickly.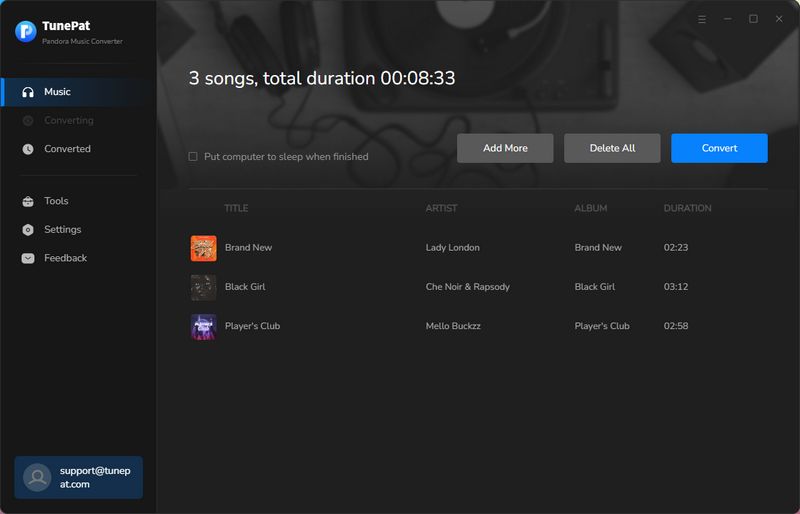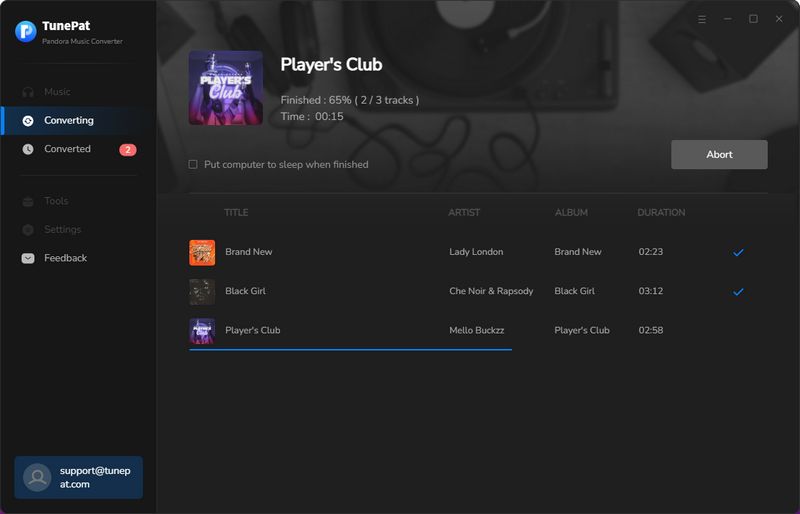 When the download is finished, the download folder will immediately appear. In the "Converted" panel, you may find the location of Pandora Music downloads by clicking the folder icon next to them and double-click the song titles to play them using TunePat as an online or offline music player. Now, you can transfer these Pandora songs to any music player that does not require a subscription and is not restricted by the Pandora platform.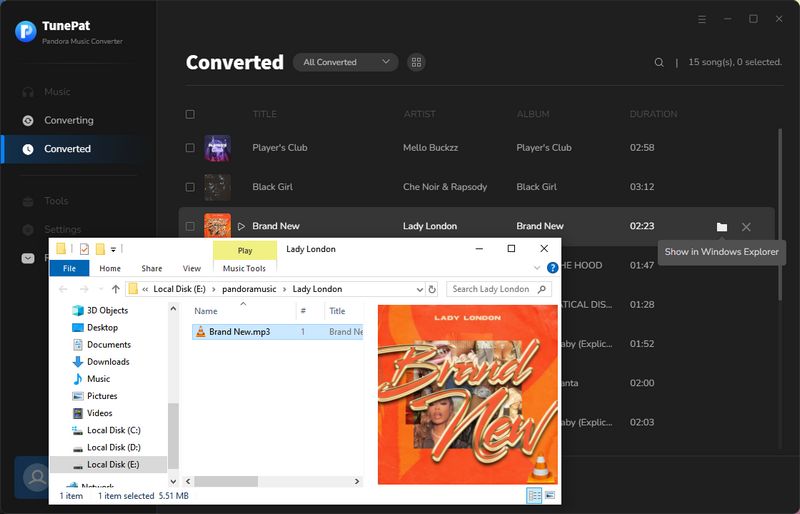 Conclusion
After reviewing this post, you should now have a good understanding of the top 5 portable music players for Pandora and their features and drawbacks we provided. They will assist you in selecting the best portable Pandora music player for enjoying Pandora Music while on the go. However, if you prefer not to use any of the recommended Pandora portable players mentioned above and still want to play Pandora songs on your own device, you can try using TunePat Pandora Music Converter. This exceptional software allows you to download Pandora songs without a Premium subscription and enables you to play Pandora music on any player or device of your choice.