Is Pandora Free to Use?
As one of the major audio entertainment music streaming services and a prominent digital music platform in the United States, Pandora has a large number of users. Users of Pandora can build personalized radio stations based on their favorite songs, performers, or genres. With this platform, users may also customize a music mix to fit their moods. However, it is not available worldwide because the Global Radio Operation prohibited its debut. As a result, it is only available in a few countries, including Australia, the United States, and New Zealand.
If you're new to Pandora, you're probably wondering how much it costs. Is Pandora a free service? Let's look at its pricing, how to use it for free, and how to keep Pandora music if we cancel our membership.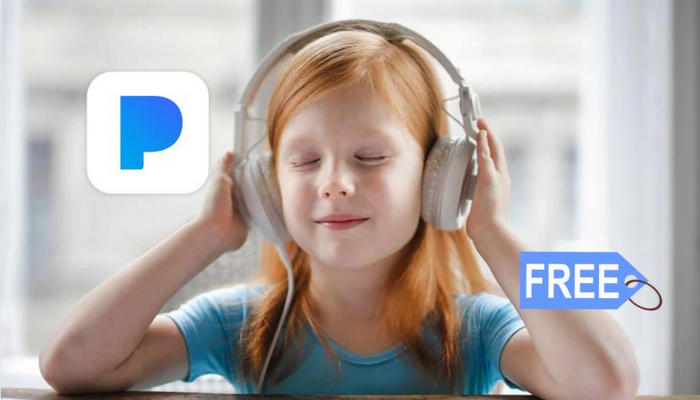 Part 1. What Are Pandora's Plans?
🢒#1 Pandora Free
This is Pandora's ad-supported version, which allows you to create radio-style stations based on your favorite songs, performers, and musical genres for free. You can improve your stations by thumbs-up-ing songs you enjoy and thumbs-down-ing ones you don't want to hear, which also skips the tune. You can get 6 skips every hour per station, for a total of 12 skips per day. Additional skips can be provided by listening to advertisements.
🢒#2 Pandora Plus
Pandora Plus features are available for $4.99 per month or $54.89 per year. This subscription level allows users to enjoy features such as unlimited skips as well as offline listening to your top 3 stations and Thumbprint Radio. The audio quality of the Pandora Plus plan is also noticeably superior to that of a free Pandora subscription. You have the option of streaming your music at a greater bit rate. Aside from ad-free stations, Pandora Plus allows you to listen to tracks on demand.
🢒#3 Pandora Premium
Pandora also provides a premium subscription option and it costs $9.99 per month or $109.89 per year, tax included. The top Pandora tier offers capabilities to search and play any song on demand. You can make personalized playlists, listen to high-quality audio that is even better than Pandora Plus, and listen to all stations offline.
· Pandora Premium Family Plan
Pandora has a family premium plan, which entitles 6 Pandora users to premium features, costing $14.99 per month, or $164.89 per year after taxes. The Pandora family account is typically managed by the master account holder, in charge of purchasing and account administration. Anyone interested in purchasing the Pandora family plan must be at least 21 years old. For the family premium plan, Pandora includes an additional function called "Our Soundtrack". This function combines songs based on each member's taste in one playlist, which is subsequently added to each member's music library.
· Pandora Student Premium Plan
Pandora Student Premium provides all of the benefits of Premium at a reduced fee of $4.99/month or $59.88/year for college students enrolled at authorized higher education institutions in the United States exclusively. You must be a U.S. resident who is over 18 years old and annual eligibility verification is required.
· Pandora Military Premium Plan
Military Premium provides discounts at a reduced price of $7.99 per month or $87.79 per year for every branch of the United States military, as well as retirees, veterans, national guard, reserves, and dependents. Users who are eligible for this offer need verification of eligibility.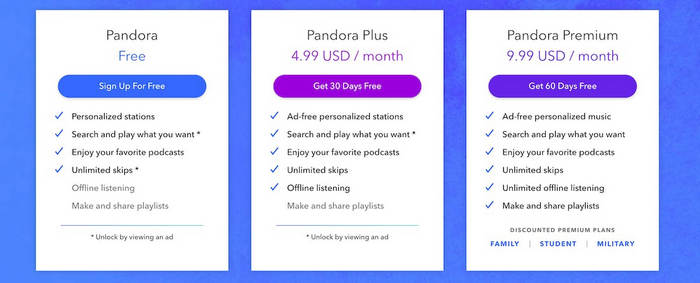 Part 2. How to Get Pandora for Free?
🢒#1 Create a Pandora Free Account
It is easy to get a free plan from Pandora Music. All you need to do is to create a Pandora account:
Step 1 Go to Pandora.com and click the "Sign Up" option.
Step 2 Enter your Email address, create a password and fill in the blank with your personal information.
Step 3 Browse the Pandora library for free and enjoy over 10 billion stations.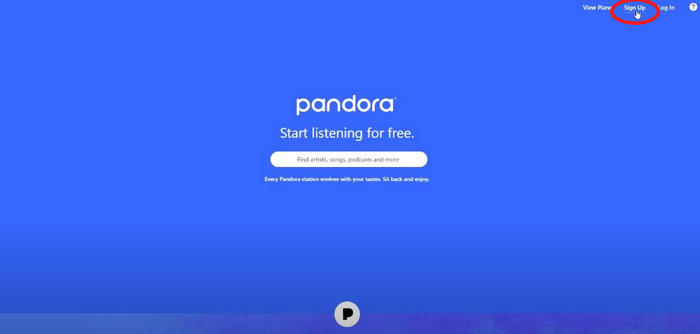 🢒#2 Activate Pandora Plus & Premium Free Trial
When you opt to join Pandora Plus/Premium, you will be given a 30-day/60-day free trial to check out the fantastic features of the streaming services and get a better idea of which one is in store for you. The following is a step-by-step approach for activating the free trial:
Step 1 Go to Pandora.com and click the "Sign Up" or "Log In" option.
Step 2 You can either log in to your existing profile if you were using the free version or create a new one.
Step 3 Click on the free trial you want to utilize and enter the required information.
Step 4 Proceed to enter your credit card information to complete your sign-up and choose between a monthly or yearly membership.
Step 5 Select "Start Trial". Then you can enjoy Pandora Music on various devices, including Mac, iPhone, Roku, Amazon devices, and iPad.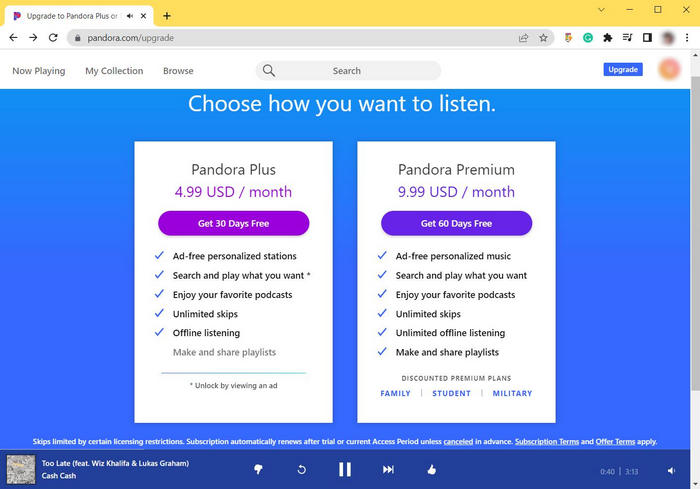 Part 3. Pandora Subscriptions FAQ
🢒#1 What are the limitations of the Pandora Free plan?
Pandora Free is an excellent way to become acquainted with Pandora! You'll have unrestricted access to stations, but there are some restrictions with a free account. To begin with, you will be unable to make playlists. Although you are allowed to listen to infinite radio, you will not be able to create stations. Second, there will be no ad-free stations. You have to listen to advertisements while listening to Pandora stations. There is no search-and-play feature either. You can only improve your stations by thumbs-up-ing, thumbs-down-ing songs, and skipping.
🢒#2 Why are there advertisements while playing Pandora Music?
Ads while playing Pandora Music apply to Pandora Free plan. If you are a Plus subscriber, you can remove advertisements from all stations. A Pandora Premium trial will be activated temporarily when listening to on-demand music even if you are not a Premium subscriber. And it doesn't mean your credit card will be charged because this free session is made possible by the advertisement you're listening to. To remove advertisements from search and play, go to Pandora Upgrade.
🢒#3 How to disable unwanted artist messages?
Whether you are a Pandora Free user, a Pandora Plus user, or a Pandora Premium user, you will all receive an unwanted artist message at least once. When the music you just listened to is over, you will then receive a message——an artist's statement. It is Pandora that allows users to listen to messages from the song's recording artist. If you don't like it, you can simply turn it off on your settings page.
Part 4. Listening to Pandora Music without a Subscription
Some consumers would like to terminate their membership when the free trial period ends, but they also want to keep their downloaded Pandora Music. Pandora's downloaded music files, as we all know, are encrypted and only playable within the Pandora Music app. How can this be resolved? Fortunately, we have a competent Pandora Music Converter to assist you in downloading Pandora Music as MP3 files without any restrictions.
TunePat Pandora Music Converter is a specialized application that allows users to convert and download Pandora Music tracks. Because of TunePat's excellent decoding technology, you may convert Pandora audio to MP3 10X faster while retaining the original sound quality, ID3 tags, and other information. This converter has a variety of output settings to meet a variety of needs. With this helpful tool, you can listen to Pandora Music without a subscription and save them forever!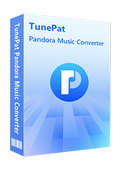 TunePat Pandora Music Converter
Download Pandora Music tracks, albums, playlists, or podcasts.
Download ad-free Pandora tracks with a free account.
Convert Pandora Music to plain MP3, AAC, WAV, FLAC, AIFF, or ALAC format.
Preserve main ID3 tags and original audio quality.
10x download speed & batch conversion.
With tools available to change output formats, burn CDs, and edit the tag information.
Play Pandora Music on an MP3 player, Apple Watch, iPhone, Android, etc.
Now follow the steps below to download the Pandora Music songs and play them on any device for offline listening.
Step 1 Log in to Pandora Music Web Player
Install and launch TunePat Pandora Music Converter on your computer. With the Pandora Music web player built-in, you will be directed to the login page automatically. Then sign in with your Pandora account. Both free and premium accounts are supported. After logging in successfully, you can browse Pandora songs, albums, playlists, and podcasts within TunePat.
Step 2 Customize the Output Parameters
Go to the "Settings"

module in the lower left corner. Here you can choose the output format (AUTO, MP3, AAC, WAV, FLAC, AIFF, or ALAC). If you choose AUTO, TunePat will download music from Pandora with the original audio format and quality. Besides, you could also customize the conversion mode, bit rate, sample rate, and output path in settings.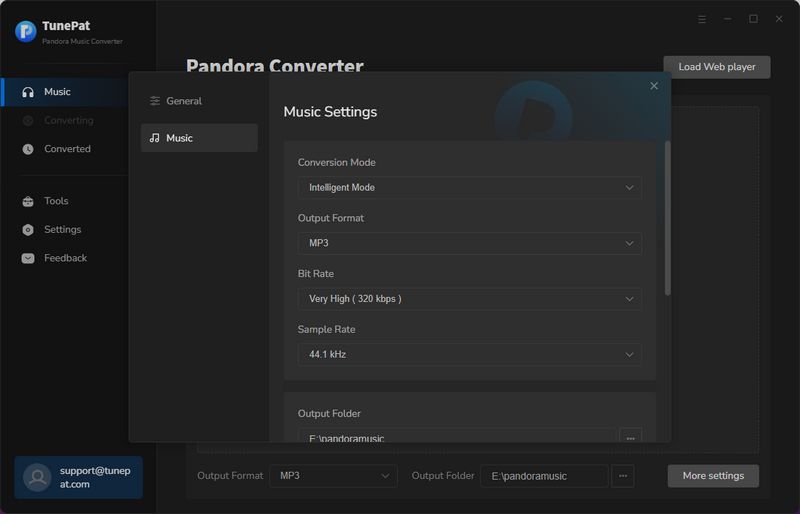 Step 3 Select Songs, Playlists, or Podcasts from Pandora Music
Browse and select the tracks, albums, playlists, or podcasts you want to download from Pandora Music and click the blue "Click to add" button on the bottom right. TunePat will read the current page. From the convert list, you can selectively choose Pandora songs by clicking the "Add" button and then selecting "Convert" to start downloading them. If you want to add more songs from other albums or playlists for batch conversion, just tap the "Add" button again and select more songs. Click the "Convert" button to start downloading Pandora Music to your computer.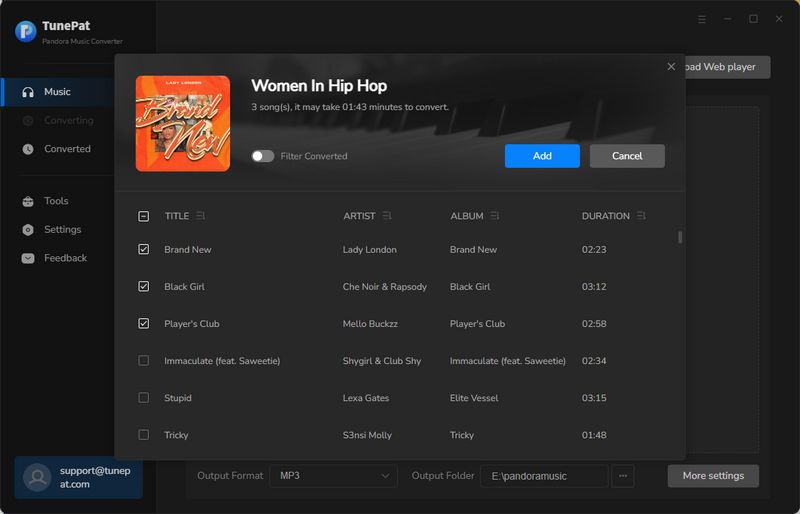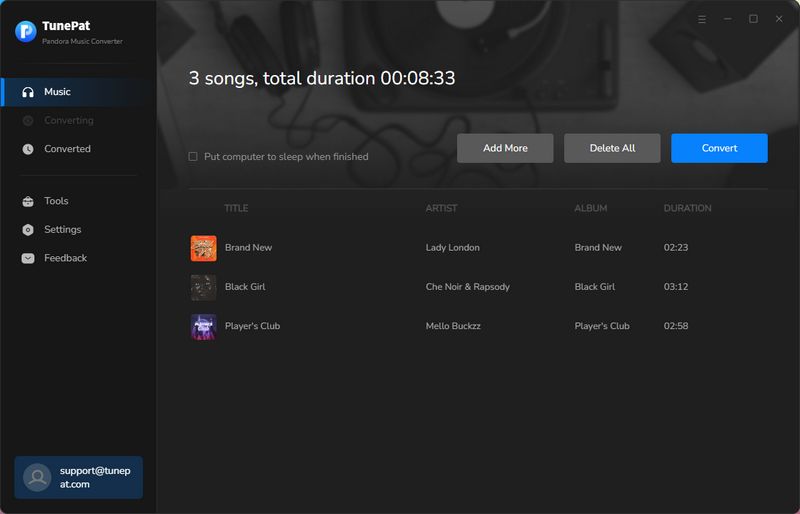 Step 4 Start Downloading Pandora Music
Since TunePat can convert Pandora Music at 10X speed, it will not take a long time to finish the conversion. When the downloading is completed, the download folder will pop up automatically. You can locate the downloaded Pandora music tracks in the "Converted" panel by clicking the folder icon.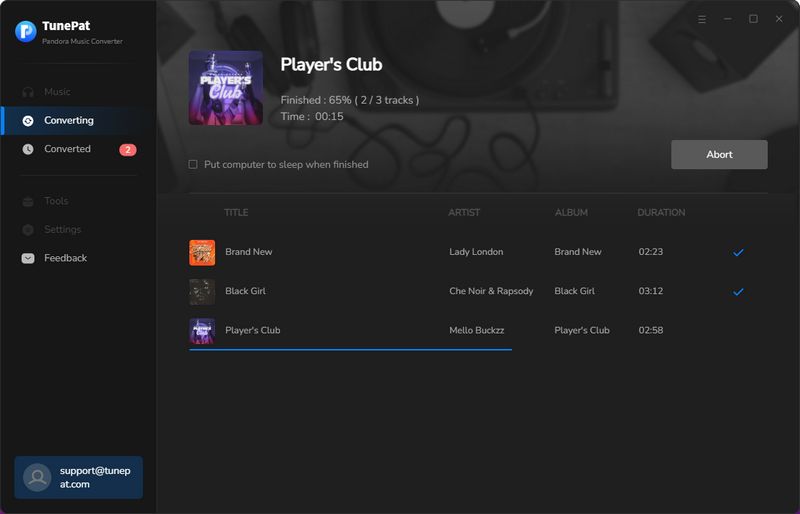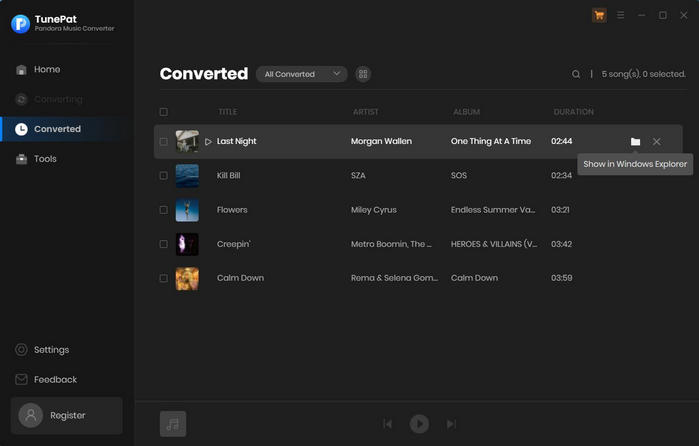 Once converted, you can browse these Pandora songs in your local output folder, which is free from Pandora platform restrictions, and you can play them on any device you like without a subscription.
Conclusion
This article has shown you the pricing of Pandora Music, how to get a Pandora subscription for free, some frequently asked questions about Pandora subscription, and also a useful tool——TunePat Pandora Music Converter to help you save Pandora songs forever after canceling your Pandora subscription.
With the help of the TunePat Pandora Music Converter, you can easily download and play Pandora songs on any device without a subscription. The downloaded Pandora songs will be saved on your local computer. You can also play the downloaded Pandora playlists on any compatible device, such as an SD card, or Apple Watch, or even sync the playlist to another platform, such as iTunes library. Click the download button down below and have a try!