Top 9 Spotify Music Players (2023 Updated)
Spotify has become one of the most popular music streaming platforms in the world, thanks to its wide selection of playlists and songs. However, its lack of support for MP3 players has been a major drawback for many users. The good news is that there are lots of portable music players you can use to enjoy Spotify songs even offline. We have scoured the internet and listed down the best 9 portable music players for Spotify!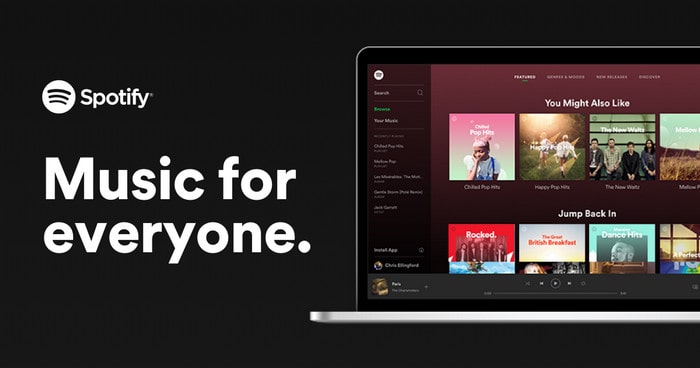 Part 1: TOP 9 Spotify Music Players
1. Mighty Vibe
Price: $119.99 USD
For those who want to enjoy Spotify music without being tethered to their phone, Mighty Vibe is an excellent option. This tiny music player can store up to 1000 songs offline and has built-in Wi-Fi and Bluetooth for easy connection to headphones and speakers. It also features a headphone jack for wired headphones. The integrated clip makes it easy to take with you on the go, and the Mighty Vibe even allows you to stream your Spotify playlists and podcasts without the need for a phone or Internet connection. Whether you're a runner who doesn't want to carry a phone or you simply want the freedom to enjoy your music without being tied down, the Mighty Vibe is a great choice.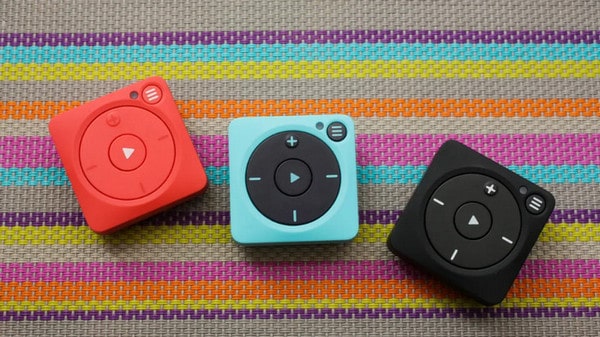 How to Use Mighty Spotify Music Player:
Step 1 Download Mighty from Apple store or Google Play to your phone.
Step 2 Start Mighty, go to Music Service > Spotify.
Step 3 Log into your Spotify Premium or Family account, then tap the "Sync Now" button.
Step 4 Once done, you can play Spotify music on Mighty.
Pros:
◾ Offline playback without a phone
◾ Small and lightweight
◾ Connects with Bluetooth wireless headphones
◾ Long playtime
Cons:
◾ Requires Spotify Premium subscription
◾ No screen due to simple design, similar to iPod Shuffle
◾ Intermittent Wi-Fi connection required to sync playlists
---
2. Amazon Echo
Price: $49.99 - $199.99 USD
Generally speaking, Alexa speakers such as the Amazon Echo will turn to their own music service (Amazon Music) first, so you'll need to connect Spotify to Alexa. Make sure to select Spotify as your default music player instead. Linking Alexa to Spotify offers full control of playback and your Spotify library. And Alexa Equalizer allows you to fine-tune the audio.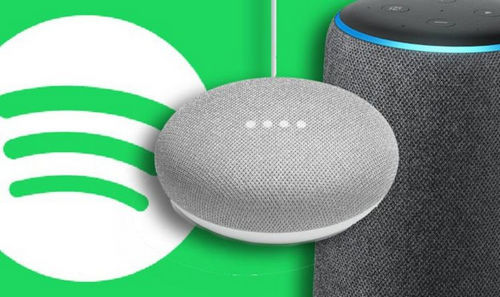 How to Play Spotify Music on Amazon Echo:
Step 1 Open the Alexa app for your Android, iPhone, or iPad device.
Step 2 Tap More > Settings.
Step 3 Select Music & Podcasts.
Step 4 Tap Link New Service and choose Spotify.
Step 5 Follow prompts to link with Alexa, including signing into your Spotify account.
Pros:
◾ Expansive bass in a small design
◾ Lots of smart features
◾ Available for both Spotify free and premium users
Cons:
◾ High frequencies don't get quite as much finesse as they could.
◾ Not fully omnidirectional.
---
3. Sonos
Price: $159 - $899 USD
The Sonos speaker system is a great way to get all your favorite streaming platforms in one place. You can log in and play your favorite music at any time using the Sonos app. Spotify is a great streaming service to add to your Sonos system. You can stream your favorite playlists and albums using the Spotify app on your iPhone or Android as a remote control. Once you've added Spotify to your speaker, you can use the app to manage your music library, create playlists, and even control volume and playback. Sonos makes it easy to enjoy all your favorite music in one place.

How to Play Spotify Music on Sonos Speaker (Full Guide):
Step 1 Download and open the Sonos app on your phone or tablet.
Step 2 Tap Settings, then Services & Voice.
Step 3 Under Music & Content, tap Add a service.
Step 4 Select Spotify, then Add to Sonos.
Step 5 Log in to your Spotify account.
Pros:
◾ Built-in voice assistants
◾ A Well-balanced sound profile
◾ Multiple devices can be linked together
◾ vailable for both Spotify free and premium users
Cons:
◾ Individual speakers can be trumped for sound
◾ Wired-only design.
◾ Often no Bluetooth compatibility.
---
4. Apple Watch
Price: $249 - $799 USD
Spotify recently released an app for the Apple Watch, which allows users to access and control their favorite Spotify music and podcasts from their wrist. This touch-screen watch can be easily used to stream playlists and songs from both Spotify and Apple Music while running, trekking or hiking. The band holds securely onto your hands and won't drop even under constant motion. The best part about Apple Watch as a portable MP3 player is the visuals it offers. You can easily see the current track and with just a single touch change the song or move to a different playlist. Unlike regular players, it works like an independent application which can be used to add new songs, make new playlist and much more right from your wrist. If you are an avid Spotify or Apple Music listener, then this is definitely the MP3 player for you.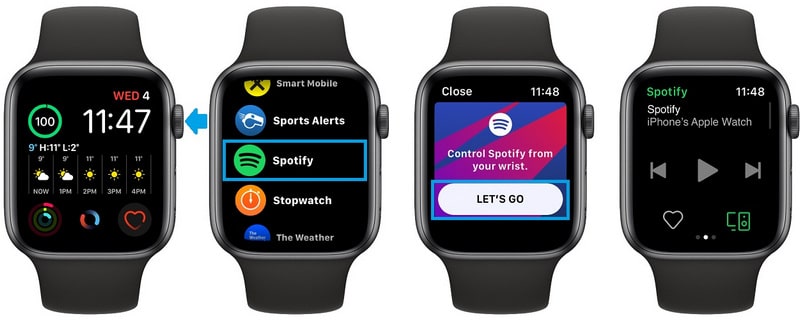 How to Play Spotify Music on Apple Watch (Full Guide):
Step 1 Launch the Watch app on your iPhone.
Step 2 In the My Watch tab, scroll down to the Available Apps section and tap the Install button next to Spotify.
Step 3 After it's installed, select the Spotify app from your Apple Watch's Home screen. The Spotify home screen displays the usual playback functions including: Play/Pause and Skip Forward/Back the song that's currently playing.
Pros:
◾ Full functionality of the Spotify app
◾ Add songs to your Spotify library
◾ Large storage of 16 GB
◾ Cast your Spotify music playback to other supported devices
Cons:
◾ Supports Apple devices only
◾ A bit Expensive
◾ Requires Spotify Premium subscription to listen offline
◾ Short battery life
---
5. Garmin Smartwatch
Price: $139.99 - $899.99 USD
Garmin has been beefing up its smartwatch lineup in recent years and a big part of that has to do with the addition of music streaming services, such as Spotify. Getting Spotify up and running on your Garmin smartwatch is easy and only requires a few steps. First, you'll need a Spotify Premium account to access playlists on your device. If you're not already a Premium subscriber, don't worry - Spotify offers a 30-day free trial for new users.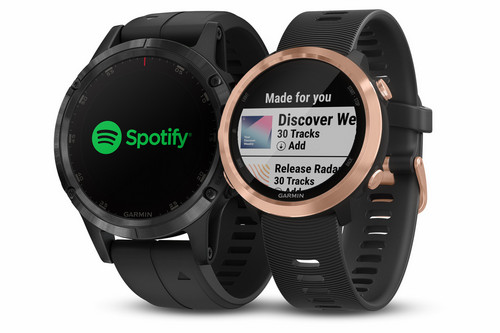 How to Play Spotify Music on Garmin Watch:
Step 1 Hook your compatible watch to the Garmin Connect mobile app or your PC/Mac to Garmin Express.
Step 2 Download the Garmin Spotify app from the Connect IQ store, and search for the Garmin Spotify app.
Step 3 Once the app is installed on your device, you should see a message on your Garmin watch that reads "Music provider added! To access: Hold DOWN." You can simply press the down button to dismiss the alert.
Step 4 Go back to the Garmin Connect app on your phone, and you should see a prompt to log in to your Spotify account or sign up for the service. Tap the login button, input your username and password, and head back to your Garmin smartwatch to select which playlists you'd like to sync to the watch.
Step 5 Before you can start listening, you'll also need a pair of Bluetooth earbuds to connect to your Garmin watch.
Pros:
◾ Bring cutting-edge design and performance to your fast-paced lifestyle
◾ Add songs to your Spotify library
◾ Support to store a large number of songs
◾ Offer lots of great features like a built-in navigable map for outdoor activities
Cons:
◾ A little expensive
◾ Requires Spotify Premium subscription
---
6. Facebook Portal
Price: $49 - $299 USD
The Facebook Portal Plus is a large smart display that is simple to use and excels at video calls. It is relatively compact for its screen size and features both Alexa and Facebook's voice assistant. You can connect to and play music through several streaming services on Facebook Portal, including Spotify. The availability of apps differs based on the location where you use Facebook Portal. For example, app availability in the US includes Pandora, iHeartRadio, Food Network, Newsy, and CNN.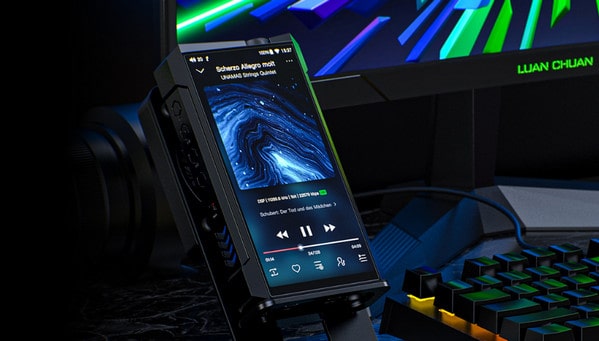 How to Play Spotify Music on Facebook Portal:
Spotify comes pre-installed on Portal devices. When you log in to Spotify on Facebook Portal, your account automatically links to Facebook. Start your voice command with "Hey Portal", or use Alexa to voice control your tunes. However, it's not currently possible to voice control Spotify on Portal TV.
Pros:
◾ Camera's 140-degree field of view is impressive
◾ Fun video-calling effects
◾ Easy to make calls
◾ Available for both Spotify free and premium users
Cons:
◾ Portal/Alexa voice control is confusing and clunky
◾ No ability to add apps
◾ Huge
---
7. FiiO Music Player
Price: $499.99 - $1699.99 USD
For anyone looking for a lossless smart portable Spotify music player, the FiiO music player is definitely worth considering. It delivers excellent audio quality, supports internet connection, and offers expandable storage – meaning there is plenty of space to save favorite tracks for offline listening. Despite its large size, the FiiO music player is incredibly lightweight and portable, making it a great option for those who want to enjoy their music on the go. Plus, its simple yet stylish design means it looks great too. In short, the FiiO music player ticks all the boxes and is sure to appeal to anyone looking for a top-quality portable Spotify player.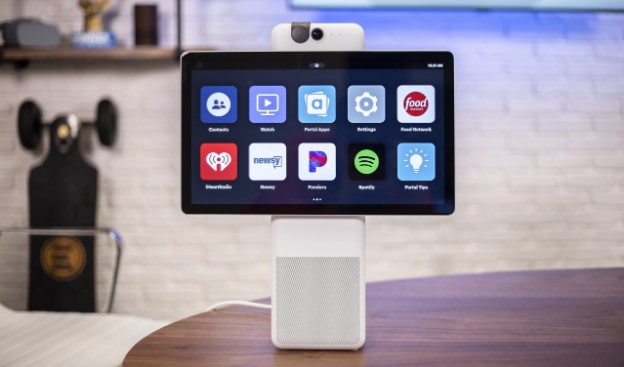 How to Play Spotify Music on FiiO Music Player:
Step 1 Add the APK file of Spotify app to FiiO.
Step 2 Turn on FiiO music player. Find the 'File Management' and search for the Spotify APK.
Step 3 Hit the Spotify APK file to install the Spotify app on FiiO.
Step 4 Open Spotify to play the songs on FiiO.
Pros:
◾ Very powerful amplifier
◾ Robust and unique design
◾ Modern Android version
Cons:
◾ Very large for a DAP
◾ No DSD512 future-proofing
◾ Requires Spotify Premium subscription to listen offline
---
8. Xbox
Price: $299.99 - $549.99 USD
Did you know you can listen to your favorite playlists or podcasts while gaming directly from your console? When you use Spotify on your Xbox, the music plays in-game. You can even use voice commands to control your tunes. With Spotify Connect, you can seamlessly switch between listening on your phone, tablet, or computer and gaming on your Xbox console. Plus, if you have a premium account, you can listen to ad-free music and enjoy high-quality audio streaming. So why not add some tunes to your next gaming session?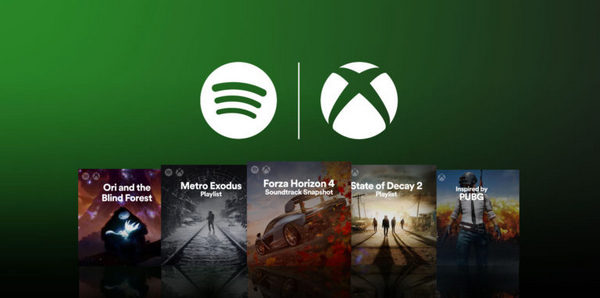 How to Play Spotify Music on Xbox:
Step 1 Download the Spotify app on your Xbox Series X, Xbox Series S, or Xbox One console. You can find the Spotify app in the Microsoft store.
Step 2 You'll then be given three options to log into your Spotify account: scanning a QR code with your smartphone, using a webpage, or logging in with your password. Use your preferred method to proceed.
Step 3 When you play something from the Spotify Xbox app, it will continue playing in the background.
Step 4 Open Spotify to play the songs on Xbox.
Pros:
◾ Faster loading speed
◾ Clean and cool design
◾ Dolby Vision and Atmos support
◾ Available for both Spotify free and premium users
Cons:
◾ Exclusive library is lacking
◾ Large and heavy
---
9. Discord
Price: $4.99 - $9.99 USD/per month
Discord is a popular chatting and video-sharing platform for gamers. While that is its primary use, Discord includes several other fun and exciting abilities. For example, connect your Spotify account to Discord, and share your favorite tracks with all your gamer friends. After you connect your account, friends will be able to see what you're listening to and play those tracks. Plus, if you're a Spotify Premium subscriber, you'll be able to seamlessly listen along with your friends simultaneously whilst you chat and strategize about future campaigns and endeavors. Overall, connecting your Spotify account to Discord is a great way to have some fun and share your music taste with friends.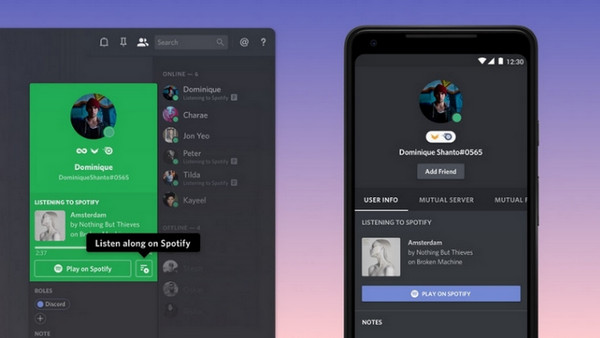 How to Play Spotify Music on Discord:
Step 1 Download and open the Discord app.
Step 2 Click Connections in the menu on the left, and tap on the Spotify logo.
Step 3 A web page opens to log in or sign up for Spotify.
Step 4 Go back to the Discord app, and under the Connections section, find your connected Spotify account, and toggle on the Display on profile switch.
Once you connect Spotify to Discord, you can choose to show your friends what you're playing. If you Listen Along with a friend who has the free version of Spotify, you hear silence when they hear adverts.
Pros:
◾ Listen along with friends
◾ Works across computers, mobile, and game consoles
◾ Integrates with many third-party apps
Cons:
◾ You must pay for higher-quality video and audio
◾ Requires Premium subscription to listen along
---
Part 2: Play Spotify Music on Any Music Player
The above top 9 portable Spotify players will guarantee you a better listening experience when you don't carry a phone. However, is there alternative way to play Spotify songs on other devices which are not compatible with Spotify yet? Absolutely yes. All you need is a Spotify downloader. It can convert your Spotify music to the audio format that is supported by the MP3 player you are using.
TunePat Spotify Converter is a simple yet powerful Spotify downloader. It allows you to download songs, albums, playlists and podcasts from Spotify. You can choose to download your Spotify playlist into MP3, AAC, WAV, FLAC, ALAC, and AIFF for offline listening. The original audio quality and the song ID3 tags will be preserved. Furthermore, it supports batch and 10X faster speed conversion. That means you don't have to waste too much time downloading Spotify songs.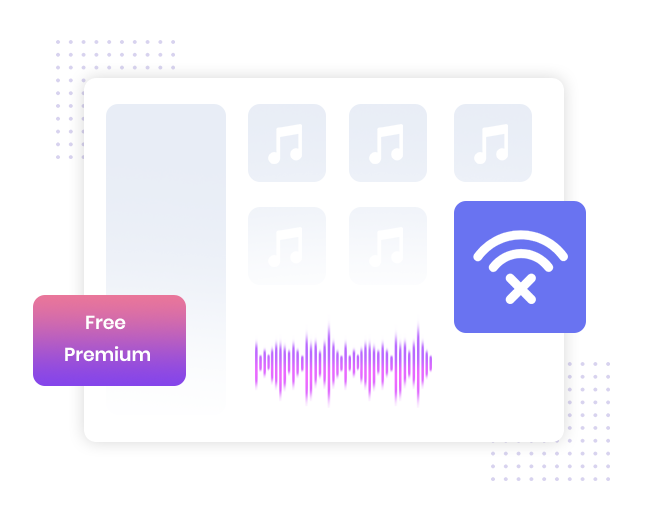 TunePat Spotify Converter
TunePat Spotify Converter enables users to convert and get Spotify songs or podcasts from the Spotify web player and then save them permanently.
Download songs, albums, playlists, podcasts, and lyrics from Spotify.
Convert Spotify songs to MP3, AAC, WAV, FLAC, AIFF, or ALAC format.
Easily download ad-free Spotify music tracks to the local computer.
Keep ID3 tags and preserve lossless audio quality.
Converted Spotify songs can be played offline on various devices (such as Panasonic Smart TV, iPod, etc.) at any time.
Step 1 Run the program and choose your preferred conversion mode
First, run TunePat Spotify Converter, then you can see two different conversion modes on the launch interface, App and Webplayer. Choose one you like.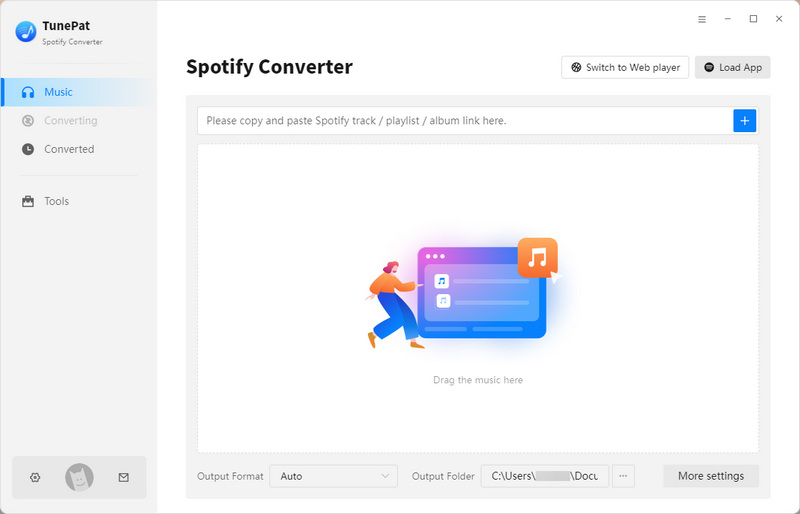 Step 2 Read Spotify Music You Want to Convert
The two conversion modes have different ways of adding songs:
1. When you select the Spotify (App) mode, the Spotify app on your computer will open synchronously. Then make sure you have logged in to your Spotify account in the Spotify app, and then you can add songs by dragging and dropping the target item or pasting the URL of the music you want to convert to the specified location of the TunePat program. If you don't have the Spotify app installed on your computer, you can add it according to the pop-up window instructions, or use Webplayer mode directly.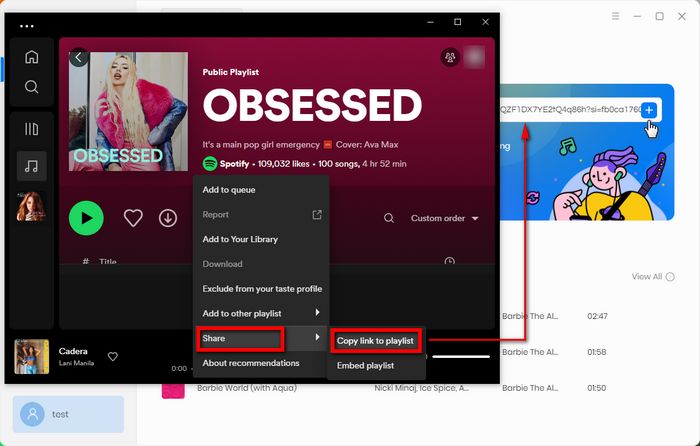 2. The conversion speed of Webplayer mode can be up to ten times, and you can browse and add songs directly through the embedded web player without downloading other apps. When you select Spotify (Webplayer), the embedded web player will also pop up synchronously. Please log in to your account inside, then open the Spotify music you want to convert, and click the "Click to add" button on the right to complete the reading of the song.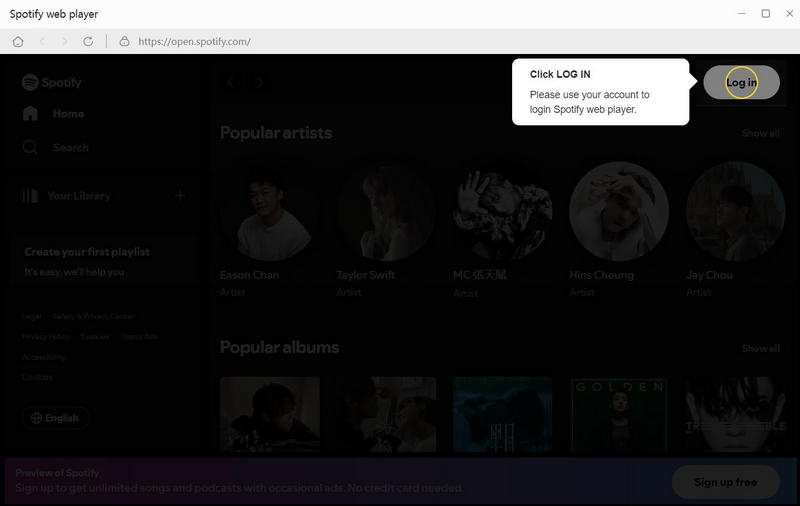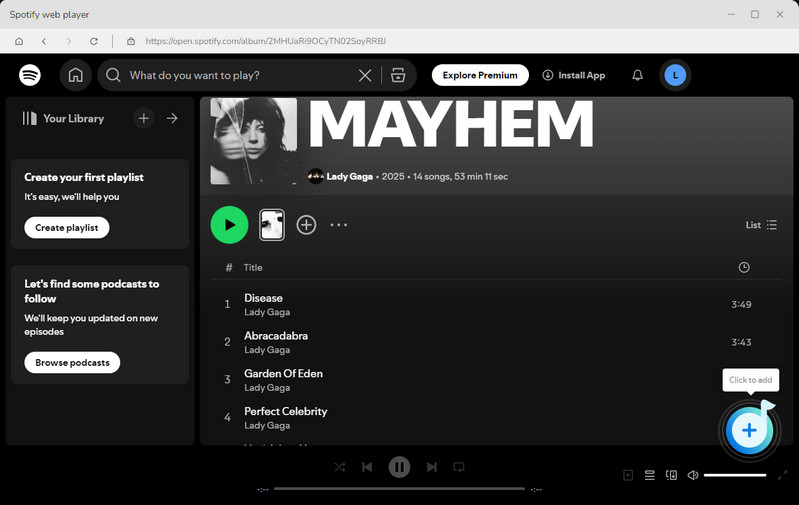 Step 3Add Spotify Music to TunePat and Wait For Conversion
No matter which conversion mode you use, after you select an album, playlist, song, or podcast to parse, you will see the pop-up below. Please select the titles you want and click the "Add" button to add them.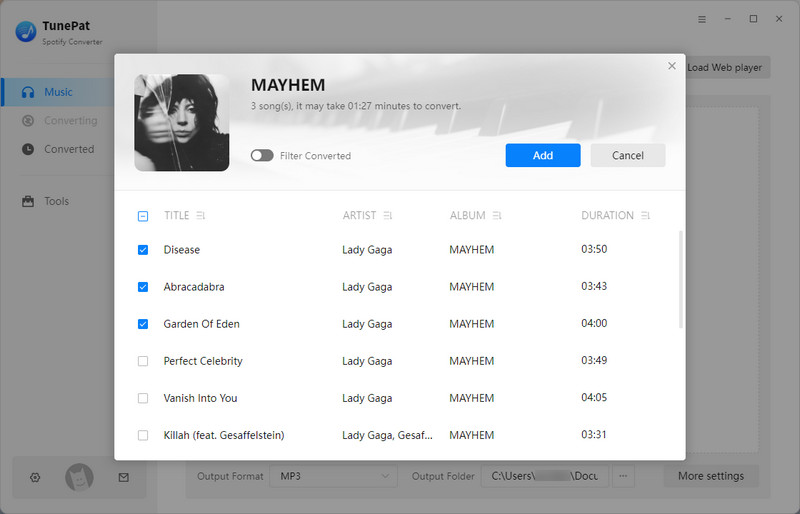 Step 4Complete the Customization of Output Parameters
Before starting the conversion, please go to the "Settings" interface to complete the customization of parameters, including conversion mode, output format (MP3, AAC, FLAC, WAV, AIFF, ALAC), bit rate, sampling rate, output path, output file name, etc. If you want to export files that match the source file parameters, then please do not change the options in the Output Format column and use the default Auto.
Step 5 Convert the Spotify Songs You Need
The selected Spotify songs will be arranged in the Home interface for display. Click "Convert" to start the conversion process immediately.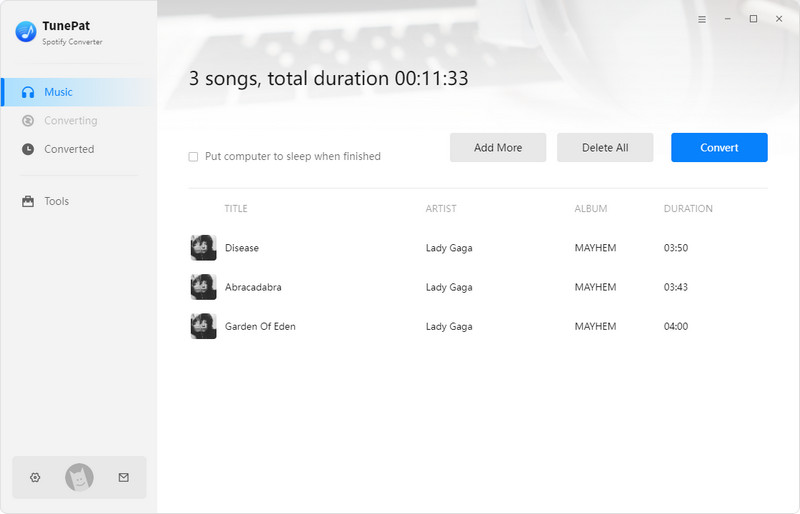 Once the download is complete, click the "Converted" button in the upper right corner, where you can find all downloaded Spotify songs and check the output folder. Then you will see that all Spotify songs have been downloaded with perfect sound quality and ID3 tags retained. Now you can import and play downloaded Spotify songs from any MP3 player or portable device.
---
We have collected the top 9 popular Spotify music players above, some of them might be a little expensive for their excellent audio performance. However, TunePat Spotify Music Converter will help you download and play Spotify songs on any MP3 music player to guarantee you a nice music experience. Furthermore, the downloaded Spotify songs will keep 100% original audio quality and iD3 tags, you can build your own music library with ease.