How to View or Get Lyrics on Spotify
Spotify took a significant step by introducing the lyrics function in November 2021, a move that ignited a wave of excitement among fans across the globe. Have you ever found yourself immersed in the desire to grasp the essence of a song's lyrics, or wished to sing along in perfect harmony? Perhaps you've encountered moments where a certain line has left you pondering, or instances where misheard lyrics led to humorous misunderstandings. The advent of an easily accessible lyrics feature holds the potential to bring clarity to these scenarios.
The capability to display lyrics accompanies your musical journey, accessible through the Spotify application on your PC, Mac, mobile device, or web interface. Furthermore, the functionality allows you to engage with specific lyrics as the song dynamically scrolls, allowing you to pinpoint and revisit precise sections within the track. Let's explore this further! This article will guide you through viewing and sharing Spotify lyrics across mobile and desktop platforms while offering insights into downloading Spotify songs and obtaining the corresponding lyrics files simultaneously.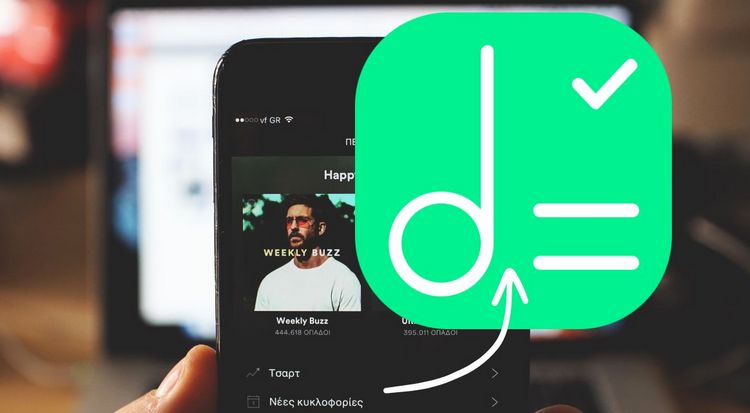 Part 1: How to Find and Share Spotify Lyrics?
Using the Spotify Mobile App:
Step 1 Launch the Spotify mobile app and locate the song you intend to play.
Step 2 Tap on the "Now Playing View" associated with the song.
Step 3 During playback, perform an upward swipe from the bottom of your screen. If this action doesn't trigger the desired outcome, it indicates that lyrics are unavailable for that particular song.
Step 4 The song's lyrics will begin scrolling in real-time as the music plays. Lyrics displayed in white denote portions that have already been sung, while black lyrics indicate upcoming segments.
Step 5 To share lyrics, simply tap the "Share" button situated at the bottom of the lyrics screen. Subsequently, pick the specific lyrics you wish to share and choose the third-party platform through which you'd like to share them. Keep in mind that you can select lyrics by tapping on them, and you are limited to choosing up to four lines.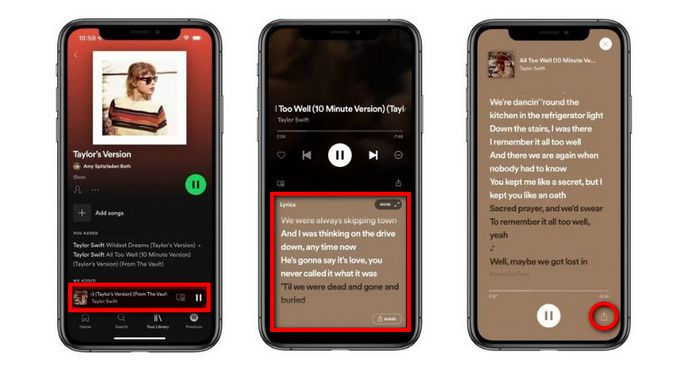 Using the Spotify Desktop App:
Step 1 Open the Spotify desktop app and select the song you want to play.
Step 2 While a song is playing, click on the microphone icon within the "Now Playing" bar.
Step 3 You will then be presented with the song's lyrics, which will scroll in real-time alongside the music.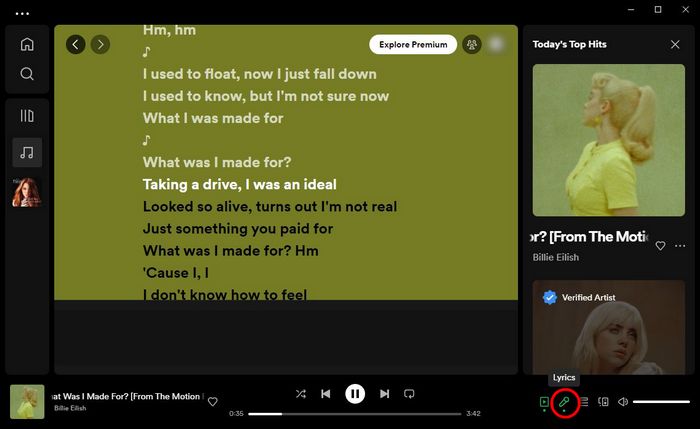 Part 2: How to Download Spotify Songs & Lyrics?
Numerous individuals aspire to enjoy Spotify music on alternative media players unrestricted. As you may be aware, Spotify employs protected OGG or AAC encoding, limiting seamless compatibility. Should you seek to obtain Spotify content in a universally recognized format, such as MP3, while simultaneously extracting lyrics files, a third-party solution becomes essential. My strong recommendation is to utilize the TunePat Spotify Converter. This tool empowers you to convert Spotify songs, albums, playlists, and podcasts into formats like MP3, AAC, FLAC, WAV, AIFF, or ALAC, all while retaining lyrics in LRC or TXT formats. Set apart from conventional recording tools, TunePat boasts swift batch conversion capabilities, achieving up to 10 times the normal speed for tasks like playlist conversion. Furthermore, the tool ensures the preservation of original audio quality and essential ID3 tags.
Once you acquire Spotify's MP3 files and accompanying lyrics, the ability to play your music on any multimedia player is within reach. Several music player applications support the importation and display of synchronized lyrics alongside songs. Prominent examples include MusicBee, AIMP, foobar2000, Winamp, VLC media player, and more. In some cases, the incorporation of a lyrics display plug-in is necessary. To encapsulate, TunePat Spotify Converter unlocks a realm of possibilities for maximizing your Spotify experience. Renowned for its simplicity and efficiency, this tool grants you access to your desired content with just a few straightforward clicks. Detailed operational steps are outlined below: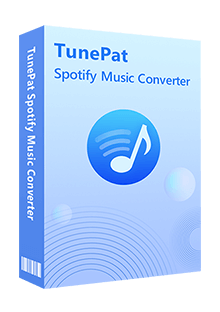 TunePat Spotify Converter
Download songs, albums, playlists, podcasts, and lyrics from Spotify.
Convert Spotify songs to MP3, AAC, WAV, FLAC, AIFF, or ALAC format.
Easily download ad-free Spotify music tracks to the local computer.
Get Spotify content at 10X conversion speed.
Keep ID3 tags and preserve lossless audio quality.
Converted Spotify songs can be played offline on various devices (such as Panasonic Smart TV, iPod, etc.) at any time.
Note: The steps outlined below are applicable to any Spotify account, although distinctions arise in terms of achievable sound quality. For Spotify Free accounts, the pinnacle of sound quality tends to cap around 160 kbit/s, whereas Premium accounts can attain the highest sound quality, reaching an impressive 320 kbit/s.
Step 1 Open TunePat Spotify Converter and you'll see two different conversion modes: App (Note that on Mac computers, this mode only supports 1x conversion speed. If you're using a Mac, it's recommended to use the Web player mode for faster conversions) and Web player. The App mode generally provides better audio quality. Select the mode based on your preferences. Then, log in to your Spotify account within the Spotify app or the embedded Spotify web player. Both Spotify Free and Premium accounts are supported.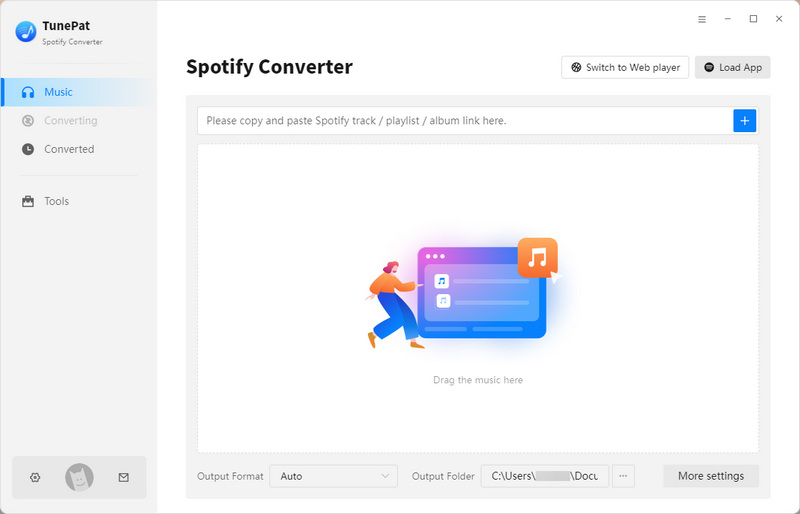 Step 2 Before selecting the songs you wish to download, head to the "Settings" interface to configure your output parameters. Here, you can customize output format (Auto, MP3, AAC, FLAC, WAV, AIFF, ALAC), output quality, output folder, output file name, file arrangement, and other options according to your preferences.
The "Save Lyrics (if provided)" toggle on this interface is disabled by default. To retain lyrics, activate this option and TunePat will automatically identify and download them, potentially producing LRC or TXT files. If the source file includes a timeline, it will be safeguarded as LRC; otherwise, it will be stored as TXT.
Step 3 Once your settings are configured, you can open the Spotify app or web player to select the songs you want to convert and retrieve lyrics for. Click the "Click to add" button on the right side, which will turn from gray to blue. TunePat will begin automatic recognition. After the parsing is complete, all the songs will be displayed in a popup window. You can manually select or deselect specific songs. Then, click the "Add" button to add the songs from the album to the main interface and wait for the conversion process.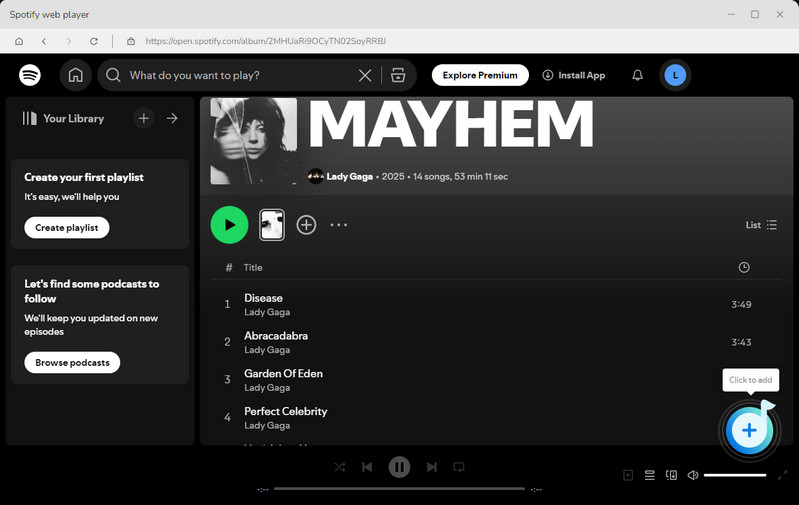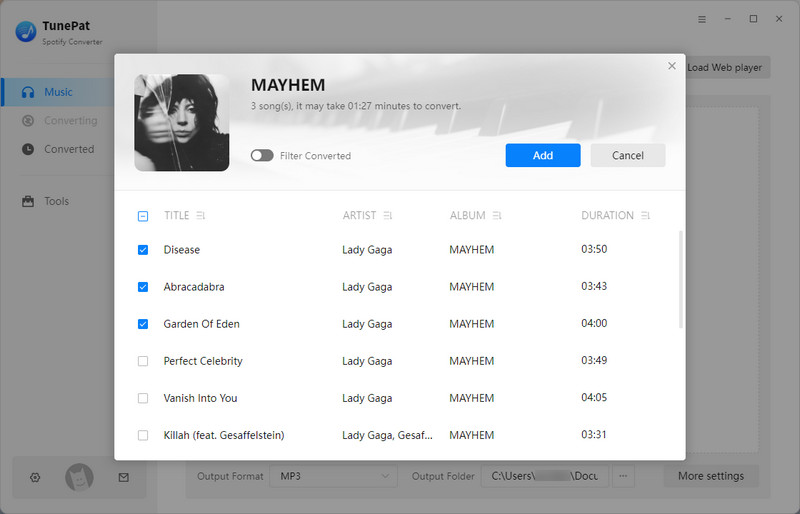 Step 4 In this interface, click "Convert" to initiate the conversion process. TunePat employs advanced conversion technology, so you won't need to wait for an extended period.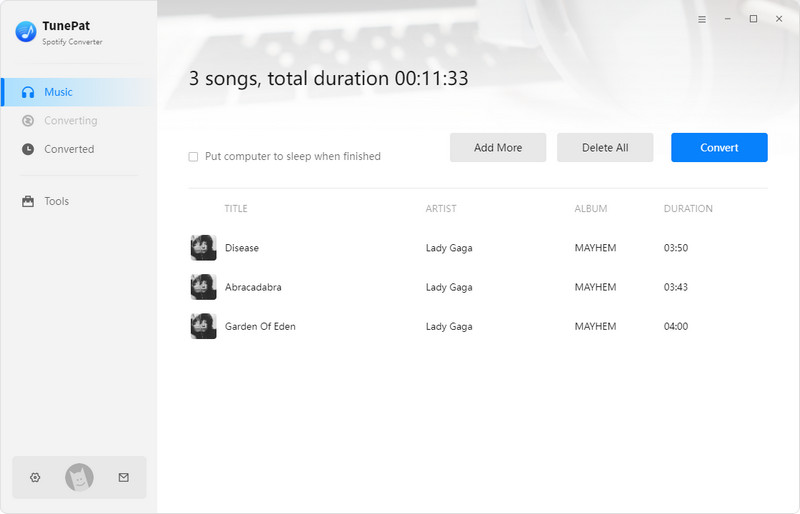 Step 5 Once the conversion is complete, you can navigate to the "Converted" module to browse through the converted content. Double-click on a song to start playing it. Click the "Show in Windows Explorer / Show in Finder" option to directly locate the converted Spotify music at its specific location on your local drive. Upon opening it, you'll also notice that you've obtained both the local audio files and the lyrics files simultaneously.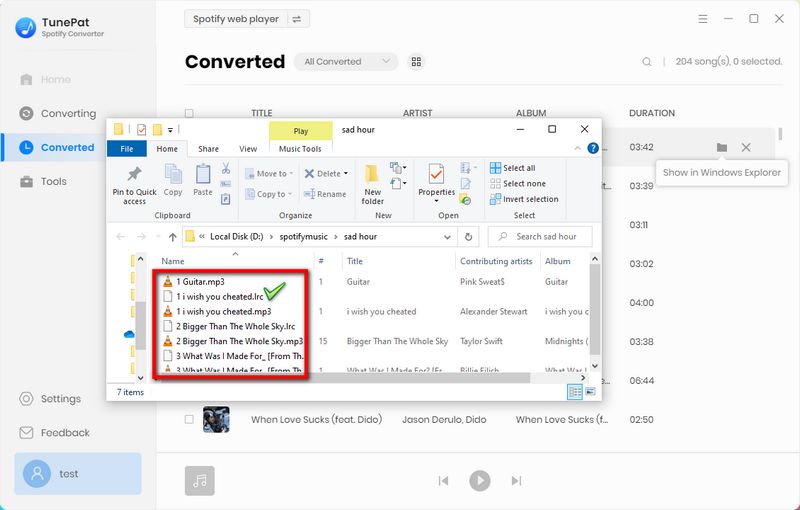 Conclusion
Finding songs on Spotify is incredibly straightforward, and you can easily share them on various social platforms via mobile, such as Facebook and more. If you're looking to enhance your Spotify experience, TunePat Spotify Converter is undoubtedly the tool you've been searching for. Download this program and effortlessly obtain Spotify content locally, saving it in the commonly used MP3 format while simultaneously exporting lyrics files. This ensures your songs can be enjoyed on any device or player. Don't hesitate any longer! Give it a try now!