How to Add Tidal Music to Rekordbox?
Rekordbox, as a professional DJ platform, offers a unified DJ experience across numerous devices. It also works with various global music streaming platforms like Tidal. Tidal Music controls a sizable portion of the streaming music business around the globe, standing out in the market for its Hi-Fi and even Hi-res audio streams. If you're wondering how to add Tidal Music to Rekordbox, read on to learn how to create a unique connection between Tidal Music and Pioneer DJ Rekordbox!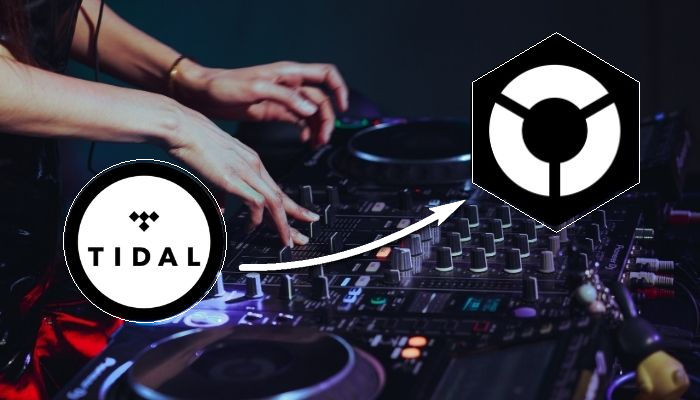 Part 1. Stream Tidal Music on Rekordbox Online with Premium
Tidal is one of the accessible music sources of Rekordbox, which means you are allowed to access your Tidal playlists, albums, and tracks for mixing directly from Rekordbox's interface. Before streaming Tidal tracks on Rekordbox, make sure you have Tidal Music App installed, a stable network, and a valid Tidal subscription.
Step 1 Download Rekordbox and click "Log in" next to TIDAL in the left menu panel.
Step 2 Once logged in, click "Allow" on the pop-up window.
Step 3 Enjoy browsing and mixing TIDAL songs on Rekordbox.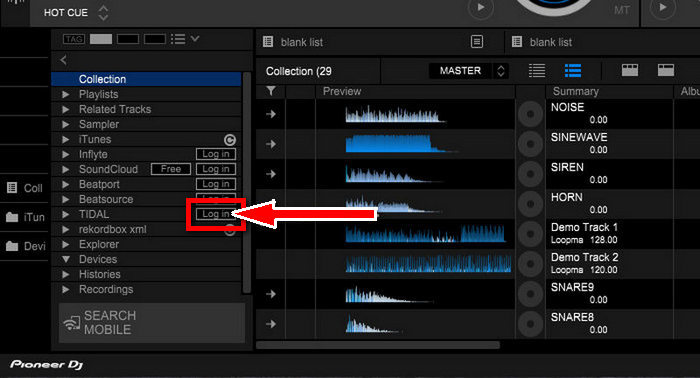 Part 2. Import Tidal Music to Rekordbox Offline without Premium
Although using Tidal on Rekordbox online is quite convenient, many users are not that satisfied with this method because it is affected by the network. Currently, Tidal Music is not supported the offline mode to access Tidal in Rekordbox without the internet. What about downloading Tidal music to mix on Rekordbox? Unfortunately, the directly downloaded Tidal Music songs could not be played or accessed on Rekordbox.
To solve this problem, you'll need a professional music program like TunePat Tidal Media Downloader if you want to add downloaded Tidal music to Rekordbox. You don't even have to renew your subscription when it has expired! Even if you only have a Free account, you can effortlessly download and save Tidal music with the help of this program. Here is an easy-to-follow tutorial for you to import Tidal Music to Rekordbox offline without Premium.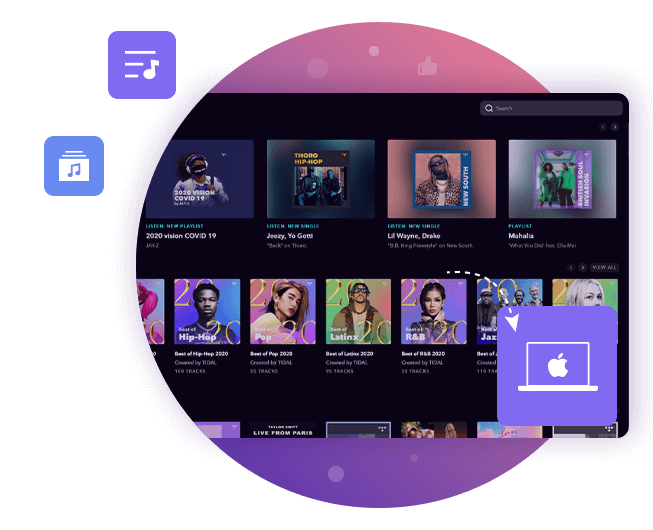 TunePat Tidal Media Downloader
TunePat Tidal Media Downloader enables users to download all Tidal content to MP3 or other common formats.
Downloaded Tidal Music songs, albums, playlists, and podcasts.
Convert Tidal songs to MP3, AAC, WAV, FLAC, AIFF, and ALAC formats.
Keep HiFi audio quality and ID3 tags.
10X faster download speed & support downloading multiple playlists in bulk.
With tools available to change output formats, edit tags and burn CDs.
Step 1 Downlad the TunePat Tidal Media Downloader.
Install TunePat Tidal Media Downloader first. When you run this program, two pages will appear: the TunePat main interface and the integrated Tidal web player. If the web player does not appear immediately, you can open it by clicking on the blue portion of the main interface or by selecting the "Open the webplayer window" button.

Then, follow the instructions and click "Log In" to enter your Tidal account information. After that, you are allowed to browse Tidal's music library freely.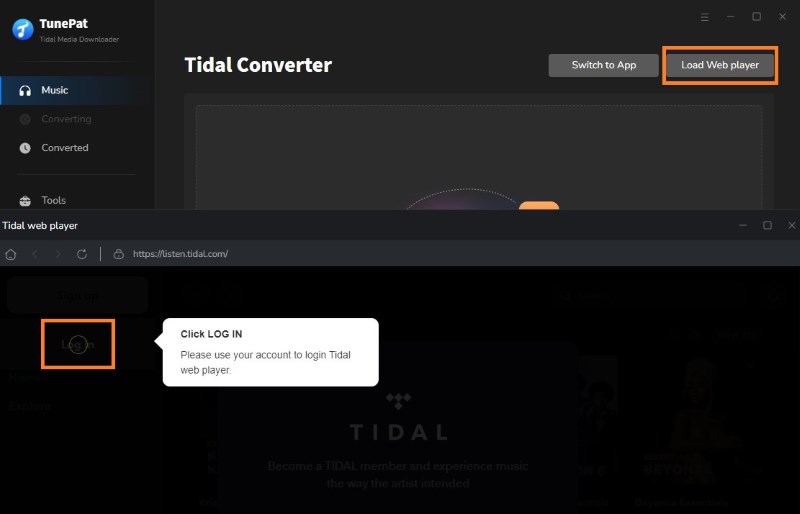 Step 2 Complete the settings.
To save Tidal Music tracks according to your preferences, go to the "Settings" interface and choose the output format you want. TunePat will export Tidal tracks in unprotected AAC or FLAC format in default if there is no modification.
You can change the following contents:
Conversion Mode: Intelligent Mode, Web Download, YouTube Download
Output Format: AUTO, MP3, AAC, WAV, FLAC, AIFF, ALAC
Bit Rate: 320kbps, 256kbps, 192kbps, 128kbps
Sample Rate: 192 kHz, 96 kHz, 48 kHz, 44.1 kHz
Output File Name: Track Number, Title, Artist, Album, Playlist Index, Year
Output Organized: None, Playlist, Artist, Album, Artist/Album, Album/Artist, Playlist/Artist, Playlist/Album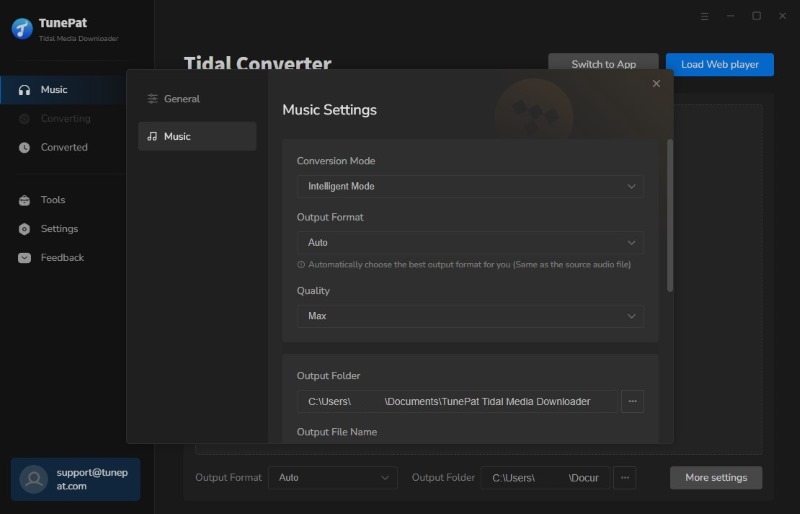 Tips: If you want to export Tidal Music with HiFi audio quality, please select AUTO mode.
Step 3 Browse Tidal songs and find the ones you want to convert.
After your modification, you can find the Tidal songs you want to download and tap the Click to add button in the lower right corner. TunePat will then detect the chosen songs in a pop-up list automatically.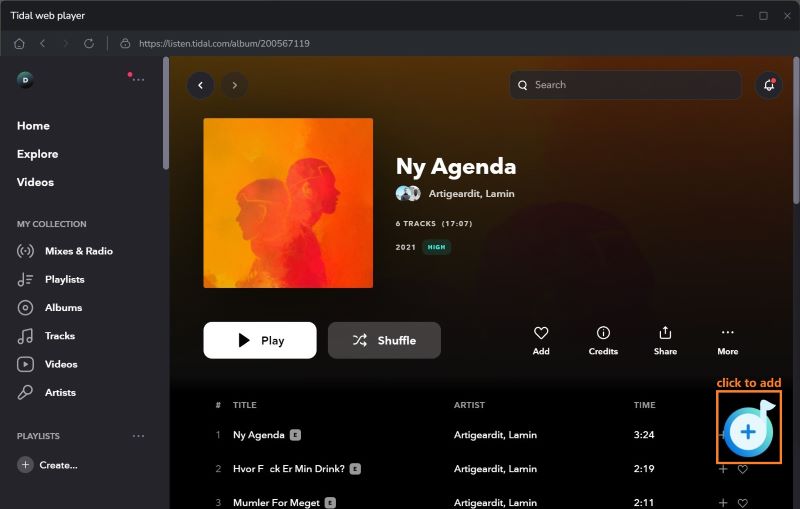 Step 4 Add Tidal songs to TunePat.
Add Tidal songs from different By default, all items will be selected, but you can deselect the ones by clicking them. Then, tap the Add button to add Tidal songs to TunePat.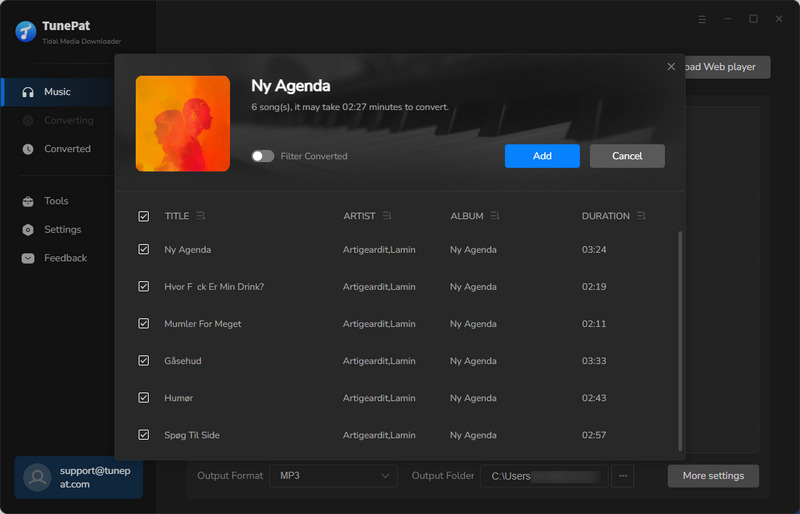 Step 5 Add more Tidal songs from different playlists.
You can either click the Convert button to initiate the conversion process right now or select the Add button to continue choosing other songs from different playlists.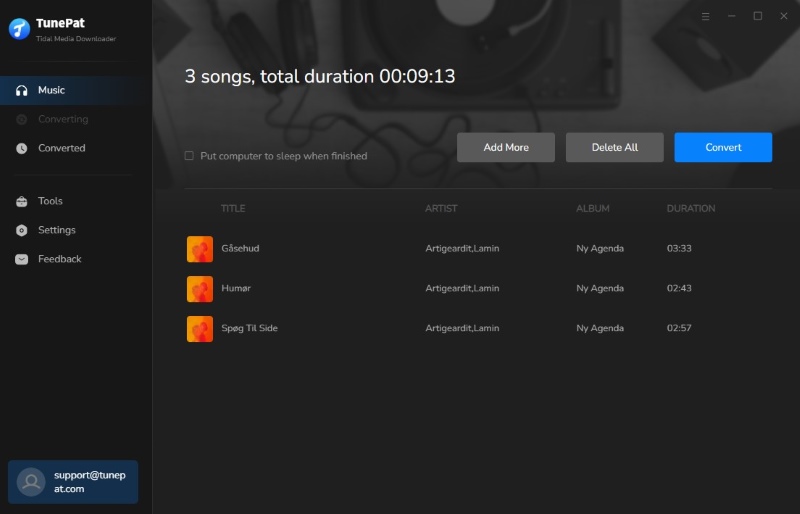 Step 6 Download Tidal tracks to your computer.
Once you click the Convert button, this program will take a short time to convert Tidal songs for you in the Converting interface. After the conversion, you can locate the successfully converted Tidal songs in the Converted interface.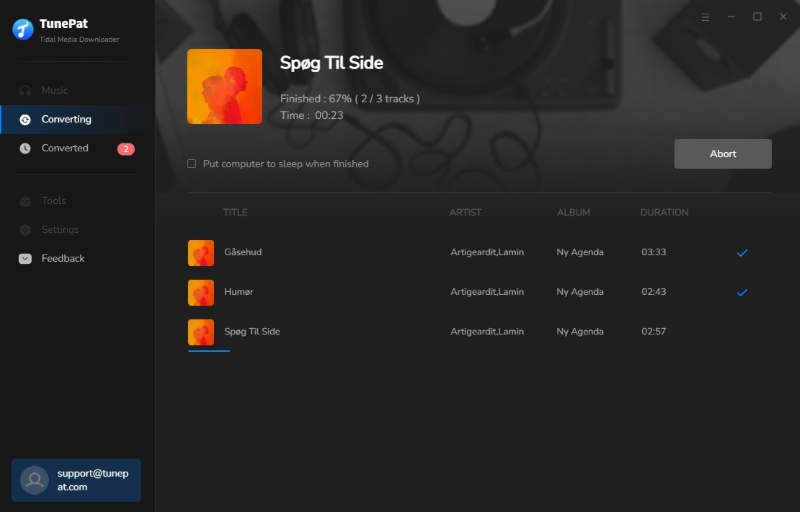 The converted songs will be saved in the output folder you previously specified in Settings. Without an internet connection, these Tidal tracks can still be streamed on Rekordbox.
Step 7 Import Tidal songs to Rekordbox.
On PC/Mac:
Open Rekordbox, select "File" at the top left, and choose "Import" > "Import Folder". Or you can navigate to "Explorer" on the left menu panel, find the Tidal tracks' output folder, and then mix Tidal Music playlists without network and obstruction.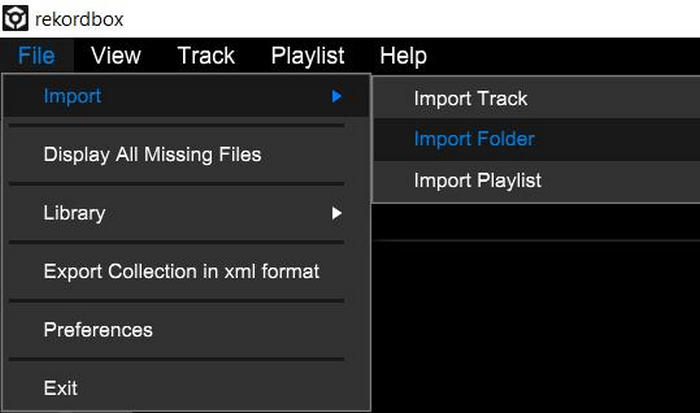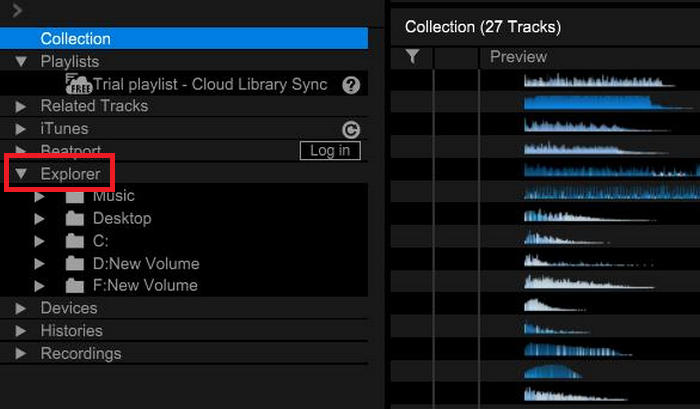 On iOS/Android:
If you want to do the mixing on your smartphone, you can transfer the Tidal music files to your device and select the arrow icon on the upper left corner of Rekordbox. Then select "Import songs" > "All songs" to add them for mixing.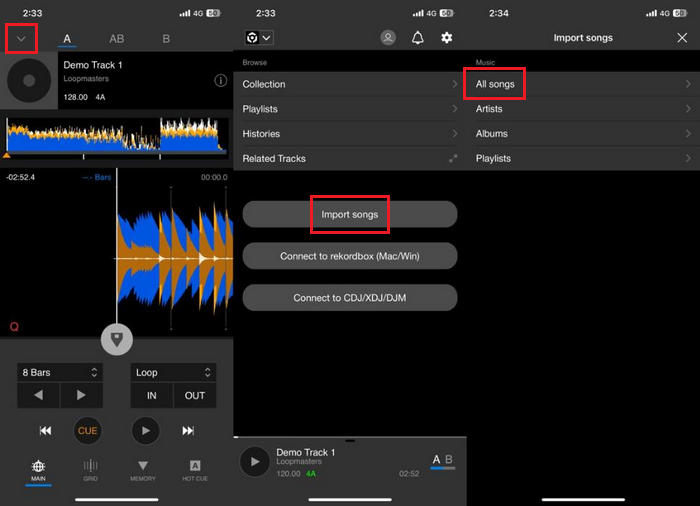 Part 3. FAQs about Using Tidal with Rekordbox
Q1: What Can I Do When Tidal Not Showing in Rekordbox?
Make sure you have downloaded the Tidal Music App first. Click "File" in the top left corner and then choose "Preferences" to see if Tidal has been checked in the "View" section. If this is not working, try reinstalling Rekordbox. Don't touch "Cancel" while connecting Tidal to Rekordbox.
Q2: Why does not the Tidal login window display properly in my browser?
You might be using a browser that's not supported by Tidal Music. Make sure you set Google Chrome, Firefox, Safari, Microsoft Edge, Opera, Vivaldi, or Brave (No support for HiFi Streaming) as your default browser.
Q3: Can I Use Rekordbox with Tidal for Free?
To use Tidal in Rekordbox, you will need a Tidal HiFi or HiFi Plus plan. If you're a new user of Tidal, just sign up for a free account and use TunePat Tidal Media Downloader. As a result, you can save Tidal tracks and add them to Rekordbox without a subscription.
Conclusion
In this article, we show you how to stream Tidal Music on Rekordbox and how to import local Tidal Music tracks to Rekordbox. When all pros and cons are considered, the offline method triumphs over the online one. Under certain conditions, mixing Tidal Music offline is more convenient and stable.
TunePat Tidal Media Downloader supports downloading Tidal songs, albums, playlists, and podcasts to local files in MP3, AAC, WAV, FLAC, AIFF, and ALAC formats at 10X faster speed. It not only allows to import Tidal music into Pioneer DJ Rekordbox, but it also allows to effortlessly import Tidal tracks into numerous other DJ programs. Furthermore, it may transmit downloaded Tidal tracks to a variety of portable devices for offline listening without restriction. Don't pass up this fantastic opportunity to mix high-quality Tidal music! Click the button below and have a try.