How to See & Download Lyrics on TIDAL
The practice of reading song lyrics alongside listening is popular due to its multifaceted benefits. Lyrics serve as a conduit for understanding the emotions, stories, or messages embedded within songs, forging a deeper connection with the listener. Additionally, studying lyrics aids in memorization, enabling listeners to actively participate in singing along. Moreover, lyrics embody a distinct form of artistic expression, offering a glimpse into the artist's creative vision and perspective.
Many individuals find pleasure in reading song lyrics alongside listening, for it deepens their understanding of the music. With this in mind, viewing lyrics has become an important feature on major music streaming services. TIDAL is no exception. In today's article, we will introduce how to view and download TIDAL music lyrics.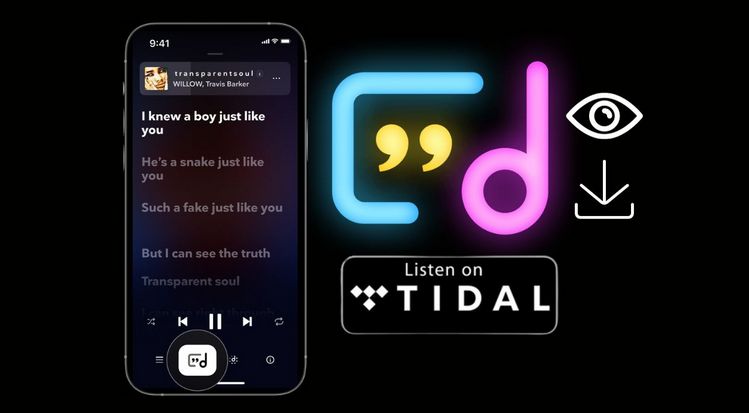 Part 1. How to See Lyrics on TIDAL?
Finding lyrics on Tidal is a simple process on iPhone and Android devices.
1.1 View TIDAL Lyrics on iPhone/Android: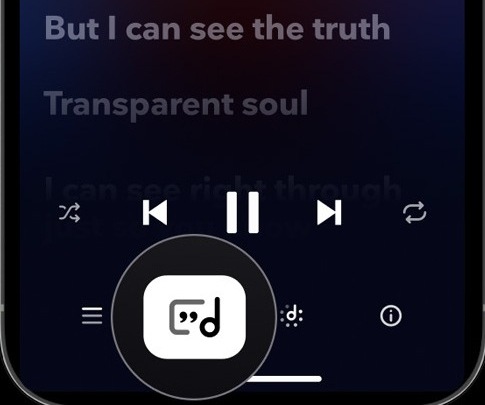 Step 1 Locate the TIDAL app on your iPhone or Android and open it.
Step 2 Choose a song you'd like to listen to.
Step 3 Tap on the song to start playing it or go to the Now Playing screen.
Step 4 While the song is playing, look for the speech bubble icon. It's usually located at the bottom of the screen. Tap on it.
Step 5 The lyrics for the song will appear on the screen, and they will synchronize with the music.
To access TIDAL lyrics on a Windows or Mac computer, the process is slightly different. Here are the steps:
1.2 Access to TIDAL Lyrics on Windows/Mac: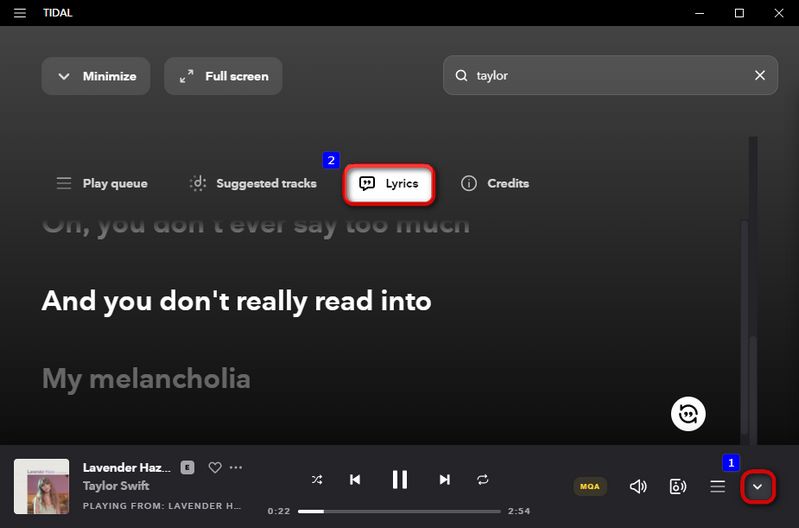 Step 1 First, open TIDAL on your computer desktop and log in.
Step 2 Use the search bar to find a song you want to listen to.
Step 3 Click on the song to start playback.
Step 4 On the far right side of the song playback bar below, you can see a downward arrow button. Click this button.
Step 5 Find the Lyrics icon and click it, and the song will appear. The sentence being played is highlighted.
---
Part 2. FAQs about TIDAL Lyrics
Q1: Are lyrics provided for all songs on TIDAL?
While TIDAL does offer lyrics for a substantial number of songs, it's important to note that not every track in its library may have lyrics available.
Q2: Is TIDAL's lyric service inclusive of all languages and genres?
TIDAL predominantly offers lyrics in 41 languages, spanning Afrikaans, Arabic, Azerbaijani, Bengali, Bulgarian, Chinese (Simplified), Chinese (Traditional), Croatian, Czech, English, Danish, Dutch, Filipino, Finnish, French, German, Greek, Hebrew, Hindi, Hungarian, Indonesian, Italian, Japanese, Korean, Malay, Mongolian, Nepali, Norwegian, Persian, Polish, Portuguese, Romanian, Russian, Serbian, Slovak, Spanish, Swedish, Thai, Turkish, Ukrainian, and Vietnamese. The accessibility of lyrics can be contingent on the genre and popularity of the song.
Q3: Can I access lyrics on all TIDAL subscription tiers?
Yes, lyrics are typically accessible to all TIDAL subscribers, encompassing those on the free trial, HiFi, and HiFi Plus tiers.
Q4: Is it possible to contribute or rectify lyrics on TIDAL?
TIDAL commonly derives its lyrics from external databases. As a result, users generally do not have the capability to directly add or amend lyrics within the platform.
Q5: Can I view lyrics through the web version of TIDAL?
Yes, you can usually peruse lyrics on the web version of TIDAL in a manner akin to the TIDAL desktop app.
Q6: Do lyrics synchronize with the music playback on TIDAL?
Yes, for the most part, lyrics are synchronized with the song's playback, enabling you to seamlessly follow along in real-time.
Q7: Can I access TIDAL lyrics on my television?
Regrettably, no. This feature is exclusively accessible via TIDAL's mobile applications (iOS and Android) as well as on desktop/web.
Q8: Can I utilize TIDAL lyrics for Karaoke?
While each line of the song is highlighted as it plays, it does not highlight each individual word as in traditional karaoke. Nevertheless, this feature can still be used for singing along.
Q9: How can I resolve the issue of TIDAL not displaying lyrics?
Solution 1: Verify Song Availability - It's essential to confirm the availability of lyrics for a particular song, as TIDAL does not offer lyrics for every song in its library.
Solution 2: Keep Your TIDAL App Updated - Ensure that your device has the most recent version of the TIDAL app installed. Using outdated versions may lead to compatibility issues.
Solution 3: Restart and Refresh the App - Completely close the TIDAL app and then restart it. This action can effectively resolve minor issues that might be causing the problem. In addition, for Android users, you can navigate to your device's Settings > Apps > TIDAL > Storage > Clear Cache and Clear Data. This procedure resets the app to its default settings, although it does require you to log back in.
Solution 4: Maintain a Stable Internet Connection - It's important to have a consistently stable and active internet connection. Slow or intermittent connections can occasionally hinder the proper loading of lyrics.
Solution 5: Consider App Reinstallation - If the aforementioned steps do not yield a solution, it may be advisable to uninstall the TIDAL app and then reinstall it.
Solution 6: Verify Your TIDAL Subscription - Ensure that you have an active subscription with TIDAL. Certain features, including lyrics, might be limited or unavailable for users on free trial or lower-tier accounts.
---
Part 3. How to Download TIDAL in FLAC with Lyrics Files Exported?
TIDAL provides us with an easy way to view lyrics, whether accessed through mobile phones, desktops, or web players. However, for many users, they have the need to play TIDAL music offline. Unfortunately, TIDAL's offline function is currently only available to mobile phone users. If you want to enjoy TIDAL music offline on the desktop, you can choose to use TunePat Tidal Media Downloader to obtain FLAC files from the TIDAL app or web player, and export the corresponding song lyrics files to LRC or TXT files.
What is TunePat Tidal Media Downloader? This is a well-designed audio converter that is industry-leading in terms of output sound quality and conversion speed. Even if you are just a TIDAL Free user, you can use this tool to get the playlist you want. Through this tool, you can batch-save TIDAL playlists to your computer in MP3, AAC, FLAC, WAV, and other formats. You can have the same excellent experience as when listening to music online on TIDAL, with sound quality up to Hi-Res, complete ID3 tag information, and intelligent output file arrangement. Next, let's take a look at the specific steps!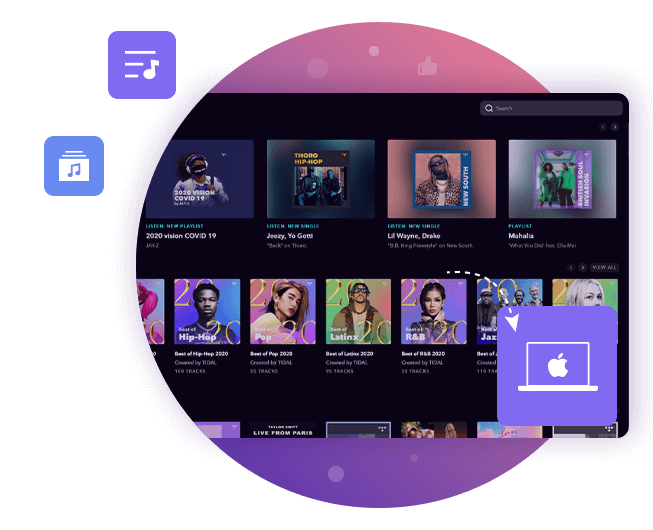 TunePat Tidal Media Downloader
TunePat Tidal Media Downloader enables users to download all Tidal content to MP3 or other common formats.
Downloaded Tidal Music songs, albums, playlists, and podcasts.
Convert Tidal songs to MP3, AAC, WAV, FLAC, AIFF, and ALAC formats.
Keep HiFi audio quality and ID3 tags.
10X faster download speed & support downloading multiple playlists in bulk.
With tools available to change output formats, edit tags, and burn CDs.
Download the appropriate version of TunePat Tidal Media Downloader on your Windows or Mac computer, then launch the software to access two entrances. TIDAL songs downloaded from these sources differ based on whether they were obtained through the TIDAL App or Web player:
Tidal (App) mode runs at 5x speed on Windows and 1x on Mac. It is possible to maintain the Max quality sound for TIDAL music, known as "Master quality". To use this mode, ensure that the TIDAL app is installed on your computer beforehand and log in to your TIDAL account.
When using Tidal (Web player), the "HiFi (High)" sound quality can be sustained while playing at 10 times the regular speed. No need to download the TIDAL app, complete the entire process using the web player embedded in the TunePat program.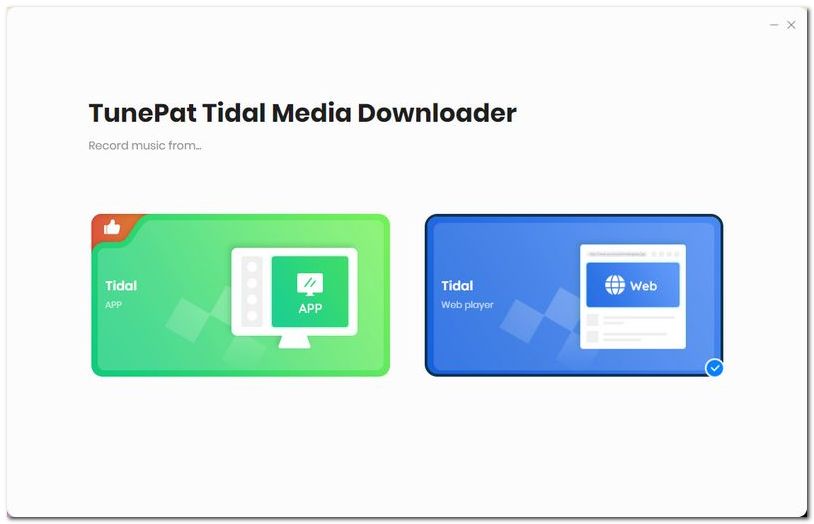 Step 1 Parse the TIDAL content you want to convert.
Tidal (App): Please ensure that you have successfully logged in to your TIDAL account before attempting to add songs to TunePat for parsing. You may add songs in two ways: first, locate the desired song and then drag its cover to the Drag the music here position on the home page. The song will be automatically parsed once you release the mouse. Alternatively, you may copy and paste the corresponding song, playlist, or album URL into the specified location and click "+" to begin parsing.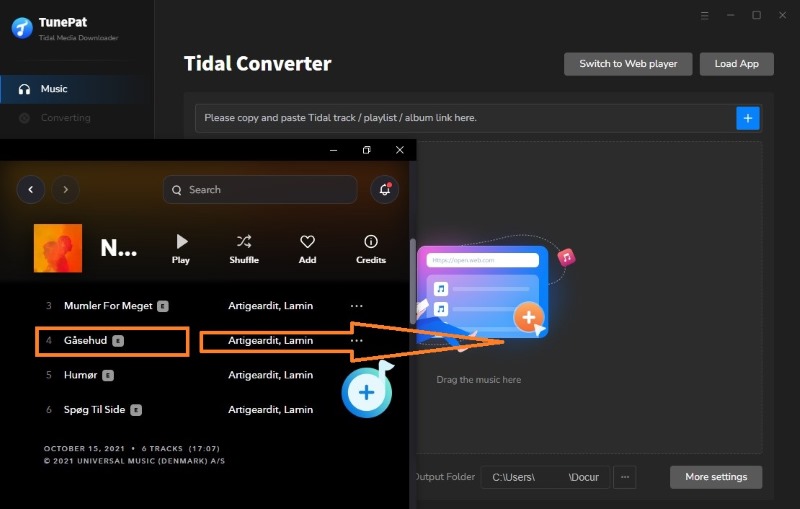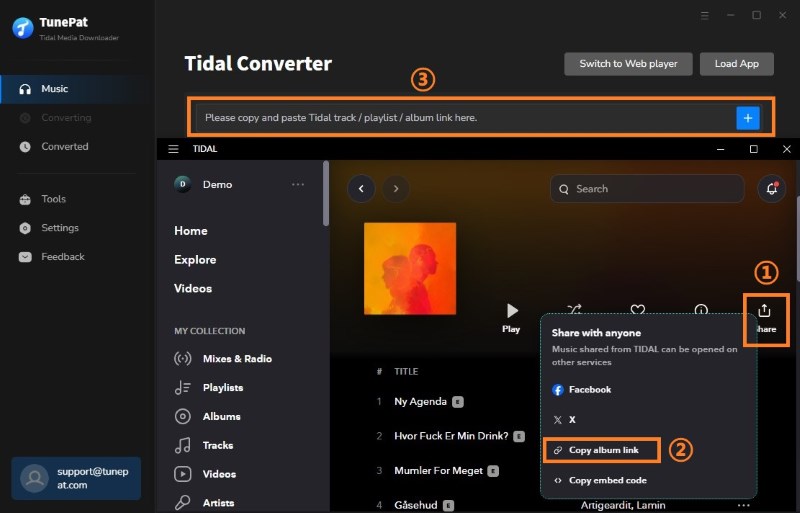 Tidal (Web player): When using the web player mode, the Tidal web player window will pop up automatically. Alternatively, you can open the web player window manually by clicking the "Open the web player window" button on the Home interface. Be sure to follow the on-screen instructions to complete the account login process. Once logged in, select the desired song you wish to convert and click the "Click to add" button in the lower right corner to start reading.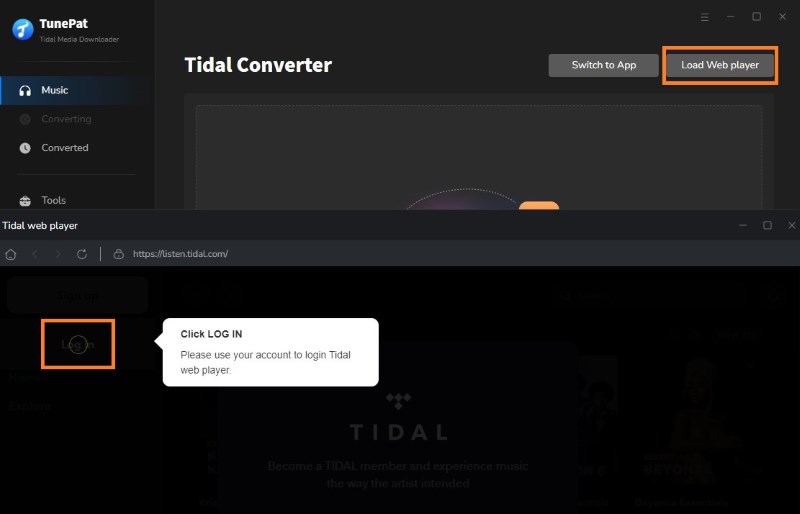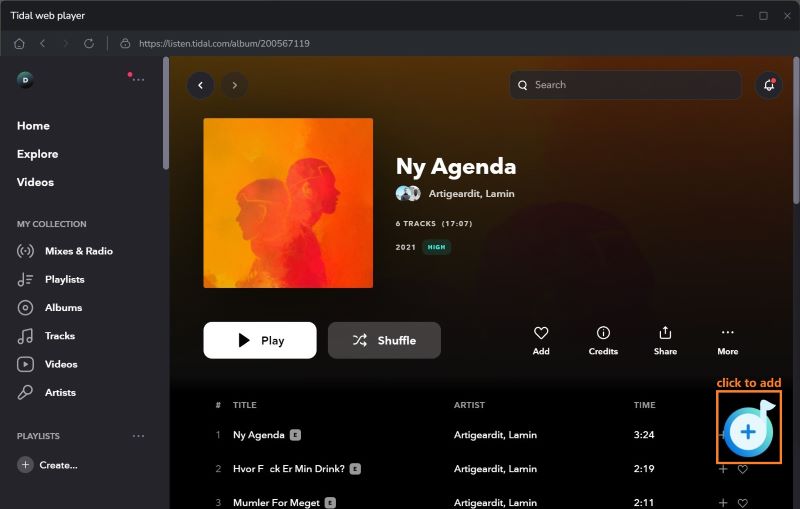 Step 2 Add the desired TIDAL songs to TunePat.
Once the selected TIDAL content has been parsed successfully, it will appear in a pop-up window. By default, all titles in the pop-up window are pre-selected. You can manually check or uncheck songs based on your specific needs. Once you have made your selection, click on the "Add" button to add the chosen songs to your Home interface and wait for the conversion to take place.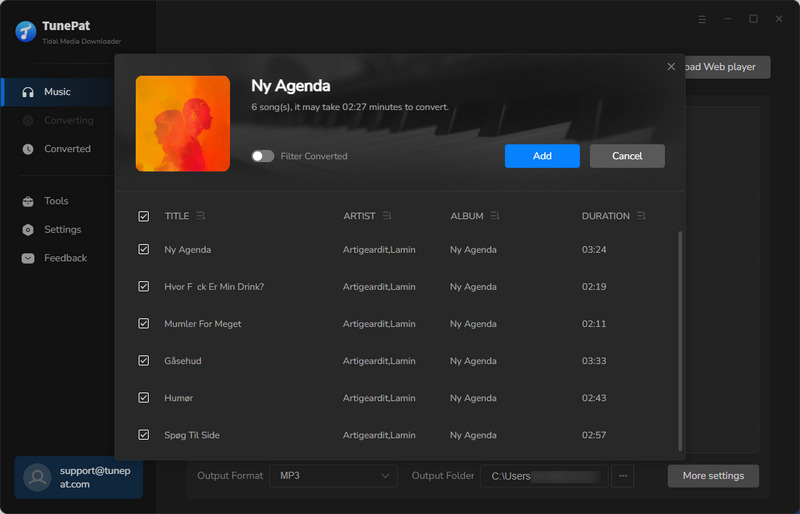 Step 3 Customize the output settings.
Before beginning the conversion process, access the "Settings" option located in the lower-left corner of the interface. Navigate to the settings panel to customize various parameters, including conversion mode, output format, bit rate, sample rate, output folder, etc.
To obtain TIDAL music with the original sound quality (HiFi or Master sound quality), select "Web Download" or "Tidal Record" in the Conversion Mode column. In the format column, use the default "Auto" or change it to "FLAC".
You can change the following contents:
Conversion Mode: Intelligent Mode, Web Download/Tidal Record, YouTube Download
Output Format: Auto, MP3, AAC, WAV, FLAC, AIFF, ALAC
Bit Rate: 320kbps, 256kbps, 192kbps, 128kbps
Sample Rate: 192 kHz, 96 kHz, 48 kHz, 44.1 kHz
Output File Name: Track Number, Title, Artist, Album, Playlist Index, Year
Output Organized: None, Playlist, Artist, Album, Artist/Album, Album/Artist, Playlist/Artist, Playlist/Album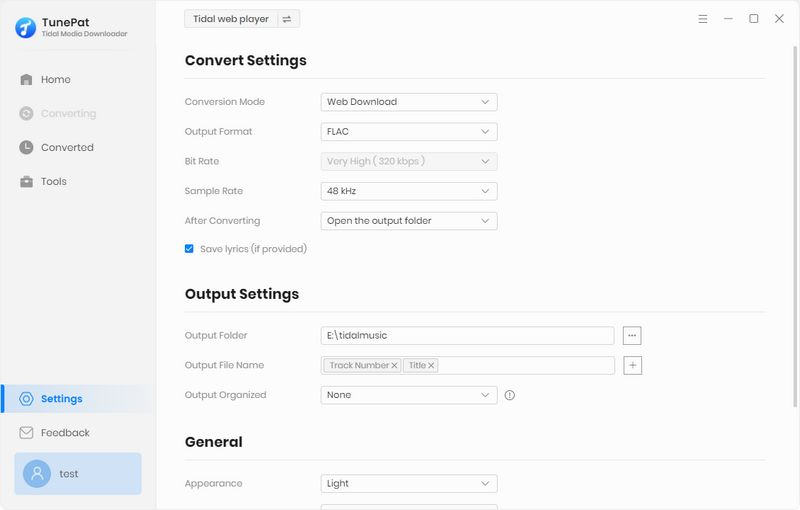 Step 4 Convert the Tidal songs to computer as FLAC files.
Click the "Convert" button to initiate the conversion process instantly. If you have multiple songs to add and convert at once, select the "Add More" button.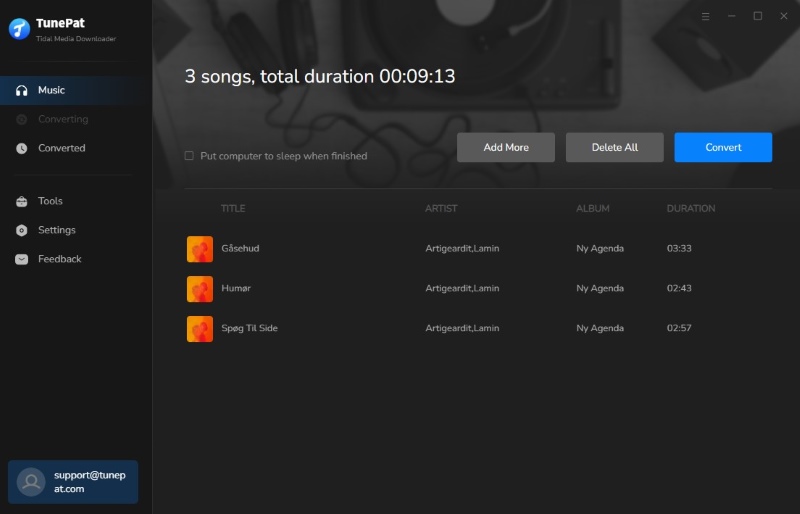 Step 5 Browse converted TIDAL music and lyrics files.
The next thing you need to do is wait patiently. After the conversion is completed, the output folder will pop up automatically, and you can see that you have obtained the TIDAL song in FLAC format, and the lyrics file of the corresponding song has also been saved as a TXT or LRC file. After opening the lyrics file, each lyric will be displayed clearly, with the LRC file displaying a timeline.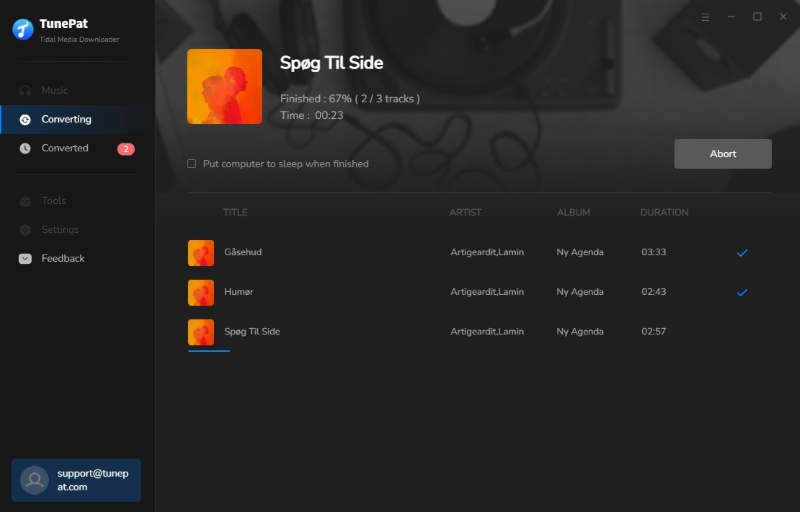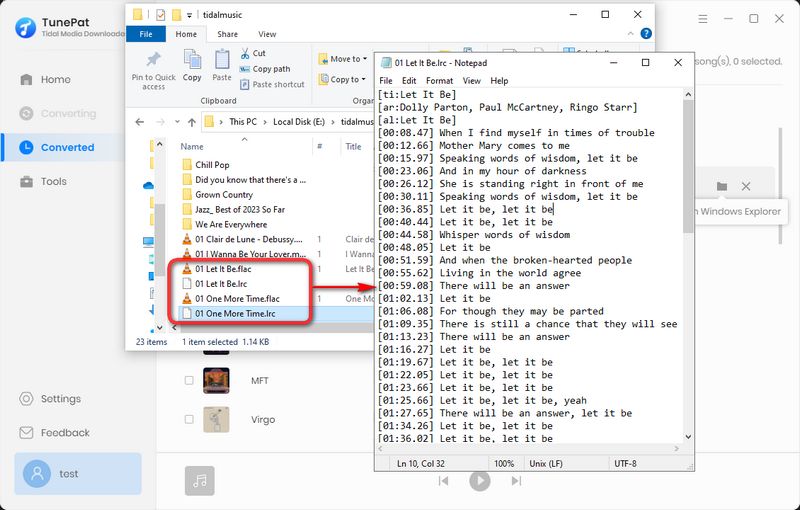 ---
Conclusion
As previously stated, lyrics hold significant importance for those who listen to music. Maybe soon you will be able to show off your singing voice. To access lyrics on TIDAL, simply click the song being played and locate the lyrics icon. If issues arise, consult the FAQs provided for assistance.
There is no official method of downloading TIDAL lyric files, but we've addressed this concern effectively. TunePat Tidal Media Downloader can assist in obtaining various audio files from TIDAL and securing them permanently. These files may be modified or shared without being impacted by subscriptions or the TIDAL app. Most importantly, you can also get the lyrics file simultaneously, killing two birds with one stone! The "Download" button is just below. Click to install quickly.