Qobuz vs. Tidal: Which one is better?
In the ever-evolving landscape of music streaming, discerning audiophiles seek platforms that not only deliver uncompromising audio quality but also stand out in every field. Qobuz and Tidal, two prominent contenders in the high-fidelity streaming arena, have garnered significant attention. Both services offer lossless audio streaming, extensive music catalogs, and unique features. Qobuz boasts an impressive library of over 100 million tracks, while Tidal also offers a vast collection, along with exclusive content.
Are you confused to decide which one to use? In this comprehensive comparison, we'll explore the subscription plans, music catalog, audio quality, and compatibility of both services. Discover which platform reigns supreme in the world of high-fidelity music streaming.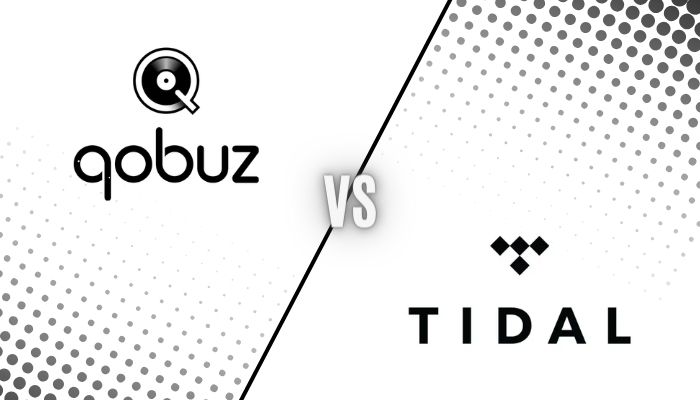 Qobuz vs. Tidal: Subscription Plans
When examining the pricing and subscription plans of Qobuz and Tidal, it is crucial to take into account the range of options provided to accommodate diverse user preferences and budgets. Both platforms offer multiple tiers, enabling users to select the plan that aligns with their specific requirements. Now, let's explore the specifics of their subscription plans:
| Qobuz Subscription Plan | Studio | Sublime |
| --- | --- | --- |
| Solo Plan Price | $10.83/month (Annual plan) or $12.99/month | $15.00/month (Annual plan) |
| Duo Plan Price | $14.99/month (Annual plan) or $17.99/month | $22.49/month (Annual plan) |
| Family Plan Price | $17.99/month (Annual plan) or $21.90/month | $29.17/month (Annual plan) |
| Access to the entire music catalog (over 100 million tracks) | √ | √ |
| Ad-free | √ | √ |
| Audio Quality | Up to FLAC 24-Bit up to 192 kHz | Up to FLAC 24-Bit up to 192 kHz |
| Support paying monthly | √ | × |
| Download music for listening offline | × | √ |
| Additional benefits for purchasing Hi-Res downloads | × | √ |
Qobuz doesn't offer a free plan option currently and it only supports annual purchases when it comes to the Sublime Plan. You can get a more cost-effective price if you purchase more accounts. For example, it costs $17.99/month for Family subscribers with up to six accounts, which is about $47 off. If you subscribe to the Sublime Plan, you will get discounts on Hi-Res purchases of up to 60%.
| Tidal Subscription Plan | Tidal Free | Tidal HiFi | Tidal HiFi Plus |
| --- | --- | --- | --- |
| Price | $0 | $10.99 | $19.99 |
| Access to the entire music catalog (over 100 million songs and 650 thousand videos) | √ | √ | √ |
| Ad-free Content | × | √ | √ |
| Audio Quality | Up to 160 kbps | Up to 1411 kbps | Up to 9216 kbps (Master Quality Authenticated, Dolby Atmos, Sony 360 Reality Audio) |
| Unlimited skips | × | √ | √ |
| Support offline playback | × | √ | √ |
| Support TIDAL Connect | × | √ | √ |
Tidal offers a 40% discount to US military personnel and first responders, and a 50% discount to students while Qobuz does not currently offer specific discounts for a particular group of people. It's worth noting that both platforms occasionally offer promotional discounts and special offers, so it's advisable to keep an eye out for any ongoing deals.
In terms of pricing, Qobuz's Sublime plan, with discounted high-resolution downloads, may be worth the investment. However, Tidal's HiFi plan is absolutely more affordable than Qobuz's Studio plan if you choose to pay monthly, making it a more attractive option for budget-conscious users. Besides, paying an annual fee at once might make users hesitant. By the way, the Tidal Hi-Fi Plus plan guarantees that your favorite artist will receive up to 10% of your subscription so you can support your idol directly through this plan.
Qobuz vs. Tidal: Music Catalog
The true measure of a streaming service lies in the breadth and depth of its music library. Let's explore the musical offerings of Qobuz and Tidal, evaluating their catalogs to determine which platform stands out.
Qobuz, originating from France, boasts an impressive collection of over 100 million tracks. However, many users have reported that certain tracks are unavailable, indicating that location plays a significant role. While Qobuz offers a vast library in Europe, it lacks licenses to stream in the U.S., resulting in a smaller catalog for American users. Additionally, Qobuz focuses solely on music and does not offer any other content like videos.
Tidal, on the other hand, presents a formidable collection of over 100 million tracks, aiming to rival Qobuz in sheer quantity. As we all know, with a location limitation, Qobuz's library has gaps and is lacking in comparison. With a more extensive library, Tidal emerges as a strong alternative. Tidal even dedicates a separate tab to music videos for users to download for later viewing.
It's important to note that the size of the music catalog is not the sole determinant of a music streaming service's quality. Factors such as curation, track selection, and availability of exclusive content also greatly impact the user experience. Tidal users appreciate the platform's extensive catalog, diverse genres, and original video and live content. Tidal's broader range of offerings, including podcasts, audiobooks, and other audio files, makes it more accommodating compared to Qobuz.
In summary, Qobuz and Tidal may have a similar quantity of music library in certain regions, but Tidal's extensive catalog and diverse content make it a strong contender in the streaming service arena.
Qobuz vs. Tidal: Audio Quality
Both Qobuz and Tidal offer the FLAC lossless format, which preserves the original audio quality and delivers uncompressed songs. Let's delve into a more detailed comparison of the sound quality provided by the two platforms.
Both platforms offer three audio quality options. Qobuz offers MP3 at 320 Kbps, CD Quality at 16-bit/44.1 kHz, and Hi-Res Audio at 24-bit/up to 192 kHz, providing a versatile and exceptional range. On the other hand, Tidal offers standard AAC quality at 160 Kbps, FLAC Lossless quality at 1,411 Kbps, and Master MQA Hi-Res quality at 2,304 to 9,216 Kbps, which are also commendable options. Upon examination, it becomes apparent that Qobuz offers a higher maximum frequency for High-Res streaming compared to Tidal.
Based on the specifications mentioned above, in terms of sound quality, Qobuz has the advantage for artists who are very sensitive and demanding about sound quality. But Tidal's MQA (Master Quality Authenticated) format allows for streaming music files at very high bitrates, satisfying most people actually. Users can choose one that best suits their preferences and requirements.
Qobuz vs. Tidal: Compatibility
In today's fast-paced world, it is crucial for a streaming service to be compatible with a wide range of devices, ensuring an uninterrupted listening experience across various platforms and devices.
Qobuz demonstrates remarkable adaptability by offering compatibility with numerous devices, including smartphones, tablets, computers, media players, and more.
Similarly, Tidal also boasts impressive compatibility, effortlessly working with smartphones, cars, tablets, smartwatches, computers, media players, smart TVs, and various home audio systems.
Users often prefer Tidal over Qobuz due to the Tidal Connect feature released in October 2020. Tidal Connect allows users to stream music directly from the Tidal app to Tidal Connect-enabled devices, offering a convenient way to enjoy Tidal's high-quality tracks. With this feature, users can control playback and music selection from the Tidal app on their smartphones and stream Tidal tracks directly on supported devices.
Overall, Tidal Connect enhances the flexibility of enjoying Tidal's high-quality music by enabling seamless streaming to compatible devices, expanding listening options, and allowing users to enjoy their favorite tracks on their preferred devices with ease.
Attention: Even if Tidal supports a large range of devices, it won't support all of them, and Tidal Connect can only be used on one device at a time currently. Tidal limits the usage and playback of Tidal songs to authorized devices and the Tidal app just like many other music streaming services. As a result, you need a professional tool to help download Tidal songs to your PC so that you can enjoy the downloaded Tidal songs on a broader range of devices and media players that may not natively support Tidal's encrypted format.
Extra Tips: How to Download Tidal Music for offline playing?
As mentioned above, Tidal does not provide an option to download music directly for offline playback or unlimited usage. However, there is a solution available——TunePat Tidal Media Downloader, a reliable program designed specifically for downloading songs, playlists, and albums from Tidal. It also provides the ability to convert them into common formats such as MP3, AAC, WAV, FLAC, AIFF, or ALAC. With this tool, you can enjoy the convenience of downloading Tidal music at a 10X conversion speed, while preserving the ID3 tags and their lossless audio quality. Most importantly, the program can even help you obtain Hi-Fi or up to Master sound quality.
By using this program, you can easily download Tidal music directly to your computer and transfer them to any device for offline listening. This tool provides an efficient way to enjoy your favorite Tidal tracks without any limitations.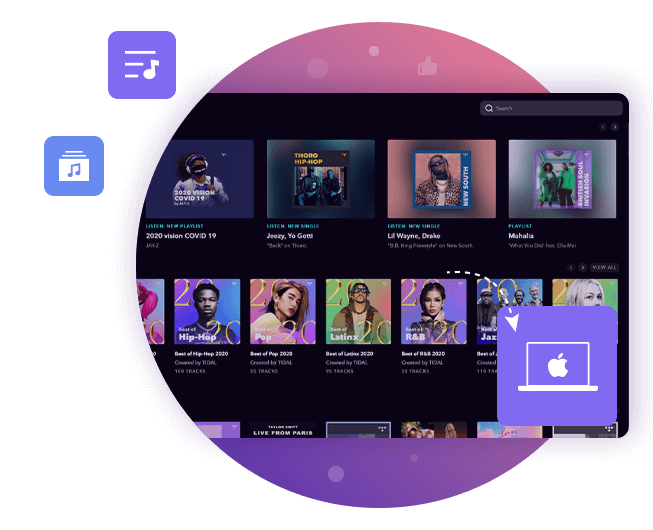 TunePat Tidal Media Downloader
TunePat Tidal Media Downloader lets users download all Tidal content to MP3 or other standard formats.
Downloaded Tidal Music songs, albums, playlists, and podcasts.
Convert Tidal songs to MP3, AAC, WAV, FLAC, AIFF, and ALAC formats.
Keep Master & HiFi audio quality and ID3 tags.
10X faster download speed & support downloading multiple playlists in bulk.
Step 1 Run TunePat and Choose a Conversion Mode.
Once you launch TunePat Tidal Media Downloader, you will have the option to choose between the App and Webplayer modes.
In the App mode, you can obtain audio files with the highest sound quality, including up to Master quality, directly from the Tidal app. The conversion speed in App mode is either 1X or 5X.
Webplayer mode offers a conversion speed of up to 10X while retaining HiFi sound quality. This mode eliminates the need to download additional applications. Instead, you can log in directly to your Tidal account using the embedded Tidal web player.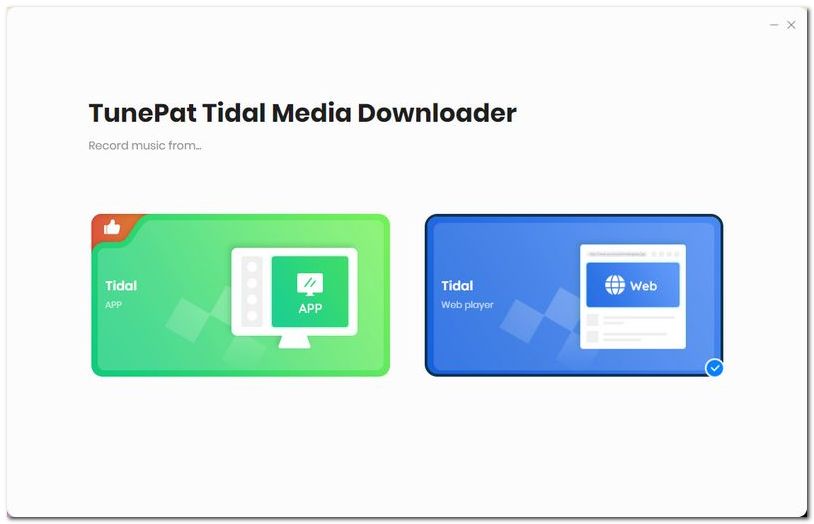 Step 2 Add Tidal Songs to TunePat's Conversion list.
Using the App Mode, you have two options to add the desired content for conversion. Firstly, you can drag and drop the target item from the Tidal app onto the specified location on the home interface of TunePat. Alternatively, you can copy and paste the link of the Tidal music, album, playlist, or podcast you want to convert into TunePat for parsing. Once parsed, the content will appear in a pop-up window, ready for further action.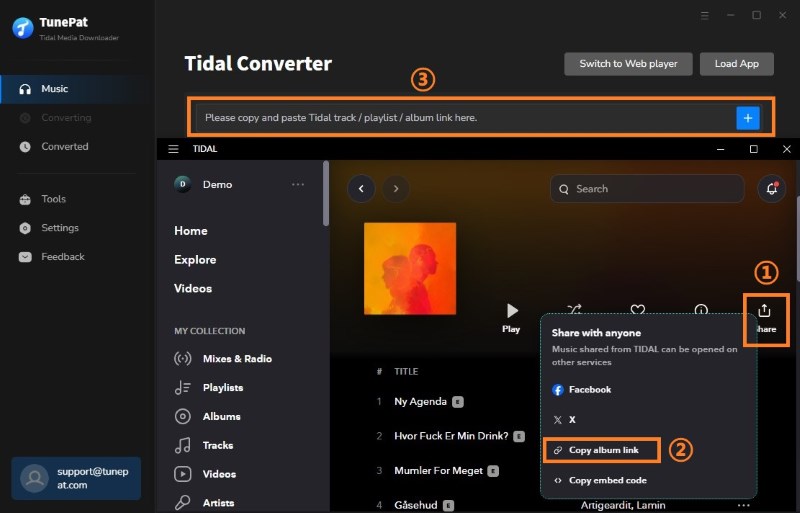 In Webplayer Mode, the process is quite different. You need to open your desired song, album, playlist, or podcast in the Tidal web player. Then, click the blue "Click to add" button located in the lower right corner of the screen. Similarly, if you are currently playing a playlist, the identified songs within that playlist will be listed in a pop-up window for you to select and add for conversion.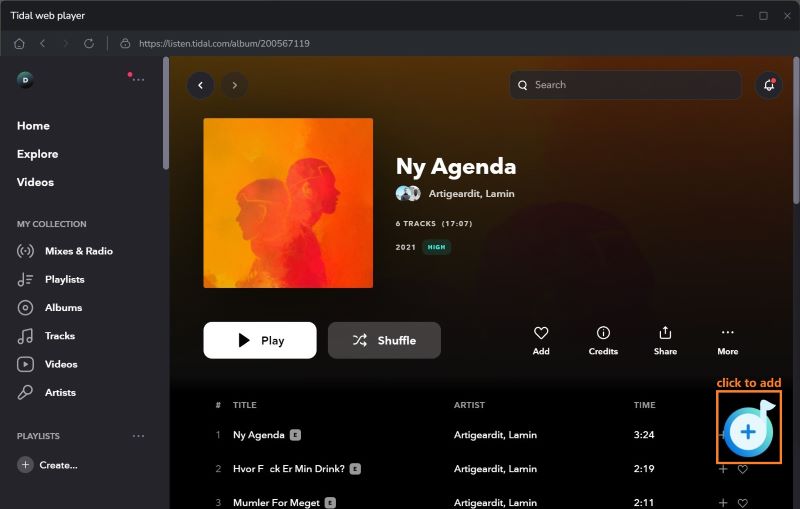 By default, all titles in the pop-up window are selected for conversion. However, if you wish to exclude any specific songs, you can manually delete them from the selection. Once you have made your desired selection, simply click the "Add" button to proceed with the conversion process.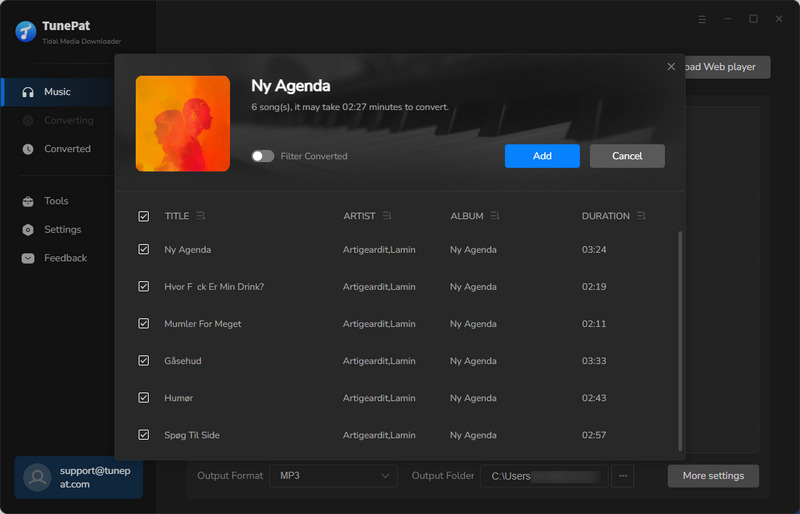 Step 4 Complete the Output Settings of tracks you want to download.
To access the customization options, navigate to the "Settings" interface. Here, you have the flexibility to personalize various settings according to your preferences. These options include selecting the conversion mode, choosing the desired output format (such as MP3, AAC, FLAC, WAV, AIFF, or ALAC), adjusting the output sound quality, specifying the output path, and more. Additionally, you can decide how to name the TIDAL music files and organize them based on your specific requirements.
It's important to note that if you wish to preserve the original sound quality of Master or HiFi, it is advisable to keep the default setting as "Auto" to ensure the highest possible audio quality.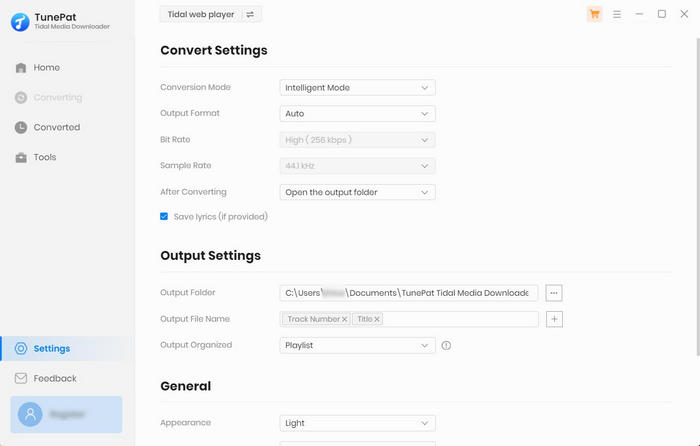 Step 5 Convert the Selected Tidal Songs to PC.
Return to the Home page once the setup is complete. To continue choosing music from other playlists or albums for a one-time conversion, click the "Add More" button on this page. You can also click "Convert" to get started right away. Once the conversion is finished, you can select "Converted" from the menu to browse the downloaded Tidal tracks. Now you can locate the audio files locally on your computer and transfer them to other devices to unlock limited playback and usage.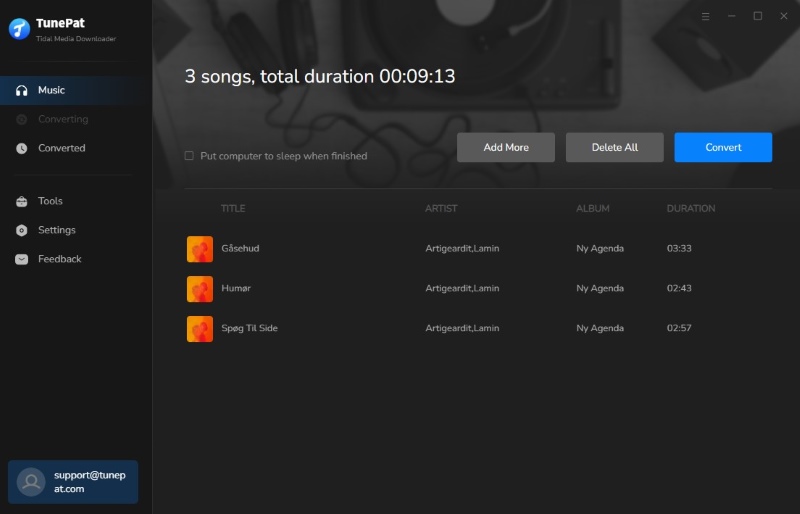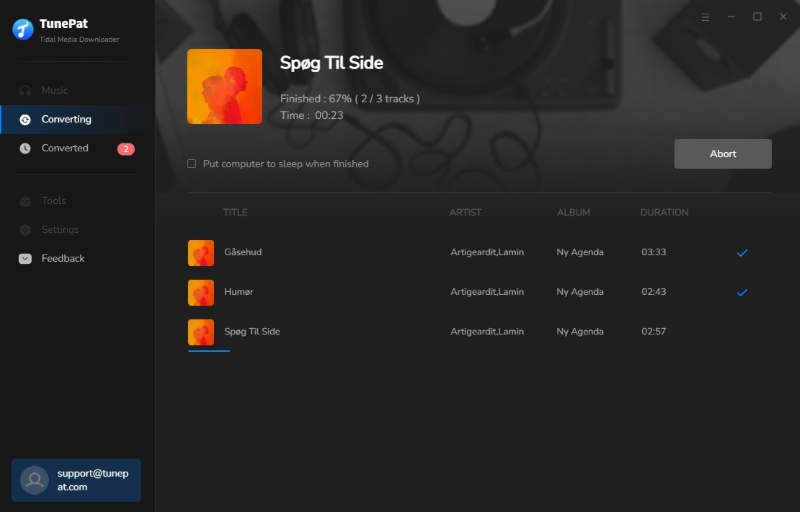 Conclusion
In the battle of Qobuz vs. Tidal, both platforms have their strengths and cater to different types of music enthusiasts. Qobuz shines with its higher audio quality specifications, making it an excellent choice for audiophiles seeking the utmost fidelity. On the other hand, Tidal's exclusive content, competitive pricing, and wide compatibility make it a compelling option for mainstream music lovers who value convenience and a diverse range of music genres. Ultimately, the choice between Qobuz and Tidal depends on your specific preferences and priorities. Whichever platform you choose, both Qobuz and Tidal offer exceptional high-quality music streaming experiences that will elevate your listening pleasure to new heights.
After our comprehensive comparison, we recommend you choose Tidal and give it a shot. This post also shares with you a helpful tool to enjoy Tidal Music offline without limitation. With TunePat Tidal Media Downloader, you are able to download Tidal music with up to Hi-Res audio quality on your computer. It is the best choice for you to download Tidal songs at high speed with lossless audio quality. Download it right now to enjoy an unfretted music experience!