How to Download Lossless or Hi-Res Lossless Apple Music
Apple Music underwent a major upgrade in 2021. The music streaming service now includes support for CD-quality and high-resolution lossless audio. This means that for just $10.99 a month, you can enjoy higher audio quality without having to pay higher tiers like other music streaming services. This is undoubtedly great news for every Apple Music user. In today's article, we will provide you with a detailed introduction to what Apple Music Lossless is and how to download Lossless or Hi-Res Lossless quality from Apple Music. Let's get started!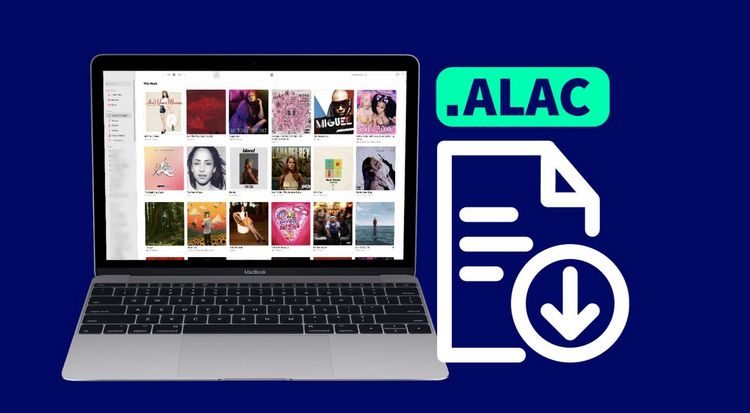 Part 1: What is Apple Music Lossless Audio?
Most audio compression technologies lose some of the data contained in the original source files. Lossless compression is a form of compression that preserves all the original data. The Apple Lossless Audio Codec, developed by Apple itself, is dedicated to providing a better listening experience for its fans. Currently, songs on Apple Music are encoded using AAC or ALAC.
Apple offers three different levels of audio resolution: High Quality (AAC; 256 kbps), Apple Music Lossless (ALAC; up to 24-bit/48kHz), and Apple Hi-Res Lossless (ALAC; up to 24-bit/192kHz). Currently, the entire music catalog on Apple Music (one billion tracks) supports Apple Music Lossless format, with over twenty million songs available in the highest quality high-resolution lossless format.
So, what's the difference between Lossless and Hi-Res Lossless? In simple terms, you can think of high-resolution lossless audio as a superior version of Apple Music Lossless audio. It's worth noting that Apple wired headphones only support lossless audio up to 24-bit/48kHz. Therefore, if you want higher-resolution audio, you'll need to invest in a Digital-to-Analog Converter (DAC). A DAC is a device that converts complex digital frequencies into an analog signal so that audio devices can play it as sound. For capturing the full quality of lossless audio, an external or standalone DAC is often needed.
---
Part 2: Which Devices Can Use Apple Music Lossless?
Listening to music through headphones on a mobile phone is one of the most common ways we enjoy music. Many Apple users, for example, use AirPods. Unfortunately, no Bluetooth device can decode ALAC. This means that none of the AirPods models, including the latest AirPods Max, can support Apple Music's lossless audio quality. If you're accustomed to listening to Apple Music through AirPods, what you'll hear will be better than MP3, but it won't come close to the lossless quality of AAC format audio.
If you want to listen to lossless audio through your device (compatible with iOS, MacOS, and Android), you can do so by using wired headphones, a receiver, or active or built-in speakers. However, if you want to listen to songs with a sampling rate higher than 48 kHz, you'll need an external DAC. Additionally, Apple's HomePod series of smart speakers (including HomePod Mini, HomePod, and HomePod 2) have been confirmed to support lossless audio. The Apple TV and iPad series also do, supporting Apple Lossless but not directly supporting Hi-Res Lossless.
Apple devices must also meet certain iOS software requirements to play lossless tracks. These are as follows: iPhone/iPad/Apple TV 4K requires iOS/iPadOS/tvOS 14.6 or later, and Mac computers require macOS Big Sur 11.4 or later. If your device meets these software requirements, you can enjoy lossless audio.
---
Part 3: How to Download Apple Music Lossless with Subscription?
#1: Stream or Download Apple Music Lossless on an iPhone or iPad:
Step 1 First, open the Settings app on your iPhone or iPad.
Step 2 Select "Music", and then under "AUDIO", choose "Audio Quality".
Step 3 Once opened, make sure the "Lossless Audio" button is enabled. If it's not enabled, slide it to the right to turn it on.
Step 4 You'll see three options below: Cellular Streaming, WLAN Streaming, and Downloads. Choose the one you want to configure, such as "Downloads". Then, you can select "Lossless" or "Hi-Res Lossless".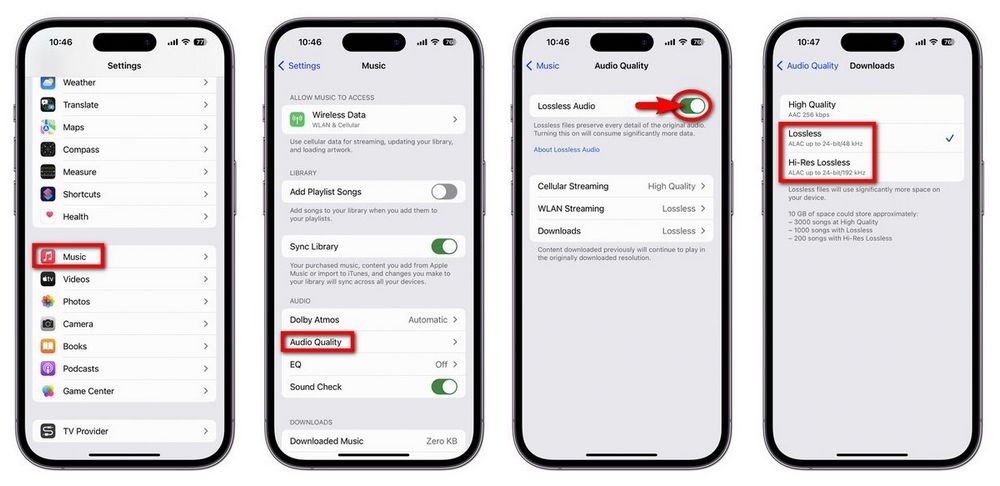 Tips: You should pay attention to the available storage space on your iPhone and iPad because lossless audio files are larger. With 10GB of space, you can store up to 3000 songs in High Quality, but for Hi-Res Lossless, you can only store a maximum of 200 songs.
#2: Stream or Download Apple Music Lossless on an Android:
Apple Music's Lossless sound quality can also be supported by Android phones, but unlike iOS, you need to operate it in the Apple Music app.
Step 1 Open the Apple Music app and tap the three vertical dots icon in the upper-right corner. Select "Settings" from the drop-down menu.
Step 2 Click "Audio Quality" and make sure Lossless Audio is turned on. Then you will see Mobile Data Streaming, Wi-Fi Streaming and Downloads. Then click on the appropriate option and select "Lossless".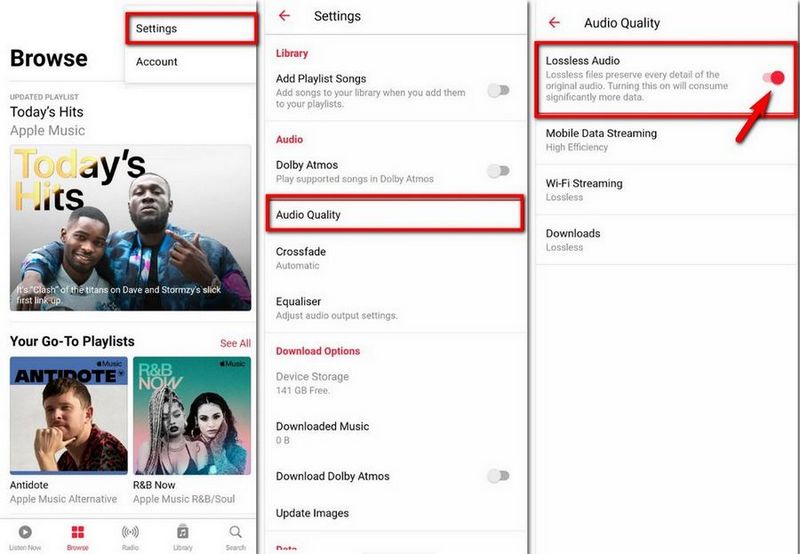 #3: Stream or Download Apple Music Lossless on a Mac:
Step 1 Open the Music app on your computer. Then, click on the "Music" option in the navigation bar.
Step 2 From the dropdown menu, select "Preferences..".
Step 3 In the pop-up window, choose the "Playback" tab.
Step 4 If the "Lossless audio" option is not checked, click to enable it. Then, you can modify the audio quality settings by choosing "Lossless" or "Hi-Res Lossless".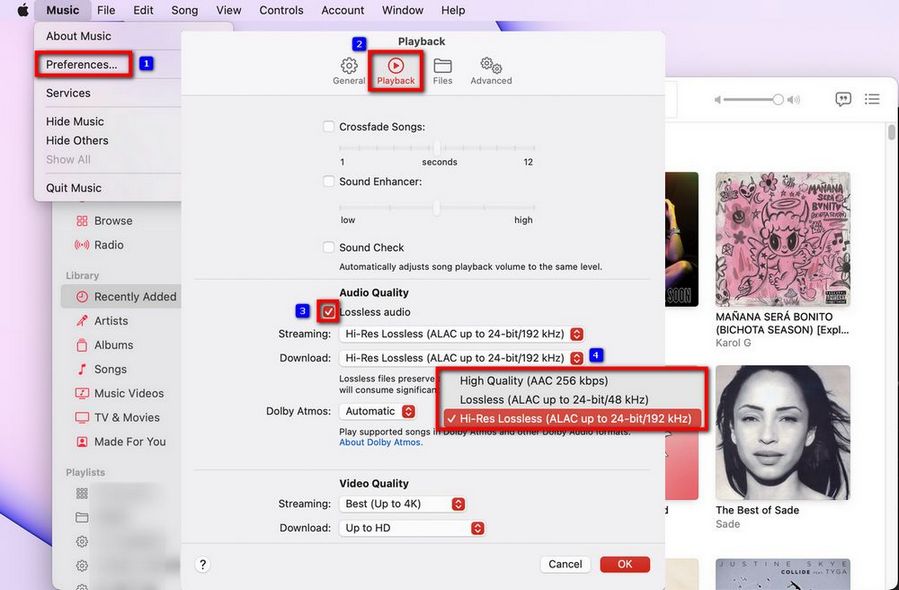 Note: There is no Lossless Audio option available for iTunes on Windows.
---
Part 4: How to Enjoy Apple Music Lossless After Canceling Subscription?
As you already know, if you are not subscribed to Apple Music, you can only preview songs and cannot access the full track. Additionally, when you cancel the auto-renewal of Apple Music, you lose access, and the previously downloaded lossless Apple Music cannot be played anymore. This has been a source of frustration for many. The method below can provide a solution for readers who want to cancel Apple Music auto-renewal, including those on a free trial.
This method utilizes the powerful TunePat Apple Music Converter to help you obtain the highest quality Apple Music, including Hi-Res Lossless, from the Music app while retaining the corresponding ID3 tags for each song. These tags include Title, Album, Artist Name, Artwork, Track Number, Disc Number, Genre, and more. With this tool, you can download your favorite Apple Music playlists to your computer locally. After canceling your subscription, you can still use these songs on your computer or mobile device's built-in media players.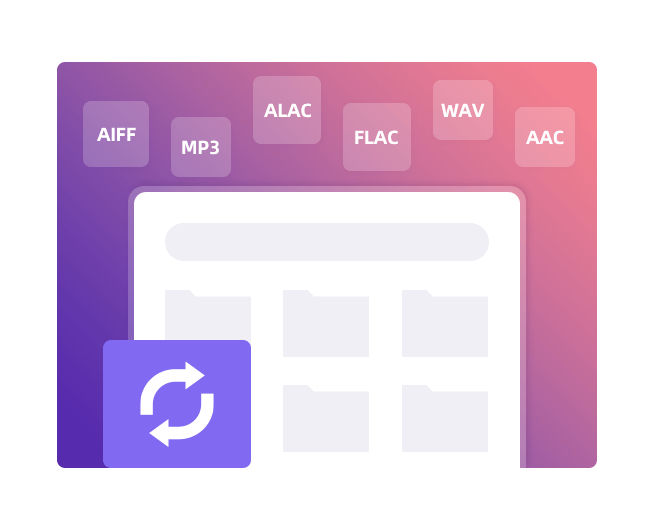 TunePat Apple Music Converter
TunePat Apple Music Converter helps you download and convert all Apple Music songs and playlists to your local computer for offline listening.
Download Apple Music albums/playlists, iTunes m4p music, and audiobooks.
Convert Apple Music songs to MP3/AAC/WAV/FLAC/AIFF/ALAC.
Keep the Lossless or Hi-Res Lossless sound quality after conversion.
Keep ID3 tags, including Title, Album, Artist, etc.
Downloaded Apple Music can be transferred to a DJ software, SD Card, etc.
Handy tools for editing ID3 tags, converting local audio files, burning Apple Music to CD, etc.
Step 1 Select the Apple Music (App) Entrance
Firstly, to obtain lossless quality Apple Music, you need to download the TunePat Apple Music Converter on your Mac computer. Choose Apple Music (App). This recording mode allows you to acquire lossless or Hi-Res Lossless Apple Music.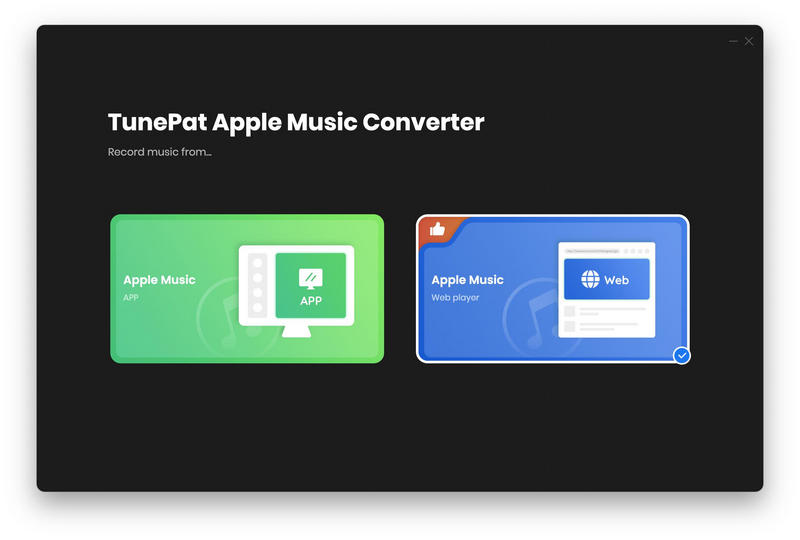 Step 2 Select the Content You Want to Convert
On the Home page, you will see a "+ Add" button. Click on this button to reveal a pop-up window. The contents shown in the pop-up window are similar to what you see in the Apple Music app (The premise is that you have logged in your Apple ID in the Music app on your MacBook, iMac, or other Mac computers). Choose the songs or playlists you want to convert. Check the boxes next to them and click "OK".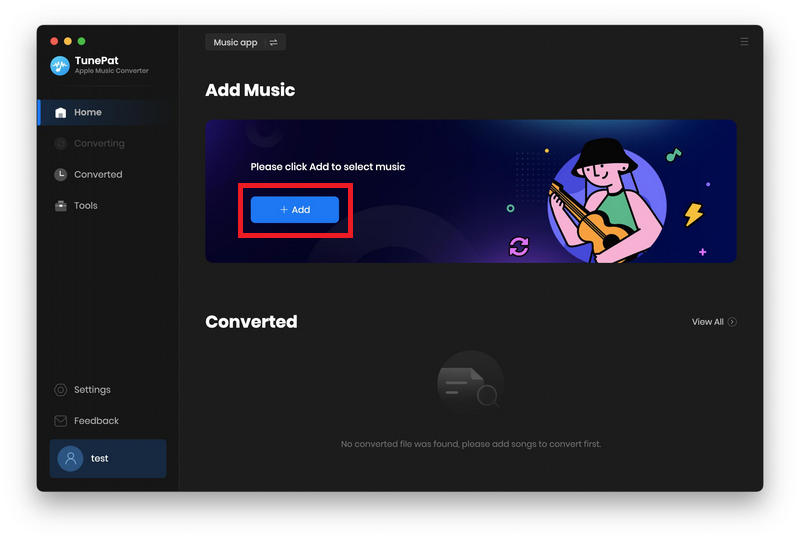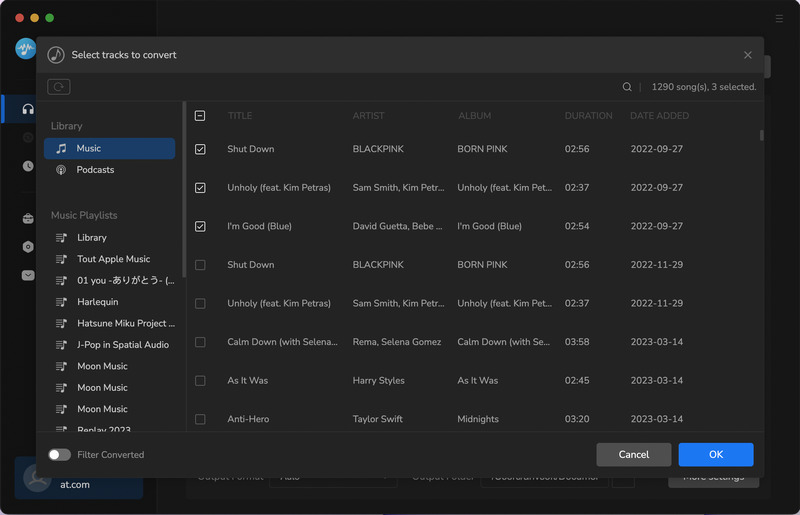 Step 3 Complete the Output Parameter Settings
Click on the "Settings" option in the bottom left corner. Here, you will see the Conversion Mode option. To ensure the highest quality output for Apple Music, it is recommended to select the "iTunes Record" mode here. Then, you can choose between Auto or ALAC for the output format. When you select ALAC as the output format, you can freely choose the Sample Rate, ranging from 44.1 kHz to 192 kHz.
You can also customize other options, such as freely combining ID3 tags to preset your output file names according to your preferences. You can also arrange the output of Apple Music by Artist, Album, Playlist, etc.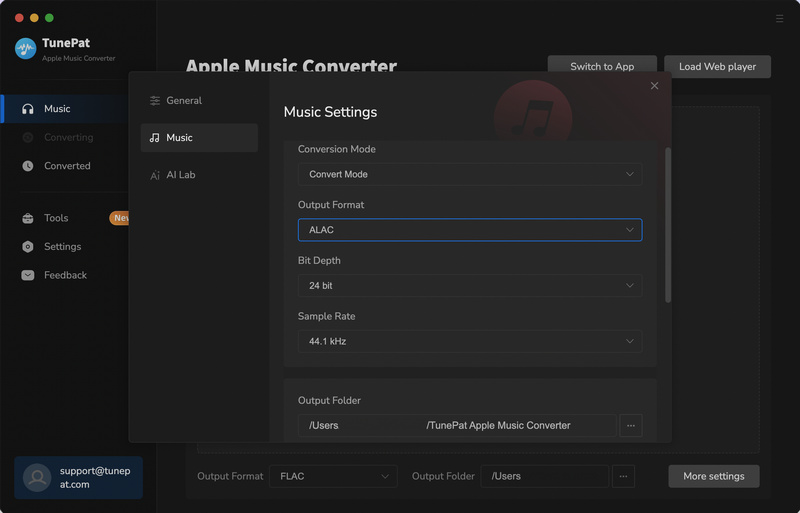 Step 4 Obtain Apple Music in ALAC Format
Go back to the Home interface, where the selected songs will be displayed. Click "Convert" to start the conversion process.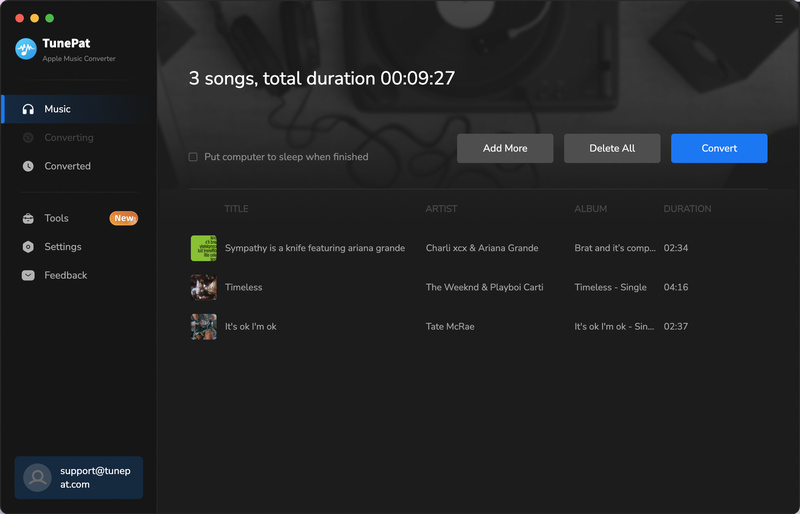 Step 5 Browse the Local Lossless Apple Music
Wait patiently for the conversion to complete. Once all titles have been converted, the output folder will automatically pop up. You can also click the "Show in Finder" icon for manual location. You can import these lossless quality songs into any device or software you prefer to use.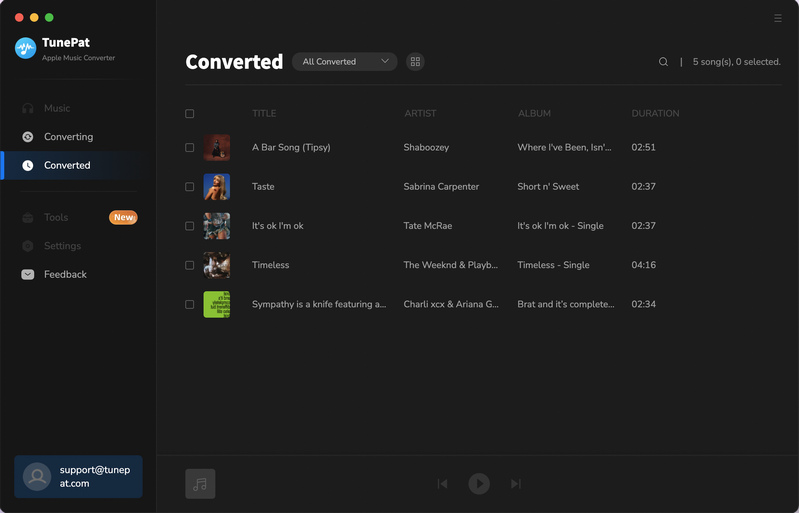 ---
Conclusion
Apple Music's ability to provide lossless sound quality at no additional cost makes it one of the most widely used music platforms globally. As previously mentioned, downloading Apple Music lossless audio onto iOS devices, Android, or Mac is uncomplicated. However, this feature is only accessible to Apple Music users during their valid subscription period.
To assist users in retaining access to lossless music streamed via Apple Music after canceling their subscription, we suggest using TunePat Apple Music Converter, a third-party tool with unexpectedly useful features. With it, you can easily download your preferred playlists and albums from Apple Music in bulk and store them locally, allowing you to share them with friends and family members, even those who don't have an Apple Music account. If you haven't already tried it out, click the button below to download it now.