How to Add Deezer Music to Traktor DJ
Deezer is a fairly large music streaming brand in Europe, originating from France, and is a mainstream service roughly equivalent to Spotify and Apple Music, with similar features and pricing. Traktor DJ is a comprehensive software and hardware package produced by Native Instruments for both professional and recreational disc jockeys, granting users the capability to blend and manage digital audio files. Unfortunately, Deezer currently only collaborates with Virtual DJ.
So, if you want to use Deezer with Traktor DJ, is it possible? Traktor DJ has a specially crafted free version, Traktor DJ 2, integrated with SoundCloud Go+. The professional version, Traktor Pro 3, is compatible with Beatport/Beatsource Link streaming services but cannot support music streaming services such as Deezer, Spotify, or Apple Music. Therefore, if you want to use Deezer for mixing on Traktor DJ software, you need to export a valid local file from Deezer before importing it. Read on, and this article will clear up any confusion.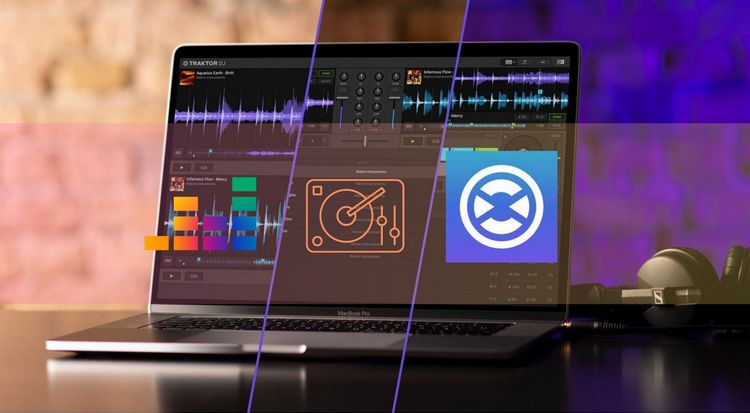 Part 1: How to Download Deezer Music to a Computer?
Traktor DJ is not integrated with Deezer, but it does support importing audio in compatible formats from local folders. Traktor DJ can recognize formats like MP3, WAV, AIFF, Audio CD, FLAC, Ogg Vorbis, and AAC. Therefore, the crucial question at hand is how to convert Deezer music to one of the aforementioned formats, such as MP3.
Traktor DJ cannot support DRM-protected files, including those cached files downloaded from paid accounts on streaming services. In other words, we need to use a powerful third-party converter to help us remove the restrictions on Deezer music and export it to the computer as an editable and moveable file.
Deezer Music Converter is a leading Deezer audio converter. With this tool, users can efficiently and systematically download their preferred Deezer music and store it in various formats, including MP3, AAC, FLAC, WAV, AIFF, and ALAC. These audio files preserve the original sound quality up to HiFi and ID3 tags and are compatible with a wide range of DJ software, editors, multimedia players, and more.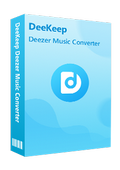 Deezer Music Converter
Download Deezer songs, albums, playlists, or podcasts.
Convert Deezer Music to MP3, AAC, FLAC, WAV, AIFF or ALAC format.
Save the ID3 tags and lyric files while preserving Hi-Fi audio quality.
Support adjusting download speed, up to 10X.
Keep the downloaded Deezer songs forever, even if the subscription ends.
Handy tools: Format Converter, Burn CD, Tag Edit, 1-Click Sync to iTunes, etc.
Step 1 First, download and install the latest version of Deezer Music Converter to your computer. After running the program, you will see a main interface and an embedded Deezer web player window that pops up one after another. If it does not pop up in time in a few cases, you can click the "Open the web player window" button on the Home interface to open it manually. Then, you need to log in to your Deezer account by clicking the "LOG IN " option in this window to successfully access the library content.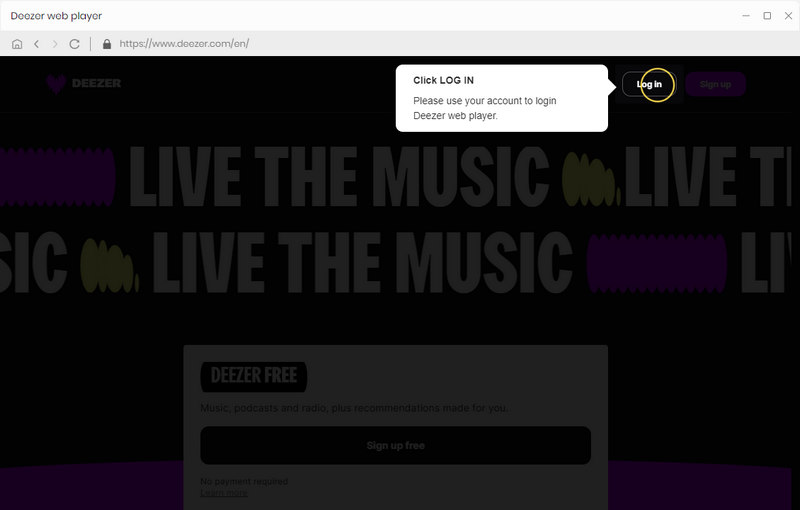 Step 2 Next, access the "Settings" tab located in the lower left corner. Choose the conversion mode, output format (such as MP3 that is compatible), bit rate, sample rate, output folder, and more according to your needs. Additionally, you can combine ID3 tags to personalize the naming of output files. Further customizable settings include:
Conversion Mode: Intelligent Mode, Web Download, YouTube Download
Output Format: Auto, MP3, AAC, FLAC, WAV, AIFF, and ALAC
Bit Rate: 128 kbps, 192 kbps, 256 kbps, 320 kbps
Sample Rate: 44.1 kHz, 48 kHz, 96 kHz, 192 kHz
Output File Name: Track Number, Title, Artist, Album, Playlist Index, Year
Output Organized: None, Playlist, Artist, Album, Artist/Album, Album/Artist, Playlist/Artist, Playlist/Album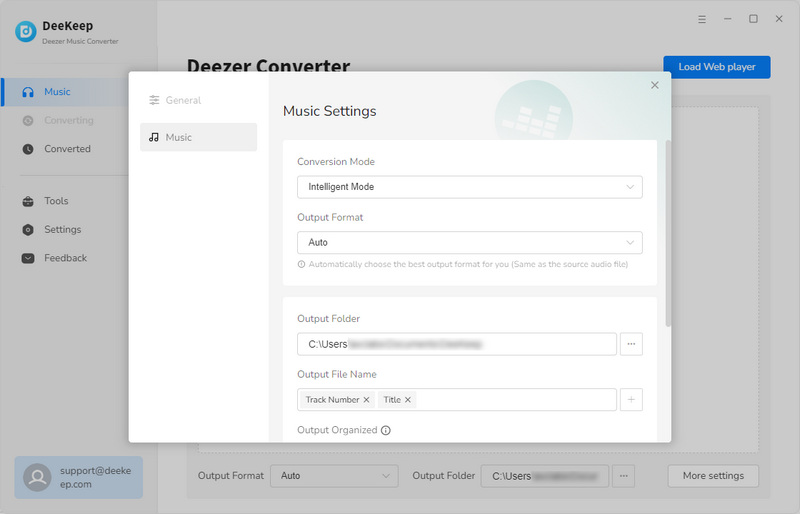 Note:
1. : If you want to save lyrics, just check the "Save lyrics (if provided)" option. The converted lyrics files of Deezer songs will be saved in the output folder in LRC format.
2. If you select the default "Auto" mode, Deezer Music Converter will download the audio with the same parameters as the source file. At this time, the bitrate and sample rate options cannot be customized.
Step 3 Once you've finished setting up, head over to the Deezer web player window. Search in the search box or directly find and open the Deezer music you want to convert. Click the blue "Click to add" button in the lower right corner. Then, the Deezer Music Converter will list all songs in a pop-up window. Please check the songs you want to mix in Traktor DJ and click "Add" to put them into the Home interface to wait for conversion.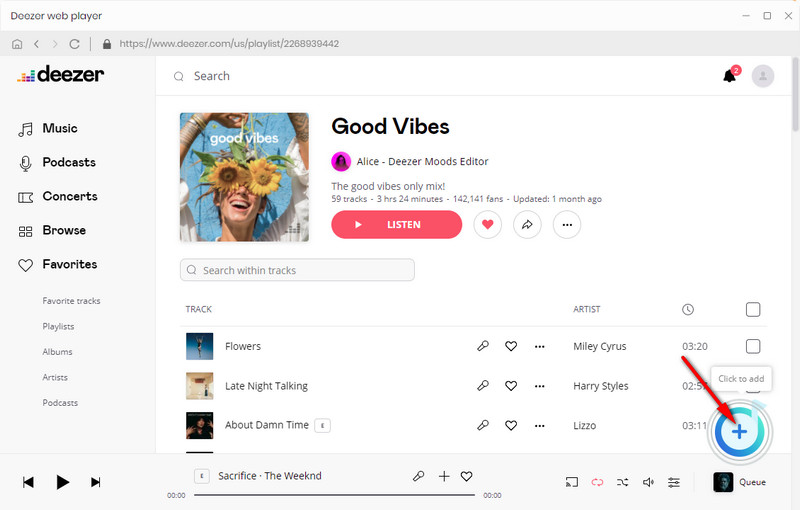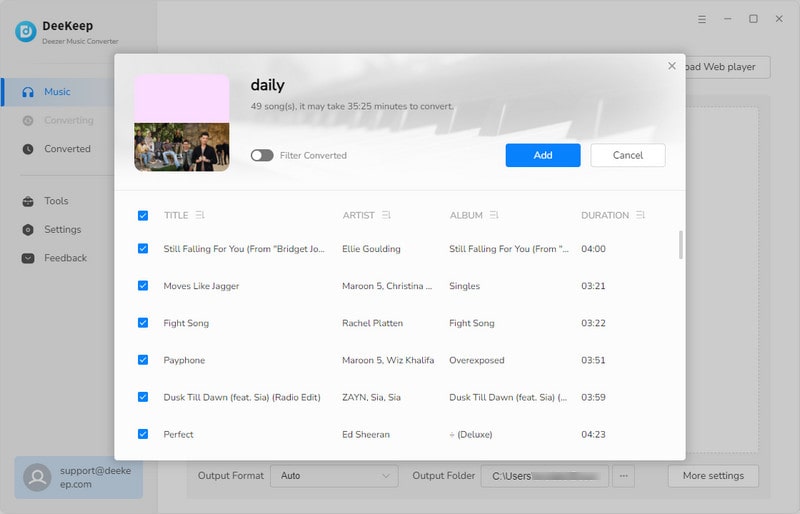 Step 4 The current page offers multiple options for performing various operations. If you mistakenly add the incorrect playlist, simply click "Delete All" to remove it and select the intended playlist. For multiple conversions across various albums, playlists, and artists, click the "Add More". Click "Convert" to initiate the conversion process.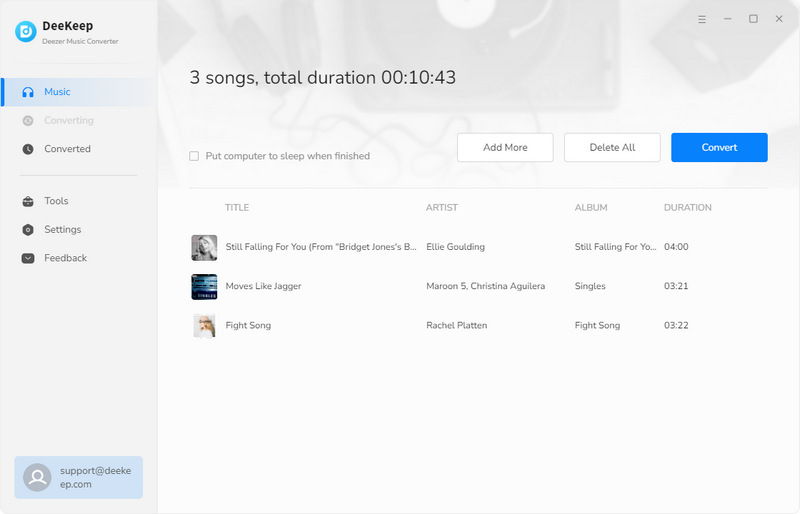 Step 5 Deezer Music Converter adopts advanced decoding technology to save you time to the greatest extent. But the actual conversion time depends on several factors, such as your current network conditions, the output format you choose, the number and size of the songs you choose, etc.
Whenever a piece of Deezer music is converted, it will be displayed in the "Converted" module. All historical records can be browsed and played in this module. If you want to locate the specific location of a file on your computer, just click the "Folder" icon to the right of it.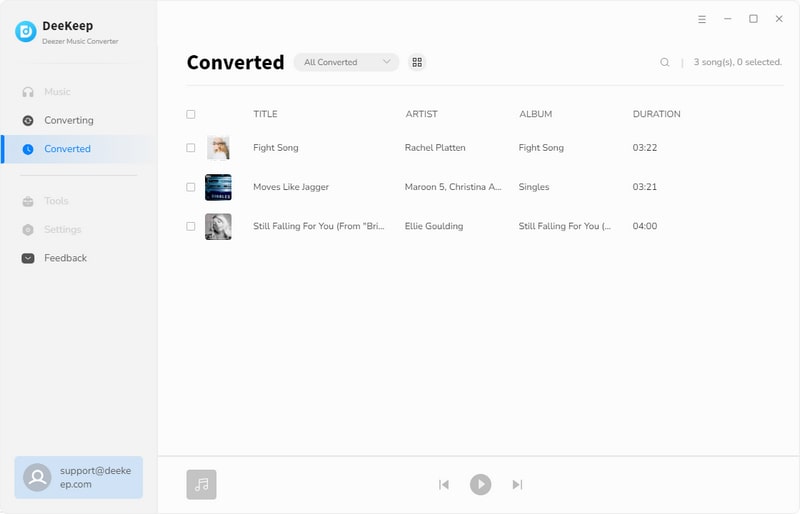 ---
Part 2: How to Add Deezer Music to Traktor DJ?
Step 1 Import Deezer Music songs
Method 1: There are two ways to transfer Deezer music from your computer to Traktor DJ, either by selecting "Import Music Files" or "Import Folder" after clicking the File button in the upper left corner. For our example, we choose "Import Folder". Locate the folder where the desired Deezer song is stored on your computer, select it, and then click "Select Folder". The imported songs will appear in the Tracks tab.
In this module, songs can be sorted by various criteria, such as title, artist, key, and time. However, sorting by the date of being added to the program is not possible. When dealing with a large number of songs, locating specific songs may be difficult.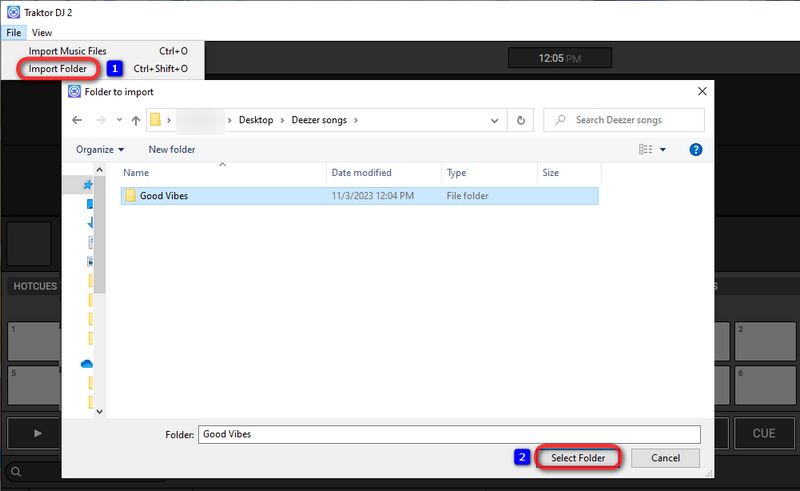 Method 2: Well, you can choose the second method. That is to create new playlists to organize the Deezer music you plan to import. Click the "New Playlist" button below the left menu bar and name it Deezer Songs. Then click "OK" to confirm. You can now drag and drop the converted Amazon music directly from your local folder to Traktor DJ.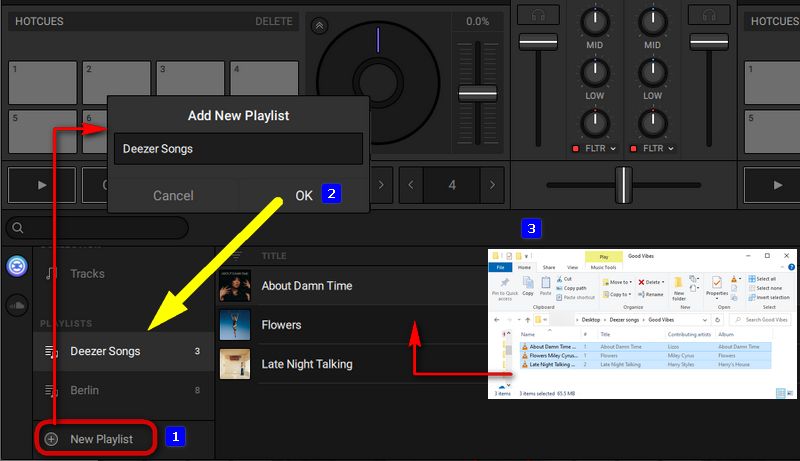 Step 2 DJ with Deezer Music on Traktor DJ
You will receive a prompt after the import is successful. After that, drag your Deezer music to the left and right decks and start mixing!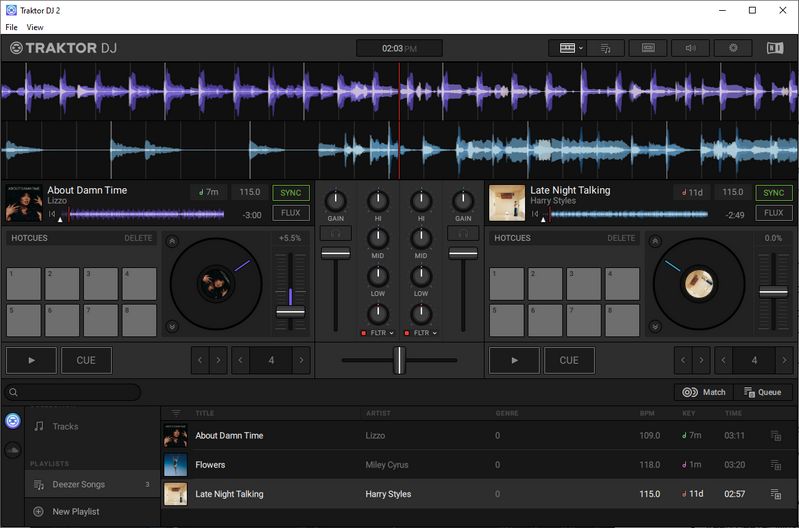 Conclusion
This page provides a guide on mixing Deezer music on Traktor DJ. With the help of the magical Deezer Music Converter, you can not only keep Hi-Fi quality Deezer audio locally on your computer but also transfer it to USB, burn it to CD, and play it offline on various smart speakers and smart TVs. The procedures are easy and efficient. If you have not downloaded one yet, don't hesitate!