How to View Spotify Top Artists
Spotify is one of the world's most popular music streaming platforms, boasting 515 million users and an extensive library of songs, albums, and playlists. One of the most intriguing features of the platform is its ability to track and analyze user listening data, providing valuable insights into one's music preferences and habits.
Whether you're a casual listener or a die-hard music fan, accessing your top artists on Spotify can be a great way to discover new music and better understand your favorite genres and artists. In this article, we will explore several methods to access top artists on Spotify, from the built-in Spotify Wrapped feature to third-party apps and manual tracking through the Spotify app or website. By the end of this article, you will better understand how to access your top artists on Spotify and save their songs forever.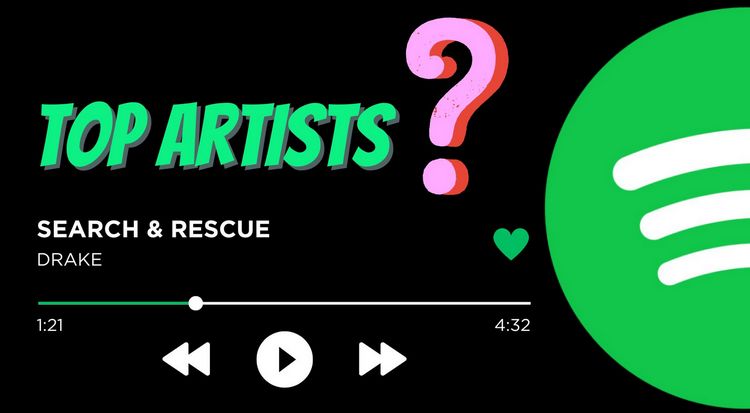 Part 1: How to Access Your Top Artists on Spotify
We will introduce 6 different methods for you to get access to the top artists of your Spotify. You can choose one of them according to your needs:
🢒 Method 1: Using the Spotify mobile app
Step 1 Open the Spotify app on your mobile device.
Step 2 Tap the "Home" tab in your screen's bottom left-hand corner.
Step 3 Scroll down until you see the "Made for You" section.
Step 4 Under the "Made for You" section, you should see the "Your Library" tab. Tap on it.
Step 5 Scroll down until you see the "Your Top Songs" and "Your Top Artists" playlists. Tap on "Your Top Artists" to see your top artists on Spotify.
🢒 Method 2: Using the Spotify Desktop App
Step 1 Open the Spotify desktop app on your computer.
Step 2 Click on your profile picture located in the top right-hand corner of the screen.
Step 3 Click on "Account" in the drop-down menu.
Step 4 Scroll down to the "Listening History" section to view your most recent listens.
Step 5 Click "Top artists" or "Top tracks" to see your most-listened-to artists and songs.
🢒 Method 3: Using the Spotify Wrapped Feature
Step 1 Open the Spotify app on your mobile device or web browser (visit the website) and log in to your account.
Step 2 Scroll down to the "Made for You" section on the home screen and tap on "See how you listened in 2022" (or the current year).
Step 3 Alternatively, you can also search for "Spotify Wrapped" in the search bar and select the "Wrapped" playlist.
Step 4 The Spotify Wrapped playlist will open, displaying a summary of your listening habits on Spotify over the past year. You can view your top songs, artists, and genres, as well as the total time you spent listening to music on Spotify.
Step 5 You can also tap on any of the categories to view more detailed insights, such as the total number of times you played a particular song or artist.
Step 6 To share your Spotify Wrapped summary with others, tap on the "Share" button and select the social media platform or messaging app you want to share it on.
🢒 Method 4: Using the Last.fm App
Step 1 Download and install the Last.fm app from the App Store (iOS) or Google Play Store (Android).
Step 2 Open the Last.fm app and create a new account or log in with your existing account details.
Step 3 Connect your Last.fm account with your Spotify account by tapping on the "Connect with Spotify" button.
Step 4 Log in to your Spotify account when prompted and grant Last.fm access to your Spotify data.
Step 5 Once your Last.fm account is connected to your Spotify account, the app will automatically start tracking your listening habits on Spotify.
Step 6 To view your Spotify listening data on Last.fm, navigate to the "Library" tab in the Last.fm app and tap on "Recent Tracks" or "Top Artists".
🢒 Method 5: Using the Volt.fm
Step 1 Go to the volt.fm website on your web browser.
Step 2 Click on the "Sign in with Spotify" button.
Step 3 Log in to your Spotify account when prompted.
Step 4 Once you're logged in, volt.fm will automatically start scanning your Spotify account to gather data about your listening habits.
Step 5 After a few minutes, the volt.fm dashboard will load, displaying your top tracks, artists, and genres. You can click on any of these categories to view more details and insights, such as the number of times you've listened to a particular track or artist or the percentage breakdown of the genres you listen to most.
Step 6 You can also use the navigation bar at the top of the screen to access other features, such as the "Recently Played" tab, which displays the tracks you've recently listened to on Spotify, and the "Playlists" tab, which shows your Spotify playlists and the tracks they contain.
🢒 Method 6: Using the Stats for Spotify Website
Step 1 Open your web browser and go to statsforspotify.com.
Step 2 Click the "Log in with Spotify" button and log in to your Spotify account.
Step 3 Once you have authorized the website to access your Spotify data, you will be taken to the Stats for Spotify dashboard.
Step 4 Click on the "Top Artists" tab at the top of the page.
Step 5 You will see a list of your top artists, ranked by the number of streams, with their corresponding statistics, including the total number of streams, hours listened, and the number of countries where you've listened to them.
Step 6 You can use the drop-down menu at the top of the page to view your top artists for different periods, such as the past month or year.
Part 2. How to Find Out Spotify's Top 5 Artists of All Time?
In addition to your own most frequently listened artists, are you also curious about who are the top artists of all time in Spotify? We combined the number of streams, followers, and listeners through real-time statistics from third-party websites to come up with the following Top 5 data:

#1: Drake:
Drake is a Canadian rapper, singer, songwriter, actor, and entrepreneur who rose to fame in the late 2000s with his mixtapes and debut studio album, "Thank Me Later". Born Aubrey Drake Graham in Toronto, Canada in 1986, Drake began his career as an actor on the teen drama series "Degrassi: The Next Generation" before transitioning to music. He has since become one of the most successful and influential artists of his generation, with numerous hit songs and albums, and has won several awards, including four Grammy Awards. Drake is known for his unique blend of hip-hop, R&B, and pop music, as well as his introspective and emotional lyrics that explore themes such as love, relationships, and fame.
#2: Taylor Swift:
Taylor Swift is an American singer-songwriter who first gained prominence in the mid-2000s with her self-titled debut album and has since become one of her generation's most successful and acclaimed artists. Born in Pennsylvania in 1989, Swift moved to Nashville at 14 to pursue a career in country music. Her unique blend of country and pop music quickly gained a following. She has since released multiple chart-topping albums, sold out stadiums worldwide, and won numerous awards, including 11 Grammy Awards. Swift is known for her personal and confessional songwriting style and her ability to connect with fans through her relatable lyrics and down-to-earth personality.
#3: Bad Bunny:
Bad Bunny is a Puerto Rican singer, rapper, and songwriter who has become one of the most popular and influential Latin artists of his generation. Born Benito Antonio Martínez Ocasio in 1994 in San Juan, Puerto Rico, Bad Bunny first gained attention with his SoundCloud music uploads in the mid-2010s. He rose to prominence in 2017 with his hit single "Soy Peor" and has since released multiple successful albums and singles, collaborating with other high-profile artists such as J Balvin, Cardi B, and Drake. Bad Bunny is known for his unique blend of reggaeton, Latin trap, and hip-hop music, as well as his colorful and eccentric fashion sense.
#4: The Weeknd:
The Weeknd is a Canadian singer, songwriter, and record producer who first gained attention with his mixtapes and debut album "Kiss Land" in the early 2010s. Born Abel Makkonen Tesfaye in Toronto, Canada in 1990, The Weeknd's music is characterized by his smooth vocals, atmospheric production, and introspective lyrics that often explore themes of love, relationships, and excess. He has released multiple critically acclaimed albums, including "Trilogy," "Beauty Behind the Madness," and "After Hours," and has won numerous awards, including three Grammy Awards. The Weeknd is also known for his unique stage persona, often performing with his signature hairstyle and dark sunglasses.
#5: Ed Sheeran:
Ed Sheeran is an English singer-songwriter and musician who rose to prominence in the mid-2010s with his debut album "+" and hit singles such as "The A Team" and "Lego House". Born in 1991 in Halifax, England, Sheeran began playing guitar at a young age and later moved to London to pursue a music career. He has since released multiple successful albums, including "x" and "÷", and has won numerous awards, including four Grammy Awards. Sheeran's music is known for its blend of pop, folk, and acoustic elements, and his personal and heartfelt songwriting that often explores themes such as love, loss, and self-acceptance.
Part 3. How to Download Spotify Top Artists' Songs in MP3 Format?
When it comes to discovering top artists, you may also want to consider how to download and save their songs for future emergencies. For instance, you might want to enjoy your favorite tracks without any interruptions, even when you're in airplane mode. While upgrading to a Premium account is the most direct solution, allowing you to download songs directly from your favorite artists for offline playback, it fails to address the underlying issue. The files you download are only cached temporary files that become inaccessible once you unsubscribe from Spotify, which means you won't be able to save classic tracks from your favorite artists in the long term.
Fortunately, there is a powerful third-party tool that can offer a comprehensive solution. TunePat Spotify Converter is designed to help you export your cherished songs or podcasts from Spotify and save them locally in various formats such as MP3, AAC, FLAC, WAC, AIFF, or ALAC. With TunePat, you can enjoy up to ten times faster conversion speed without compromising the quality of the songs. Furthermore, you can effortlessly obtain Spotify music with its original sound quality and intact ID3 tags. Even if you are using a Free account, the converted songs are automatically stripped of ads, ensuring a seamless and user-friendly experience.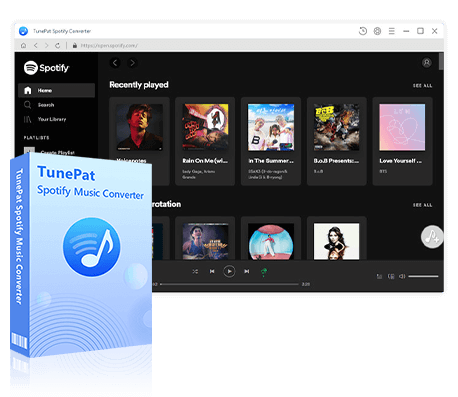 TunePat Spotify Converter
TunePat Spotify Converter enables users to convert and get Spotify songs or podcasts from the Spotify web player and then save them permanently.
Download songs, albums, playlists, podcasts, and lyrics from Spotify.
Convert Spotify songs to MP3, AAC, WAV, FLAC, AIFF, or ALAC format.
Easily download ad-free Spotify music tracks to the local computer.
Keep ID3 tags and preserve lossless audio quality.
Converted Spotify songs can be played offline on various devices (such as Panasonic Smart TV, iPod, etc.) at any time.
Step 1 Access the Embedded Spotify Web Player
Run TunePat Spotify Converter. Click the "Open Spotify Web Player" button to enter the embedded Spotify web player. Then please follow the instructions at the top of the screen to complete the login to the Spotify account. Free or Premium accounts can be supported.
Step 2 Customize the Output Parameters of Spotify Songs
After logging in and successfully accessing the Spotify library, please click the "Settings" button in the upper right corner. You need to customize the necessary output parameters in this pop-up window, such as output format, Bit Rate, Sample Rate, output path, etc. Since you want to download songs from top artists, we recommend that you select "Artist" in the Output Organized line. In this way, your converted songs will be saved to the same folder and named after the artist, which is very convenient for you to manage later.
The parameters for your selection are as follows:
Output Format: AUTO, MP3, AAC, WAV, FLAC, AIFF, ALAC
Bit Rate: 320kbps, 256kbps, 192kbps, 128kbps
Sample Rate: 192 kHz, 96 kHz, 48 kHz, 44.1 kHz
Output File Name: Track Number, Title, Artist, Album, Playlist Index, Year
Output Organized: None, Playlist, Artist, Album, Artist/Album, Album/Artist, Playlist/Artist, Playlist/Album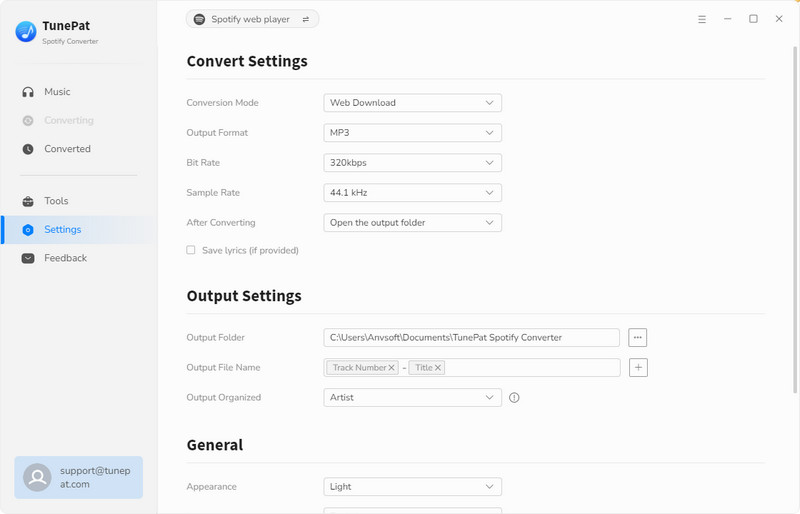 Step 3 Convert & Download Spotify Music of Top Artists to Your Computer
Directly close the window after selection. Now you can directly search for the artist you want to save the song or locate the corresponding album/playlist in the search box. After opening, click the "Add to list" button on the lower right side.
All titles of the current page will be displayed in the pop-up window and all are ticked by default. If there are items you don't need, you can also select them manually. After choosing, click "Convert Now" to start the conversion process immediately.
You can go to the "History" module to view the converted songs. These songs have been saved to the local computer as a normal audio file, you can transfer them to a USB to save, and then connect a car, smart speaker, smart TV, or other devices to play.
Conclusion
The article delves into various methods for discovering the top artists on Spotify, encompassing the utilization of the platform's built-in features as well as exploring external websites and tools. Unveiling your Spotify top artists can be an exhilarating and enlightening experience, enabling you to understand your music preferences and listening habits better. Furthermore, learning about the top 5 artists on Spotify is an excellent means to stay abreast of the latest trends in the music industry.
Moreover, you now know how to uncover and perpetually save songs by Spotify's top artists. To address this, TunePat Spotify Converter proves to be an invaluable tool that resolves all associated concerns. You can easily convert any Spotify music track sung by your favorite artists to MP3 or other widely-used formats. If you haven't yet become a member of TunePat, seize this optimal opportunity! Click the button below to install the converter and give it a try!