TuneFab Spotify Music Converter Alternatives 2023
Spotify enables users to stream music and podcasts online, granting them entry to an extensive assortment of songs spanning various genres, artists, and albums. It can be accessed through a desktop application, a mobile app designed for smartphones and tablets, or by utilizing a web browser. Spotify is highly appreciated for its extensive music library, convenience, personalized suggestions, handpicked playlists, options for social sharing, both free and premium subscription choices, inclusion of podcasts and exclusive content, compatibility across multiple platforms, intuitive user interface, and the capability to aid users in discovering new music.
When individuals seek to convert Spotify content into standard audio formats for offline playback, TuneFab Spotify Music Converter is a common choice. However, does this process truly stand as the optimal solution? In this present article, we will conduct an all-encompassing evaluation of TuneFab Spotify Music Converter and present the finest alternatives, encompassing professionally paid options as well as free alternatives.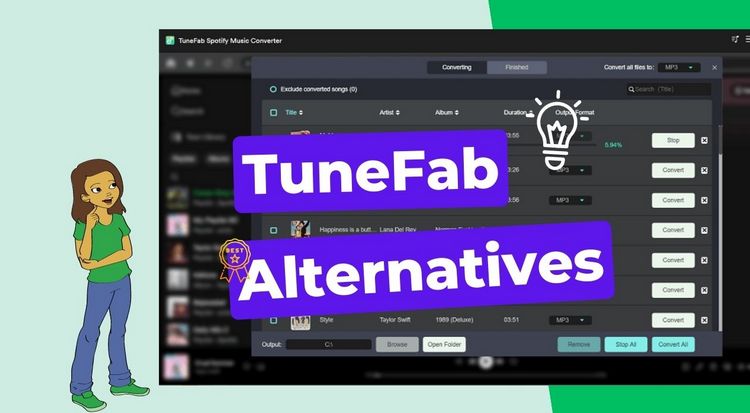 Part 1: A Full Review of TuneFab Spotify Music Converter
1.1 What is TuneFab Spotify Music Converter?
TuneFab Spotify Music Converter is a software application designed to convert Spotify music tracks into various audio formats. It's primarily used to bypass the limitations of Spotify's streaming service, which prevents users from directly downloading and saving songs for offline use or for use on devices that don't have the Spotify app. With this tool, you can convert Spotify tracks to commonly used audio formats like MP3, WAV, FLAC, etc., which can then be stored on a user's local device and played using any media player.
1.2 How to Convert Spotify Songs with TuneFab Spotify Music Converter?
Step 1 TuneFab Spotify Music Converter operates as a paid software, necessitating the acquisition of a license (available at $14.95 per month) as a primary step, followed by registration. However, an option for those without a license is the employment of the free trial version, albeit with certain limitations. These constraints encompass two key aspects: firstly, conversion is confined to the initial 3 minutes of each track, and secondly, the free usage duration spans a maximum of 30 days.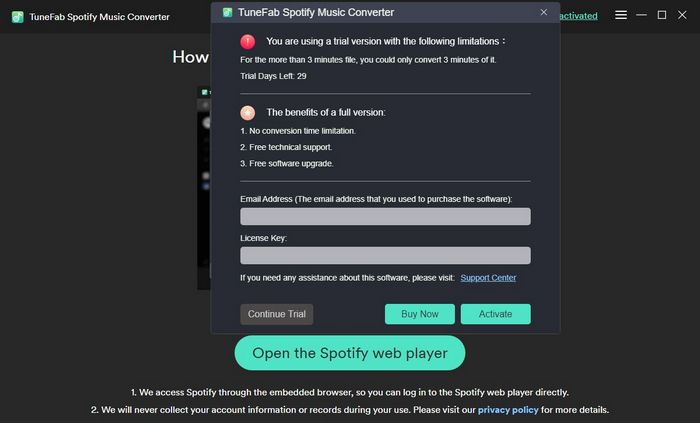 Step 2 Once initiated, proceed to launch the embedded Spotify web player. Log into your Spotify account and access your music library. Select the desired song for conversion, and click the green "Add" button positioned at the lower right corner of the interface.
Step 3 Within the conversion interface, you have the liberty to individually specify the format for a particular song (this necessitates manual configuration, one by one). Alternatively, you can directly establish the desired output format for all tracks being converted during the current session, conveniently located at the upper right corner, such as opting for MP3. For those seeking to fine-tune other audio output parameters, the "Preferences" option within the Menu serves this purpose, albeit discreetly positioned.
Step 4 Subsequent to configuration, initiate the conversion process by clicking "Convert" or "Convert All". Upon completion of the conversion, the entire history of these transformations can be reviewed within the 'Finished' section, allowing for comprehensive oversight.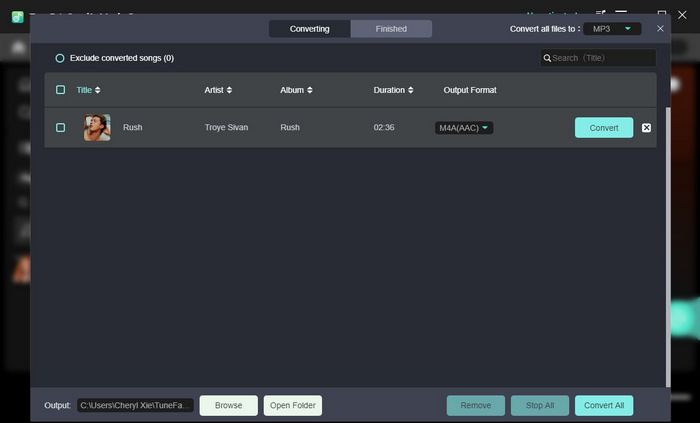 1.3 How Well Do the Features Perform in Practice?
We reviewed the main advantages of TuneFab Spotify Music Converter as advertised, and the results are as follows:
1. Download Music of All Types to Different formats
TuneFab Spotify Music Converter enables users to easily discover and swiftly access songs, albums, playlists, podcasts, and select audiobooks through integration with the Spotify web player. It has the capability to transform these into various formats like MP3, M4A, FLAC, WAV, AIFF, AAC, or ALAC. This facilitates convenient offline playback, allowing users to relish a diverse range of music genres across all their devices.
Performance: ★★★★★
2. Convert Spotify Music at 35X Speed and its success rate to nearly 100%
According to the website promotion, TuneFab Spotify Music Converter adopts advanced hardware and GPU acceleration technology, which can ensure 35 times faster processing of music downloading and conversion tasks, and the success rate can be increased up to 100%.
Performance: ★★☆☆☆
*Note: The promotional claims are embellished and may realistically only be attainable in exceptional and optimal scenarios. For example, converting a song with a duration of 2:36 generally requires approximately 2 minutes to finalize the conversion under standard network speeds. However, it's important to note that the conversion success rate falls short of approaching 90%.
3. Preserve ID3 tags and Customize Output File Arrangement
As per the official description, TuneFab Spotify Music Converter offers enhanced capabilities for users to efficiently manage and arrange their local music libraries. The software employs intelligent identification to accurately retain crucial ID3 tags of songs, encompassing details like title, artist, track ID, and album cover. Furthermore, users have the flexibility to customize the organization of output files according to their preferences. This includes options such as sorting by playlist, artist, album, and more, ensuring a personalized and structured music collection.
Performance: ★★★★★
4. Retain the Best Sound Quality of Spotify Songs
Evidently, TuneFab asserts that its converter not only boasts user-friendly functionality but also upholds the integrity of Spotify music by maintaining a bitrate of up to 320 kbps. This translates to the converted audio retaining an equivalent level of exceptional audio quality as found in the original content. As detailed in its FAQ section, those desiring lossless preservations have the option to select formats such as FLAC and ALAC, which ensure an unblemished listening experience.
Performance: ★★☆☆☆
*Note: Based on practical usage, it becomes evident that TuneFab Spotify Music Converter identifies and captures songs through integration with the embedded Spotify web player. It's essential to understand that even for Free users, the highest achievable sound quality on the web player stands at 128 kbit/s. Paying users, on the other hand, are limited to 256 kbit/s, regardless of their subscription status. The premium experience of 320 kbit/s songs encoded in the Ogg Vorbis format is exclusively available to Premium users on Desktop, mobile, and tablet platforms.
Within the preferences of TuneFab Spotify Music Converter, an option exists to adjust the Bitrate to 320 kbit/s. However, it's worth noting that the files obtainable are constrained to a maximum of 256 kbit/s. The potential inclusion of a sound quality optimization processor within the program is not mentioned on the website.
Part 2: Top 5 TuneFab Spotify Music Converter Alternatives
From the preceding information, it becomes evident that the actual sound quality and processing speed of the TuneFab Spotify Music Converter might not align entirely with the promoted claims. Furthermore, it's important to note that unlocking the complete array of functionalities requires a subscription fee.
For those seeking a premium tool with enhanced attributes or those in search of a cost-free alternative that doesn't entail additional expenses, the upcoming content is of utmost significance and should not be overlooked.
2.1 TunePat Spotify Converter - The Best Alternative You Can't Miss
TunePat Spotify Converter stands as a meticulously crafted audio downloader, converter, and offline player tailored for the Spotify community. This offering originates from TunePat, a distinguished entity renowned for its expertise in audio and video conversion solutions. This software empowers users with the ability to acquire Spotify files in unencrypted Ogg Vorbis format, subsequently facilitating seamless conversion into an array of prevalent audio formats, including MP3, AAC, FLAC, WAV, AIFF, and ALAC. Noteworthy is the tool's adeptness in batch conversions, providing a rapid 10X conversion speed for your preferred Spotify content. Importantly, the innate audio quality (at 320 kbps) and essential ID3 tags are thoughtfully preserved throughout the transformation process.
Main Features:
✅ Obtain and transform Spotify songs, albums, artists, playlists, and podcasts.
✅ Acquire Spotify melodies in diverse formats like Ogg Vorbis, MP3, AAC, WAV, FLAC, AIFF, or ALAC.
✅ Secure ad-free Spotify music tracks onto your computer while on a Free account.
✅ Download Spotify files at a 320 kbit/s resolution using Spotify Premium access for listening offline.
✅ Retain comprehensive ID3 tag particulars post-conversion, encompassing Artist, Title, Album, Track Number, Year, Artwork, etc.
✅ Tailor your output parameters extensively, including preconfiguring the nomenclature and structure of converted files.
✅ Download Spotify music at a rapid 10X conversion pace, supporting bulk processing.
✅ Convenient utilities: CD burning, ID3 tag editing, audio conversion, and iTunes exporting.
✅ Enjoy the Converted Spotify music anywhere with no need for the Spotify app.
Cons:
❌ A fee is required to unlock all features.
How to Use TunePat Spotify Converter to Download Spotify Content in 320 kbps:
Step 1 Run TunePat Spotify Converter, where you're greeted with a screen presenting two distinct conversion modes: App and Webplayer. The experience varies when utilizing it on a Mac computer, as the transition between modes differs. On a Mac, the App mode is limited to 1X speed, while both modes can achieve up to 10X faster conversion on a Windows computer. Choose the "App" mode here, which lets you download Spotify files with an impressive 320 kbps sound quality.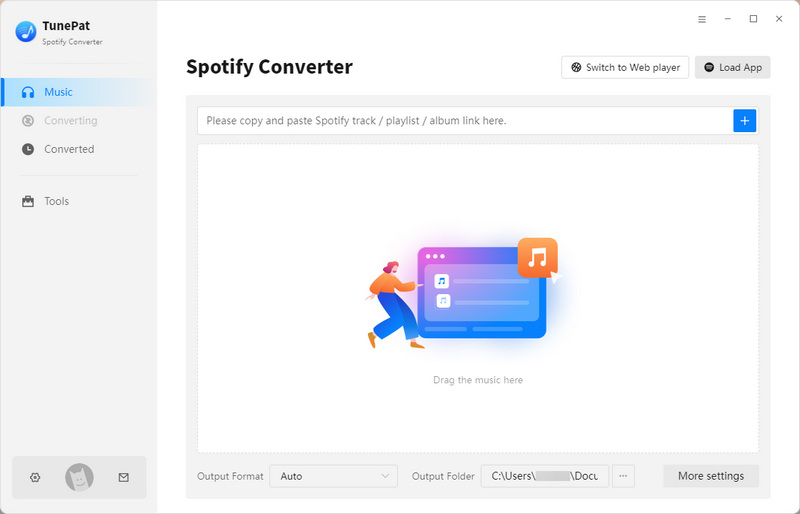 Step 2 Upon selecting the App mode, the Spotify app on your computer will simultaneously appear. Ensure you've downloaded, installed, and logged into the Spotify app beforehand. Next, locate the desired item within the Spotify app, click on its cover, and drag it to TunePat's "Drag the music here" section on the Home interface, or copy and paste its URL into the parsing box on the right. Click the "+" icon to initiate parsing.
As TunePat completes parsing the available songs, a pop-up window will showcase all of them. Mark the titles you require from this window, then hit "Add" to incorporate them into the Home interface, awaiting conversion.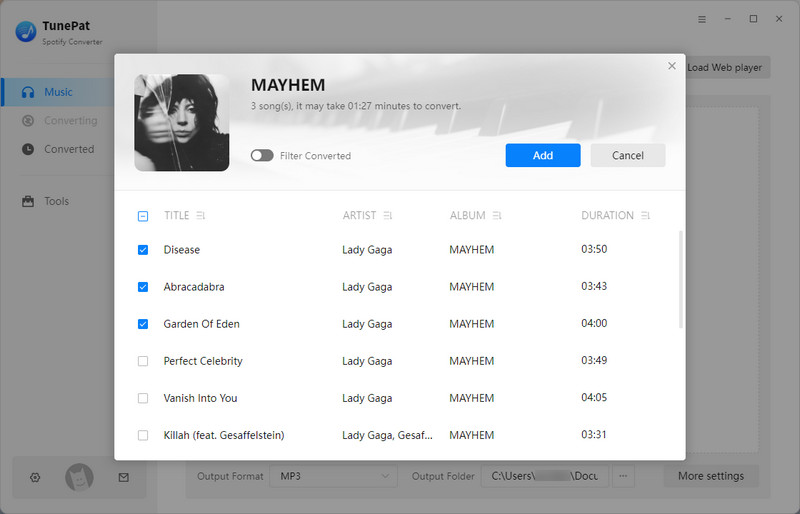 Step 3 Before initiating the conversion process, access the "Settings" interface to tailor output and conversion parameters. Here, you can adjust conversion mode, output format choices, bit rate, sample rate, output path, output file name, and more. To maintain the source file's parameters for the output file (achieving a 320 kbps OGG Spotify file, for instance), leave the output format field untouched and opt for the default "Auto" setting.
Step 4 Returning to the Home interface, clicking "Add More" enables you to add songs for batch conversion continuously. Once your selection is complete, click "Convert" to commence the conversion process.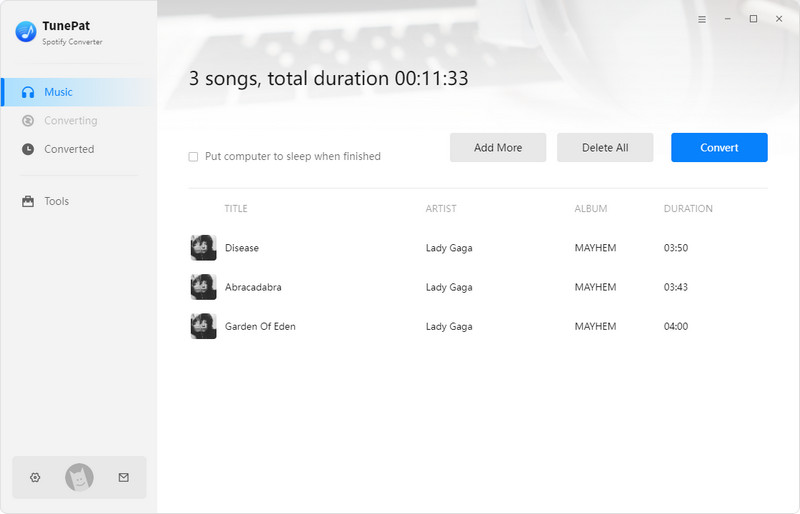 Step 5 After completing the downloads, navigate to the "Converted" button in the lower left corner to peruse your historical records. These songs are readily transferable to any media player or device you prefer.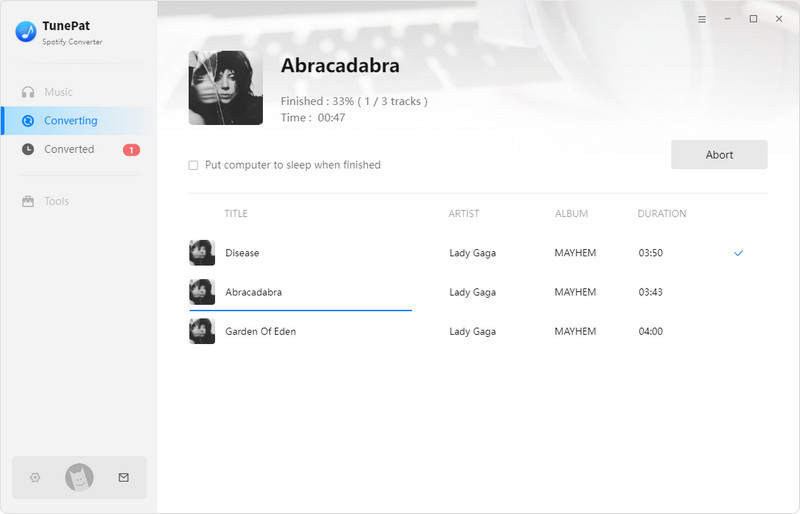 ---
2.2 TunePat Music One - One-stop Music Conversion Expert
TunePat Music One emerges as a robust all-in-one music conversion solution tailored to the preferences of music enthusiasts across a range of prominent platforms, encompassing, yet not restricted to, Spotify, Amazon Music, Apple Music, Tidal, YouTube Music, and more. This singular converter facilitates seamless access to desired content—songs, albums, playlists, artists, audiobooks, podcasts, or music videos—from the aforementioned platforms.
In response to the necessity for efficient local music library management, TunePat Music One extends its support to an array of output formats. You're granted the liberty to designate output folders according to personal inclinations, classify output files as per your requirements, and engage in the bulk conversion of tracks originating from diverse playlists or albums, among other features.
Main Features:
✅ Enables intelligent extraction and conversion of music content from diverse platforms, including Deezer, Spotify, Amazon Music, Apple Music, Tidal, YouTube Music, and more.
✅ Effortlessly convert 320 kbps Spotify content into formats like MP3, AAC, FLAC, WAV, ALAC, or AIFF.
✅ Capable of capturing and downloading music, albums, playlists, podcasts, audiobooks (Apple), and even music videos (YouTube Music).
✅ Preserves the lossless audio quality distinctive to various music streaming platforms.
✅ Finish the conversion process with speeds up to 10 times faster.
✅ Tailor the output path, output file name, organization structure, and more, simplifying the management of your local music files.
✅ Handy tools: Edit Tag, Burn CD, and Format Converter.
Cons:
❌ The price is slightly more expensive than a single platform converter.
How to Use TunePat Music One to Export Spotify to PC:
Step 1 Launch TunePat Music One on your computer. When you access the splash screen, you'll see a list of available streaming music sources. Select "Spotify" App or Webplayer conversion mode. In order to get better sound quality, here we recommend using Spotify (App).
Step 2 The Spotify app will open automatically at the same time. Please drag or copy the link of the desired Spotify song from Spotify to the specified location of TunePat Music One, so that TunePat will automatically start to analyze the link.
Step 3 After parsing, you can see all items in a new window. Select all by default. You can also choose manually. After selecting, click "Add".
Step 4 Then, visit the "Settings" module located on the left side of the interface. At this point, the customization of output parameters is over. These include various options such as conversion mode, output format, bit rate, sample rate, output path, output file name, etc.
Step 5 Return to the home page after completing the setup. All Spotify songs of your choice are listed here. Click the "Convert" option to start the download.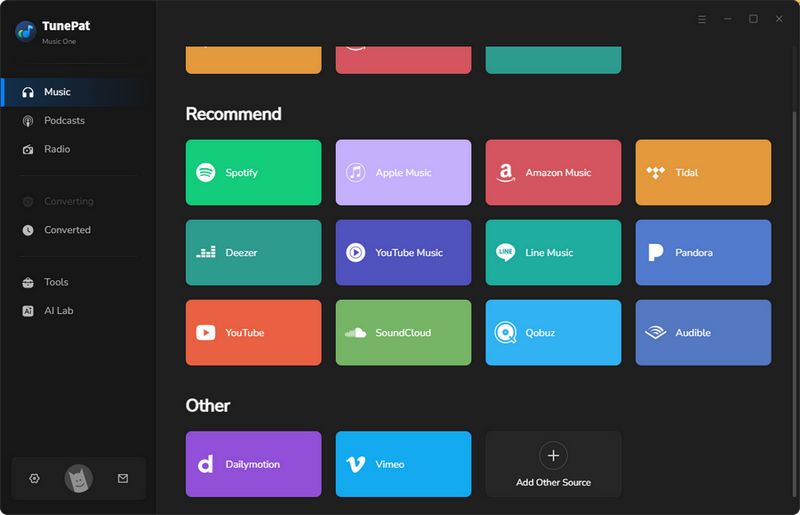 ---
2.3 Soundloaders Spotify Downloader - Cost-free Song Converter
Soundloaders presents a convenient and cost-free song downloading application, designed with user-friendliness in mind. This tool empowers you to effortlessly acquire MP3-format songs from an array of platforms including, Apple Music, Bandcamp, Deezer, Last.fm, Mixcloud, Napster, Reverbnation, Soundcloud, Spotify, Youtube, Youtube Music, Apple Podcasts, and Google Podcasts. Its versatility extends across both desktop and mobile browsers, ensuring a seamless experience. Furthermore, Soundloaders automatically integrates essential metadata such as cover images, artist information, and release dates into your downloaded tracks, provided this data is available.
Main Features:
✅ Compatible with various widely-used music platforms like Apple Music, Deezer, Spotify, YouTube, YouTube Music, Last.fm, and more.
✅ Available for free usage.
✅ Boasts an uncomplicated interface, allowing seamless transitions between platforms.
✅ Spotify song download can be done through an online website or desktop app.
Cons:
❌ Limited to a singular output format: MP3.
❌ Lacks the capability to personalize output settings, resulting in reduced flexibility.
❌ Incapable of downloading albums or playlists containing multiple songs from Spotify; parsing is feasible, but solely the first song can be acquired.
❌ Batch conversion is not supported.
How to Use Soundloaders Spotify Downloader to Download Spotify in MP3:
Step 1 Launch the Spotify website or desktop application.
Step 2 Locate the desired song, playlist, or album and copy its URL.
Step 3 Initiate Soundloaders, navigate down the page, and opt for the Spotify feature.
Step 4 Paste the Spotify URL within the designated field and initiate a "Search" to verify the music.
Step 5 Select the "Download" button, triggering an automatic commencement of the download process.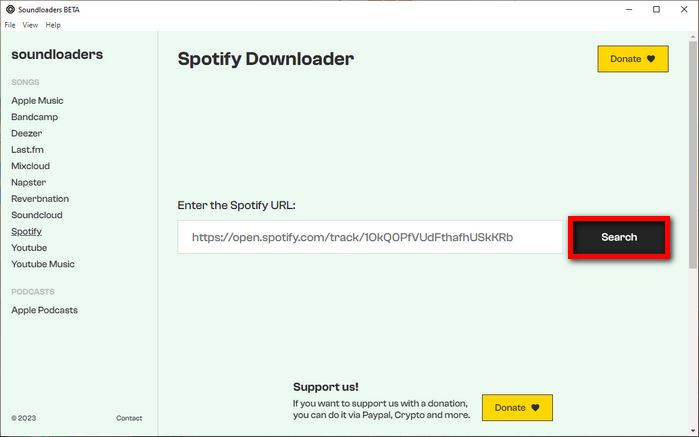 ---
2.4 AllToMP3 - Download Spotify, YouTube, SoundCloud, Deezer
AllToMP3 is a software application designed for downloading and converting audio content from various online sources into MP3 format. It allows users to capture audio tracks from popular streaming platforms such as YouTube, SoundCloud, Spotify, and others and then convert them into MP3 files that can be stored and played offline on various devices. It is often used by individuals who want to create personal collections of their favorite songs, podcasts, or other online audio content.
Main Features:
✅ Offers support for a variety of platforms, including Spotify, YouTube, etc.
✅ Capable of extracting audio from YouTube video files.
✅ Demonstrates strong compatibility, catering to Windows, Mac, and Linux users.
Cons:
❌ Presents room for enhanced stability.
❌ When parsing Spotify albums or playlists containing numerous tracks, experiences prolonged processing times and an elevated failure rate.
❌ Results in a reduction of sound quality for Spotify music conversions.
❌ Lacks the feature to efficiently convert desired songs in batch.
How to Use AllToMP3 to Get Spotify Files:
Step 1 Install and then open the AllToMP3 application on your computer.
Step 2 Copy and paste the share link from Spotify to the AllToMP3 app.
Step 3 If needed, you can click on the icon beside "Songs are downloaded in" and customize the output path. Press on the "Enter" button to begin to parse the Spotify URL.
Step 4 AllToMP3 will process the URL, extract the audio, and convert the Spotify music track into MP3 format. The time it takes depends on the length and quality of the audio.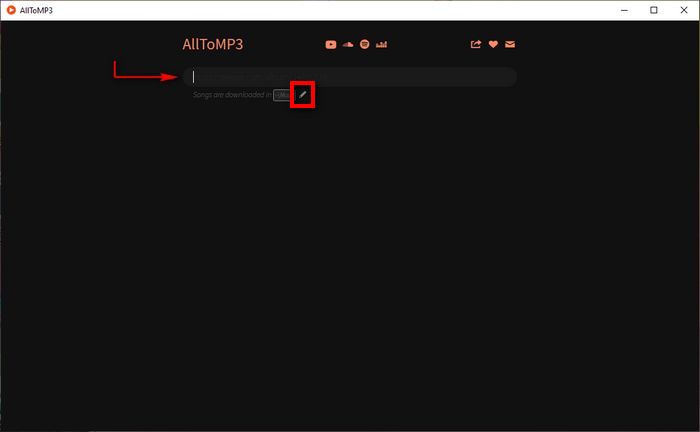 ---
2.5 SpotifyDown - Online Spotify Downloader
SpotifyDown is an intuitive and cost-free online tool for seamless song, album, and playlist downloads from Spotify. Effortlessly procure the URL of your desired Spotify content, and in return, you'll acquire a downloadable file readily accessible for offline playback on your computer or mobile device. This tool's appeal lies in its lack of necessity for software installation, making it a good choice for individuals seeking a user-friendly solution without requiring advanced computer technology knowledge.
Main Features:
✅ No cost involved and no need for extra app installations.
✅ The interface is simple and the conversion speed is fast.
✅ Access to high-quality Spotify music.
Cons:
❌ Online platforms incorporate ads, impacting user satisfaction.
❌ Solely permits MP3 output with no option for predefining other settings, limiting local music collection management.
❌ Able to identify and display albums or playlists with multiple tracks, yet lacks single-click conversion support, necessitating individual clicks for each conversion.
How to Use SpotifyDown to Download Spotify Music:
Step 1 Launch your Spotify app and locate the specific song, album, or playlist you intend to convert.
Step 2 Copy the share link of your chosen content from the Spotify app.
Step 3 Paste the copied share link into the designated input field on the SpotifyDown website.
Step 4 Initiate the analysis process by clicking the "Download" button.
Step 5 If the link encompasses multiple songs, choose one and click the corresponding "Download" button positioned on the right.
Step 6 Exercise patience as the process unfolds, indicated by the status "Downloading Song, Please wait..". Upon completion, click the "Download MP3" button to secure the file onto your computer.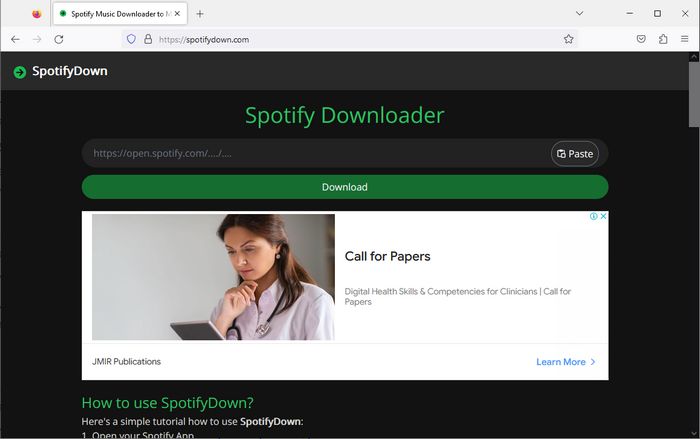 ---
This article comes to an end! I believe you now have a thorough understanding of TuneFab Spotify Music Converter, which is one of the options to consider. It has certain shortcomings in terms of audio quality and conversion speed. In fact, you can easily find alternative solutions. If you're looking for a free option, consider the aforementioned free online websites or tools. If you desire outstanding performance, high cost-effectiveness, and a professional alternative, TunePat Spotify Converter should undoubtedly be your first choice. Additionally, if you have the habit of using multiple streaming music services simultaneously and wish to save them all locally for offline playback, consider allocating a budget to purchase TunePat Music One.