Download High-Quality 320kbps MP3 Songs from Spotify
Spotify Music thrives these years on the basis of its millions of subscribers. The subscribers can be generalized into Free users and Premium users. It's advertised the standard bitrate of music for Spotify Free users is 160 kbps whilst the Premium users can unlock access to kbps audio streaming. In addition, without a Premium plan, offline listening is not allowed. Actually, all streaming music services, including Tidal, Amazon Music, and Apple Music, declaim similar rules.
Spotify Music enables Premium users to offline download songs with encoded formats. If you want to transcode Spotify Music tracks to 320kbps MP3 songs, this article will be greatly helpful. Following three parts in this tutorial, you will know different ways to download songs from Spotify for offline listening even for perpetual playback.
Part 1: How to Download Songs from Spotify to Computer with Premium
If you become a Premium subscriber to Spotify Music, you can download your liked songs from Spotify. Although offline downloading will be a pushover for Spotify Premium users, you can only enjoy offline playback within the Spotify Music app or web player under the limit of encrypted formats. If you are looking for a solution to download songs with a Spotify Free plan or extracting common MP3 music tracks from Spotify, you can skip to part 2 or part 3 in this article.
Step 1 Launch Spotify on your computer and go to find songs you want to download.
Step 2 Switch the Download button on, and a green arrow means the download was successful.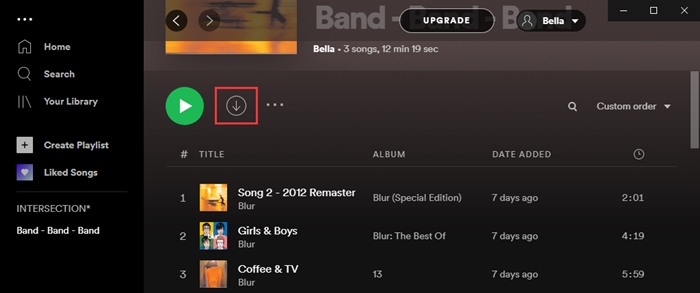 Part 2: Download 320kbps MP3 Songs from Spotify Web Player
Tips: Why do we convert Spotify tracks to MP3 formats?
MP3 format is compatible with most media players and can be easily transferred to most devices. After the conversion of Spotify music, we gain more options for using Spotify audio files on a variety of devices.
To download Spotify Music tracks, albums, playlists, and podcasts to common MP3 songs, only a third-party tool can settle it and presents a practical solution. TunePat Spotify Music Converter is a skillful music extractor that converts Spotify songs to several popular formats, such as MP3, AAC, FLAC, WAV, AIFF, and ALAC. Followed by the conversion, you are not restricted by Spotify. The local Spotify Music files can be transferred to any device for offline playback. Besides, you will be impressed by TunePat Spotify Music Converter because it downloads songs from Spotify with original quality and full metadata. You can rarely refuse a tool like this.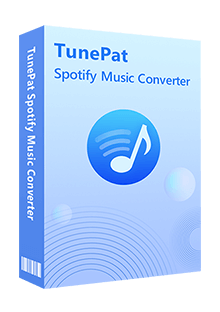 TunePat Spotify Converter
Download songs, albums, playlists, podcasts, and lyrics from Spotify.
Convert Spotify songs to MP3, AAC, WAV, FLAC, AIFF, or ALAC format.
Easily download ad-free Spotify music tracks to the local computer.
Get Spotify content at 10X conversion speed.
Keep ID3 tags and preserve lossless audio quality.
Converted Spotify songs can be played offline on various devices (such as Panasonic Smart TV, iPod, etc.) at any time.
TunePat Spotify Converter can support the acquisition and conversion of songs using Spotify Free or Premium account. But you need to pay attention to the following points:
1. If you are using a Free account, you can get music up to 160 kbit/s on the desktop or mobile client. And if it is accessed through web player, it is 128kbit/s. Therefore, if you want to obtain 320 kbit/s Spotify MP3 files, it is recommended to use a Premium account (accounts in the free trial period are also supported).
2. Besides music, TunePat Spotify Converter also supports converting podcasts. The podcast audio quality is the same for both free and premium users, around 96 kbit/s on all devices and around 128 kbit/s on web players.
TunePat Spotify Converter supports two conversion modes, exporting music from the Spotify app or from the embedded Webplayer, the two methods operate slightly differently. In this section, we will detail how to use the Webplayer mode to get Spotify audio at 10X speed. If you are interested in the App mode, you can skip directly to part 3.
Step 1 Select the Webplayer mode, and the embedded Spotify web player window will automatically pop up. If it does not pop up automatically under special circumstances, you can click the "Open the webplayer window" button on the Home interface to open it manually.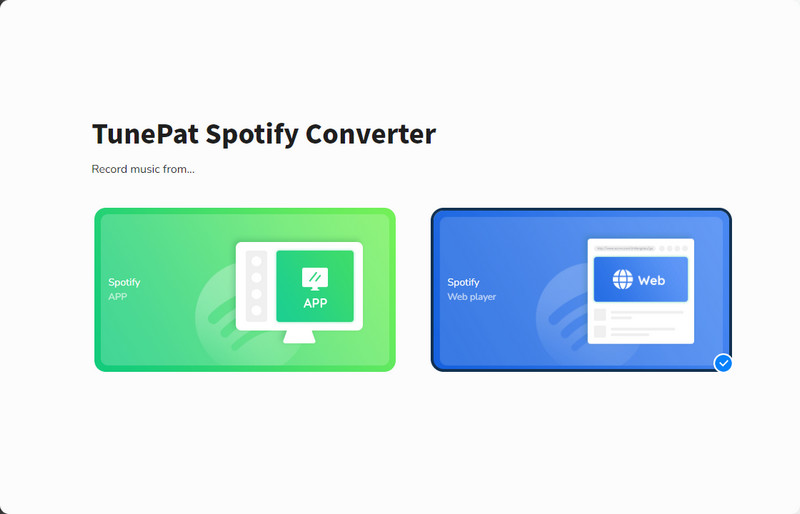 Follow the instructions to complete the login of your Spotify account in this window. Then you can smoothly access the Spotify library.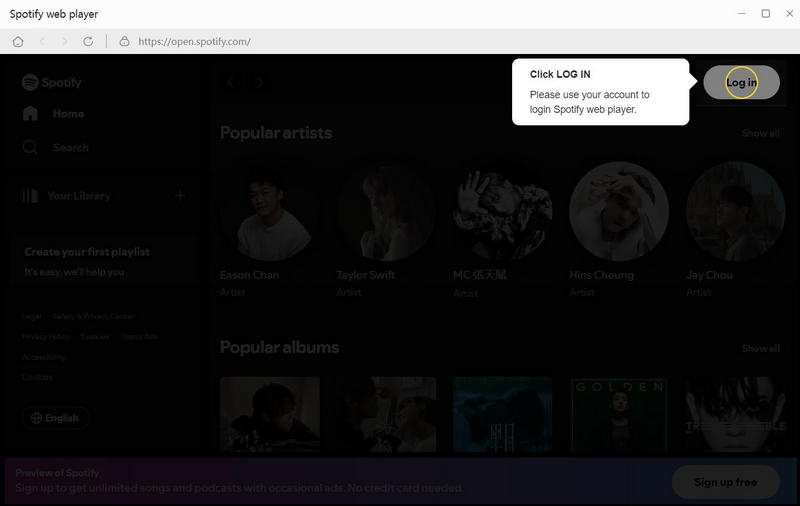 Step 2 Search in the search box or find the song, artist, album, playlist, or podcast you want to convert. After opening it, click the "Click to add" button on the lower right. Then TunePat will automatically read the songs/episodes on the current page.
Tick off the items you want and then click the "Add" button to add them to the Home interface, where they will await conversion.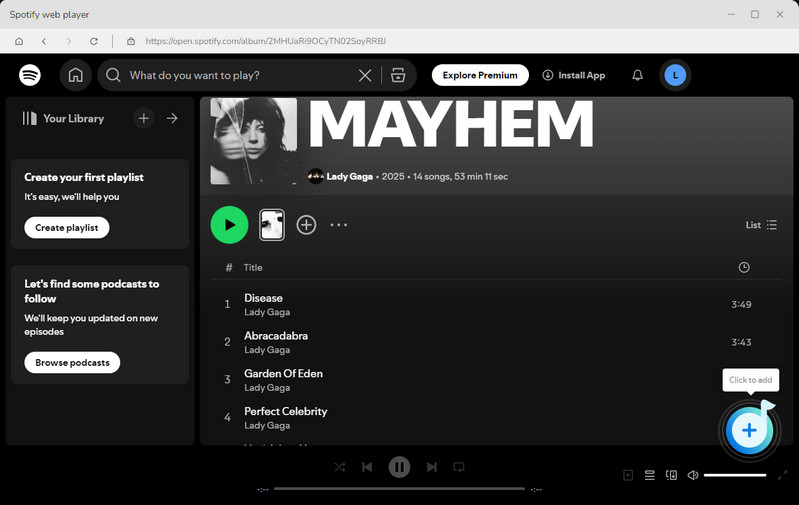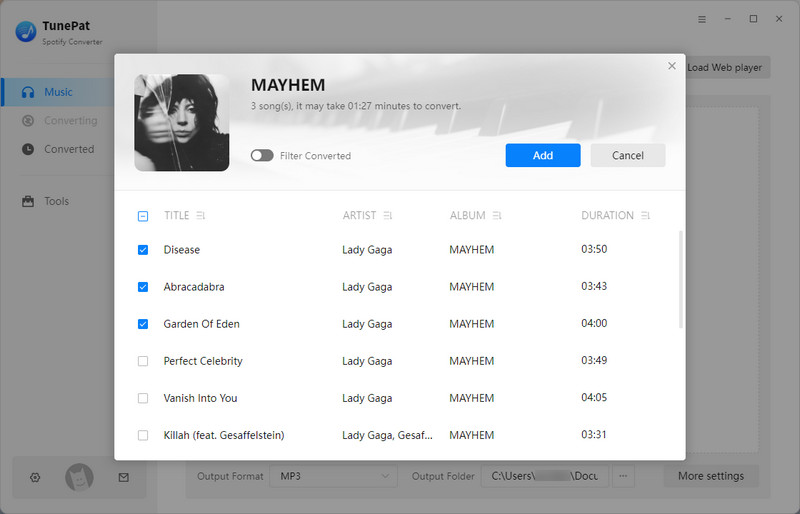 Step 3Check the default output settings is a priority before downloading music. More individual options will display after clicking on the "Settings" button in the lower left corner. The changeable options include conversion mode, output format, bit rate, sample rate, output folder, output file name, etc. In the output format setting, select "MP3". You are allowed to adjust the bit rate to "Very High (320 kbps)".
When you want to download songs in the same order as the original playlist, select "Playlist Index" in the Output File Name setting and select "None" in the Output Organized setting.
Step 4Click the "Home" button, then you will see the selected Spotify songs listed here. Choose "Convert" to start converting right away.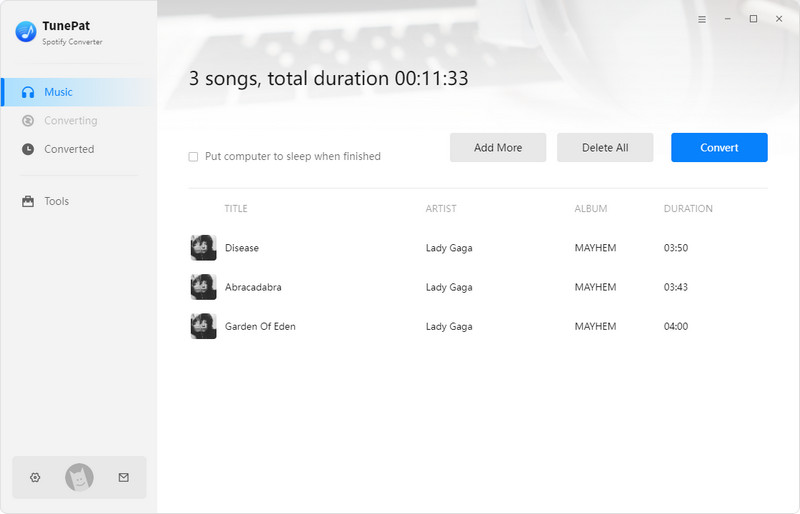 Step 5 When the conversion ends, the output folder will open automatically. You can go to the Converted part and check the songs you want, then click to export them to iTunes, burn them to CD, etc. And since the Spotify Music tracks have been converted to MP3 formats, you can transfer these local music files to any other device, such as SD cards, USB flash drives, phones, and so on.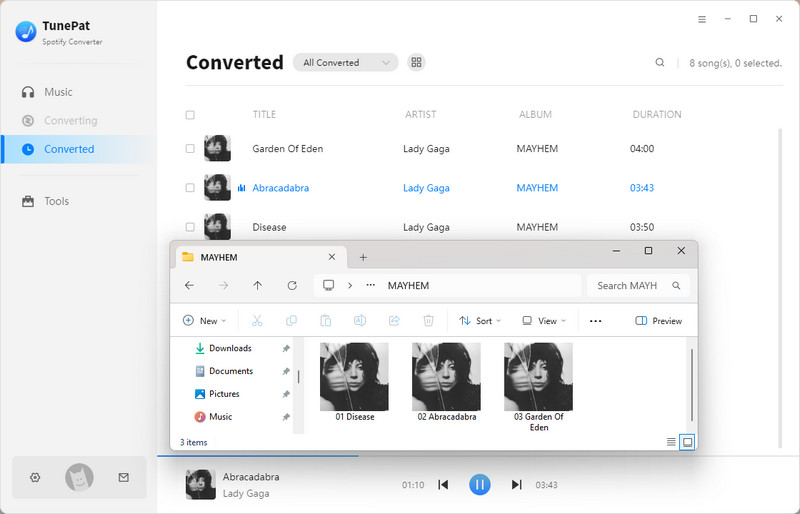 Part 3: Download 320kbps MP3 Songs from the Spotify Music App
There is a toggle button in the upper left corner of the program, click to switch from web player mode to App mode. App mode provides 1X/5X/10X conversion speed and maintains the best audio quality. Before using this mode, you need to make sure that the Spotify app is installed on your computer, otherwise, a prompt will pop up and let you go to install.
Step 1 Click App Mode, and the Spotify app on your computer will pop up synchronously. Please log in to your Spotify account on the Spotify app. If you are already logged in, go directly to the next step.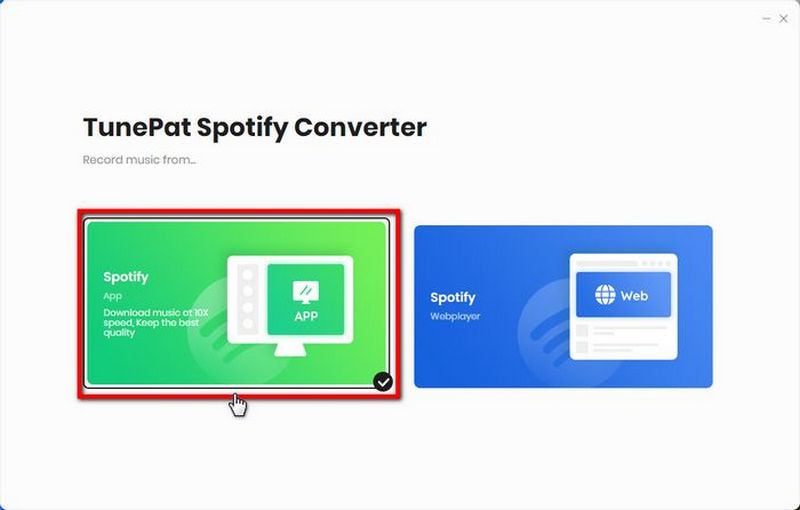 Step 2 Then you have two ways to parse Spotify songs. One is to click on the cover of the song, album, playlist, and podcast you want to convert in the Spotify app, and then put it in the "Drag the music here" area of the Home page of TunePat. After releasing the mouse, the program will automatically read it. Alternatively, you can copy and paste the link of the target Spotify music into the blue area on the right, and click "+" to start parsing.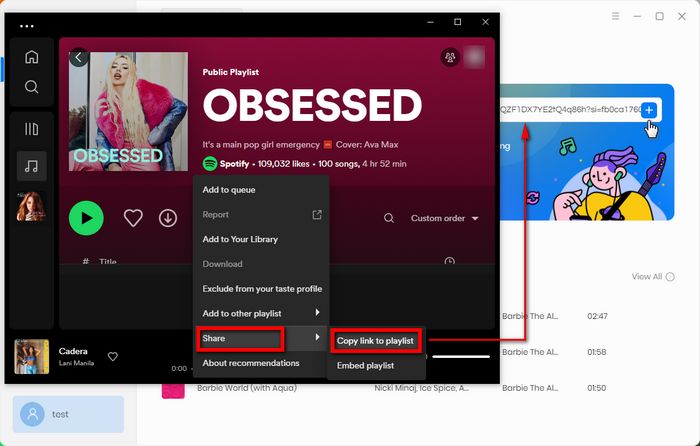 In this interface, all titles will be pre-checked by default, you can manually check or remove them. Click the "Add" button after selecting.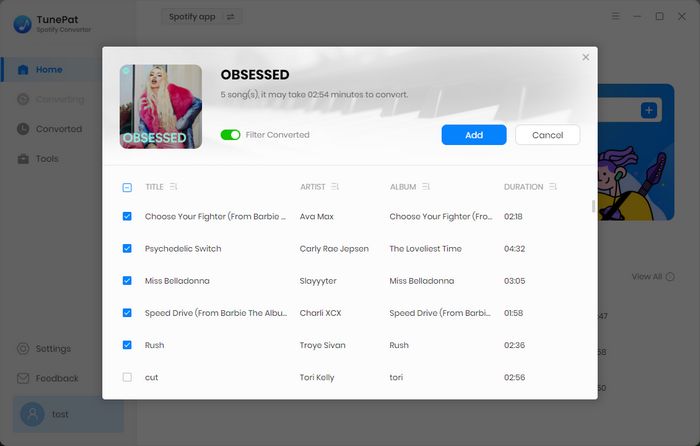 Step 3Before starting the conversion, please go to the "Settings" module. Here, you can customize the output parameters. Set the output format to MP3, and select "Very High (320 kbps)" in the Bit Rate column.
As you can see, most parameter choices are the same as in Webplayer mode. The only difference is that its conversion mode is divided into Intelligent Mode, Spotify Record, and YouTube Download. When you choose "Spotify Record" mode, you can customize the conversion speed, ranging from 1X to 10X. When the network speed is not good, please slow down the speed to ensure the quality of the output file.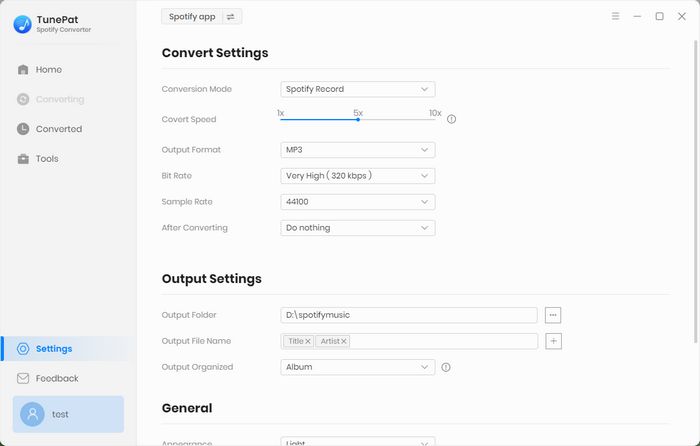 Step 4Go back to the Home page. The songs you chose are all listed here. Tap on the "Convert" button to start.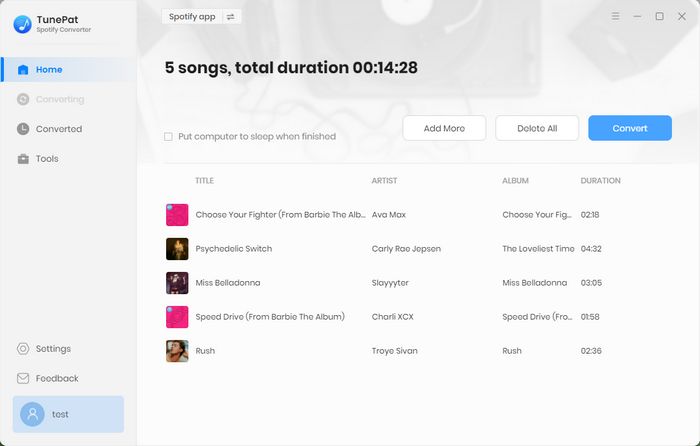 Step 5When all songs are converted to 320kbps MP3 files on the computer, the output folder will pop up. Check the local music files and enjoy the free playback. You can also find out the conversion history on the "Converted" part.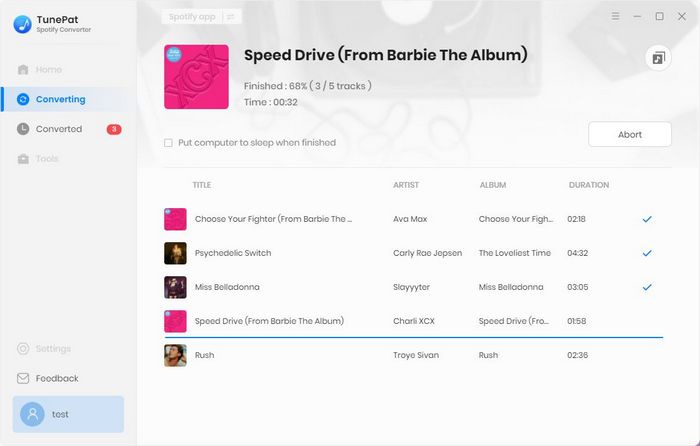 ---
After learning all the steps above, you should want to try it yourself urgently. Therefore just install TunePat Spotify Converter onto your PC or Mac, then select your preferred conversion mode. You can now save songs, albums, and playlists from Spotify to your local computer in high-quality 320kbps MP3 formats for saving permanently.