How to Remove Ads from YouTube Music Free
Back in 2018, Google replaced Google Play Music with YouTune Music. After a short interim hardship, YouTube Music has been gathering momentum and continuously growing bigger. Standing on the shoulders of YouTube Video, YouTube Music has quickly amassed a large group of subscribers.
YouTube's free users account for a large portion. As a compromise, YouTube Music came with a Free plan as soon as it launched. Nevertheless, the free tier is restricted from enjoying music in many ways. Most importantly, you are prohibited from blocking ads when listening. If you are suffering from intermittent ads when using YouTube Music Free, this article will be greatly helpful in removing the ads. Going through this tutorial to acquire the best solution to remove ads from YouTube Music Free once and for all.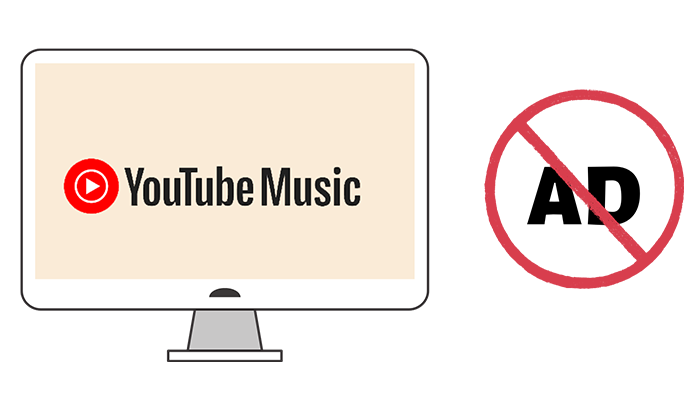 Part 1. FAQs about Blocking Ads on YouTube Music
Q1. Is it possible to skip YouTube Music ads?
Without a premium account, you cannot play music without ads. Unless you get an ad blocker or try a converter to pull songs directly from YouTube Music and dodge ads.
Q2. Can I listen to nonstop YouTube music without ads?
Listening to nonstop YouTube Music without ads also requires a Premium account. Free users can download YouTube Music audios to local pc in mp3 formats and then relish the offline playback lightheartedly.
Q3. How long are YouTube Music Free ads on average?
15 or 20 seconds in length, depending on regional standards. It should be noted that you would hear an ad before every song.
Q4. Can I download songs with YouTube Free plan?
It's a definite "Yes" after following the steps in the next part. Nothing can discourage you from enjoying ad-free listening even with a YouTube Music Free tier.
Part 2. Steps to Remove Ads from YouTube Music Free
Unless acquiring help from a professional music converter, the digital protection from YouTube Music is formidable. To solve this problem, you will need the help of TunePat YouTube Music Converter. This program busts the encrypted formats by converting songs, albums, playlists, and other audios from YouTube Music to common MP3, AAC, WAV, FLAC, AIFF, and ALAC formats. Besides, there is a big surprise as this converter offers offline downloading for even free users of YouTube Music. It engages in downloading ad-free YouTube Music audios with a YouTube Free account and facilitates eternal nonstop listening on a local PC or portable device.
Despite being a Premium YouTube Music user, it overt that you will not have an entry to the YouTube Music library after canceling the subscription. It will come one day in the future eventually. Unless you've stored all YouTube Music collections on your local PC in common formats. This prevents you suffering from losing your collected YouTube songs or playlists one day.
Take a glance at the highlights of the marvelous TunePat YouTube Music Converter. And let's get the songs from YouTube Music retained on your local PC perpetually with or without a Premium YouTube Music account.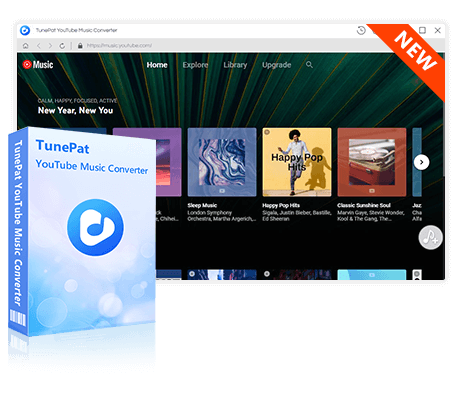 TunePat YouTube Music Converter
TunePat YouTube Music Converter helps you download and convert all YouTube Music songs and playlists to MP3 and other common formats.
Download songs, albums, playlists, and podcasts from YouTube Music.
Convert YouTube Music songs to MP3/AAC/WAV/FLAC/AIFF/ALAC.
Preserve the original quality of the songs after conversion.
Keep ID3 tags including Title, Album, Artist, etc.
Save music videos in MP4 format of up to 4K quality.
The downloaded YouTube Music tracks can be transferred to a phone, wearing gadgets, USB flash drives, SD cards, etc.
Step 1 Open the Built-in TunePat YouTube Music Web Player
Open your computer and install this TunePat YouTube Music Converter on it. After launching it, the YouTube Music web player embedded in TunePat will automatically open. If not, click the "Open the webplayer window" button in the upper right corner to get access to the built-in YouTube Music web player.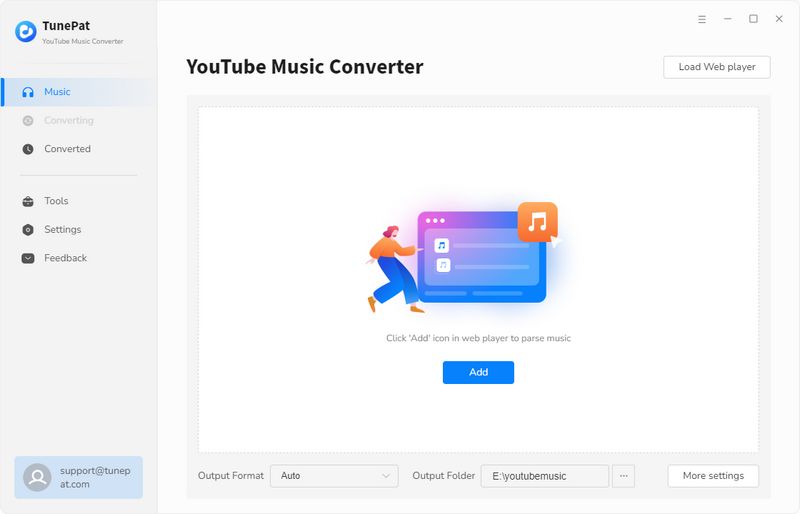 TunePat supports extracting songs from YouTube Music with a Free or Premium account. Log in to YouTube Music to get permission to the music library.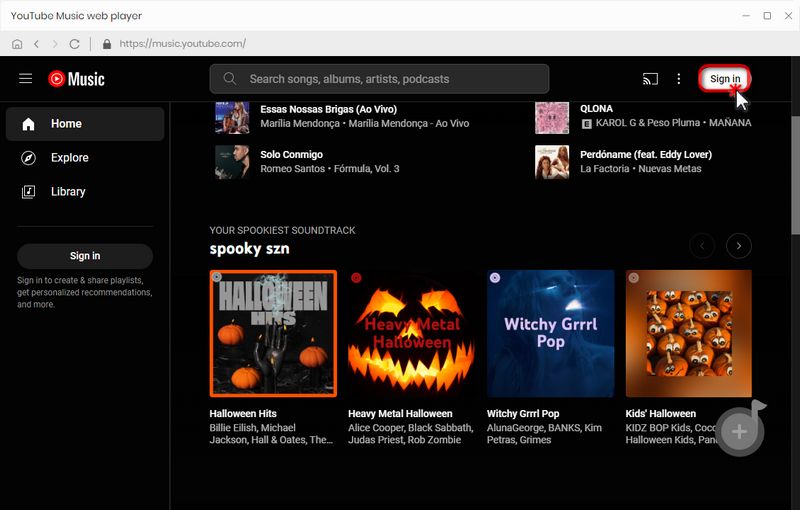 Step 2 Change the Output Format, Quality, and Other Settings
Navigate to the "Settings" button in the lower left. Then click it to view the output settings. Set up the output format, bit rate, sample rate, and other parameters. Then the changes take effect simultaneously. Choose "Auto" in the output format setting if you want to export the songs with the original quality in the original formats.
Parameters that you can customize include:
Output Format: Auto, MP3, AAC, WAV, FLAC, AIFF, ALAC
Bit Rate: 320kbps, 256kbps, 192kbps, 128kbps
Sample Rate: 192 kHz, 96 kHz, 48 kHz, 44.1 kHz
Output File Name: Track Number, Title, Artist, Album, Playlist Index, Year
Output Organized: None, Playlist, Artist, Album, Artist/Album, Album/Artist, Playlist/Artist, Playlist/Album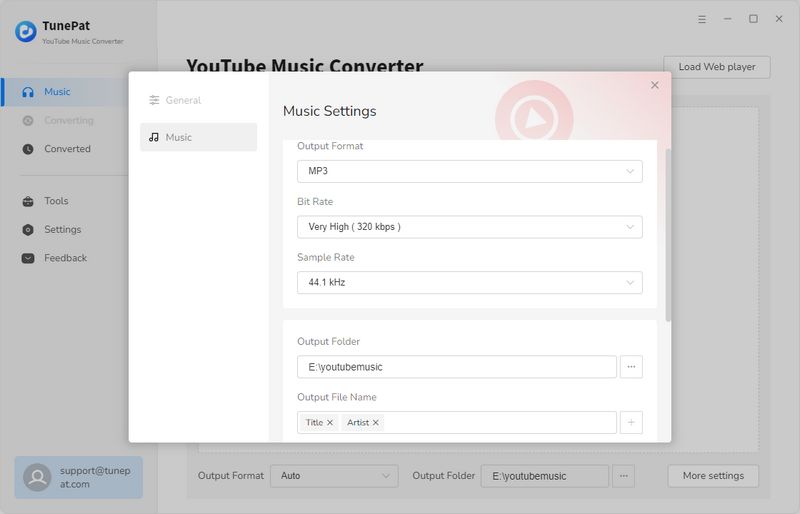 Step 3 Download YouTube Music Tracks to Local Files
You will see a "Click to add" button once you have opened a music album or playlist. To load the entire playlist, click this button, deselect the undesirable songs, and then press the "Add" button. Select "Convert" to initiate a conversion right away.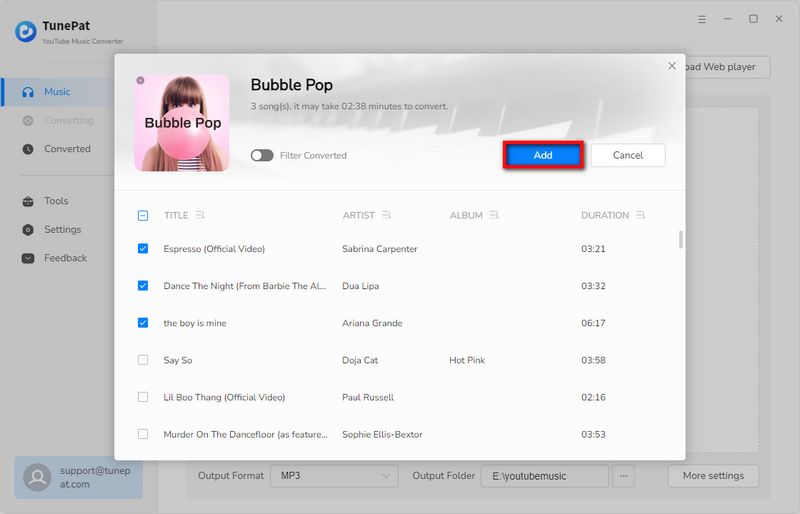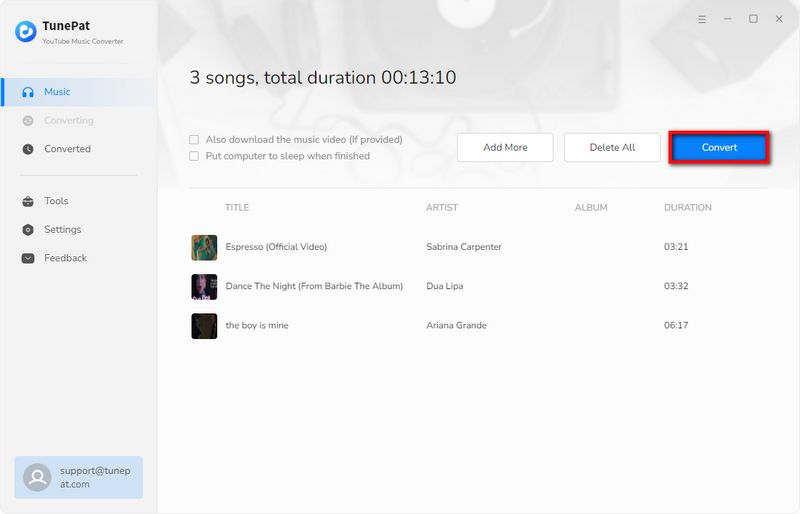 Songs, albums, and playlists from YouTube Music are converted to the common formats you've set before. With TunePat, you've stored audio files from YouTube Music without ads. You can relish the nonstop playback for free right now.
Conclusion
The End Words: Have you learned the best solution to remove ads from YouTube Music once and for all? When you are suffering from ads on YouTube Music, TunePat YouTube Music Converter will be honored to take on this challenging assignment. Both YouTube Free and Premium subscriptions are feasible to download songs from YouTube Music for offline playback through its assistance.