Apple Music vs. Tidal Music: What're the Differences?
Tidal, launched by Norwegian public company Aspiro in 2014, is subscription-based music, podcast, and video streaming service that combines lossless audio and high-definition music videos. In the second year, Apple launched its subscription-based music streaming service – Apple Music, which has over 90 million songs currently. It is also an excellent music service that lets users stream music from its server and access all users' music in one place, whether it is purchased from iTunes, copied from CD, or downloaded from the web.
Both music streaming services are popular and have a large number of subscribers. Thus, you might be confused about choosing the most suitable one between them. Don't worry! Today, we are going to compare Apple Music and Tidal in terms of the subscription, free trial rules, audio quality, compatibility, and user experience, so as to help you make a decision.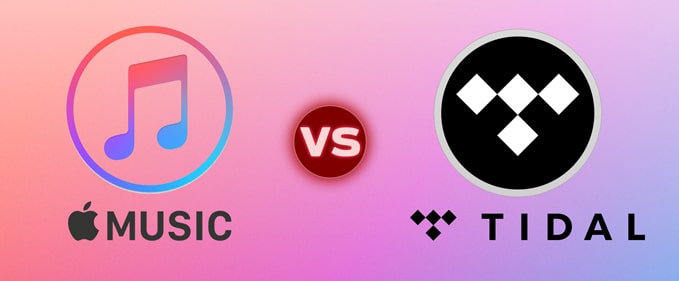 Apple Music vs. Tidal Music: Subscription
Apple Music doesn't have a free plan, and it only provides one subscription type for subscribers, which costs $10.99 per month for individuals, $16.99 per month for Family subscribers with up to 6 Premium accounts, and $5.99 per month for students (College students only. Verification required.). To retain users, Apple Music also offers their users the option to get an annual subscription for $109, which is $23 off. That is a wonderful choice.
With the Family subscription, you need to share your iCould with your Family. And you may find the price is lower for Apple users when you order Apple One bundle (includes Apple Music, Apple TV+, Apple Arcade, iCloud+, etc.) with other Apple subscriptions. If you want a lower-budget plan, then Apple Music Voice is an interesting-looking alternative. This plan only works with audio (but does not support spatial audio). It can only be activated and controlled with Siri. Suitable for people who like to listen to Apple Music with HomePods, AirPods, CarPlay, and other devices.
| Subscription Type (Apple Music) | Voice Plan | Student Plan | Individual Plan | Family Plan |
| --- | --- | --- | --- | --- |
| Price | $4.99 | $5.99 | $10.99 | $16.99 |
| Visit 100m songs and 30,000 playlists | √ | √ | √ | √ |
| Stream ad-free music | √ | √ | √ | √ |
| Support lossless audio & spatial audio | × | √ | √ | √ |
| Available on Apple devices or other supported devices | Apple devices only | √ | √ | √ |
| Download music for listening offline | × | √ | √ | √ |
| Unlimited access for up to six people | × | × | × | √ |
| Personalized recommendations for each member | × | × | × | √ |
Tidal launched a free advertising sponsorship package in November 2021, unique to the United States. As for paid plans, Tidal offers two different tiers: HiFi and HiFi Plus, which cost $10,99 per month (The original price was $9.99. Price adjustment from August 2023) and $19,99 per month. Like Apple Music, Tidal also provides Family subscriptions for Family subscribers costing $16,99 per month (The original price was $14.99. Price adjustment from August 2023) for the HiFi Family plan and $29,99 monthly for the HiFi Plus Family plan. The difference between Tidal and Apple Music is that Tidal provides a 50% discount for students and provide a 40% discount for US Military and First Responders. With the Tidal HiFi plan, subscribers can enjoy Tidal music with HiFi audio quality of up to 1411 kbps, music videos, and expertly curated editorials. But with the HiFi Plus plan, you can get Master Quality Authenticated (MQA), Dolby Atmos, Sony 360 Reality Audio, and HiFi.
| Subscription Type (Tidal) | Tidal Free | Tidal HiFi | Tidal HiFi Plus |
| --- | --- | --- | --- |
| Price | $0 | $10.99 | $19.99 |
| Accessible content | Entire music catalog (100M+ songs and 650K+ videos) | Entire music catalog (100M+ songs and 650K+ videos) | Entire music catalog (100M+ songs and 650K+ videos) |
| Ad-free | × | √ | √ |
| Audio Quality | Up to 160 kbps | Up to 1411 kbps | Up to 9216 kbps (Master Quality Authenticated, Dolby Atmos, Sony 360 Reality Audio) |
| Stream Music with unlimited skips | × | √ | √ |
| Download music for listening offline | × | √ | √ |
| Support TIDAL Connect | × | √ | √ |
Apple Music vs. Tidal Music: Free Trial Rules
Apple Music provides a three months free trial for new subscribers, but Tidal only provides a one-month. That means signing in to an account on them, and you can stream all the songs on Tidal and Apple Music for free without paying and subscribing to them first. How to subscribe to the free trial month? It is pretty easy. Go to their apps or website and click Start a free trial for a free account. Then you can enjoy millions of songs. Please note that you must enter your billing information to subscribe to the free trial subscription, and do remember to unsubscribe from the service before the billing date for the second month if you decide not to continue using them.
Apple Music vs. Tidal Music: Audio Quality
Tidal has always been known for its focus on providing high-end music quality. It is divided into two tiers, HiFi and HiFi Plus, each offering different sound quality. Tidal HiFi provides lossless audio, providing uncompressed music files with a bit depth of 16 bits and a sample rate of 44.1 kHz. The latter experience is better, and users can enjoy Master Quality audio up to 9216 kbps in addition to all the benefits of TIDAL HiFi. Plus, TIDAL HiFi Plus subscribers get an exclusive benefit: immersive 360-degree real audio. And high-resolution tracks on Tidal will have the Master logo below the artist list.
High definition music was not previously supported, and Apple Music, which has a maximum sound quality of 256 kbps, is not to be outdone. Apple Music Hi-Res Lossless was launched in the first two years. Apple utilizes its proprietary ALAC (Apple lossless audio codec) format to provide lossless audio. Hi-Res lossless audio is 24-bit with a sample rate of 192 kHz, surpassing the CD quality offered by TIDAL HiFi. In other words, at the same price, the basic plan of Apple Music (10.99 dollars a month) can get better sound quality than Tidal HiFi (10.99 dollars a month). But if you have higher requirements, then please pay more for Tidal HiFi Plus.
Apple Music vs. Tidal Music: Compatibility
Apple Music supports playback on multiple devices such as iPhone, iPad, Apple Watch, Apple TV, Mac, HomePod, CarPlay, PC, Android, Sonos, Amazon Echo, Samsung Smart TV, Google Nest, PlayStation 5 or on the web. If you are a fan of Apple products, then your support and experience on the device will be better.
Tidal also offers both app client side and web side playback. It supports playback on a variety of devices, including smart speakers from multiple popular brands, smart TVs, cars, tablets, smartwatches, and more. You can also integrate Tidal content into popular media player/server software such as Plex and Roon. In October 2020, Tidal released Tidal Connect. Tidal Connect lets you stream your Tidal directory over Wi-Fi to any Tidal Connect-enabled device and, importantly, directly from a Tidal server to your audio device. You don't need a third-party app. Currently, Tidal Connect can only run on one device at a time. The types of devices supported by Tidal Connect can be accessed on this page.
Apple Music vs. Tidal Music: User Experience
The user experience could be different for subscribers with different devices. Apple Music probably is the default music app for iOS users. It could be the best choice for people who have an extensive collection of music downloads since Apple Music is the only App for you to upload the downloaded music. Tidal's overall design is easy to use, and Tidal is good at the personalized feature that it knows what users are interested in and recommend music on relevant.
However, Tidal Music has a disadvantage compared with Apple Music, which is that Tidal subscribers cannot download music from Tidal on a computer. You can only download music from Tidal within the mobile App on your Android or iOS devices.
In conclusion, Tidal provides a better music streaming service since it offers higher-quality audio for subscribers to enjoy music. When you subscribe to the Tidal HiFi Plus plan, you can enjoy music at CD lossless quality or Master audio quality. Tidal is recommended for those who are pursuing higher audio-quality headphones or speakers. For those who have several Apple devices, Apple Music could be a great option, as it will help you build a wonderful music connection that allows you to stream music on any of your Apple devices.
Extra Tips: How to Download Tidal Music on Computer?
As we mentioned above that Tidal does not allow users to download music on the computer, which is a sad story for many who would like to play Tidal music offline on a PC. Don't worry! Today, we are going to introduce a tool to download music from Tidal on your computer with up to HiFi audio quality.
The professional tool we will use is TunePat Tidal Media Downloader, a reliable and practical program to download songs, playlists, and albums from Tidal and convert them to common formats such as MP3, AAC, WAV, FLAC, AIFF, or ALAC. With the assistance of TunePat Tidal Media Downloader, you can download Tidal music at 10X conversion speed with ID3 tags kept. Most importantly, you will get audio files with lossless audio quality after conversion. If you are a Tidal Hi-Fi or HiFi Plus tier user, the program can help you get Hi-Fi or up to Master sound quality. You are able to get Tidal music downloaded on your computer directly and transfer them to any device for offline listening.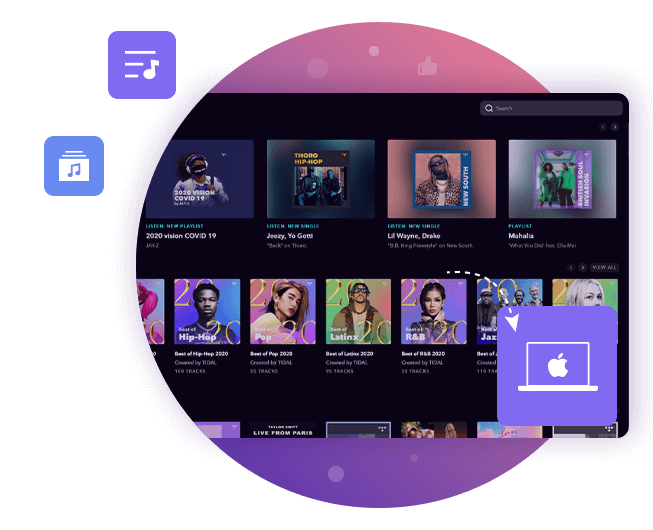 TunePat Tidal Media Downloader
TunePat Tidal Media Downloader lets users download all Tidal content to MP3 or other standard formats.
Downloaded Tidal Music songs, albums, playlists, and podcasts.
Convert Tidal songs to MP3, AAC, WAV, FLAC, AIFF, and ALAC formats.
Keep Master & HiFi audio quality and ID3 tags.
10X faster download speed & support downloading multiple playlists in bulk.
Step 1 Run TunePat Tidal Media Downloader and you will see both App and Webplayer modes. App mode allows you to get audio files with the highest sound quality up to Master from the Tidal app at a conversion speed of 1X / 5X. So if you choose App mode, you need to make sure you download the Tidal app on your computer and complete the account login. The Webplayer mode conversion speed is up to 10X, which supports retaining HiFi sound quality. Using this mode, you don't need to download additional apps, but log in directly to the account in the embedded Tidal web player.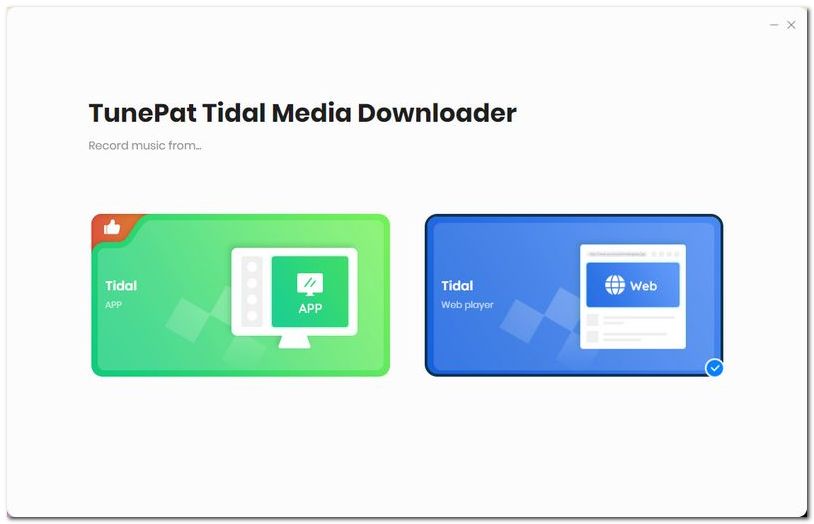 Step 2 Once logged in, you can start looking for the Tidal music you want to convert. But the two modes are different:
App Mode: Drag and drop the target item from the Tidal app to the specified location on the home interface, or copy and paste the link of the Tidal music, album, playlist, or podcast you want to convert to TunePat for parsing. The content will appear in the pop-up window after parsing.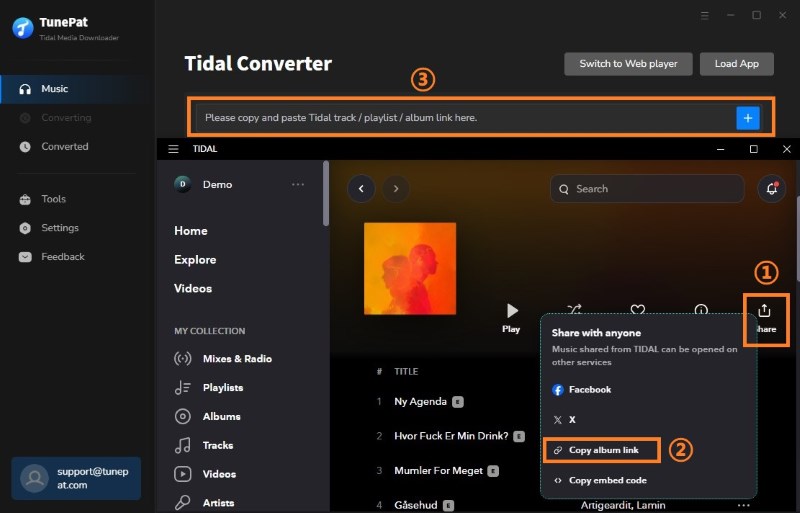 Webplayer Mode: Open the desired song, album, playlist or podcast you want to convert and click the blue "Click to add" button in the lower right corner. Likewise, songs identified in the current playlist will be listed in a pop-up window.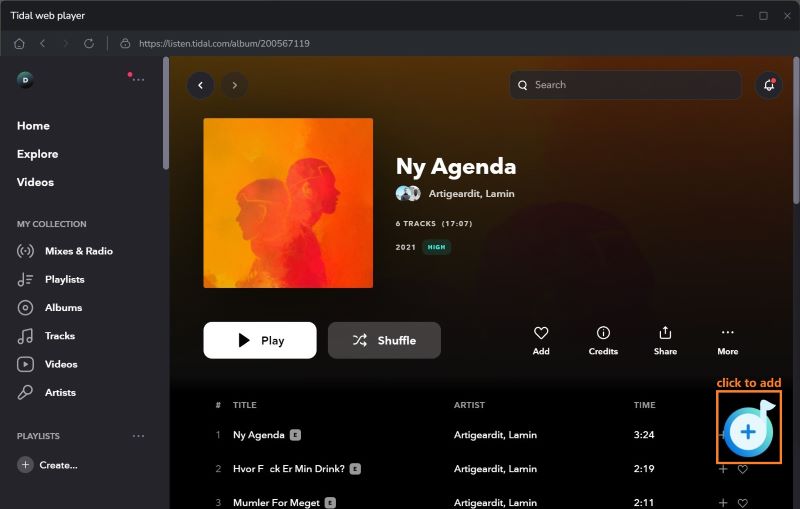 Step 3 In this pop-up window, all titles are selected by default. If you don't want to convert any songs, you can delete them manually. After making your selection, click the "Add" button. In addition, the window includes a "Filter Converted" button to help you identify and exclude duplicate songs that already exist locally. This feature can help you save yourself the trouble of organizing and manually removing duplicates later.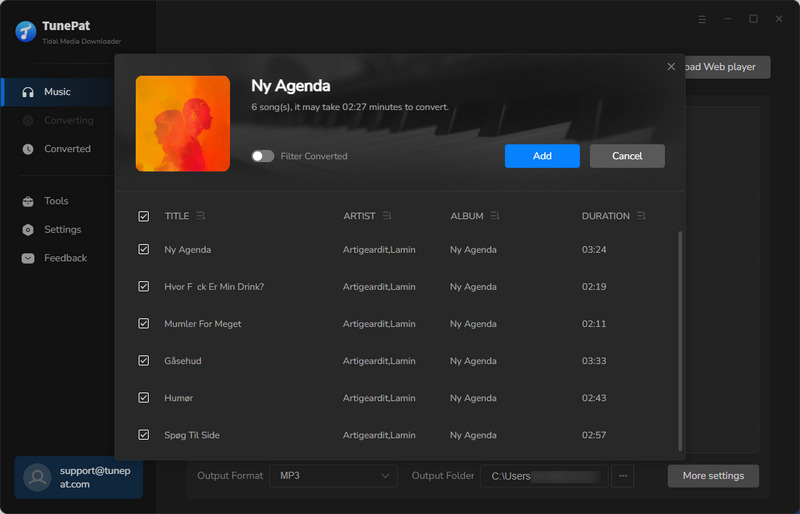 Step 4 Go to the "Settings" interface. Here you can customize various options such as conversion mode, output format (MP3, AAC, FLAC, WAV, AIFF, ALAC), output sound quality, output path and more. In addition, you can choose how to name TIDAL music files and organize them according to your requirements. And if you want to keep the sound quality of Master or HiFi, please not to change the column of the Output Format and use the default "Auto".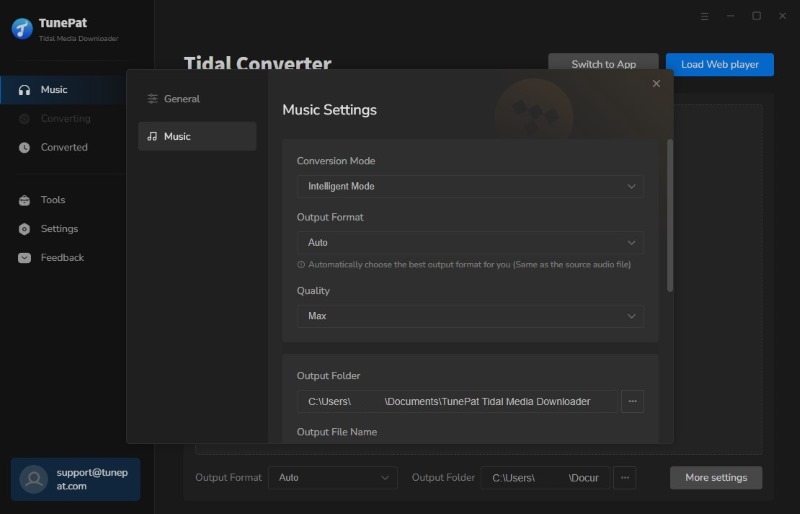 Step 5 After completing the setup, return to the Home page. Click the "Add More" button on this page to continue selecting songs for one-time conversion, or click "Convert" to start the conversion process immediately.
After the conversion is complete, you can click the "Converted" option to browse here, or double-click to play the converted song. Of course, you can also find these audio files locally on your computer, and transfer them to other devices if necessary.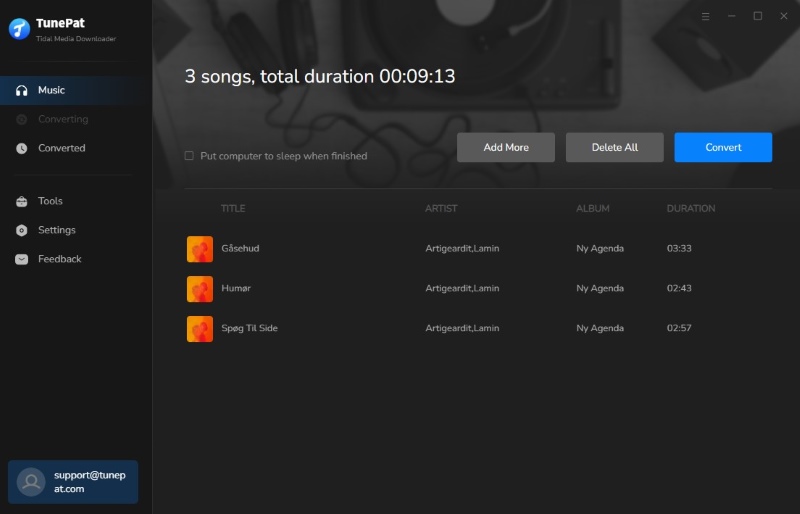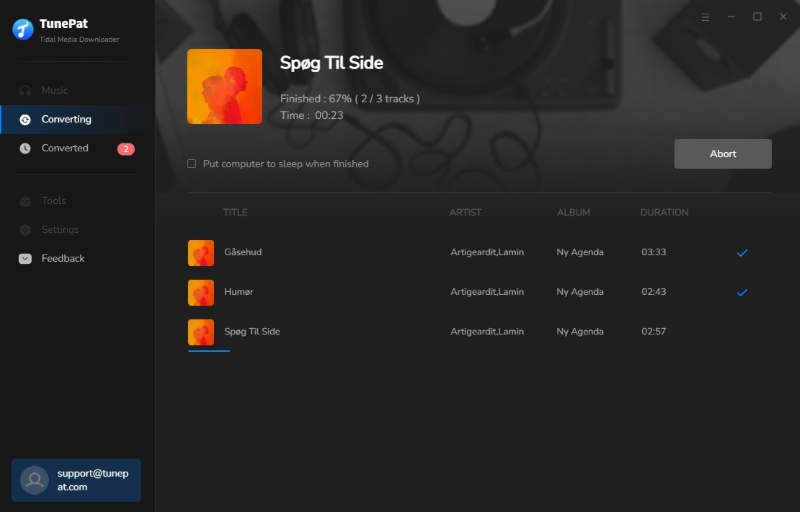 Conclusion
With TunePat Tidal Media Downloader, you are able to download Tidal music with up to CD-lossless audio quality for offline playback on your Windows or Mac computers. TunePat Tidal Media Downloader is the best choice for you to download Tidal songs faster with lossless audio quality kept. Try it now! It is definitely a helpful tool for you to download Tidal Music for offline playback. Here to find out more information about TunePat Tidal Media Downloader