How to Download Tidal Hi-Res Music
Experience extraordinary music in high-fidelity sound with TIDAL - the ultimate platform for music lovers. As a Tidal HiFi Plus subscriber, you can enjoy unparalleled sound quality with HiRes Free Lossless Audio Codec (HiRes FLAC) that reveals every detail, in files as large as 24-bit, 192 kHz. HiRes FLAC is different from FLAC(Free Lossless Audio Codec) for its audio quality. While FLAC is usually 16-bit, 44.1 kHz (CD quality), and Tidal HiRes FLAC can deliver superior sound in files as large as 24-bit, 192 kHz. Are you eager to download HiRes songs from Tidal? Continue reading to discover more valuable tips.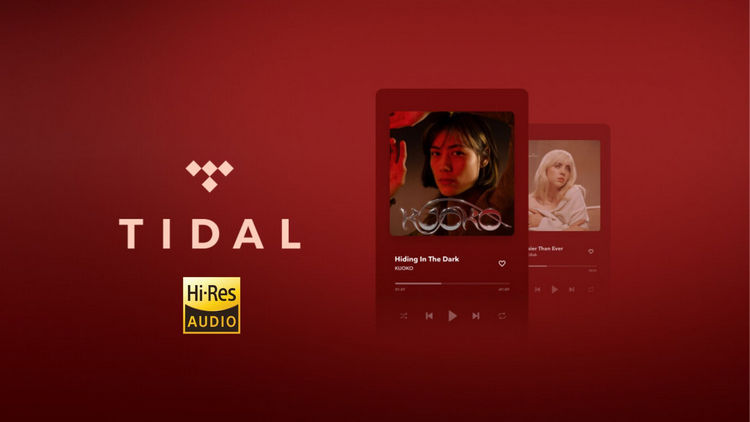 Part 1: What is Hi-Res Music?
High-resolution audio, often referred to as 'hi-res', offers music files with higher quality than standard CD audio. It achieves this through a higher sampling frequency and/or bit depth. CD quality is typically 16-bit/44.1kHz. The bit depth measures the amount of information in each sample, with a higher number resulting in a wider dynamic range. The sampling rate is the frequency at which the wave is measured when converting from analog to digital. Higher sampling rates result in more samples being taken, which leads to greater detail resolution in the audio signal.
Part 2: Why Choose Tidal Hi-Res?
Tidal has been a pioneer in high-resolution audio streaming since 2017, when it first introduced the MQA technology. With three pricing plans to choose from, including a free option, Tidal offers a range of audio quality options to suit every listener. The HiFi plan delivers CD-quality FLAC streaming at 16-bit and 44.1 kHz, while the HiFi Plus plan offers the ultimate in audio quality with master quality MQA streaming.
Previously known as "Tidal Master", the vast collection of high-resolution tracks on Tidal is available exclusively to HiFi Plus subscribers. However, the Master designation has now been replaced with "Max" which promises top-notch HiRes FLAC streaming. As Tidal puts it, selecting "Max" ensures that you are getting the absolute best quality version of any song on the platform, with resolutions of up to 24-bit and 192 kHz. With Tidal, you can experience audio like never before.
When it comes to HiRes music streaming services like Tidal, Qobuz, Amazon Music, and Apple Music, Tidal stands out as the clear winner. With superior sound quality, a seamless user experience, a wide range of music options, and the added benefit of hi-res Masters streams on MQA-supported hi-fi devices, Tidal continues to surpass its competitors. And now, with the introduction of FLAC hi-res streams, the accessibility of high-quality music is only set to improve.
---
Part 3: How to Download Hi-Res Music from Tidal
Tool Required - TunePat Tidal Media Downloader
To download Hi-Res music from Tidal, you need a professional Tidal music converter tool - TunePat Tidal Media Downloader. It is a reliable and practical music downloader program that supports downloading songs, playlists, and albums from Tidal and converting them to common formats such as MP3, AAC, WAV, AIFF, and FLAC. With the assistance of the TunePat Tidal Media Downloader, you can download Tidal music at 10X conversion speed with ID3 tags kept. Most importantly, you will get the audio files with lossless CD quality after conversion. If you are a Tidal Hi-Fi Plus user, the program can help you get Hi-Res sound quality. Compatible with both Tidal app and web player, TunePat allows you to get Tidal music downloaded on your computer directly and transfer them to any device for offline listening.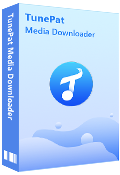 TunePat Tidal Media Downloader
Download songs, albums, playlists, and podcasts from TIDAL.
Convert Tidal music to MP3/AAC/WAV/FLAC/AIFF/ALAC.
Preserve Hi-Res audio quality of the songs after conversion.
Keep ID3 tags including Title, Album, Artist, etc.
Archive downloaded songs by artist, album, or playlist.
Handy Tools: burn CD, export to iTunes, audio converter, ID3 tag editor.
Steps to Download Tidal Music to the Computer with TunePat
In this part, you will learn how to use TunePat Tidal Media Downloader to download Tidal Hi-Res music to your computer.
Step 1 Download HiRes Music from Tidal App
First, download and install TunePat Tidal Media Downloader on your computer and launch it. You will see two options on the main interface which let you choose to download from Tidal app or Tidal web player. You can check the difference below:
Record from Tidal App: this mode adds songs via URL link or drag-and-drop, enjoys Hi-Res audio quality output and 5x download speed.
Record from Tidal web player: this mode adds songs via 1-click, enjoys CD audio quality output and 10x download speed.
Since Hi-Res audio quality is supported by Tidal app only, here we need to choose "Tidal app" mode. Please make sure you have downloaded Tidal app on your computer, and the Tidal app will start automatically if you choose App mode.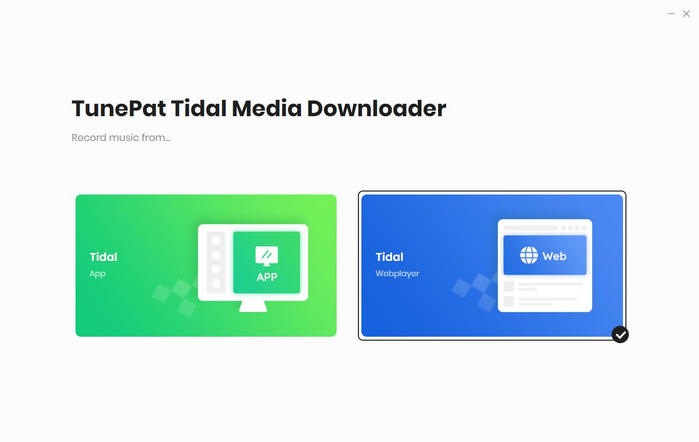 Step 2 Customize the Output Settings
Click the "Settings" button in the lower-left corner of the main interface. Here you can set the output format (AUTO/MP3/AAC/WAV/FLAC/AIFF/ALAC), audio quality, the download location, and choose to organize the output files by Artist, Album, Artist/Album, Album/Artist, or Playlist.
To download Tidal Hi-Res music, please select "Tidal Record" under Conversion Mode and choose "Auto" as the output format. TunePat will preserve the best quality for your Tidal downloads.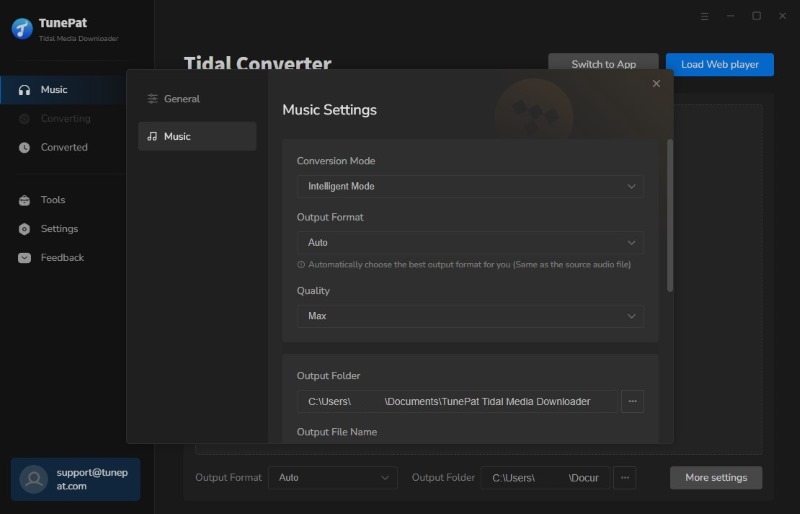 Step 3 Select Tidal Music to Convert
Choose a playlist/artist/album from the Tidal Music app windows, simply drag and drop the target item onto the designated location on the Home interface, or copy and paste its link for analysis.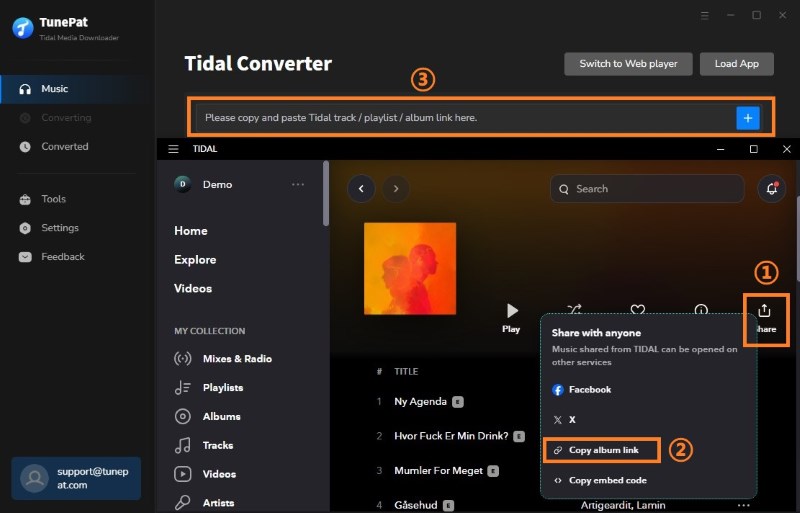 TunePat Tidal Downloader will load all songs from the URL you entered and list the songs on a pop-up window, here you can pick the songs you want to download and add to the convert list.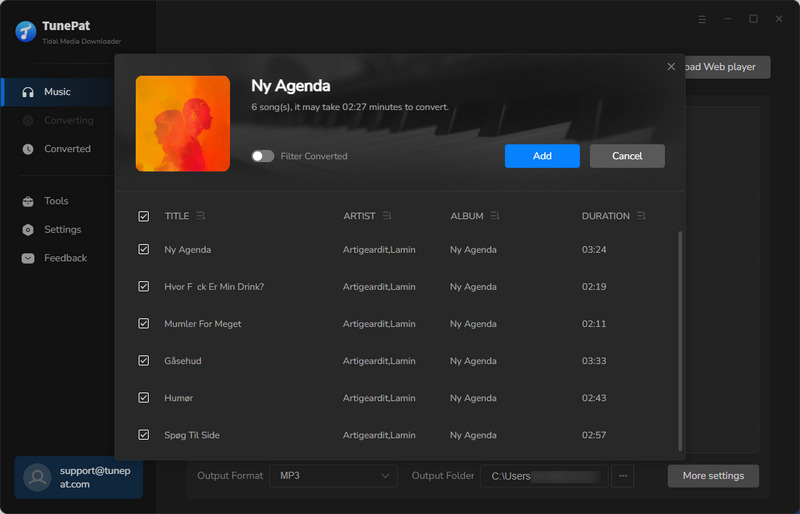 Step 4 Convert Tidal Music
After selecting songs, click the "Convert" button to start downloading the Tidal Hi-Res(Max quality) music to your local computer. If you want to download more songs for different playlists or albums, you can also click "Add more" button.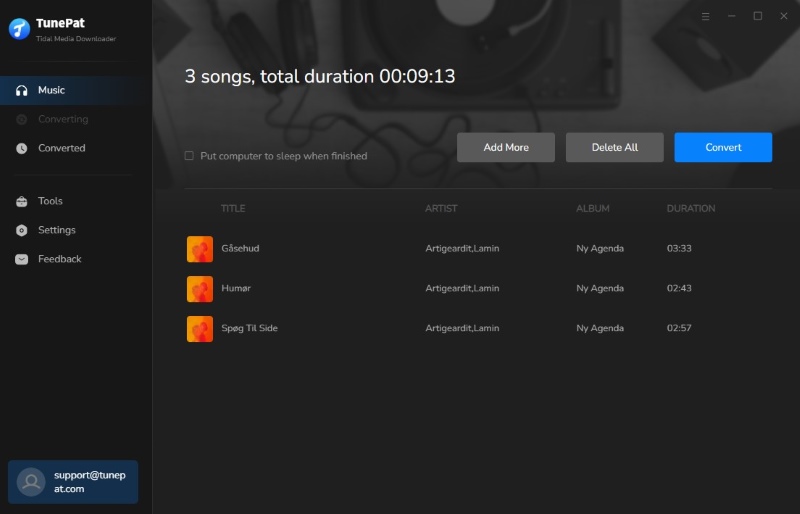 Step 5 Check the Downloaded Tidal Master Music
Once the conversion is done, the download folder will pop up automatically. You can also click the "Converted" button to find the downloaded Tidal files. Here you can enjoy more features for the downloaded songs, such as: Export to iTunes, Burn CD, Edit iD3 tag.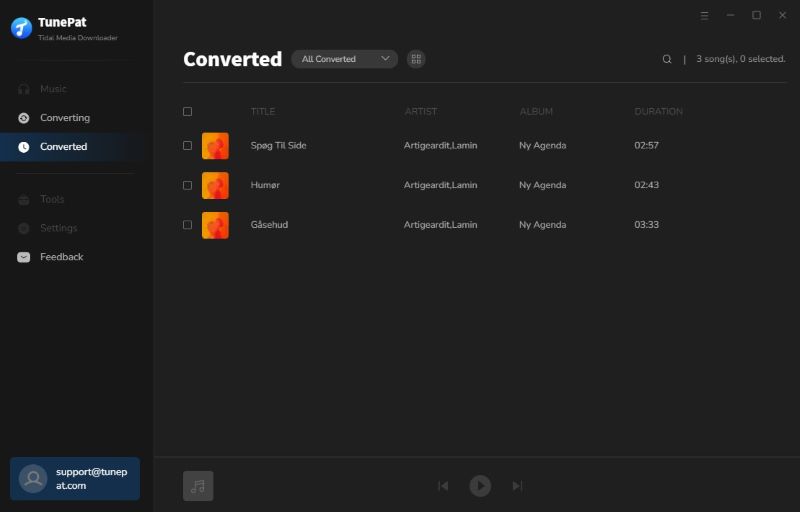 Conclusion
Although Tidal provides download feature for subscribers to download Tidal songs for offline listening, however, these songs will be no longer available when your Tidal membership expired. Luckily, with the help of TunePat Tidal Media Downloader, you can easily download songs, albums, and podcasts from Tidal and keep CD/HiRes audio quality. The downloaded Tidal songs will be saved on your local deviec forever for future use. Just download and have a try!