How to Download Barbie the Album in MP3
A significant number of individuals grew up alongside Barbie dolls. Almost every girl has either owned or aspired to possess a beautiful Barbie doll. Directed by Greta Gewig and co-written by her partner and film producer, Noah Baumbach, the movie "Barbie" premiered on July 9, 2023, at the Los Angeles Shrine Auditorium and was released by Warner Bros. Pictures in the United States on July 21, 2023. The film's release triggered thoughtful contemplation and discussions among the audience.
Music serves as a brilliant complement to a film. "Barbie: The Album" is the original soundtrack album for the 2023 film "Barbie", directed by Greta Gewig. This album features a delightful array of surprise artists who have contributed to the vocals, providing listeners with an auditory feast. In this article, we will guide you on how to download "Barbie: The Album" in MP3 format from Spotify.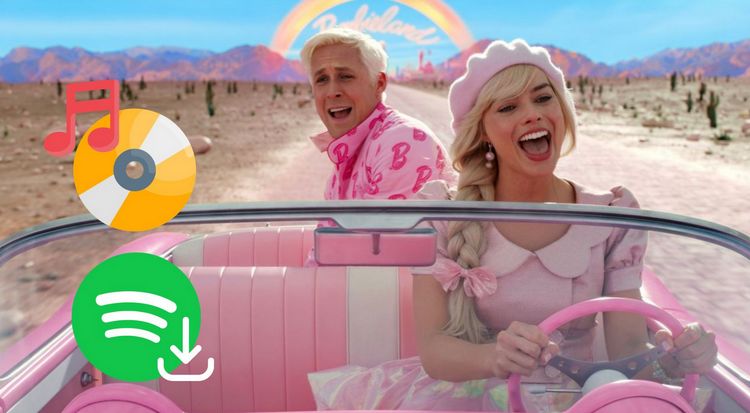 Part 1: Introduction to the "Barbie"
The movie portrays that the Barbie living in a dreamy Barbie paradise, where they lead perfect fairytale-like lives. They reside in houses with almost no exterior walls, featuring flat roofs, clean lines, and pink decorations. However, one day, the most popular Barbie in Barbie land, played by Margot Robbie, finds her life taking a different turn. Her once flawless days become riddled with imperfections as she becomes aware of her feet seemingly bound by high heels and starts contemplating the meaning of mortality. These consecutive imperfections shatter the tranquility of Barbie's paradise, and Barbie, grappling with an existential crisis, is compelled to venture into the real world with her boyfriend Ken to seek the truth. Thus, a grand adventure unfolds.
Part 2: About "Barbie: The Album"
"Barbie: The Album" is produced by Mark Ronson and includes tracks performed by superstar artists such as Dua Lipa, Charli XCX, HAIM, Tame Impala, and Lizzo. In the month and a half leading up to the film's release, Atlantic Records released some of the songs as singles.
First up is Dua Lipa's fantastic dance track, "Dance The Night", whose official music video on YouTube has surpassed 50 million views. Additionally, Nicki Minaj and Ice Spice's modern rendition of Aqua's "Barbie Girl", titled "Barbie World", along with Billie Eilish's heartfelt rendition of "What Was I Made For", among a total of 19 tracks, have collectively garnered over 52 million streams on Spotify. Let us immerse ourselves in the dreamy, pink-hued realm of each of these audio gems. You can now enjoy a preview of these songs below:
Part 3: Download "Barbie: The Album" in MP3 from Spotify
As one of the most popular music streaming services today, Spotify boasts an extensive music library. We have become accustomed to supporting our favorite artists or albums on the platform. When you become a Premium user by subscribing to their service, you'll notice that annoying ads no longer disrupt your experience, and downloading your favorite tracks for offline playback becomes effortless. However, if you are a long-time Spotify user, you may already know what happens when you cancel your subscription. Your downloaded Spotify content becomes inaccessible, and you revert to the free version, where streaming music is still possible, but downloading is no longer an option.
The reason Spotify downloads cannot be saved is that these files are merely temporary cached files, and they cannot be recognized or utilized by other players. Therefore, if you wish to download the entire "Barbie: The Album" in MP3 format, you will need to utilize powerful yet secure third-party converters. TunePat Spotify Converter is an excellent choice in this regard. With this tool, you can convert Spotify songs, albums, playlists, and podcasts in the Ogg Vorbis format to MP3, AAC, FLAC, WAV, AIFF, or ALAC formats. The tool supports 10X faster conversion speed and can convert playlists in batch at one time. Moreover, the original audio quality and essential ID3 tags will be retained. The operation is simple, and now let's go through the specific steps together.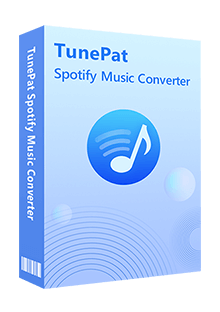 TunePat Spotify Converter
Download songs, albums, playlists, podcasts, and lyrics from Spotify.
Convert Spotify songs to MP3, AAC, WAV, FLAC, AIFF, or ALAC format.
Easily download ad-free Spotify music tracks to the local computer.
Get Spotify content at 10X conversion speed.
Keep ID3 tags and preserve lossless audio quality.
Converted Spotify songs can be played offline on various devices (such as Panasonic Smart TV, iPod, etc.) at any time.
Note: Any Spotify account can be used in the following steps, but there will be differences in the maximum sound quality. The maximum sound quality of the Spotify Free account can probably be reached, equivalent to about 160kbit/s, while the maximum sound quality of the Premium account can reach 320kbit/s.
Step 1 To begin with TunePat Spotify Converter, you will see two different conversion modes: App (if you use a Mac computer, the Webplayer mode is recommended for faster conversion speed) and Webplayer. Choose the one that suits your needs best. Regardless of your choice, you will need to log in to your Spotify account. For the former, you will log in within the pop-up Spotify application. For the latter, you will be required to log in through the embedded Spotify web player window in TunePat.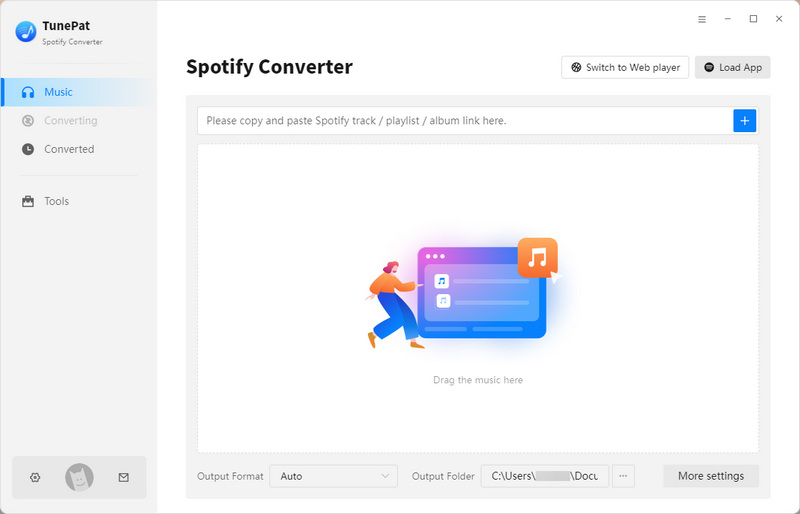 Step 2 After logging in, you can directly search for "Barbie: The Album" in the search box and open it. The way songs are loaded varies between the two modes.
In Spotify (App) mode, you can add songs by either dragging and dropping the target album or pasting the album's URL (by clicking "More options > Share > Share Album Link" button) into the designated area in the TunePat program. TunePat will then begin parsing this link.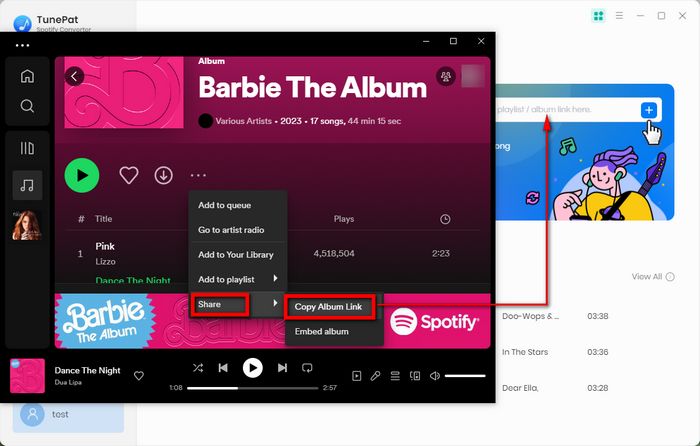 In Spotify (Webplayer) mode, click the "Click to add" button in the bottom right corner of the "Barbie: The Album" interface you have opened. TunePat will automatically start recognizing the songs.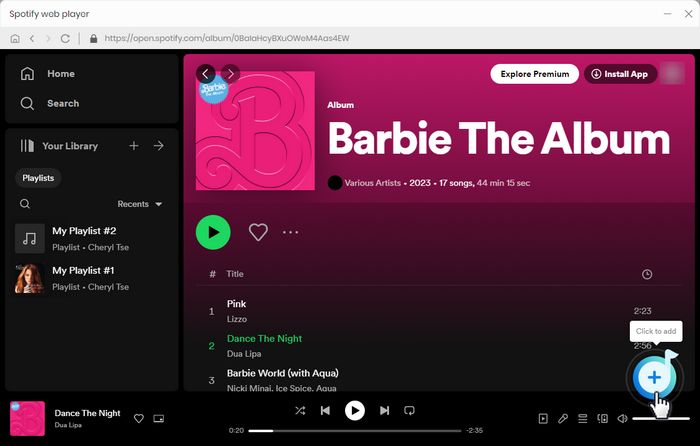 Step 3In the pop-up window, all songs from the selected album will be pre-checked by default. Of course, you can manually select or deselect specific songs. Then click the "Add" button to add the songs of this album to the Home interface, where they will await conversion.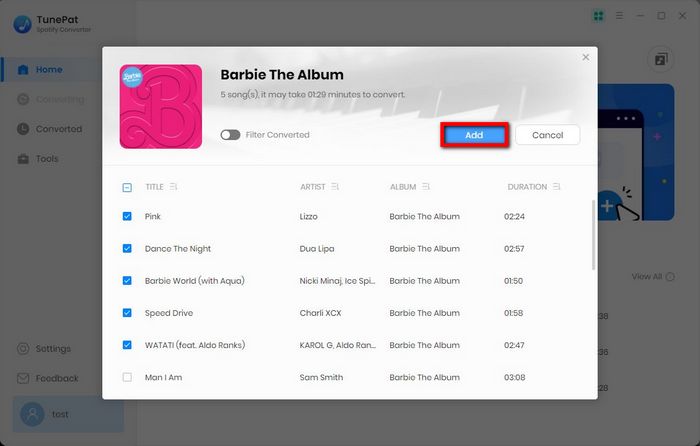 Step 4Before starting the conversion, there is a crucial step you need to complete. Go to the "Settings" interface. Here, you can customize the output and conversion parameters. For example, change the output format from "Auto" to "MP3". Additionally, you can choose to organize the output by creating a folder named after the album, by selecting "Album" in the Output Organized column. You can also modify the output file names according to your preferences. Once done, return to the Home interface.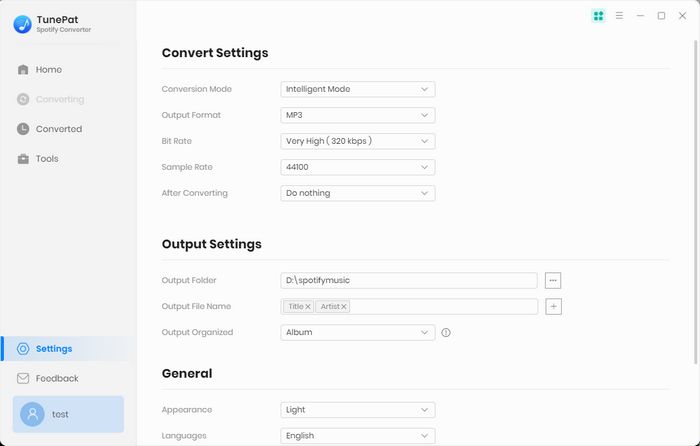 Step 5In this interface, click "Convert" to initiate the conversion process. Now you just need to be patient and wait. Once the conversion is complete, you will see all the songs stored in the folder named "Barbie The Album". Now you can share these songs with family and friends, burn them to a CD (go to the Tools module of TunePat), or store them on a USB drive.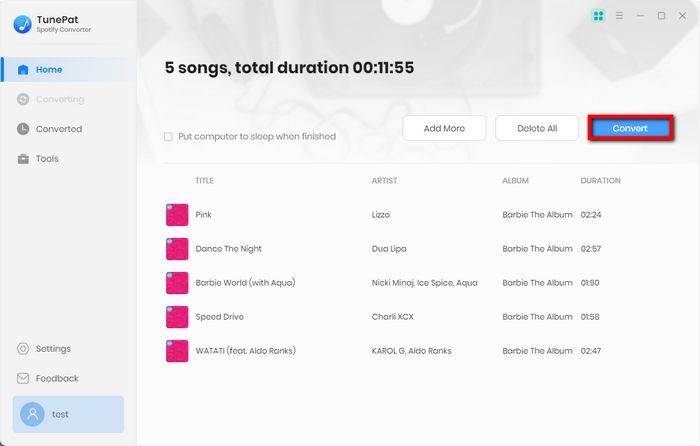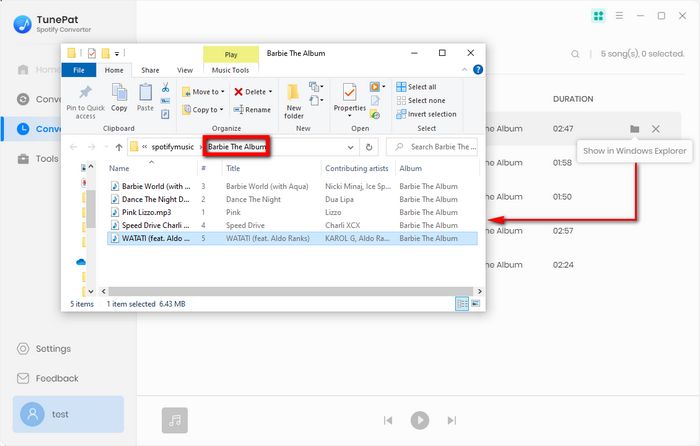 Conclusion
And that concludes our article! We have provided a brief overview of the movie "Barbie" and how to download "Barbie: The Album." If you are interested in this movie, we encourage you to go to the theaters and show your support. As for the mentioned converter for downloading "Barbie: The Album," it is definitely worth a try. TunePat Spotify Converter allows you to download any of your favorite songs, albums, podcasts, or playlists from both the Spotify app and Spotify web player. Sounds great, doesn't it? Don't hesitate any longer! Click the button below to start your download right away.