Free Download Spotify Christmas Songs to MP3
November marks the beginning of the holiday season, and Christmas is just around the corner. It's a time of year when some individuals rush to the cinema on Christmas day to catch highly anticipated movie releases.
Others engage in gift shopping and decorating their homes with colorful lights and festive decor. Only after the decorations and tree have been put up, can one truly feel the spirit of Christmas. A well-curated Christmas playlist is crucial for enhancing the festive atmosphere of a Christmas party where individuals gather to celebrate the holiday season. Therefore, it is imperative to prepare a flawless collection of holiday tunes.
How will you select the best Christmas songs? Do you know how to download your desired Christmas playlists from Spotify and listen to them offline? Here, we can suggest some classic and popular Christmas songs and guide you through the steps to download them.

Part 1: Classic Christmas Music Recommendation
Santa Tell Me - by Ariana Grande
Santa Tell Me: is a song by American singer Ariana Grande. The song was released globally on the iTunes platform on November 24, 2014, and was later included in the exclusive Japanese re-release of the mini album "Christmas Kisses". The song topped the US "Billboard" Top 100 singles chart forty-two, and at the same time broke into the music charts of other countries, including Japan, South Korea, Australia and European countries.
Album: Santa Tell Me
---
All I Want for Christmas Is You - by Mariah Carey
All I Want for Christmas Is You: is a Christmas song by American singer Mariah Carey. The song has gained great praise from listeners since its launch in 1994 and it has become a Christmas standard and continues to surge in popularity each holiday season.
Album: Merry Christmas
---
Like It's Christmas - by the Jonas Brothers
Like It's Christmas: is a Christmas song recorded by the American group Jonas. The song was released on Nov. 7th, 2019. This song has catchy lyrics, a brisk tune, and a manual singing voice, and there is no doubt that this song has become a popular song.
Album: Like It's Christmas
---
Mistletoe - by Justin Bieber
Mistletoe: It is said that kissing under sprigs of mistletoe is a well-known holiday tradition. The song "Mistletoe" of the same name is by Justin Bieber. This is the lead single from pop sensation Justin Bieber's second studio album. As Bieber said, people are going to be singing this song every Christmas since then.
Album: Under the Mistletoe
---
My Gift Is You - by Gwen Stefani
My Gift Is You: is a song by American singer and songwriter Gwen Stefani. And the song is from her fourth studio album. It was released digitally on October 6, 2017. This is a Christmas song that contains elements of pop-soul music.
Album: You Make It Feel Like Christmas
---
Last Christmas - by Wham!
Last Christmas: is a song by British pop group Wham! Although not the happiest of Christmas songs, it is certainly one of the most classic. The song has been covered by multiple artists, including Taylor Swift, Ariana Grande, Jimmy Eat World, and the Backstreet Boys, since its initial release.
Album: Last Christmas
---
Merry Christmas - by Ed Sheeran & Elton John
Merry Christmas: is a holiday-themed song performed by English vocalists Ed Sheeran and Elton John. The single was released through Asylum and Atlantic Records on December 3, 2021. The music video pays tribute to popular Christmas hits and movies from British culture, including 'Last Christmas', The Snowman, and Love Actually. The video also showcases guest appearances by well-known celebrities such as Jonathan Ross, Michael McIntyre, and Mr. Blobby.
---
Snowman - by Sia
Snowman: is a popular song by Australian singer-songwriter Sia. Sia released the song on November 9, 2017, as the second single from her eighth studio album, Everyday Is Christmas. The song gained traction on TikTok in November 2020 and was subsequently dubbed a contemporary Christmas classic.
Album: Everyday Is Christmas
---
Christmas Tree Farm - by Taylor Swift
Christmas Tree Farm: is a Christmas song written, recorded, and released by American singer-songwriter Taylor Swift in under six days. The song, inspired by the 2019 holiday season, is a cheery uptempo pop track.
---
It's Giving Christmas - by Chris Brown
It's Giving Christmas: is a song performed by the talented and energetic American pop star Chris Brown. The album contains two songs. The lead single, "It's Giving Christmas", discusses the excitement of exchanging gifts and spending quality time with family. The song has a lively rhythm.
Album: It's Giving Christmas
---
Part 2: How to Download Christmas Music from Spotify in MP3 Format?
The streaming era is changing our habit of listening to music. Nowadays we can get access to a huge variety of music by subscribing to a music streaming service. Or you can sign up for a free account of the music service, like Spotify, to enjoy the music you like. However, as you know, you are not allowed to use the offline listening feature if you don't upgrade your account. Even if you have been a paid user, the downloaded songs can't be moved outside the Spotify app. You will find the music files on the folder are greyed out and cannot be selected.
Here, we will recommend an amazing tool called TunePat Spotify Converter for downloading your favorite Christmas playlists. It enables you to download Spotify songs in MP3, AAC, FLAC, WAV, AIFF, and ALAC. These choices can meet your different needs. Also, adopted with an advanced ID3 tag identification technology, it surprises people with the great feature of keeping important ID3 tags. The converted music files will retain ID3 tags such as Artist Name, Title, Track Number, Artist, Date, Disc Number, and more.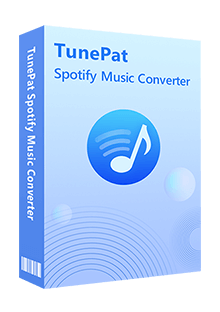 TunePat Spotify Converter
Download songs, albums, playlists, podcasts, and lyrics from Spotify.
Convert Spotify songs to MP3, AAC, WAV, FLAC, AIFF, or ALAC format.
Easily download ad-free Spotify music tracks to the local computer.
Get Spotify content at 10X conversion speed.
Keep ID3 tags and preserve lossless audio quality.
Converted Spotify songs can be played offline on various devices (such as Panasonic Smart TV, iPod, etc.) at any time.
Step 1 Install TunePat Spotify Converter on your computer. The software offers two entrances: APP and Web player. If you wish to get 320 kbps of Spotify music, it is recommended that you choose music tracks from the Spotify app. Select the Web player if Spotify is not yet installed on your computer and you need a more convenient and faster way to access Spotify content. Click on one of the entrances and then log in to your Spotify Free or Premium account on the pop-up Spotify app or the Spotify web player window.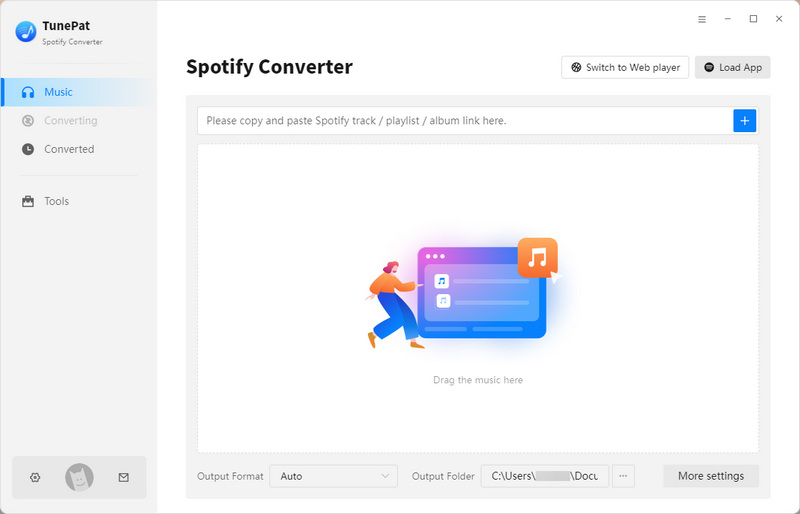 Note: Spotify Free accounts typically max out at 160 kbit/s, while Spotify Premium accounts boast the highest quality at 320 kbit/s.
Step 2 Go to the "Settings" window. Select MP3 in the Output Format column. It also supports exporting AAC, FLAC, WAV, AIFF, or ALAC files. Customize the bit rate, sample rate, output folder, output file name, and more. You can find or create a folder on your computer for the purpose of saving your Christmas songs. Then, it's convenient to move a whole folder from your computer to an SD card, USB Drive, CD, Apple Watch, etc.
Step 3 Once setup is complete, access the desired music from either the Spotify application or the embedded Spotify web player to initiate the conversion process. To find your preferred Christmas song on Spotify, simply use the search function to locate the song by title, or search for a related keyword such as "Christmas" to access Spotify's official or user-generated Christmas playlists, such as Christmas Pop, as shown below. Once you have found the desired song or playlist, simply select the "Click to add" button located in the lower right corner of the screen to add to your library.
After clicking the button, TunePat will automatically identify and organize all the songs on the current page in a pop-up window, selecting all by default. If the output folder chosen contains Christmas songs, enable the "Filter Converted" button to avoid duplication. TunePat will scan and grey out any existing tracks. Select the desired tracks and click "Add" to add them to the Home page and wait for conversion.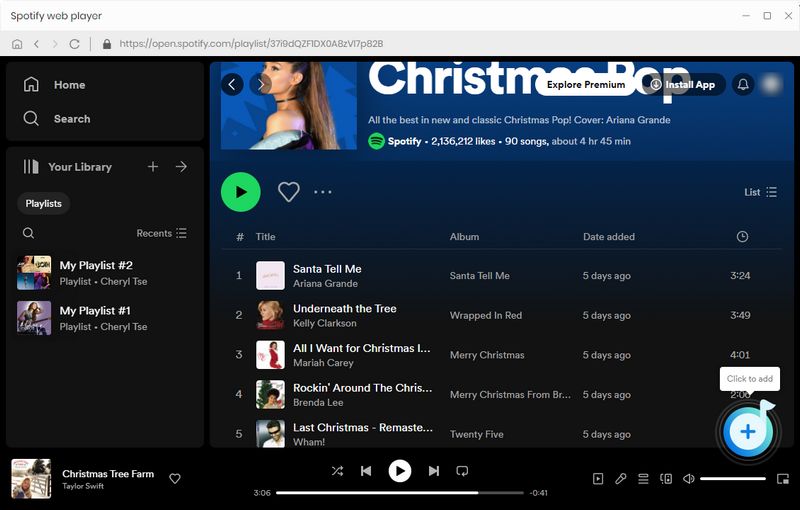 Step 4 Click "Convert" to initiate the conversion process. And you just need to wait for the conversion to complete. Following the conversion, you will be able to view the converted items in the "Converted" module. Alternatively, by selecting the "Show in Finder" or "Show in Windows Explorer" option, you can navigate to the local folder. These MP3 files of Christmas music can then be transferred to any device you prefer for listening.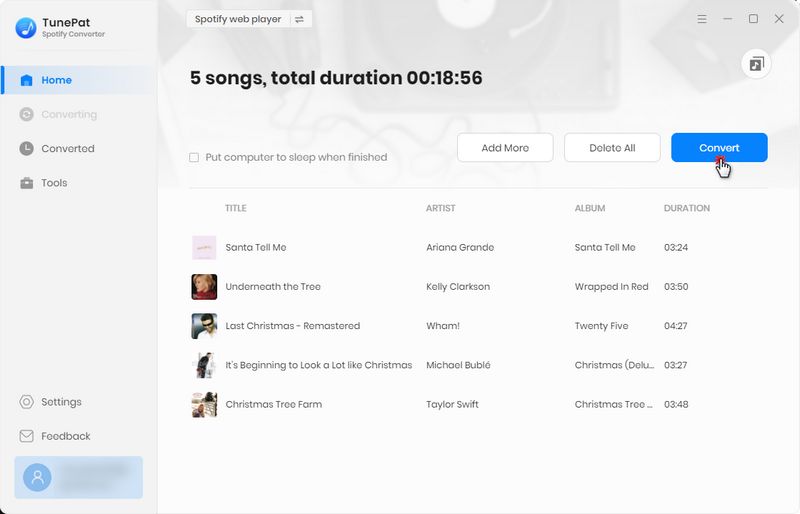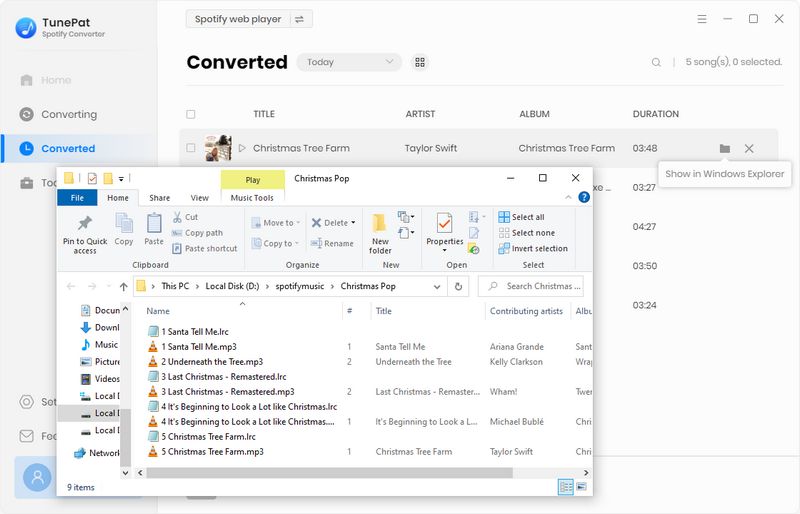 Conclusion
With TunePat Spotify Converter, users can now transfer or share Spotify songs with ease. This includes the ability to transfer songs across different devices and play them simultaneously in multiple locations, as well as the option to add songs as background music to Instagram stories and other media.
As we approach Christmas, it's important to get these festive songs for our celebrations with family and friends. Don't hesitate to utilize TunePat Spotify Converter for all of your music-sharing needs! Click the "Download" button below to install this powerful tool that simplifies your access to your music.